The 2019 NFL season has seen its fair share of compelling races. The NFC West went back to its mid-decade roots with the Seahawks and 49ers going toe-to-toe for the right to unseat the reigning NFC champion Rams. The AFC South started as a battle between a surprising Colts team and the defending champion Texans, but a career resurgence from Ryan Tannehill has thrown the Titans' hat into the ring. An early-season loss in Lambeau and the division tiebreaker is likely going to keep the Vikings from their second division title in three years, putting Matt LaFleur in a position to be a division-champion coach in his first season at the helm. 
In this article, we look at the division race that is likely going to be decided this week, in what has been the biggest train wreck of a division since the 2014 NFC South race that ended with the Panthers emerging with a 7-8-1 record and a home game to show for their efforts.
The NFC (L)East hangs in the balance in Philadelphia this Sunday. Here's how the race has looked since Week 1, using our simulation powered by AWS.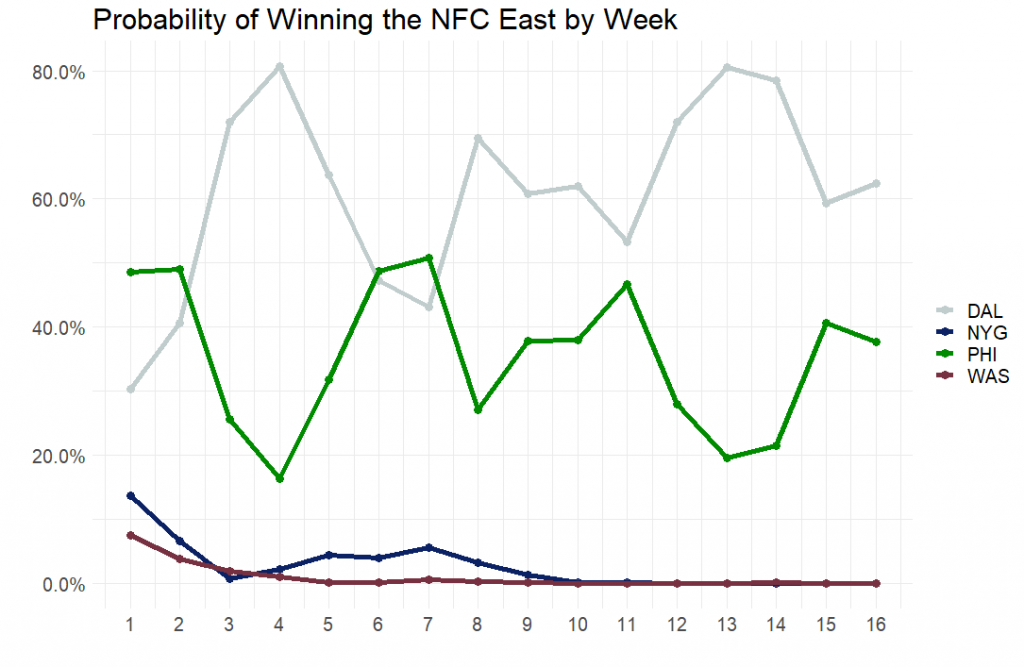 Some highlights:
The Cowboys' highest odds to win the NFC East came after their 3-0 start (80.6%), and a three-game Eagles losing streak in Weeks 11-13 had them in the driver's seat late in the year, as well. However, losses to New England, Buffalo and Chicago not only gave them the same win-loss record as the lowly Eagles but decreased their fundamental metrics (relative to PHI) to the point where they are now just a 60/40 proposition to defend their crown as division champs, even after an impressive home win against the Rams. With a win in Philly this weekend, Dallas locks up the division for the third time in four years. 
The Eagles have been better than even money to win the NFC for precisely one week this season (Week 7). They promptly went to Dallas and got spanked 37-10, putting them in the underdog role thereafter. They've obtained a tremendous amount of help from everyone in their division, from Dallas failing to take care of business for almost an entire month to New York and Washington surrendering late leads against them the last two weeks. We have not seen a good Eagles performance since they went into Buffalo and beat the (now) playoff-bound Bills back in Week 8. If they have one more such short-handed performance in them Sunday, they will be at a 72.7% chance to take home the division going into Week 17.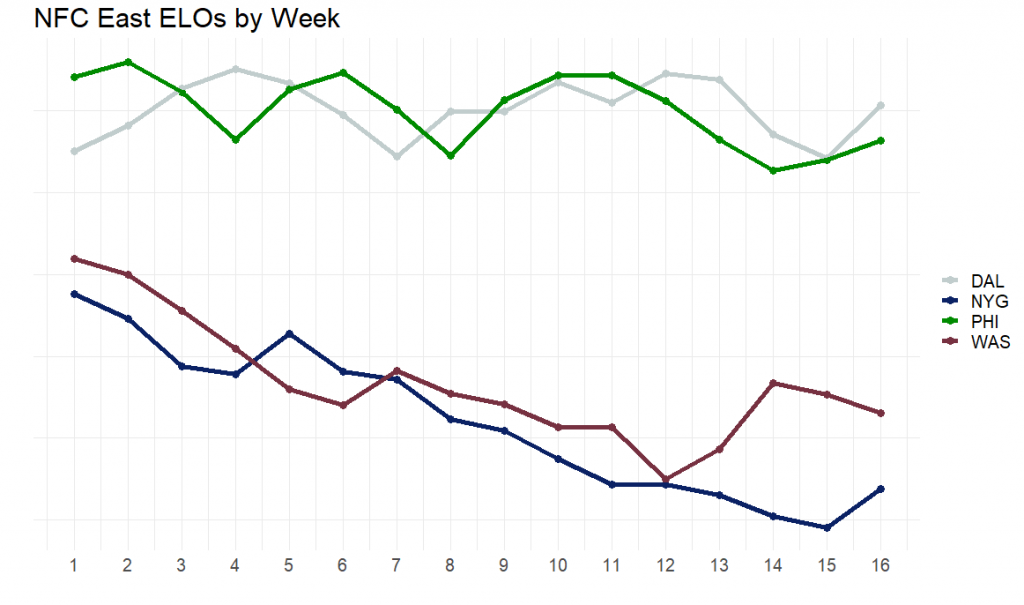 It's not hyperbole to say that New York and Washington both had their highest chances of winning the NFC during their Week 1 game, with the former getting out to a 7-0 lead in Dallas and the latter getting out to a 17-0 lead in Philadelphia, before eventually both falling to 0-1 and, for all intents and purposes, playing for a top-five pick in the 2020 NFL draft.