With just under two weeks to go until training camp, NFL fans have questions about top positional battles, N'Keal Harry's new fit with the Chicago Bears, dark horse Rookie of the Year candidates and more. Let's give the people some answers in our latest PFF mailbag.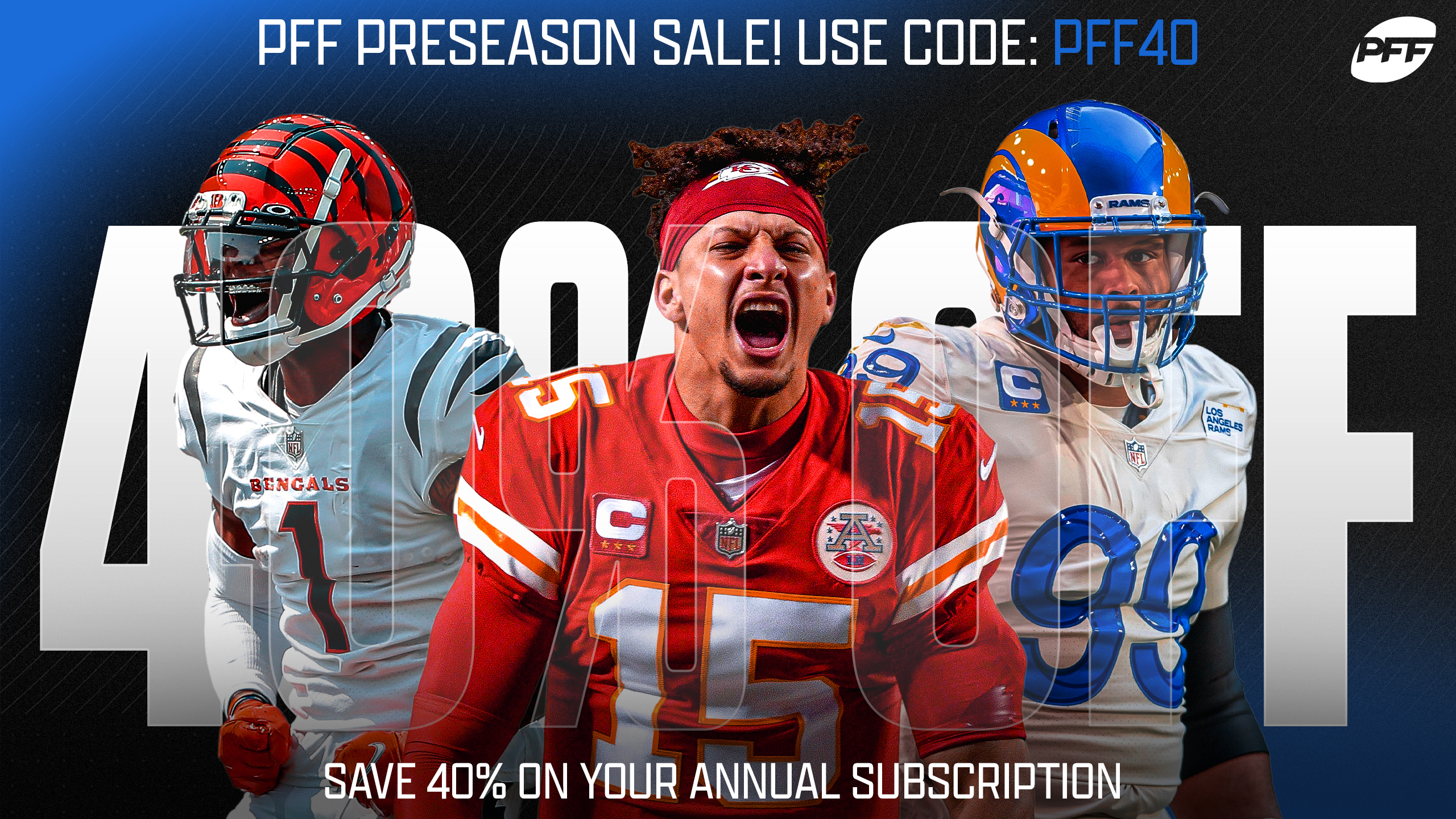 I could definitely see that happening. That's what the New England Patriots did in 2020 when they were shallow at linebacker. They just flooded the field with a bunch of defensive backs.
Now, you could make a pretty solid case that the Patriots are shallow at linebacker and cornerback, and they added another talented safety into the mix with Jabrill Peppers. So, I could definitely envision a scenario where Devin McCourty, Adrian Phillips, Kyle Dugger and Peppers are all sharing the field, simply because they are among the best 11 choices on defense and can play versatile roles.
Jonathan Jones, New England's best cornerback, has primarily been a slot defender during the course of his NFL career, but there were two games (out of the six he played) in 2021 when he played outside more than the slot. Jalen Mills will likely be another one of the Patriots' starting cornerbacks. Their other options come down to Malcolm Butler returning after a year off, Terrance Mitchell, rookies Jack Jones and Marcus Jones, Myles Bryant, Joejuan Williams and Shaun Wade. Outside of Butler and Mitchell, that's a bunch of cornerbacks who are better in the slot than they are outside.
So, I wouldn't be shocked to see the Patriots not only play a lot of safeties but also lean heavily into zone coverage to keep those undersized cornerbacks from getting matched up in disadvantageous situations against bigger receivers.
Dugger is the player to watch out for of the above mentioned. New England thinks very highly of him, and there's a sense that this could be his breakout year.
Three for each conference? Here we go:
For the AFC, it's the Pittsburgh Steelers' quarterback competition (Kenny Pickett vs. Mitchell Trubisky vs. Mason Rudolph), the Kansas City Chiefs' wide receiver competition (Marquez Valdes-Scantling vs. JuJu Smith-Schuster vs. Skyy Moore vs. Mecole Hardman) and the aforementioned Patriots' cornerback competition.
In the NFC, it's the two top quarterback battles with the Seattle Seahawks (Drew Lock vs. Geno Smith) and Carolina Panthers (Baker Mayfield vs. Sam Darnold) and the Green Bay Packers' wide receiver competition (Christian Watson vs. Sammy Watkins vs. Allen Lazard vs. Randall Cobb vs. Romeo Doubs).
I'm also curious to see which New York Jets tight end out of Tyler Conklin and C.J. Uzomah winds up with the most snaps.
Depending on what happens with Deshaun Watson, the most logical destination for Jimmy Garoppolo could be the Cleveland Browns. I've written about it before, but if Watson is suspended a full season, then his contract will toll, and it would become at least more reasonable for Cleveland to acquire another quarterback who will give them a chance to be more competitive than if Jacoby Brissett starts in 2022.
If Watson isn't suspended, or if the Browns don't want to go through the rigmarole of trading Case Keenum and Baker Mayfield, signing Brissett and trading for Watson and Garoppolo in one offseason (understandable), then Garoppolo isn't left with a ton of suitors.
Without much debate, he'd be a short-term upgrade over situations in Atlanta, Detroit, Houston, Seattle and Pittsburgh. Maybe he'd be a better solution in New Orleans and with the Giants, as well. But I can't foresee most of those teams wanting to trade for Garoppolo since he'd provide only a slight upgrade and many of those organizations already made moves at quarterback this offseason.
The Seahawks make sense if the 49ers are forced to release Garoppolo. But if I'm San Francisco, I'd wait to make that move as late in the summer as possible just in case something happens to Trey Lance.
Lamar Jackson told USA Today's Safid Deen last week that he's hopeful a deal will be struck before training camp.
Jackson is definitely in a unique position entering the final year of his rookie contract. The Baltimore Ravens could allow him to play out the 2022 season and then use the franchise tag on him in 2023 and 2024, but I suspect neither party would prefer that route. Jackson is one of the best quarterbacks in the NFL, and as long as the Ravens can stay healthy, they should be much better in 2022. And if that happens, Jackson will only be more costly to sign next offseason.
On offense, I'll take Buffalo Bills running back James Cook as a dark horse pick. He currently has +1400 odds. There's a pretty clear opportunity for him to play significant snaps in a very good offense. He'll likely start off as a sub-package, pass-catching back, but if he shows up well on third down, that could potentially lead to more touches on early downs, as well.
There are some dark horse wide receivers who have a chance to earn significant snaps, as well, such as Cowboys rookie Jalen Tolbert (+3300), Steelers rookie George Pickens (+4000) and Browns rookie David Bell (+4000).
On defense, I like New York Jets cornerback Ahmad Gardner (+1000), Philadelphia Eagles defensive tackle Jordan Davis (+1800) and Kansas City Chiefs edge defender George Karlaftis (+2000).
I went down to Cape Cod to spend a week in Eastham, Massachusetts. You can't go wrong with a cinnamon donut from Hole in One, a fried seafood platter (or lobster roll) and onion rings from Arnold's or a Landlord Bob's Idea pizza (Italian sausage, pepperoni, salami, red onions, mushrooms, Kalamata olives, fresh tomatoes, basil, blend of cheeses and tomato sauce) from The Red Barn.
Based purely on our grades, CeeDee Lamb was better than Amari Cooper last season. Lamb finished with an 84.1 offensive grade and 84.8 receiving grade. Cooper posted a 73.0 offensive grade and 73.6 receiving grade. Lamb also has Cooper beat over the past two seasons, with his 81.6 overall mark trumping Cooper's 77.1 figure.
I wrote a piece last month giving each NFL team one more player before training camp, and I had Julio Jones going to the Indianapolis Colts.
It just makes way too much sense given the Colts' need at wide receiver and Jones' previous connection with new Indianapolis quarterback Matt Ryan.
But a ton of teams still need wide receiver help. In that piece, I also had wide receivers going to the Baltimore Ravens, Chicago Bears, Green Bay Packers, Houston Texans and Tennessee Titans. The Bears have since acquired wide receiver N'Keal Harry via trade, so that helps fill a need.
I know veteran players view the Ravens, Colts, Packers and even New England Patriots as attractive landing spots for a wide receiver.
The biggest question in regard to Jones is how little money he'd be willing to play for and if teams believe he can stay healthy, because he's played in only 19 total games over the past two seasons.
I don't think Harry could have wound up in a better spot than Chicago. The Bears ranked dead last in our wide receiver corps rankings last month put together by PFF's Ben Linsey. Chicago didn't give up much for Harry — just a 2024 seventh-round pick — but based on pedigree alone, he has the highest upside of any receiver on the roster outside of Darnell Mooney and maybe rookie Velus Jones Jr.
Harry doesn't only have a chance to make the roster and contribute in Chicago; he could wind up being a starter there pretty easily. He'd just have to beat out some combination of Jones, Byron Pringle, Tajae Sharpe and Equanimeous St. Brown.
I know Harry is very excited to head to Chicago, and he knows the opportunity he has in front of him. It's a make-or-break year for him in the final year of his rookie contract. I think he winds up making the team.