This is not a good offseason for NFL teams that need to upgrade at tight end. It wasn't a good one before the top three free agents (Hunter Henry, Austin Hooper and Eric Ebron) came off the board, and it certainly isn't right now. Whether it be through the draft or through what remains in free agency, there are very few options available to teams that need immediate impact players at the position. There is really only one tight end left that teams should feel comfortable with to produce in 2020 — 35-year-old Delanie Walker.
Walker's career has followed an unusual path. He didn't catch more than 29 passes in a season across all seven years he spent with the San Francisco 49ers to begin his career. Walker did grade out well as a run blocker over those seven seasons (17th out of 62 qualifying tight ends), but he was an afterthought in the passing game, playing a clear second fiddle to first-round selection Vernon Davis, who was also taken by San Francisco in the 2006 NFL Draft.
Walker got his opportunity to be the guy with the Tennessee Titans in 2013, and in the five-year stretch that followed, he showed that he could be one of the league's best tight ends in a lead role. He only continued to progress as a run blocker, earning a position-high 82.5 run-blocking grade from 2013 to 2017. More importantly, he became a force in the passing game. Walker was the sixth-highest graded tight end overall over those five seasons, and his 355 regular season receptions ranked first at the position. After contributing next to nothing as a receiver in San Francisco, Walker became a focal point of the Titans' passing game.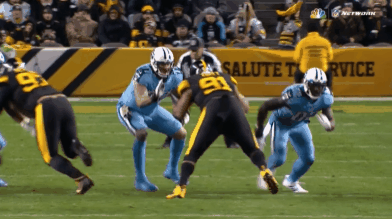 The last time that we saw Walker in a full season of action back in 2017, he was still producing plays like this one above, creating separation downfield and additional yardage after the catch through contact. All in all, he was the sixth-highest graded tight end in the NFL during that 2017 season, and he averaged 1.83 yards per route run, which ranked among the top 10 players at the position.
Subscribe to PFF Edge to continue reading
Already have a subscription? Sign In