Davante Adams was a force to be reckoned with in 2020. The Green Bay Packers No. 1 ranked first among wide receivers in PFF receiving grade (92.2), second in receptions, fourth in yards and first in touchdowns, all despite missing two games and change to injury.
Adams has a credible claim to being one of the most important players in the NFL to his respective offense, yet you'll rarely hear his name mentioned above other non-quarterbacks in MVP conversations.
An obvious answer for why Adams and other receivers are touted for their incredible value is the difficulty assessing that value. If intuition tells us the passing offense belongs to the quarterback and the rushing offense to the running back, the other key pieces of each offensive phase are easy to overlook.
At PFF, we've taken a few stabs at putting hard numbers around wide receiver value, including the grades-based method we develop for all positions with PFF WAR. Adams accounted for more wins than any receiver in 2020 (0.87), which isn't surprising based on his league-high PFF receiving grade. But while WAR is a fantastic measure for comparing across positions by denominating value in wins, it is somewhat limited in the scope of inputs driving its assessment.
I developed PFF Plus-Minus last year as a means for incorporating many measures of receiver play outside of grades, including per-route targets, yards, touchdowns, yards per reception and average depth of target, which reveal how the receiver generated his production.
The backbone of PFF Plus-Minus is off- and on-the-field splits for receivers. These splits for individual receivers can be extremely noisy. Some players don't miss enough time to give meaningful off-the-field splits, and differing levels of receiver groups can enhance or mute the effects of taking a particular receiver out of the rotation.
The solution PFF Plus-Minus uses for reducing the noise in a single plus/minus split is growing the sample. While we can't grow one player's sample, we can find that player's closest counterparts and add their numbers to the sample. PFF Plus-Minus grows samples through player clustering and then iterates on the process with small tweaks to ensure a broad cross-section of comps is available for every player. You can find the details on the methodology here.
As I'll describe below, PFF Plus-Minus confirms WAR's conclusion that Adams was the most valuable receiver in 2020 but goes further in placing his greatness at the top of all receiver seasons we've seen in the PFF era (2006-2020).
Visualizing the receiver seasons
As part of the earlier PFF Plus-Minus introduction, I plotted one of the thousands of sets of clusters used in the calculation to assess receiver value. The plot measures receiver seasons on the basis of the two primary principal components for clustering.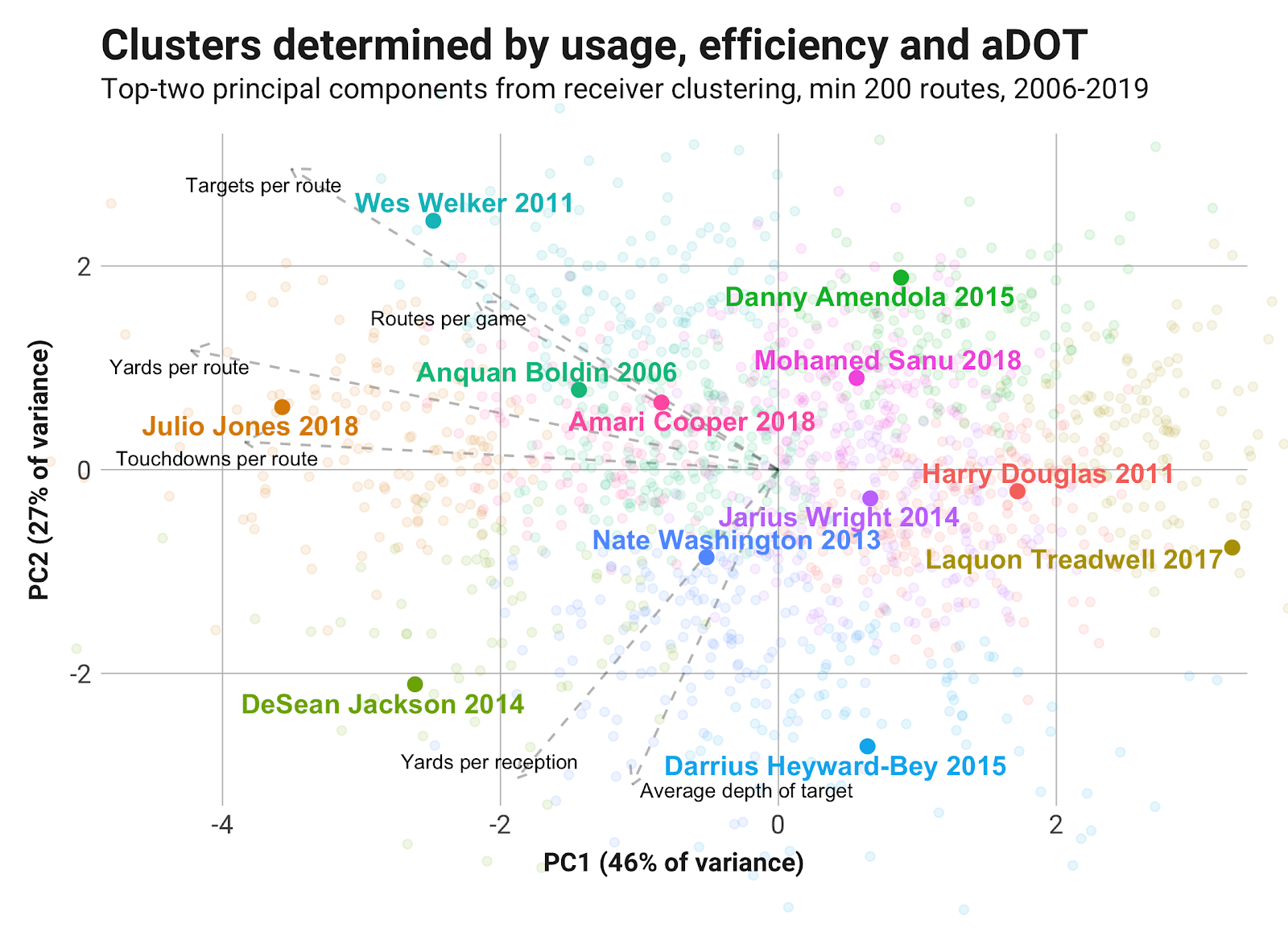 The plot highlights 12 different receiver-seasons, one from each of the 12 clusters. The dashed directional lines show how the different features are represented in the plot. Targets per route and routes per game are highest for receivers further toward the upper right, production-based figures like yards and touchdowns per route extend to the direct right and qualities associated with deep threats, such as yards per reception and average depth of target, flow downward.