While many have focused on how difficult it's been for NFL franchises to scout the receiver position in recent years, another position has seen a similarly dismal track record over the past decade. There simply aren't a lot of true difference-makers as the tight end position in today's NFL, even though teams consistently go searching for them early in the draft. Here are all the first-round picks at the position over the past decade. 
| | | |
| --- | --- | --- |
| Player | Year | Pick No. |
| Jermaine Gresham | 2010 | 21 |
| Tyler Eifert | 2013 | 21 |
| Eric Ebron | 2014 | 10 |
| O.J. Howard | 2017 | 19 |
| Evan Engram | 2017 | 23 |
| David Njoku | 2017 | 29 |
| Hayden Hurst | 2018 | 25 |
| T.J. Hockenson | 2019 | 8 |
| Noah Fant | 2019 | 20 |
That list reads like a who's who of tantalizing yet middling tight end play. Not a single player on that list has earned a receiving grade of 80.0 or higher over the past two seasons.
The three highest-graded receiving tight ends over the past couple of years were all drafted in the third round or later. And all three — maybe not so coincidentally — will be in action this weekend. George Kittle, Travis Kelce and Mark Andrews are currently the class of the tight end position in the NFL, as they are only tight ends with receiving grades over 88.0 over the past two seasons. They were drafted 146th, 86th, and 63rd in the draft, respectively.
Let's look at what makes them all so special before we crown the best tight end in the NFL.
Field-stretching ability
This is the true differentiator between the elite and the replaceable at the tight end position. If you can't make plays down the football field, you're shrinking the field for your offensive coordinator.
This is where Andrews has been particularly excellent for a young tight end, as 24 of his 98 career catches have come 15 or more yards downfield. However, no one compares to Kelce in this regard. His 39 receptions from passes thrown at least 15 yards downfield are 15 more than the next closest tight end in the NFL over the past two seasons, while his 933 receiving yards on such passes are 258 more than the second-placed tight end over that same span. 
Winner: Travis Kelce
Route-running ability
If you're looking for a reason why Kittle fell to the fifth round, it's because he didn't run that many routes in college. In fact, he was only on the field for 336 pass plays his entire college career at Iowa. Now, though, Kittle carves up any semblance of man coverage, just not to the degree that Travis Kelce does. Kelce's 918 yards against man coverage are 183 more than any other tight end in the NFL over the past two regular seasons; he also leads that same group of 29 qualifying tight ends in PFF receiving grade (90.8, the only tight end above 90.0), yards after the catch (338), first-down receptions (49), explosive plays of 15 or more yards (24) and catch rate (78.0%). 
Winner: Travis Kelce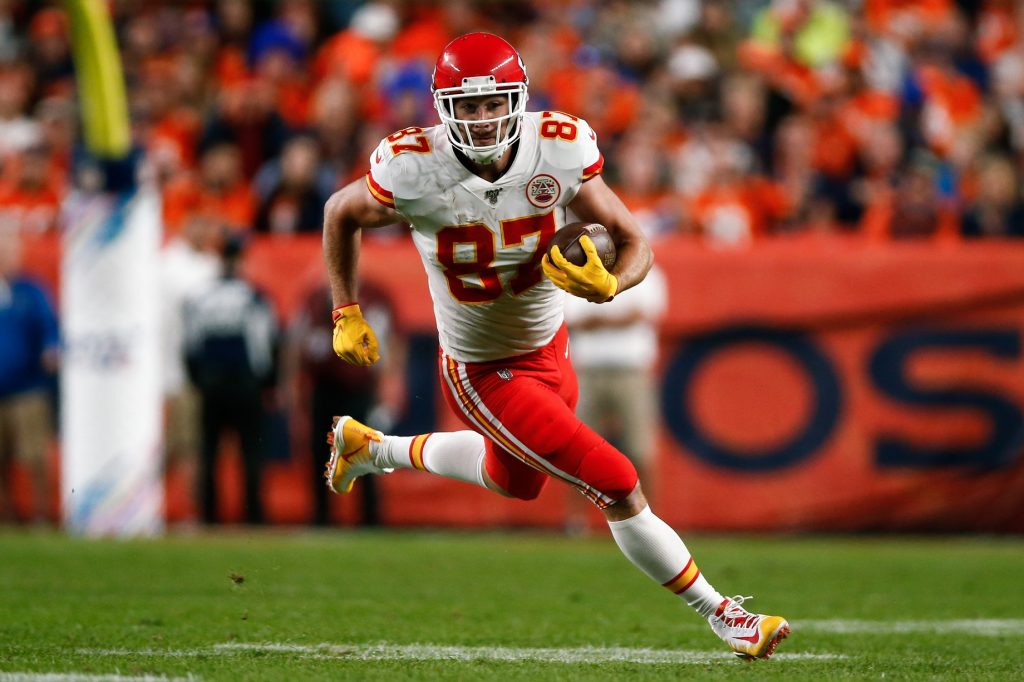 © Isaiah J. Downing-USA TODAY Sports
Ball skills
This is the one area that Andrews has considerably lagged behind the others. He's only caught 10 of his 33 contested catch opportunities over his career and has eight drops on 106 catchable targets. Kelce has been the best in contested situations, leading the NFL with 26 contested catches on 45 opportunities the past two seasons. Kittle has had fewer drops, however, with only seven on 180 opportunities over that same span. We'll call it a toss-up here, as both are so good in this regard.
Winners: Travis Kelce & George Kittle
Work after the catch
Kelce and Andrews have been excellent after the catch, but it's still not even close. After breaking the PFF record for single-season yards after the catch in 2018 (873) regardless of position, Kittle once again led all tight ends in yards after the catch this season with 621. His 20 broken tackles were also the most in the NFL this year, making this one an easy call.
Winner: George Kittle
Run blocking
This one isn't even a debate. Kittle is the only starting tight end in the NFL with a top-five run-blocking grade — that's a kind special dual-threat ability, the likes of which we haven't seen since Rob Gronkowski in his prime. There's no debate here whatsoever, as Kittle is the only starting tight end in the NFL who can say that he's earned 70.0-plus run-blocking grades in each of the past two seasons.
Winner: George Kittle
© Steven Bisig-USA TODAY Sports
The best tight end in the NFL: George Kittle
While Kittle may not be the absolute best in every regard, he has no weakness in his game and is in the conversation for the best tight end ever with the ball in his hands. And while the results may make it seem like Andrews is far behind the other two, that most definitely has not been the case, and he does belong in the conversation. These three are true difference-makers at a position that's been one of the toughest in the NFL to scout, but for now, the title of best tight end in the NFL belongs to San Francisco's George Kittle.