An elite center is a force multiplier for an offensive line, given their responsibilities to call protections and organize the rest of the unit. They're not just asked to lock down their position; they're asked to put their fellow offensive linemen and quarterback in a position to succeed.
And that's why we've seen teams with young quarterbacks — the Los Angeles Chargers and Arizona Cardinals, to name a few — aggressively pursue proven veterans at the position in recent years.
Here is a look at the top half of the center position entering the 2022 season.
Tier 1: Elite
A lot of the focus on Los Angeles' offensive line overhaul last offseason was placed on Rashawn Slater at left tackle, but he wasn't the only All-Pro the Chargers added up front — Linsley's second-team All-Pro nomination was well deserved and marks the second consecutive year that he found his way onto the team.
Stable PFF metrics at C with Linsley's percentile ranks since 2020
| | |
| --- | --- |
| Metric | Linsley's percentile finish at C since 2020 |
| Pass-block grade | 96th |
| Pass-block grade on true pass sets | 96th |
| Pass-block grade w/o play action | 94th |
| Pass-bock grade on 5, 7-step concepts | 96th |
| Run-block grade on gap runs | 79th |
| Run-block grade on zone runs | 91st |
| Run-blocking positively graded play % | 86th |
Over the past two seasons, Linsley has graded in the 75th percentile in every stable metric for centers while clearing the 90th percentile in most categories. His performance in L.A. played a role in Herbert's second-year jump last season.
Humphrey — a second-round selection out of Oklahoma in the 2021 NFL Draft — wasted no time establishing himself as one of the NFL's best centers. His 91.8 PFF grade led all centers last season, and his 0.55 Wins Above Replacement (PFF WAR) ranked fourth among all offensive linemen, behind only Trent Williams, Joel Bitonio and Zack Martin.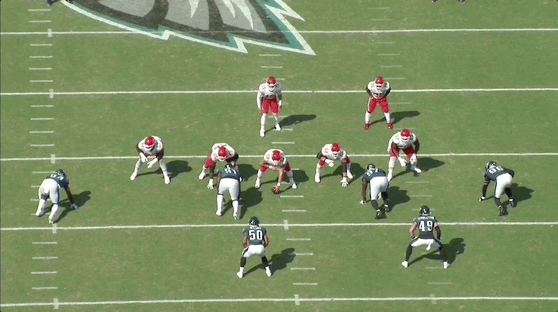 Humphrey made blocks like the one above look routine and rarely lost in the run game, earning negative run-blocking grades at a lower rate than any other player at the position. He was a home-run selection for the Chiefs.
Ragnow has steadily improved his overall PFF grade every season he's been in the NFL and was on pace for a career year in 2021 before a Week 4 toe injury sidelined him for the remainder of the season.
Ragnow: PFF grades by season
| | | |
| --- | --- | --- |
| Season | Position | PFF grade |
| 2018 | LG | 66.5 |
| 2019 | C | 74.9 |
| 2020 | C | 80.3 |
| 2021 | C | 86.7 |
The fifth-year center out of Arkansas has been a steady performer in pass protection, but he really separates himself in the run game. Over the last three seasons, Ragnow grades out above the 90th percentile at the position in run-blocking grade in both gap and zone schemes.
---
Tier 2: Still elite but on the way out
The 34-year-old Kelce hasn't shown many signs of slowing down, as evidenced by his first-team All-Pro selection in 2021.
The longtime Eagle is still one of the best run-blockers the position has to offer. Kelce's 89.0 run-blocking grade in 2021 was the second-highest mark of his career, and he hasn't graded below 75.0 in that department since his rookie season in 2011.
However, it's reasonable to expect some level of decline for a player who will turn 35 years old during the 2022 season, especially a player like Kelce, whose athleticism has been one of his biggest separators. That bumps him just outside the first tier, but it's hard to move him much lower after his 2021 performance.
---
Tier 3: Good, veteran starters
There are still several impact free agents available as we march toward June, but Tretter comes in near the top of the list. Across Tretter's five seasons in Cleveland, few centers were more durable or more reliable in pass protection. His 5,298 regular-season snaps played at center since 2017 fall behind only Jason Kelce and Ryan Jensen, and no center earned a higher grade in pass protection (90.6) over that stretch.
Any team with a question mark in the middle of their offensive line would be wise to bring Tretter in soon.
Jones has become one of the most underrated players at the position in recent seasons with the Titans. He hasn't made a Pro Bowl or All-Pro team in 10 NFL seasons, but he's been the third-most-valuable center in the NFL since 2019, according to PFF's Wins Above Replacement (PFF WAR) metric. He's played a key role in opening up lanes — like the one below for Derrick Henry — as he's put up a league-high 4,503 rushing yards since 2019.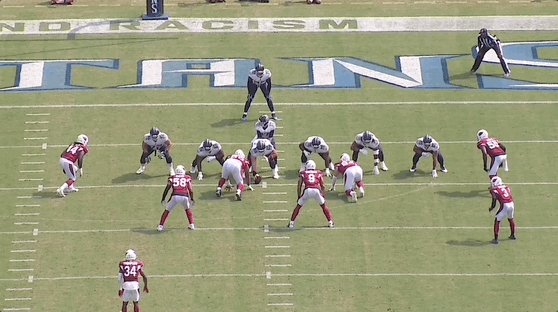 Jensen has been a fan favorite in Baltimore and Tampa Bay because of his attitude and well-rounded game that can be plugged into most NFL offenses. He's one of the best at the position at maintaining and finishing blocks, and he hasn't missed a start for the Buccaneers since signing with the team before the 2018 season.
Even if Jensen hasn't always graded out near the top of the position, his durable, consistent play has provided value to Tampa Bay's offense. The only four centers with a higher PFF WAR mark since 2019 are Kelce, Linsley, Jones and Tretter.
Hudson is one of the more difficult players to place on this list. He's been the gold standard at the position in pass protection for much of his career and even recorded the highest PFF pass-blocking grade at the position in five straight seasons from 2015 to 2019.
Highest single-season PFF pass-blocking grades at center since 2015
| | | |
| --- | --- | --- |
| Player | Season | PFF pass-blocking grade |
| Rodney Hudson | 2019 | 91.2 |
| Rodney Hudson | 2017 | 91.1 |
| Rodney Hudson | 2018 | 90.8 |
| Rodney Hudson | 2015 | 89.9 |
| Rodney Hudson | 2016 | 89.8 |
That's a five-year run of dominance matched only by Aaron Donald on the other side of the ball, but as you may have noticed, it doesn't include Hudson's 2020 and 2021 seasons. Hudson's debut in Arizona last season came with a career-low 57.4 PFF grade in a season that included time spent on Injured Reserve and a stint on the COVID-19 list. The Cardinals will hope that the soon-to-be 33-year-old bounces back in his second year with the team.
Last year marked the first season that Andrews was back to full strength since 2018, as he missed the entire 2019 season with blood clots and missed time in 2020 with a broken thumb and calf injury. And it was a welcome return for the Patriots offense.
Last year, Andrews' 79.6 PFF grade was a top-five mark at the center position, back in line with his level of play in 2017 and 2018 before the health concerns.
Andrews projects to have two new starters next to him in 2022, with the rookie Cole Strange projected to start at left guard and Michael Onwenu finally finding a permanent home at right guard, so Andrews will have some added pressure to provide some stability on the interior.
Roullier has steadily improved his overall PFF grade in each of his first five NFL seasons out of Wyoming, jumping from 64.4 as a rookie to 83.7 last year before going down with a broken leg in Week 8. Over the last two seasons, Roullier grades out in the 90th percentile of all qualifying centers in PFF pass-blocking grade and the 89th percentile as a run-blocker on zone runs. His return from injury in 2022 should boost a Washington offensive line that will have to overcome the loss of Brandon Scherff.
This might seem low for a player who has made three consecutive Pro Bowls, but Kelly's PFF grading profile hasn't quite lived up to those accolades. His 56.9 PFF grade in 2021 was the lowest of his career, but it was preceded by a 74.7 overall grade from 2018 to 2020, 10th among qualifying centers. That's about where he should end up again in 2022 — a talented, above-average starter who hasn't produced consistently enough to push the elite tier at the position.
Morse has provided the Bills with above-average play in pass protection and below-average results as a run-blocker in three seasons with the team. Since 2019, he ranks in the 77th percentile of qualifying centers in PFF pass-blocking grade. However, he's only earned positive grades on 10.1% of his run blocks over that three-year stretch (25th percentile).
The Bills' front office and coaching staff have spoken about their desire to run the ball more effectively in recent offseasons, but they're still one of the pass-happiest offenses in the NFL. That makes Buffalo as good a spot as any for a player like Morse.
Tier 4: Above-average starters with a wider range of outcomes in 2022
McCoy came into the league in 2019 and looked like he was on his way to a career where he consistently graded out as one of the league's best centers. His 78.0 PFF grade as a rookie ranked fourth among qualifiers at the position. Unfortunately, he hasn't been able to repeat those results in the two years since and has posted overall grades below 70.0 in 2020 and 2021.
Penalties were an issue for the third-year center out of Texas A&M last season. His eight penalties were the third-most at the position despite missing five games with injury. It's natural to wonder how much the calf injury that led to missed time early in the season impacted his performance after returning, especially given that his worst stretch of the season came from Weeks 7-12 —after he got back onto the field.
It wouldn't be surprising to see McCoy getting back to full health, bouncing back and warranting a higher spot on this list next offseason.
Bozeman's switch from guard to center in 2021 resulted in the highest PFF grade (73.3) of his four-year NFL career. He's not a great athlete, but Bozeman rarely gets beat in the run game and showed improvements as a pass-protector after switching to center last season.
Bozeman is part of what has quietly been an impressive offensive line rebuild in Carolina alongside the additions of Ikem Ekwonu and Austin Corbett this offseason. It just remains to be seen how those pieces fit together in a new scheme.
Only six interior offensive linemen have played over 500 offensive snaps in their 14th NFL season since 2010. And no one has done it in the past seven seasons.
Interior offensive linemen who have played over 500 snaps in their 14th season since 2010
| | | |
| --- | --- | --- |
| Player | Season | iOL snaps |
| Matt Birk | 2011 | 1,192 |
| Jeff Saturday | 2011 | 975 |
| Todd McClure | 2012 | 1,175 |
| Brad Meester | 2013 | 1,062 |
| Dominic Raiola | 2014 | 1,093 |
| Roberto Garza | 2014 | 755 |
If you include players beyond their 14th season, Richie Incognito's 2019 campaign joins the list as the only guard or center to meet the threshold since 2015.
It's not surprising that Mack is weighing his options when it comes to retirement, but San Francisco could certainly use him back in 2022. His reunion with Kyle Shanahan resulted in a 70.6 PFF grade (12th at the position) on 1,258 snaps at center (fifth-most). The question is whether he can sustain that level of play for another year.
McGovern bounced back nicely last season after a disastrous debut with the Jets in pass protection in 2020. His 5.9% pressure rate allowed two years ago ranked last at the position, but he improved it to 3.1% in 2021 (17th). McGovern also improved his PFF run-blocking grade from 70.5 in 2020 to 78.9 in 2021.
There are certainly worse starting options elsewhere across the league as long as the Jets are getting the 2021 version of McGovern rather than the 2020 one.