NFL free agency represents the first significant opportunity teams have to rebuild their rosters, but that chance can come at a cost. Smart business is done every offseason, but vast sums of money are also wasted on players that aren't likely to justify the deals handed to them in the frenzy or simply don't live up to the deal because of circumstances beyond their control.
---
Click here for more PFF tools:
Rankings & Projections | WR/CB Matchup Chart | NFL & NCAA Betting Dashboards | NFL Player Props Tool | NFL & NCAA Power Rankings
Best Bets Tool
---
As the league focuses on the class of 2022 free agents, let's review the best and worst deals from the 2021 class.
Best
This is the beauty of free agency — sometimes, a team makes a move that doesn't look great on paper but pays off. Whether by luck or knowledge, the Bengals were proven right in the face of doubt, at least in Year 1.
Hendrickson was coming off a career year in which he sacked the quarterback 14 times, but he had a relatively more modest 50 total pressures and 13% pressure rate. The Bengals seemed to be paying for sacks, and signs were pointing toward a likely regression. This year, Hendrickson exceeded his 2020 season in almost all areas, earning a better overall PFF grade, pass-rushing grade, pressure rate and pressure total in addition to racking up more sacks. 
CB Chidobe Awuzie, signed with the Bengals for three years, $21.75 million
The Bengals could have taken up most of this list with their signings, as they had a free agency period for the ages in 2021. Much like how they elected to let Carl Lawson walk so that he could be replaced by Hendrickson, the Bengals also allowed William Jackson III to leave and replaced him with Awuzie. This move seemed more rooted in cost than production, but Awuzie has had a career year and been a much better player this season than Jackson. Awuzie finished the regular season ranked second in overall PFF grade (83.4) and fourth in coverage grade (84.2). He allowed just 57% of passes thrown into his coverage to be caught and generated a 74.8 passer rating — both of which were career-best marks.
Zeitler had been one of the better guards in the league for the Bengals and Cleveland Browns before a stint in New York caused him hit free agency after the worst season of his career. The Ravens relied on the experience of facing him for years within the AFC North and signed him to a three-year contract, where he bounced back immediately to something akin to his career baseline. Zeitler finished the season with a 76.4 PFF grade — more than 10 grading points higher than his last year in New York. He allowed one sack and 17 pressures all season and was a significant upgrade on a line that was trending in the wrong direction.
Hayward was one of the NFL's best cornerbacks over the last decade, but at 31 years old and coming off a season with a 59.5 PFF grade, it looked like Hayward's career as a quality starter may be over. The Raiders picked him up on a one-year deal for just $2.5 million, and he bounced back. Hayward's PFF grade jumped almost 20 points, as allowed two touchdowns all year — less than half the total he allowed in the prior season. Passes thrown into his coverage generated an 81.5 passer rating, and for a stretch early in the season, he was the No. 1-graded corner in the league. Hayward's time as one of the very best corners in the game may be done, but he proved he can still be a quality starter in the right defense.
---
Related content for you:
2022 NFL free agency rankings for every position via PFF.com
---
The Chargers set out on a mission to overhaul an offensive line that had been a problem unit for the better part of a decade. They spent big in free agency on Corey Linsley at center and drafted Rashawn Slater in the first round, but Feiler represented arguably the best value as a more modest signing. Feiler ended the season with a couple of rough games, but he still recorded a 74.5 overall PFF grade — almost matching his career-high. He allowed 25 pressures on 737 pass-blocking snaps and was an impressive run-blocker. No one will be mistaking Feiler for an All-Pro anytime soon, but he massively upgraded a line that was in desperate need of it and represents an excellent signing.
Patterson has bounced around the league lately as a core special teams player, the best kickoff returner in NFL history and a gimmick player on offense who can take a few carries and make some plays. The Falcons probably didn't expect much more than that when they signed him, but they stumbled into one of the most dynamic hybrid weapons in the NFL this season. Patterson recorded 207 touches between carries and receptions while averaging 4.0 yards per carry and 10.3 yards per catch. He finished with 11 total touchdowns and gained almost 850 yards either after contact or after the catch.
A third-round pick in 2018, Key game just didn't immediately translate to the NFL level. However, he has become a key pass-rusher for a 49ers defense that has been getting after the quarterback at an outstanding rate over the second half of this season. Key recorded 36 pressures on the season — 11 of which came over the final two weeks of the regular season. He added three more in the 49ers' wild-card win over the Dallas Cowboys. Even now, Key isn't a superstar, but he's become a valuable rush specialist and is contributing critical plays for the 49ers while barely making more than the league's minimum salary.
Worst
WR Corey Davis, signed with the New York Jets for three years, $37.5 million
Signing a player coming off a career year is always dangerous — doubly so when the plan is to transplant him into a significantly worse environment. That's exactly what the Jets did with Davis, as they hoped he could lead a new-look receiving corps to success with a rookie quarterback. Davis dealt with injuries and only played in nine games, but in those games, he averaged just 1.74 yards per route run — a massive dropoff from the 2.58 he managed last season. Davis also posted the highest drop rate (15.6%) of his career and his lowest PFF grade since he was a rookie. He will get another chance next season, but the Jets need the former first-round pick to up his game.
Sometimes, you can see the mistake coming the whole way, and that's the situation in Tennessee with Dupree. In his NFL career thus far, Dupree has one season with a PFF grade above 61 overall, and even that 13-sack season didn't quite live up to the sack total when you looked deeper at pressure rate and truly predictive pass-rush measures. This season, injuries limited Dupree to fewer than 400 snaps, but even in those snaps, he generated pressure on just 9.3% of rushes — good enough to rank 134th among pass-rushers. Dupree is an athletic player who is long on potential, but the Titans paid him to be one of the most impactful pass-rushers in the league, and he has never been that.
Injuries have been a major part of the poor first seasons from many of the players on this side of the ledger, but Golladay ended up playing 667 snaps for the Giants in his first year and was outscored by the left tackle when it comes to receiving touchdowns. Golladay caught just 37 of his 75 targets and averaged 1.23 yards per route run. One of his biggest strengths before now has been contested catches, but he brought in just 14 of his 31 contested targets despite catching almost 77% of them in his final season in Detroit.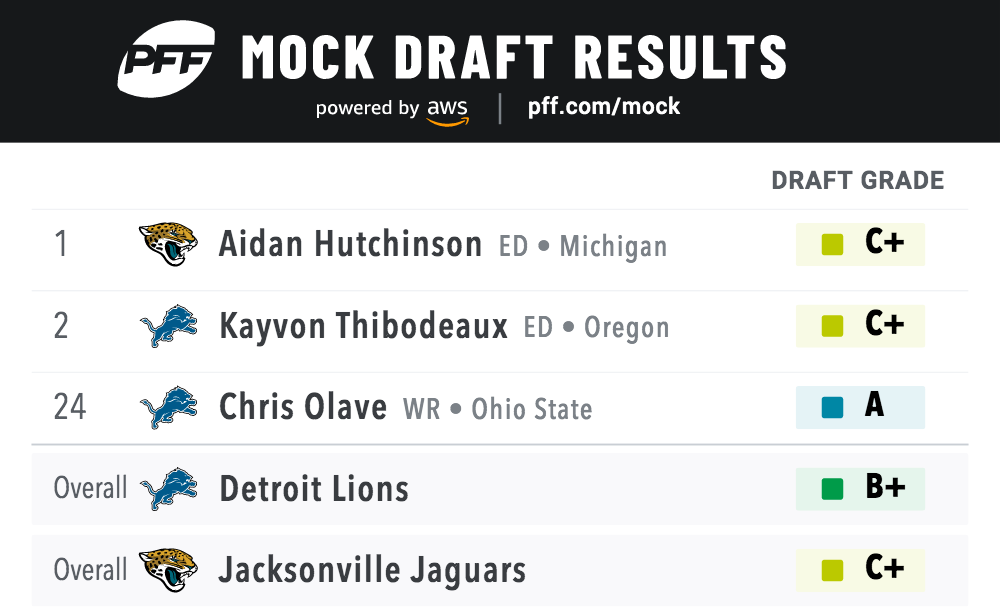 QB Sam Darnold, traded for by the Carolina Panthers and had his fifth-year option exercised for $18.9 million
OK, technically speaking this wasn't a free-agent signing, but the Panthers targeting Darnold as their solution at quarterback last offseason and picking up his fifth-year option has been calamitous. At one point, the Panthers were 3-0, and Darnold was playing as well as he ever has, but he quickly turned back into a pumpkin and finished the season with a worse PFF grade (55.2) than he ever posted with the Jets. Darnold accrued six more turnover-worthy plays than big-time throws despite a 7.6-yard average depth of target. He ended any hope he could be a franchise quarterback going forward, yet the team is still on the hook for his 2022 salary.
OC/OG Pat Elflein, signed with the Panthers for three years, $11.5 million
Another of the curious moves the Panthers made last offseason was prioritizing Elflein and Cam Erving during the first days of free agency, bringing in two players who had an extensive history of sub-par play along the offensive line. Neither player exceeded expectations in Year 1, as Elflein played just 534 snaps and earned a 42.0 PFF pass-blocking grade and a 50.1 overall mark. Elflein accrued multiple games with a PFF grade under 30, and he earned below-average marks as a run-blocker in every game except one.