As a part of our partnership with ESPN, this is a part of a story that was originally published on ESPN+ and can be viewed in its entirety here with your ESPN+ subscription — Best NFL players in 2020: Highest-graded players, rookies and surprises at every position
As the 2020 NFL playoffs push forward, it's time to take a step back and reflect on an eventful 2020 regular season, with analysis from PFF's player grades.
Here are the highest-graded players at every position from the 2020 season, plus the top rookie and a surprise from each position. Many of the top-graded players should come as no surprise, but there are several instances where the grades and the statistics or general perception of a player don't necessarily align. The quarterback position falls into the former category.
Quarterback
Regular-season PFF grade: 94.5
Rodgers came into this season with something to prove amid chatter that he was no longer a truly elite quarterback and the Packers' decision to spend their first-round pick on his eventual replacement — Jordan Love — rather than on another receiving option for Rodgers. But his MVP-caliber 2020 season served as a reminder that few quarterbacks occupy the same tier as he does when he's on top of his game. Rodgers' deep ball, in particular, delivered this season — his 1,242 passing yards on passes thrown 20 or more yards downfield led the league.
---
Grade: 80.1
Herbert was the third quarterback to come off the board in the 2020 NFL draft, but he still exceeded expectations in his first season in Los Angeles. The most impressive aspect of his game was his ability to produce with defenders in his face. Only Russell Wilson was pressured on more dropbacks (251) than Herbert was (239), but no quarterback was better in those pressured situations. The Oregon product's 75.4 passing grade under pressure led all quarterbacks, as did his 99.4 passer rating on those plays.
---
Grade: 90.9
The Allen who took the field in 2020 looked very different from the Allen who posted a 65.3 PFF grade across the 2018 and 2019 seasons combined. The work he put into changing his throwing mechanics in the offseason clearly paid dividends in the accuracy department. Per PFF's accuracy charting data, Allen went from throwing an uncatchable pass on 26% of his passes across his first two seasons — the worst mark in the league — to 16% during the 2020 regular season, fifth best in the NFL.
---
Running back
Grade: 92.4
The 2K club at the running back position has found another member after Henry ran for 2,027 yards on 378 attempts this season, and the 6-foot-3, 247-pound back's advanced rushing numbers back up the idea that he is one of the hardest men in the NFL to bring to the ground. His 75 missed tackles forced as a runner led the position, and his 1,490 rushing yards after contact were more than any running back other than Dalvin Cook had in total on the year. Henry has unquestionably been the most prolific rusher in the NFL ever since Ryan Tannehill took over at quarterback in Tennessee.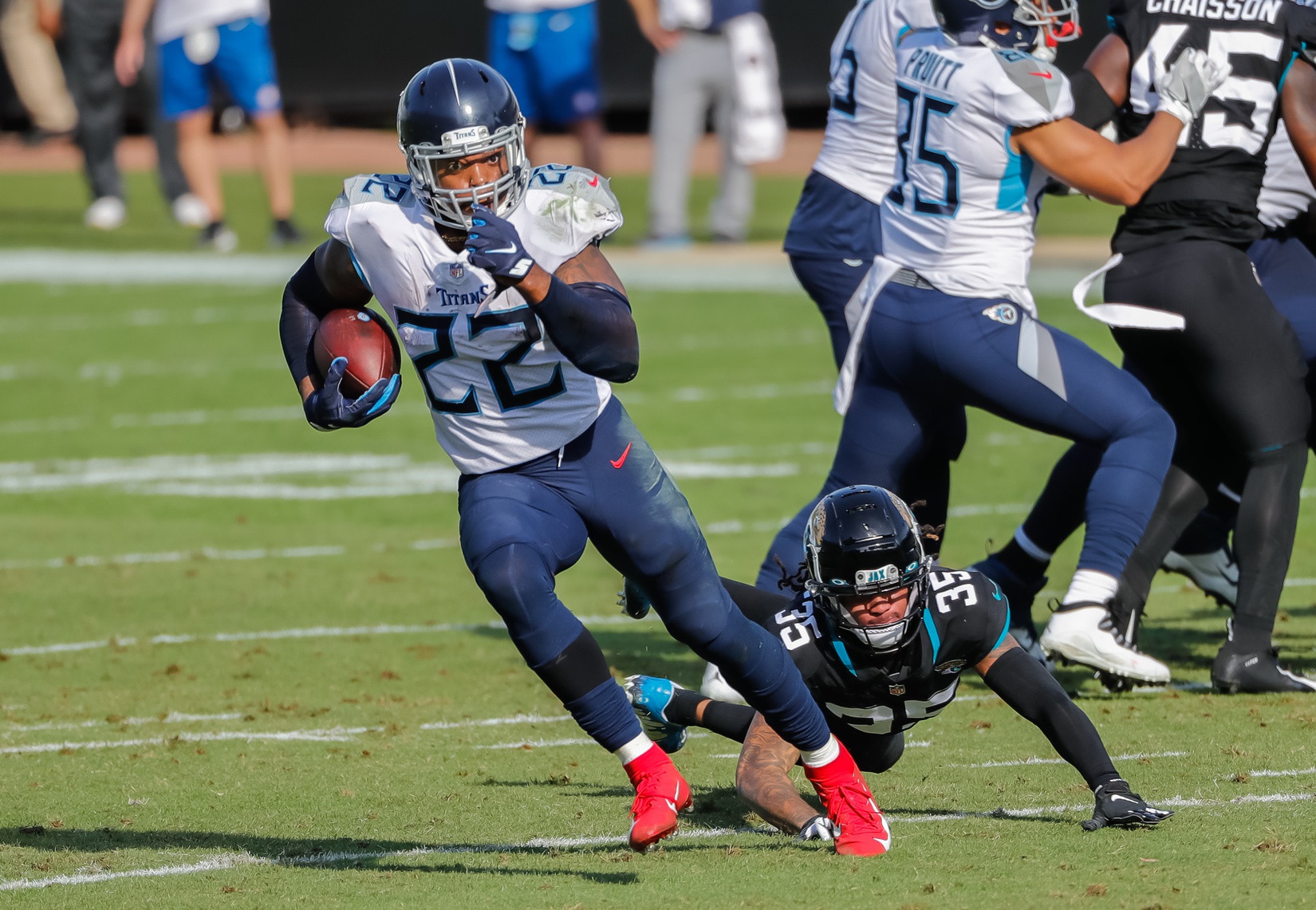 Grade: 83.9
Taylor got off to a slow start, but things really began to click for the rookie out of Wisconsin down the stretch. From Week 11 through the end of the regular season, a league-high 34.4% of Taylor's carries went for either a first down or touchdown, and only Derrick Henry earned a higher PFF rushing grade than Taylor (91.2). The fact he dropped only one of his 38 targets — an issue for him coming out of college — is another positive takeaway.
---
Grade: 72.9
Robinson's PFF grade ultimately didn't stand up to Taylor's, but the undrafted free agent out of Illinois State was the darling rookie running back early on in a real workhorse role for Jacksonville. He played 641 snaps for the Jaguars — sixth most at the running back position — despite not playing in the final two games of the season. The closest undrafted rookie running back to that mark in the past decade was Phillip Lindsay at just 453 snaps for the Denver Broncos. Robinson proved to be a strong runner and capable outlet in the passing game.
---
Wide receiver
Grade: 92.2
Just like his quarterback, Adams is the highest-graded player at his position. You can't have a conversation about the best route runners in the league without starting with Adams, and that really shows up when the field shrinks in the red zone. His 23 red zone receptions and 14 red zone touchdowns led the league this season, which has been a trend throughout the past five years. Adams, with 46 red zone touchdowns since 2016, has 17 more than any other player.
---
Grade: 90.4
Jefferson had large shoes to fill in Minnesota with Stefon Diggs leaving town via trade, but he delivered in a big way with a historically good rookie season. His 90.4 PFF grade ranks first among all rookie wideouts not named Odell Beckham Jr. (2014, 90.8) over the past decade. Even if you compare him against all wide receivers, rather than just rookies, Jefferson's numbers held up this season with the best in the league. His 2.66 receiving yards per route run had him trailing only Davante Adams among the 130 wide receivers who ran at least 150 routes.
Grade: 86.9
Davis picked an opportune time in a contract year to start to look more like the wide receiver the Titans hoped they were getting after selecting him fifth overall in the 2017 NFL draft. He has been a solid option for Tennessee in the passing game each of the past two years, but he took another step forward from an efficiency standpoint in 2020. Davis' 86.9 PFF grade was over 10 points higher than his previous career high, and he recorded a top-five contested-catch rate (65%) among wide receivers with 15 or more contested targets.
---
Tight end
Grade: 93.5
With George Kittle battling through injuries this season, Kelce's claim to the title of the top tight end in the league was relatively uncontested. Kelce led the position in receiving yards (1,416), combined first downs and touchdowns (79), and broken tackles after the catch (14), with Darren Waller serving as the only real challenger in most receiving metrics. Kelce was also one of the better run-blockers at the position this season and earned the third-highest run-blocking grade at the position (79.0).
---
Tight end was one of the weaker rookie positions in the NFL this season, but Trautman showed promise in the limited role he played in New Orleans' offense. He brought in all 15 of his catchable targets on the year for 171 yards and a touchdown, but he really excelled as a run-blocker for Alvin Kamara, Latavius Murray & Co. Trautman's 86.9 run-blocking grade ranked first among qualifying tight ends in 2020.
---
Grade: 78.3
In his first three seasons since signing with the Colts as an undrafted free agent out of VCU, Alie-Cox had caught 15 of his 24 targets for 226 yards and two touchdowns. This season alone he caught 31 of 36 targets for 394 yards and two scores, coming in as the ninth-highest-graded tight end in the NFL while splitting time with Jack Doyle and Trey Burton. Alie-Cox was one of five tight ends in the league to average 2 or more yards per route run on 150-plus routes, along with George Kittle, Travis Kelce, Darren Waller and Mark Andrews. That's not bad company.
---
Offensive tackle
Grade: 91.9
Williams has been one of the best tackles in football for nearly his entire career, so it shouldn't come as a surprise to see him top this list. There were some concerns about how he would bounce back after missed time in 2018 and an entire missed 2019 season due to injury, but it didn't look like Williams missed a beat. He was the highest-graded run-blocker in the NFL this season at the tackle position (91.8) and allowed just 19 pressures on 535 pass-blocking snaps. Bringing him in for only a fifth- and third-round pick was good work by the 49ers' front office.
---
Grade: 82.2
Rookie tackles aren't supposed to come into the NFL and look as good as Wirfs did this season. He came out of the regular season as the second-highest-graded right tackle in the league, with strong showings against some of the best edge defenders and pass-rushers in the league — a list that includes the likes of Cameron Jordan, Joey Bosa, Khalil Mack and Brian Burns. Wirfs played a colossal 655 pass-blocking snaps this season, but Mack was the only defender who beat him for a sack all year.
---
Grade: 90.3
There were questions about whether the Broncos would be extending Bolles at all after declining his fifth-year option, but he'll leave the regular season with a new four-year, $68 million deal that makes him one of the highest-paid left tackles in football. That's the kind of season he had in 2020. The talk surrounding his play these past few seasons was likely too harsh and centered on his holding penalties, but it's hard to get around the fact he was a below-average pass-protector from 2017 to 2019. That changed in 2020 with an 87.9 pass-blocking grade that ranked fourth at the tackle position.
---
Guard
Grade: 92.9
Teller missed some time this season, but so did several of the other top guards in the league from a grading standpoint. No player was more dominant in his time on the field than Teller was as a run-blocker, picking up a league-high run-blocking grade of 93.6. That's the highest run-blocking grade we've given out for a guard at PFF since Evan Mathis in 2013 (94.8). Teller was particularly effective on the zone runs that are such a big part of what coach Kevin Stefanski and the Browns want to do on offense.
---
Grade: 70.2
Lewis certainly has a lot of room for improvement in pass protection, but he came into the league as a rookie and was already one of the better interior run-blockers in the NFL. His physicality and mindset in the run game were two of his biggest strengths coming out of LSU, and they translated to an 81.5 run-blocking grade that ranked sixth at the guard position in 2020. The next step in his development is creeping toward average as a pass-protector.
---
Grade: 92.9
It didn't make much sense to make the biggest surprise at the guard position anyone other than the highest-graded player at the position. Teller earned overall PFF grades of 60.3 as a rookie with Buffalo in 2018 and 56.7 in 2019 with the Browns. That doesn't exactly profile as a player who is going to take a massive third-year jump and become the highest-graded guard in the NFL, but that's exactly what Teller did. Browns offensive line coach Bill Callahan deserves some serious credit for the work he has done with Teller and the rest of that offensive line.
---
Center
Grade: 89.9
The center position saw one of the widest gaps between the highest-graded player at the position (Linsley, 89.9) and the second-highest-graded player (Frank Ragnow, 80.3). It was a dominant effort by Linsley following six years of solid play to start his career with the Packers. He was the only player at the position to record 80.0-plus grades as both a pass-protector and run-blocker and his 1.0% pressure rate allowed was the best mark among players at the position. Linsley allowed just four pressures on 404 pass-blocking snaps all year.
---
Grade: 53.5
The fact Biadasz shows up here with a 53.5 overall grade on the season tells you all you need to know about how rookie centers fared in 2020. To be fair, the only two rookie centers to play 250 offensive snaps this year were Biadasz (427 snaps) and Lloyd Cushenberry III (1,076 snaps). Cushenberry took himself out of the running with a 40.5 PFF grade that ranked dead last among qualifying centers, leaving Biadasz as the only option. As far as silver linings go, Biadasz did grade higher than teammate Joe Looney at the position.
---
Grade: 73.6
For years, Hudson has been the best pass-protecting center in the NFL. To put it into perspective, Hudson allowed a pressure rate of 1.0% from 2015 to 2019, while the next-lowest pressure rate allowed at the position (Brandon Linder, 1.8%) was nearly twice as high. That's the lead-in to what made his 2020 season surprising. Hudson actually graded higher as a run-blocker this season (72.7) than as a pass-blocker (70.0). It wasn't a bad season for Hudson by any means, simply a departure from what we've seen from him for the past decade.
---
Interior defensive line
Grade: 94.5
Another year, another season with Donald coming in as the highest-graded player not only at the position but at any defensive position. Despite a constant barrage of double- and triple-teams, Donald generated by far the most pressures in the NFL this season (98), and he was one of 10 interior defenders who notched 10 or more tackles for loss or no gain against the run. This is one of the best players in NFL history in his prime. It's going to take a massive effort from someone else to knock him off this perch.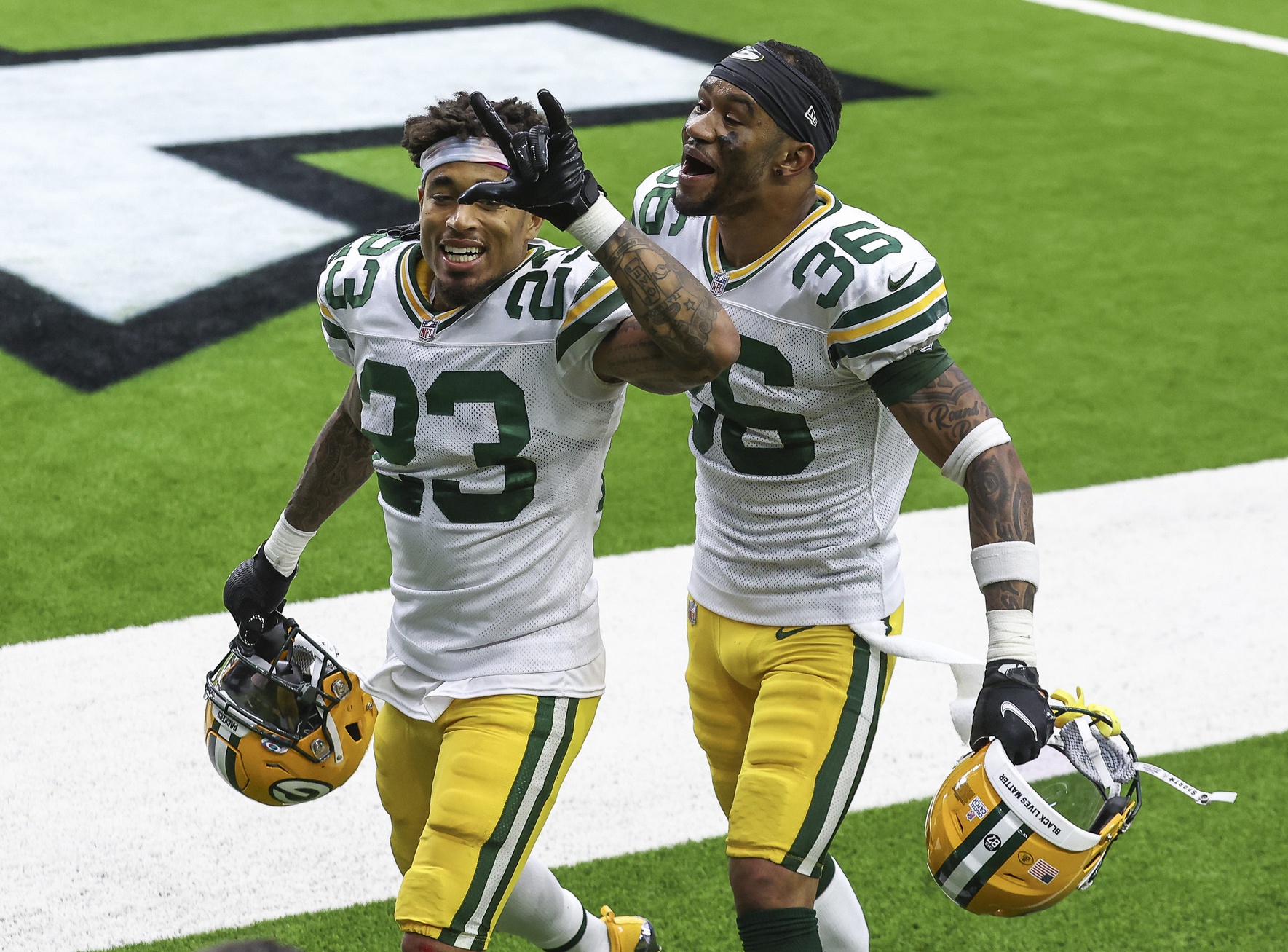 Grade: 73.9
It was a rough year for rookie cornerbacks in general, but that didn't extend to the Chiefs' fourth-round pick out of Louisiana Tech. Sneed missed a big chunk of the season due to injury, but he was one of the more productive NFL cornerbacks when healthy. Among all cornerbacks who saw at least 25 targets during the regular season, Sneed ranked third with a 53.4 passer rating, behind only Bryce Callahan (46.9) and Xavien Howard (53.0). That feat was even more impressive because he split his time almost evenly between the slot (171 snaps) and out wide (164 snaps).
---
Grade: 77.6
Alex Smith's dramatic return from injury in Washington makes him the favorite to take home the Comeback Player of the Year award, but Verrett is a very deserving candidate after dealing with a number of significant injuries year after year. After earning an 88.4 overall grade in 2015, Verrett played just 327 defensive snaps in the four subsequent seasons. The fact he could come back this season and play like an upper-tier cornerback again with a 77.6 PFF grade and a 76.3 passer rating allowed is one of the most impressive stories of the season.
---
Safety
Grade: 90.1
After the season he had, Bates not making the Pro Bowl roster in the AFC stands as one of the team's biggest snubs. He led all players at the position in PFF grade at 90.1, and he showcased that few players in the league can compete with the kind of range and instincts he has at the free safety position. His 15 combined pass breakups and interceptions this season were more than any other safety in the league even though he plays a deeper role where he doesn't see nearly as many passes come his way as those who play more in the slot and box.
---
Grade: 68.0
It might come as a surprise not to see Panthers rookie Jeremy Chinn in this spot, but Curl is coming off a strong season in his own right in Washington and ended the regular season with a higher PFF grade than any other rookie safety. Curl didn't look like a seventh-round pick, particularly later in the season once he started to get more comfortable in his role. He led all rookie safeties in both run-defense stops (19) and coverage stops (16) across 150-plus snaps in the slot, box and deeper at free safety.
---
Grade: 70.9
Edmunds has run into his fair share of criticism in Pittsburgh as a weak link on a good defense after becoming the team's first-round selection in the 2018 NFL draft. That was especially true in coverage, where Edmunds earned a PFF coverage grade of 58.3 and allowed a passer rating of 120.8 on throws into his coverage in 2019. Both of those numbers have improved in Edmunds' third season out of Virginia Tech, jumping to 76.0 and falling to 76.2, respectively. He's still yet to turn 24, so his development is a good sign for a Pittsburgh defense full of talent.