The Baltimore Ravens and star cornerback Marlon Humphrey have agreed to terms on a massive five-year, $98.75 million extension, according to ESPN's Adam Schefter. The deal averages out to $19.75 million per year and contains $66 million in total guarantees. Humphrey's average per year comes in just below Los Angeles Rams cornerback Jalen Ramsey at $20 million, making him the second-highest paid cornerback in the NFL.
The 24-year-old Humphrey has been a star since the Ravens drafted him 16th overall in 2017, and his best football may still be ahead of him. He ranked sixth among cornerbacks in PFF WAR over the 2018-19 seasons.
[Editor's Note: PFF's advanced statistics and player grades are powered by AWS machine learning capabilities.]
Contract Analysis
Humphrey was one of five first-round cornerbacks from the 2017 draft class, with Tre'Davious White the first to sign an extension last month. White signed a four-year, $69 million extension with the Buffalo Bills at a $17.25 million average-per-year value, which we thought could have been even higher given his ascendancy to the top of the league alongside Humphrey. There is no question that Humphrey may be the best in the class, though.
Here's how all five 2017 first-round cornerbacks stack up since their rookie seasons, with Ramsey's stats over the same period included, as well:
2017 First-Round Cornerbacks + Jalen Ramsey | Stats Since 2017
Player
PFF Grade
Comp. %
Allowed
Forced
Incomp.
Yds per Rec.
Press Cov. Snaps as % of Tot. Cov. Snaps
Yds Allowed per Cov. Snap
Marlon Humphrey
88.0
50.2%
65
11.6
59.2%
0.96
Tre'Davious White
85.3
54.6%
43
12.5
39.9%
0.87
Marshon Lattimore
83.1
57.0%
52
14.3
47.0%
1.14
Adoree' Jackson
80.5
59.2%
59
11.8
38.7%
1.15
Gareon Conley
67.1
52.3%
35
13.4
51.8%
1.04
—–
—–
—–
—–
—–
—–
—–
Jalen Ramsey
90.6
56.5%
45
13.2
30.8%
1.12
Humphrey leads the way in pretty much every category, with White and Ramsey also showing why he joined them among the highest-paid cornerbacks. You can see why the Bills were smart to pay White before any of the 2017 first-rounders got paid and before Jalen Ramsey set the market at $20 million per year. This is the benefit of an early extension — White's deal is already a bargain for Buffalo, and he just signed it last month. Baltimore set a high floor now for the Saints with Marshon Lattimore, and New Orleans was the last team that needed the market to rise substantially at a position they need to pay soon.
Humphrey's contract value does set up an interesting situation with star left tackle Ronnie Stanley, the Ravens' 2016 first-round pick. Stanley watched Laremy Tunsil sign for $22 million per year at left tackle this offseason after being traded to Houston for two first-round picks. He presumably wanted to chase that number on his own deal, but the two sides were unable to come to terms, and Stanley is playing on a $12.866 million fifth-year option in 2020.
From Stanley's perspective, Humphrey just signed a year early and still came extremely close to Ramsey's deal — which was also signed after Ramsey was traded for two first-round picks, giving him a ton of leverage with the Los Angeles Rams. Now, Stanley may have a better argument as to why his deal should come in near Tunsil's $22 million per year.
The Ravens invest in their secondary as much as any team in the NFL, clearly understanding the tremendous value of quality coverage. Marcus Peters, Baltimore's other starting corner opposite Humphrey, is making top-10 cornerback money, as well, at $14 million per year. Baltimore becomes just the second team with two cornerbacks in the top 20 in average per year (Miami Dolphins with Byron Jones and Xavien Howard are the only other). The Ravens acquired Peters from the Rams for a fifth-round pick and linebacker Kenny Young, so they are clearly not afraid to make moves to bolster their secondary. Earl Thomas was also making top-five safety money before his release.
As for pass rush, the Ravens let edge rusher Za'Darius Smith leave for Green Bay just last offseason, and now Matthew Judon is playing on the franchise tag this year in lieu of a new contract extension. At left tackle, Ronnie Stanley's main job is to neutralize the pass rush. Perhaps that philosophy carries over to the offensive side of the ball for the Ravens, as well. Stanley is, without a doubt, one of the best left tackles in the NFL — his 90.2 pass-blocking grade since 2016 ranks fifth in the NFL among tackles — but he is still just one man on an offensive line.
Houston and Tunsil have allowed 40 pressures combined so far in 2020, tied for the sixth-most in the NFL. Offensive line performance is something of a weak-link principle, where you are only as good as your worst offensive linemen. That may be a bit oversimplified, but the general idea is that one player can't turn around the whole unit. The Ravens may be less inclined to break the bank for Stanley given this ideology, but we still think the two sides eventually get something done.
At the end of the day, the Ravens have 27-year-old Marcus Peters and now 24-year-old Marlon Humphrey under contract through 2022 and 2025, respectively. Baltimore can fit everything else on defense around these two cornerstones and can shift its attention back to trying to figure out the genius of Andy Reid.
Performance Analysis
Critically, you can make a strong argument that Humphrey isn't just good, but that he is the best young cornerback in football. His PFF grades have been consistently strong, if not spectacular, but you also need to look at the job he has been asked to do in Baltimore.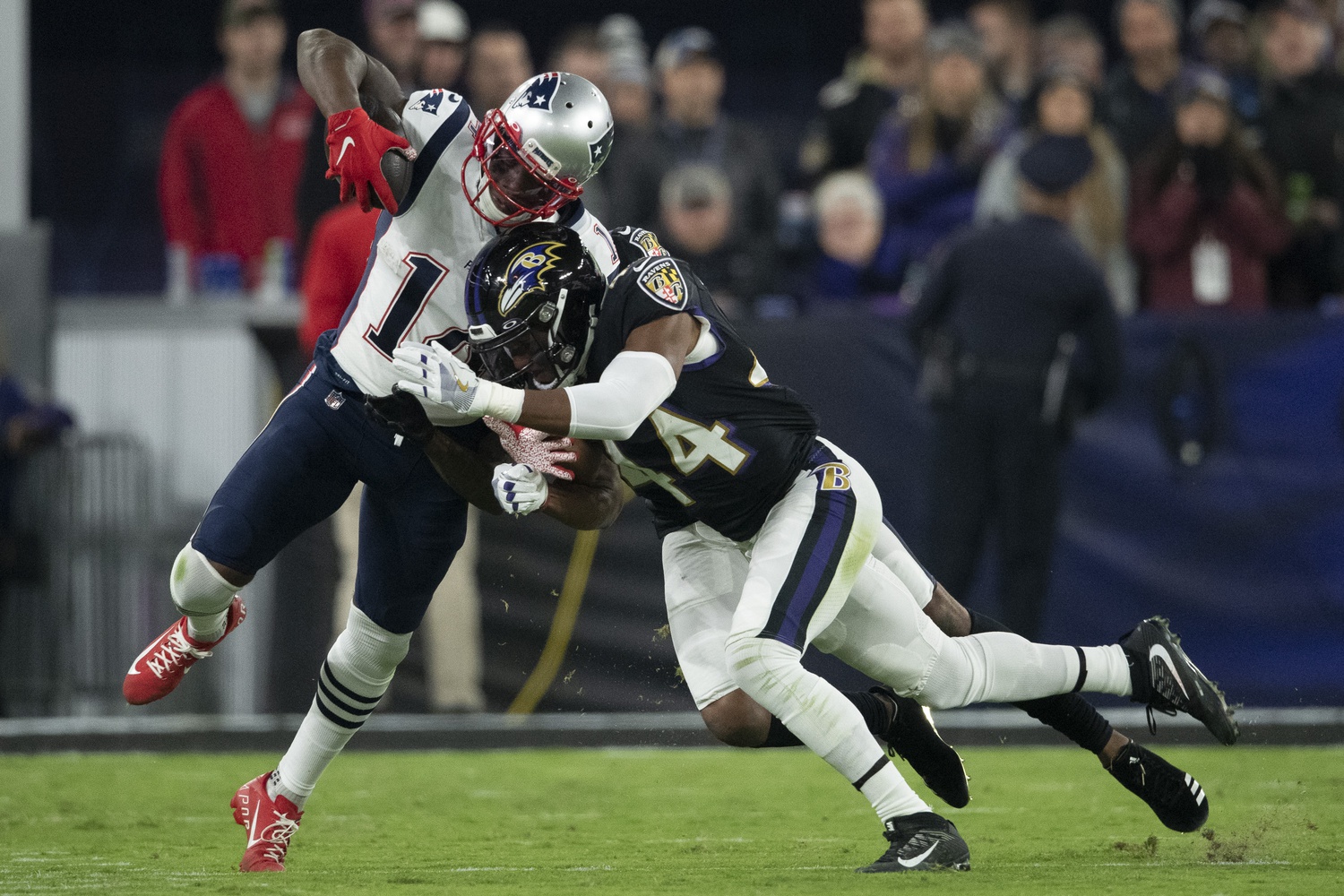 The Ravens are more creative on defense than almost every other team. They led the league in blitz rate last season (55%) and are on pace to do so again this year (54.5%). That blitzing isn't just reckless adding of bodies to the rush — it has a design to it that works in harmony with the coverage players on the back end, but it does ratchet up the difficulty level of the assignments of those players left in coverage.
Humphrey has also had to migrate to the slot for multiple seasons now due to injuries, and that is no easy task for a 6-foot, almost-200-pound defensive back. Slot corners are typically smaller, quicker players who can react to the two-way-go receivers have from an inside alignment and not just use physicality and the sideline to keep their man in a tight channel outside.
Humphrey has faced significantly more targets when lined up in the slot than any perimeter corner since the start of 2018, and while his PFF grade isn't among the elite there (72.3 in coverage), it is better than a lot of slot corner specialists and better than all but two outside cornerbacks when they have lined up inside (one being Stephon Gilmore).
Where Humphrey shines is in man coverage, particularly when allowed to play in his natural position outside. Since the start of 2018, Humphrey leads all cornerbacks in PFF grade in single coverage (91.1) and is the only player with a grade above 90.0. Gilmore, who is seen as the best corner in the NFL by most and is a true man-to-man specialist, ranks second with an 88.2 mark. The next best player is at 82.5.
Humphrey has legitimate man-to-man cover skills, and if that's all the Ravens asked him to do, he would already be seen as a rival to Gilmore as the best shutdown man in the game. But his versatility is what the Ravens value when they are signing him to this monster contract, even if that versatility is the reason he is a little underrated in league circles.
The Ravens have asked him to assume some responsibilities in that defense that don't necessarily reflect him in his best light, and he has happily accepted the challenge. Humphrey has done an excellent job in whatever capacity the team has needed, even if it meant sacrificing his reputation a little in the eyes of those who haven't scratched below the surface and parsed out his play by situations and alignment.
Short of being Darrelle Revis, shutdown numbers from any position and any alignment in today's NFL are virtually impossible to generate because offenses are too good and rules favor the passing game more than they used to. That Humphrey can come as close as he does is a testament to just how good he is, and he is still only 24 years old. The Ravens just locked up the best young cornerback in football, and one with the versatility to do whatever they need on defense, which makes everything else on that unit better.