Imagine the pit in your stomach if you're a member of the Buffalo Bills' front office and you decide to move on from cornerback Stephon Gilmore, your former 10th overall pick, only for the division-rival New England Patriots to sign him to a huge five-year, $65 million deal.
The pressure is immediately on to replace your shutdown CB1 after his up-and-down five-year run with the team that ultimately ended without an extension. If Gilmore goes on to look good in New England — which would be an understatement for how he's performed so far — this only increases the pressure to deliver.
Then, in the 2017 NFL Draft, the Bills traded down from 10th overall and selected cornerback Tre'Davious White out of LSU at Pick No. 27 (we won't hold it against White that Patrick Mahomes was taken with that 10th overall pick).
It was potentially a risky proposition, as White was then the fifth cornerback drafted that year, behind Marshon Lattimore, Marlon Humphrey, Adoree' Jackson and Gareon Conley. 
To say White has stepped up to replace Gilmore would be underselling the 25-year-old star, who may be the best of the bunch from that 2017 draft class so far. He's also already shown more than Gilmore provided in his early seasons in Buffalo, though obviously we know things can turn around in a major way for a young cornerback.
White burst onto the scene with an incredible rookie season, earning the fifth-best PFF grade among all cornerbacks (88.5), and he hasn't dropped off too far from there over his last two seasons.
The Bills can now continue to watch him develop after signing him to a four-year, $69 million extension that will run through the 2025 season. White is now under contract for the next six years at about $82 million in total, with 2020 being the final season of his rookie contract and a $10.24 million fifth-year option awaiting him in 2021. 
The Bills were very smart to lock White up now, when he's still just 25 and before the cornerback market sees several big-name extensions. White's deal has an average per year of $17.25 million, and we would not have been surprised to see that number come in a bit higher.
White is now the highest-paid cornerback in the NFL after raising the market from $16.683 million per year, the number for Philadelphia Eagles cornerback Darius Slay's contract that was signed in March. However, the cornerback market has been one of the more stagnant position markets for years, and this doesn't do much to change that.
In 2014, 49ers cornerback Richard Sherman signed for $14 million per year, and Arizona's Patrick Peterson signed just above that for $14.01 million per year. Back then, $14 million was about 10.5% of the $133 million salary cap. In the same offseason, tight end Jimmy Graham signed a contract for $10 million per year, and Graham's deal was good for 7.5% of the 2014 salary cap.
The tight end market had been just as dormant as cornerback until George Kittle blew the top off with his $15 million-per-year extension — good for just under 7.6% of the 2020 salary cap. Kittle truly brought the tight end market back in line with where it had been as a percent of the team's overall salary cap. This doesn't always happen, and agents can't always push for it, but it's a useful benchmark to look at when analyzing deals through time.
If you were to do the same conversion to 2020 dollars at the cornerback position — take the 10.5% of the salary cap that Richard Sherman and Patrick Peterson signed for in 2014 and carry that forward to the $198.2 million 2020 salary cap — you'd be looking at a deal for $20.86 million per year.
Jalen Ramsey is currently working on inking his extension with the Los Angeles Rams, and Lattimore, Humphrey and Jackson are surely looking to sign extensions soon, before their fifth-year-option seasons in 2021. These players may have been hoping to see White push for a bit more, as I expect all three of them to use his deal as a comparison in negotiations. White did secure strong injury guarantees, at $55 million of the $69 million total contract, so some aspects of the deal should be helpful for the other cornerbacks, but that $20.86 million number seems less attainable after this deal.
For the past two years, White has been one of those players that PFF's play-by-play grading has been lower on than the consensus. After a tremendous rookie season in 2017, which earned a PFF coverage grade of 90.1, White has earned a coverage grade of just 71.6 over the past two years — 33rd out of 96 qualifying quarterbacks. This is an important time to point out that coverage grade is only one part of the equation when evaluating cornerbacks, though. By many metrics, White has been among the best cornerbacks in the NFL at limiting production ever since he entered the league.  
Sixty-eight cornerbacks have seen at least 150 passes thrown into their coverage over the past three seasons, and no one's passer rating allowed — not even Stephon Gilmore's — has been lower than White's mark of 59.8. His 37 forced incompletions are a top-10 mark at the position, as well, and as this heat map from PFF's Timo Riske shows, White has done a tremendous job of limiting completions to his side of the field.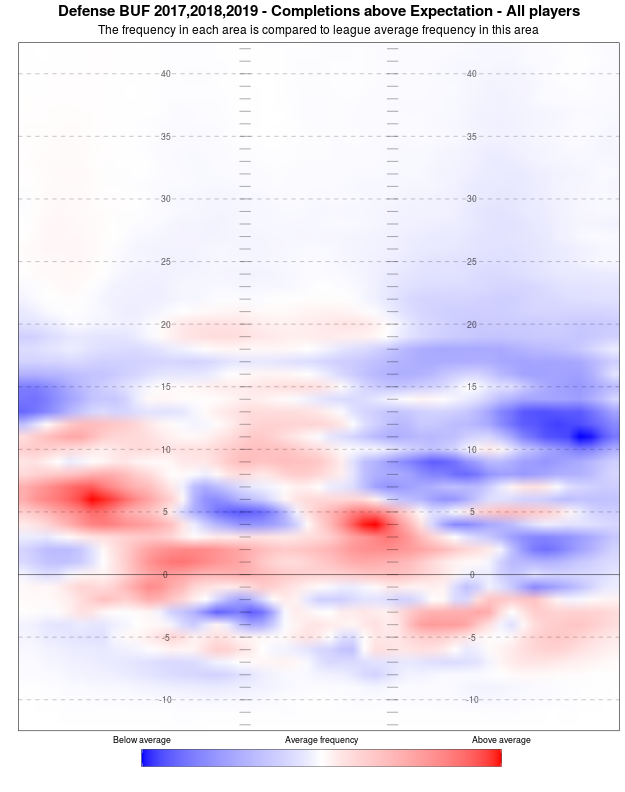 That right side of the field — the one with all the blue — is where White has spent over 70% of his snaps over the past three seasons. 
Part of the explanation for the disconnect is that he ranks 10th out of those 68 cornerbacks in the percentage of targets that were either dropped or off-target (23%). Those are plays where the pass fell incomplete, even if he was beaten by the receiver, thanks to either the quarterback or the receiver making a misstep.
White has also dealt with some difficult assignments. Per a recent article from PFF's Ian Hartitz, White profiles as one of the league's top shadow cornerbacks, something that makes it more difficult to finish among PFF's elite in play-by-play grading.
Regardless of how you look at it, though, White is one of the best young cornerbacks in the NFL — a tremendous way to bounce back from the loss of what Gilmore has become in New England. He should only continue to develop in Buffalo and profile as one of the league's top lockdown cornerbacks for years to come.