The 2021 NFL season is slowly creeping into view, and the opportunity for teams to add to their rosters and repair holes on the depth chart is coming to an end. Some teams, such as the defending champion Tampa Bay Buccaneers, have rosters that appear stacked and absent of any real trouble spots, but other teams that expect to be contending have glaring weaknesses that could derail a Super Bowl charge.
Let's take a look at five of the most pronounced Achilles' heels as the season looms large.
Pittsburgh will roll into the 2021 season trying to replace effectively an entire offensive line in one offseason. Some 3,645 snaps from starters last year are gone, and the only player penciled in to start this year who did so a year ago (Chukwuma Okorafor) wasn't supposed to and only had the job because of an injury to Zach Banner.
Long-time stalwarts Alejandro Villanueva, Maurkice Pouncey and David DeCastro have all departed, leaving the Steelers to find replacements all in one offseason. Okorafor played all last season but generated a lowly 57.5 overall PFF grade, struggling badly as a run blocker and allowing 26 total pressures in pass protection.
To be fair to the Steelers, they are simply the victim of circumstances (or at least not thorough long-term planning) with much of the turnover. Pouncey retired, Villanueva departed in free agency and DeCastro needs another surgery to fix a long-term ankle injury that threatened to end his career. It's not necessarily about blaming the team for the current situation, but rather highlighting how problematic it is. Even if they were replacing all three players with proven commodities, the chances they would jell immediately are slim. Replacing them with the kind of question marks they have in several spots is even riskier.
The Steelers have Ben Roethlisberger back chasing one more Super Bowl, and they have both the defense and receiving weapons to make that run, but their passing attack may never have the platform it needs with this offensive line. Roethlisberger had an average depth of target of just 7.4 yards last season, ranking 26th in the NFL and coming in as the lowest mark of his career. His big-time throw rate was also well down from his usual number. Those are numbers that have to change for the Pittsburgh offense to get to where it wants to go, and both need a solid offensive line in front of him to do so.
Seattle's offseason has been focused on quarterback Russell Wilson and the offense, but a cursory glance at the team's depth chart immediately draws a big bullseye on the cornerback position.
The defense in 2020 was already struggling, and on paper, the combination of Shaquill Griffin and Quinton Dunbar should have been a good one. Injury took out Dunbar for much of the season, and Griffin — now with the Jacksonville Jaguars — is a significantly better player than anybody on the roster right now.
Free agent signing Ahkello Witherspoon is scheduled to start, and while he is coming off a bounce-back season following an 80.2 overall PFF grade, it was on just 334 snaps after he had been benched in 2019. His previous two seasons of play — amounting to 1,211 snaps including the playoffs — earned a 52.1 grade and saw him beaten for a 107.6 passer rating. Tre Flowers is likely to be another starter, and in 2020 he allowed a catch on 75.5% of the passes thrown into his coverage, which contributed to his 54.4 overall PFF grade.
Rookie Tre Brown will likely look to be the nickel corner — assuming the Seahawks actually use one this year — and could even force his way into a starting role given what's in front of him. Still, it would be a long shot to expect plus play from a rookie. First-year cornerbacks last season were beaten for a 113.9 passer rating as a group, with very few able to hold their own in this era of passing efficiency.
Seattle can improve the secondary with a better pass rush up front, and the team made moves to address that this offseason, but even with that edge shifting back in their favor, this unit looks like a major weakness.
The Chiefs are going to serve as an interesting case study on how important cohesion and chemistry are for an offensive line. We know that stability on the line is a good thing, but Kansas City was forced to completely overhaul its unit this offseason and will likely be starting five completely new players on opening day this season compared to a year ago.
Mike Remmers is likely to be the only starter in Week 1 who was playing football for the Chiefs in 2020, and he didn't come into the lineup until Mitchell Schwartz got injured early in the season. Remmers was intended to be the backup at right tackle.
The interesting thing about this overhaul is that the line still looks good on paper. The average PFF grade for the four who played last season was 73.3, and big-money free agent signing Joe Thuney didn't have his best season. Laurent Duvernay-Tardif is returning after spending a season on the front lines of the medical field battling COVID-19, and he had been the team's starter at right guard for the previous five years. The key is that none of these players have played together before. It is a completely new combination of starting linemen, and how much that affects the overall ability of each player is an unknown.
Complicating matters further is quarterback Patrick Mahomes' tendency to play the game in a certain style, often dropping beyond the typical landmark for a quarterback to buy himself extra time and space to make some of the incredible throws he's become known for. Longtime starters from last season, such as Schwartz and Eric Fisher, are used to those nuances, but the new group of players has to pick that up on the fly. 
The impact that lack of cohesion has can be measured and is already one that oddsmakers in Las Vegas factor into the betting line for a game. On average, each additional offensive lineman a team doesn't carry over from the previous Week 1 is worth about seven-tenths of a point to the spread. For the Chiefs, that's all five linemen.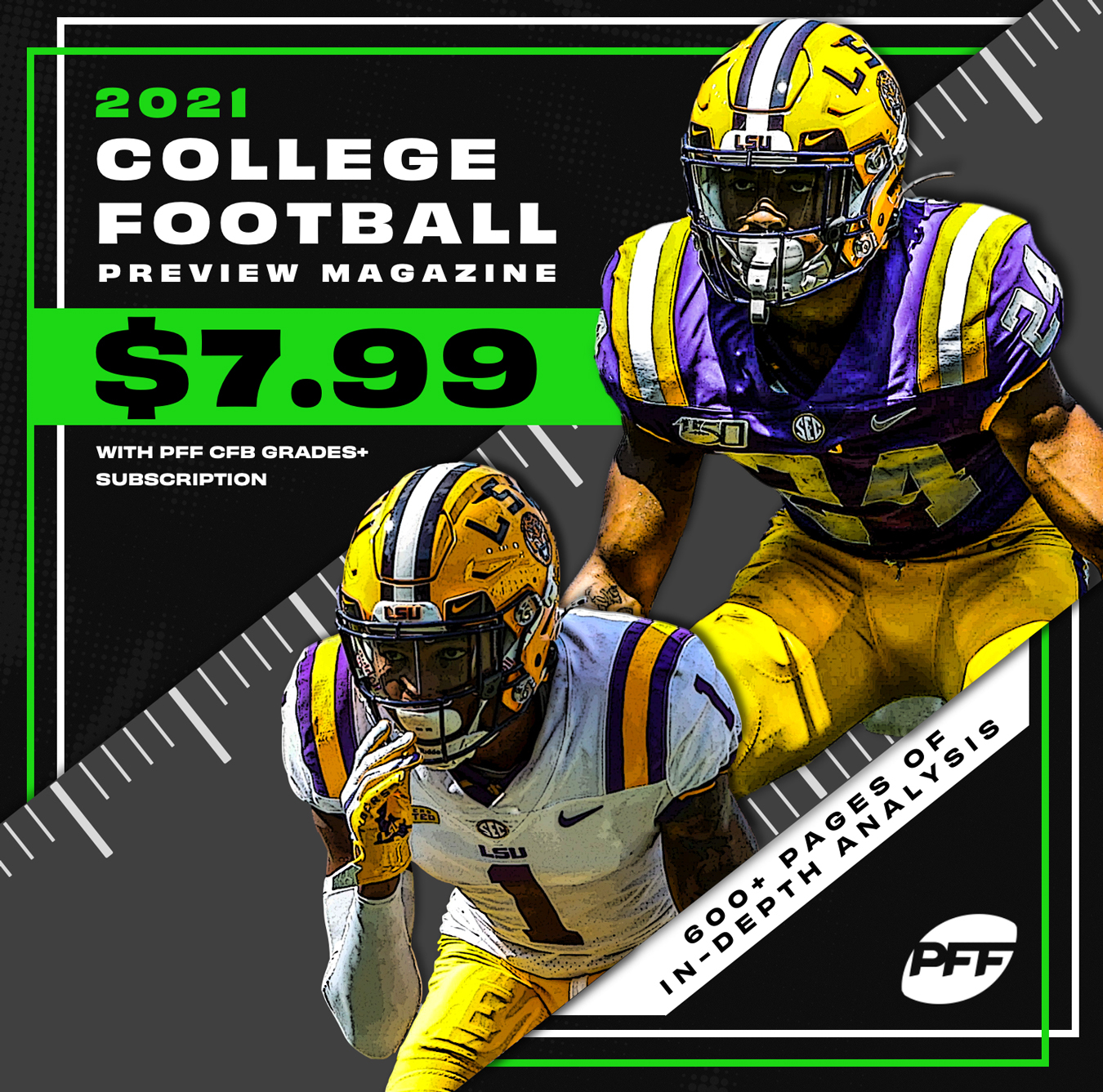 As much as Ryan Fitzpatrick is worthy of an entire ode to the "Fitzmagic," there is a very real chance he is the cap on how good this team can be in 2021. The Football Team's roster is in very good shape, and while their division crown last season is remembered because the team did it with a 7-9 record, it's important to note how bad the quarterback situation was for most of the year and that their head coach was battling cancer.
Washington should expect to be better just from the improvements it made across the board, the fact that its coach can dedicate all of his time to winning games and because Fitzpatrick, for all his faults, is a massive upgrade over Dwayne Haskins.
Over the past three seasons, Fitzpatrick is the No. 15-graded quarterback in the NFL — almost exactly average. It's an average that comes with a rollercoaster of highs and lows, but it is good enough to win games with a good team around him, particularly if there is plus play at receiver, which Washington has made moves toward.
Wide receiver Terry McLaurin, entering his third season with the Football Team, has generated a 103.7 passer rating when targeted by some of the worst quarterback play in the league over that time. Free agent signing Curtis Samuel and rookie Dyami Brown should help take the focus away from McLaurin and let Fitzpatrick give players a chance with the football.
The issue will be whether the rest of the team is good enough to win with just average quarterback play. The team will also inevitably have to fight the urge to make a change at some point in the season during one of the low ebbs of the Fitzmagic rollercoaster. Given his age and standing as a placeholder at the position, the temptation to bench Fitzpatrick after a bad run is always stronger than it is with an entrenched starter whose future isn't in question. He may give the Football Team the best chance to win in 2021, but it would take only two or three bad games for that to feel hard to believe.
If Aaron Rodgers isn't playing for Green Bay this season, then the team has far bigger problems than this. But even if the Packers do manage to piece things back together again, they will likely face a real issue of trying to battle against the forces of regression for some combination of their most important players.
A season ago, Rodgers, top wideout Davante Adams and cornerback Jaire Alexander all earned overall PFF grades of at least 90.7, marking a career year for each.
Cornerback, in particular, is an extremely volatile position where grading tends to fluctuate year to year, but if the Packers experience a significant regression from any of the three, let alone all of them, it's going to be hard to make it three NFC Championship appearances in a row.
A year ago, there was significant skepticism about whether the Packers could repeat the 13-3 season of 2019 because of how little they seemed to help themselves in the draft and during free agency. Rodgers improving his overall PFF grade from 83.7 to 95.1 made up the difference. He led the league with a 7.7% big-time throw rate and managed to do so with just a 2.0% turnover-worthy play rate, a figure only Tom Brady managed to top.
Rodgers led the league in passer rating by almost 10 points, and while passer rating isn't a great measure of quarterback performance, it is a useful indicator of the overall efficiency of a passing game as a whole, of which he was clearly the most important part. That season from Rodgers was always in there, but 2014 was the last campaign that came close in terms of overall PFF grade (93.4), and he had played three straight seasons with a grade lower than 90.0 before that season. Maybe that Rodgers is here to stay (if he even plays), but it would be wise to expect some kind of regression.
Adams' level is perhaps a little more likely to remain stable, as he has now averaged more than 2.6 yards per route run for two seasons while generating a 100.0-plus passer rating for five seasons when the ball has come his way.
Alexander's career season represents a much bigger departure, but it was also timed correctly for a Year 3 breakout. His PFF coverage grade jumped from two years in the 70s to 91.1, and he allowed just a 54.3 passer rating compared to 92.0 and 94.0 in the previous two seasons, respectively. It's certainly not unlikely that Alexander will be elite from this moment forward, but we also know how unlikely that is for even elite talents at the cornerback position. Green Bay will be fighting against its best players being less impactful in 2021, which will put more onus on the rest of the roster.