A week after Aaron Rodgers officially announced his return to the Green Bay Packers for the 2022 NFL season, the terms of the deal have finally been reported.
BREAKING: According to my sources.. @AaronRodgers12 will officially be returning to the Green Bay Packers.

There is no deal in place currently but there is said to be a Cap Friendly deal on the way.

Retirement was a real consideration & in the end

???? HE IS BACK WITH THE PACK pic.twitter.com/1lpdcLxyPL

— ????️at McAfee (@PatMcAfeeShow) March 8, 2022
Click here for more PFF tools:
Draft Guide & Big Board | Mock Draft Simulator
Dynasty Rankings & Projections | Free Agent Rankings | 2022 QB Annual
Player Grades
---
According to ESPN's Adam Schefter, Rodgers has agreed to a three-year, $150 million deal that is effectively a two-year, $124 million extension.
At $50 million per year, the longtime Packer now becomes the highest-paid quarterback in NFL history in terms of per-year average, surpassing Kansas City Chiefs quarterback Patrick Mahomes by over 10%.
Rodgers' $150.6 million in total guarantees surpasses Buffalo Bills quarterback Josh Allen's 2021 extension.
Player
Years
Average
per year
Total
guaranteed
Signing
bonus

Aaron Rodgers

4

$50M

$150.6M

$0

Patrick Mahomes

10

$45M

$141M

$10M

Josh Allen

6

$43M

$150M

$16.46M

Dak Prescott

4

$40M

$126M

$66M
The most important aspect of the deal for Rodgers is the structure, which his camp smartly negotiated so as to make things as flexible as possible for Green Bay's salary cap going forward.
The standard Packers contract structure includes large signing bonuses because the club prefers not to guarantee any money outside of the signing bonus (with some exceptions for top-end players like Rodgers).
The veteran quarterback earned a $57.5 million signing bonus on the four-year, $134 million extension he signed in 2018. However, with this deal, there will be no signing bonus at all. Instead, he will earn a $40.8 million roster bonus fully guaranteed at signing in 2022, followed by substantial option bonuses in 2023 ($58.3 million) and 2024 ($47 million).
Here is how this roster bonus approach benefits both parties:
When a roster bonus is fully guaranteed at signing, it still prorates on the salary cap like a signing bonus — meaning it can be spread out over the contract up to five years. However, unlike a signing bonus, the club has no right to forfeiture of the prorations that extend into later years.
All told, Rodgers helps the Packers keep his 2022 cap hit as low as possible, clearing over $18 million in space. He gets protected a bit, as well, and there won't have to be any conversations down the road about Green Bay going after his bonus money if he does choose to retire before the expiration of the deal.
The two sides can take a year-by-year approach, and Green Bay will eventually have to take on a huge dead cap hit, potentially leaving a $68.2 million hit in 2024 if Rodgers steps away.
It's a win for all parties involved, and the Packers can focus their attention on another Super Bowl.
Rodgers said during a late-January appearance on the Pat McAfee Show that he wanted to make his decision before the conclusion of the franchise-tag window. The franchise tag deadline was 4 p.m. ET Tuesday, March 8.
The Packers elected to franchise tag free-agent wide receiver Davante Adams, who has now indicated that he will not play out the 2022 season on the franchise tag of just over $20 million.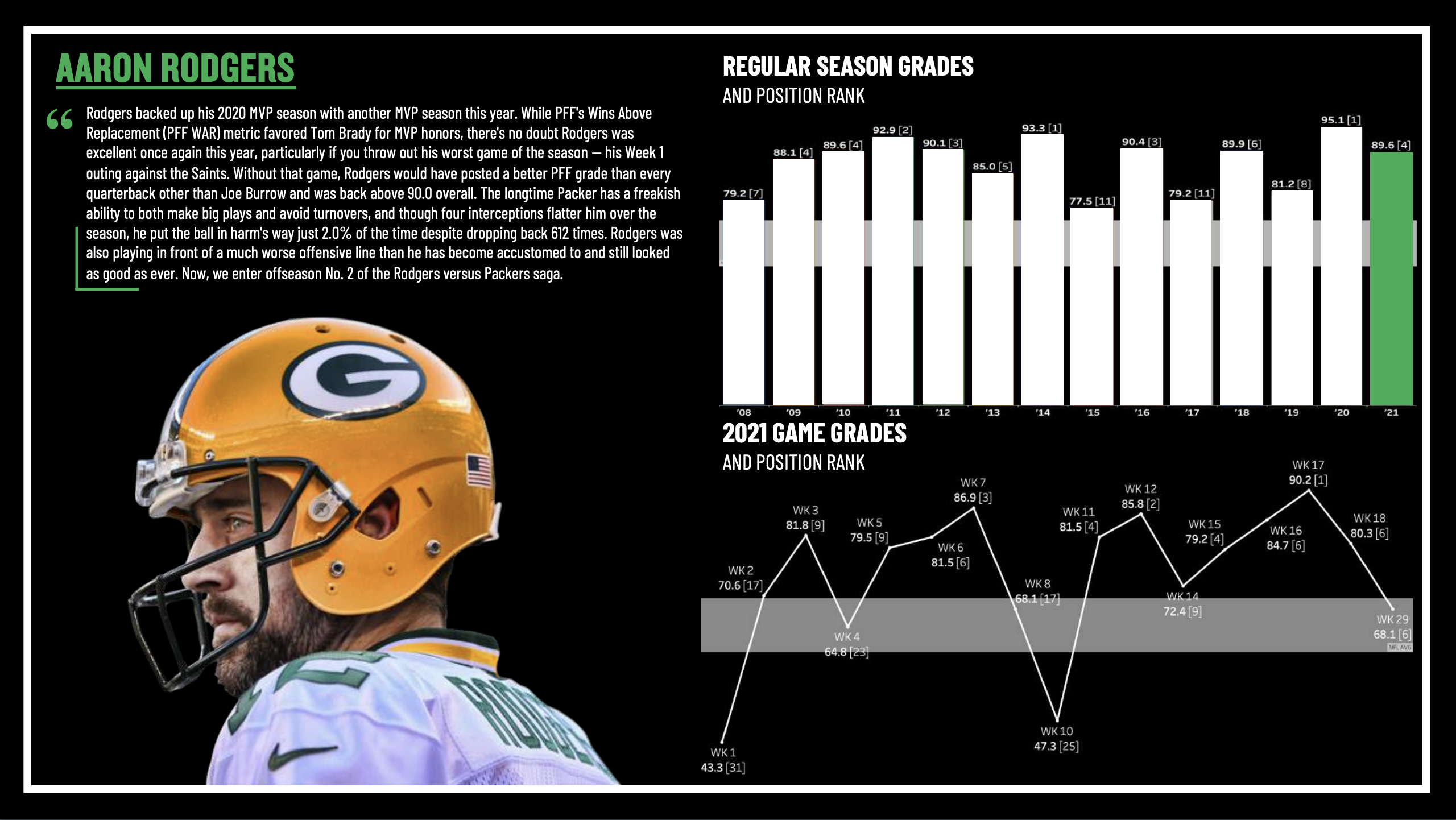 Rodgers said after the Packers' divisional-round loss to the San Francisco 49ers that he hadn't made a decision on his future. His other potential options were retirement or a trade request. He released a lengthy and vague statement on Monday, Feb. 22.
If Rodgers had elected to leave the Packers, their top internal option to replace him at quarterback would have been 2020 first-round pick Jordan Love, who struggled in the lone start of his two-year career Week 9 in a 13-7 loss to the Kansas City Chiefs. Now, Love finds himself in an interesting position.
The Green Bay Packers must choose to exercise or decline the fifth-year option on Jordan Love's contract for the 2024 season following the conclusion of the 2022 season.
With very little in-game experience, it may be tough to fully guarantee around $20-$25 million for Love in 2024. Nevertheless, Packers general manager Brian Gutekunst said in his end-of-season press conference that it's "very doubtful" he would take trade calls on Love.
Aaron Rodgers: PFF grade and rank since 2017
| | | |
| --- | --- | --- |
| Season | PFF grade | Rank |
| 2021 | 89.3 | 5th of 38 |
| 2020 | 95.1 | 1st of 38 |
| 2019 | 83.7 | 7th of 39 |
| 2018 | 89 | 5th of 39 |
| 2017 | 79.2 | 10th of 41 |
Click here to view Aaron Rodgers' career in PFF Premium Stats…
Rodgers re-upping with the Green Bay Packers signals another division title is well within reach. The betting market fully baked in this expectation after opening the Packers at -225 to win the NFC North, and they haven't budged off that number since the news of the extension broke.
The futures market is seeing a slight correction, as the Packers move to the second most likely team to win the NFC and third most likely team to win the Super Bowl.
Green Bay is priced behind the defending champion Los Angeles Rams in the conference championship odds but has shorter odds of winning the Super Bowl, based mainly on the belief that Rodgers is still a better real-life quarterback than Matthew Stafford.
Green Bay has disappointed in prior years but has its easiest path yet to playing in the Super Bowl out of the NFC and was always the best option for Rodgers to add one more Lombardi trophy to his collection.