• Buffalo Bills QB Josh Allen had the perfect game in Week 5, further cementing his case for MVP. His 0.64 expected points added (EPA) per play was the highest single-game mark of the season so far.
• The Las Vegas Raiders gave Patrick Mahomes a tough fight on Monday Night Football, but the QB ended up strengthening his MVP bid by mounting a 17-point comeback.
• The Philadelphia Eagles offense had its worst game of the season against the Arizona Cardinals, but they escaped with a win and are staying on track for home-field advantage in the NFC, vital for Jalen Hurts' MVP campaign.
• A $10 bet on Mahomes to win MVP would return $50 at BetMGM — qualified bettors will also get a free PFF+ subscription and $200 dollars in free bets!
Estimated reading time: 3 minutes
---
Week 5 of the 2022 NFL season all but confirmed that the MVP Award will come down to a competition between Patrick Mahomes, Josh Allen, Jalen Hurts and Lamar Jackson, with Justin Herbert being the most likely challenger of that group.
Every week throughout the season we will rank quarterbacks by their estimated MVP chances. These chances are based on simulating the remaining season and looking at individual efficiency stats and team success. The full methodology can be found in our initial version of this year's MVP rankings.
The Favorites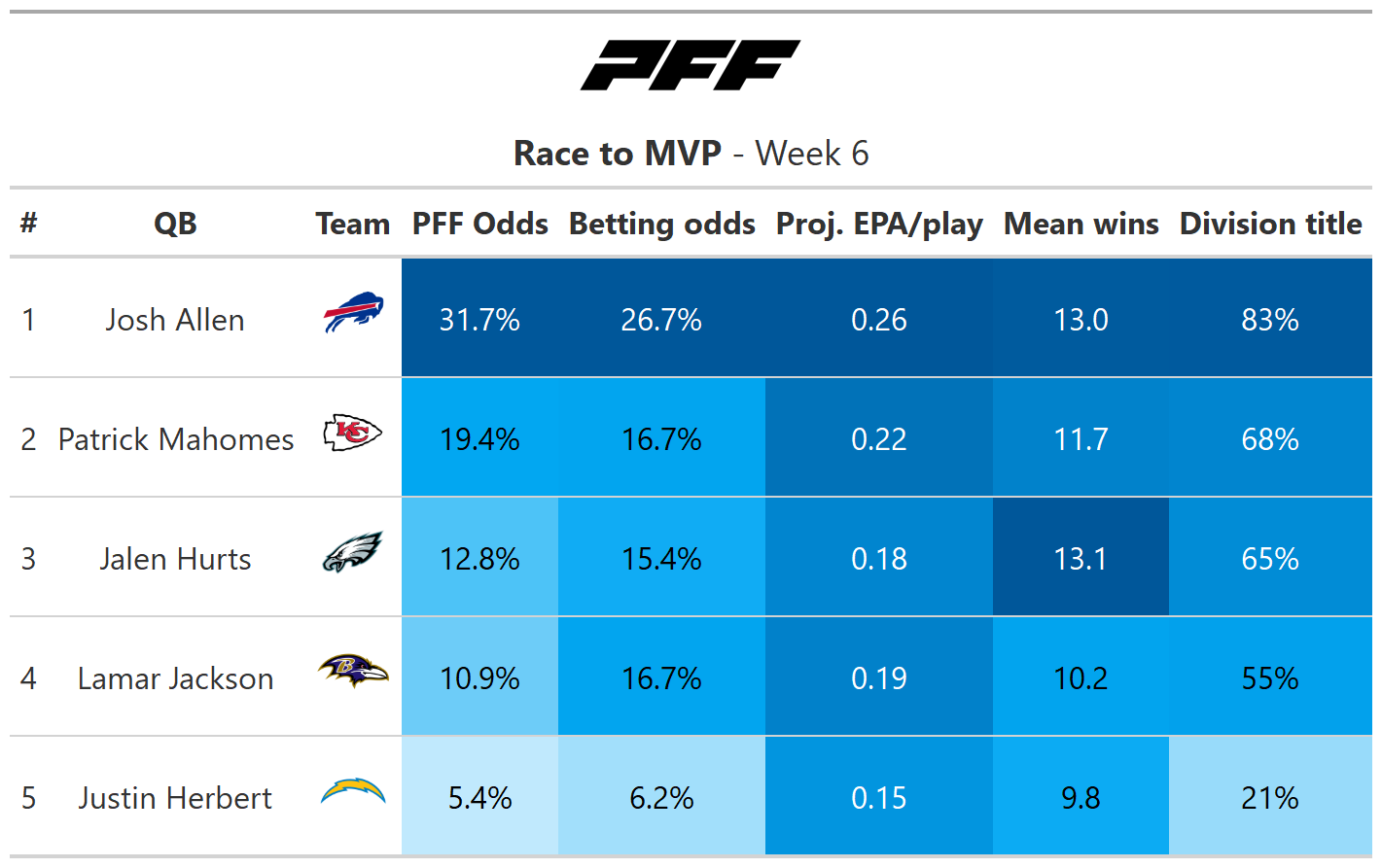 Week 5 stats: 88.7 PFF offense grade | 0.64 EPA per play
Season to date: 87.5 PFF offense grade | 0.33 EPA per play