Every fanbase wants their team to sign superstars in free agency, but a lot of times, it doesn't quite work out that way. Most NFL teams have to settle for other options with the hopes that these low-cost players are just diamonds in the rough. 
---
Click here for more PFF tools:
Rankings & Projections | WR/CB Matchup Chart | NFL & NCAA Betting Dashboards | NFL Player Props Tool | NFL & NCAA Power Rankings
Best Bets Tool
---
With the help of PFF's unique play-by-play grading system, we can help identify some of the available free agents whose performances could exceed their contract while not breaking the bank.
Here is the most underrated free agent at every position:
There is an argument to be made that Mariota is the most alluring free-agent quarterback on the market. That says a lot about the options out there, but nonetheless, if there has to be a choice, it's Mariota. He has played meaningful NFL action in just one game over the last two years in Las Vegas — Week 15 of 2020 — and the results were quite good, as evidenced by his 82.1 PFF grade. However, prior seasons showed that he shouldn't be counted on to produce at that level on a weekly basis. His career-best passing grade with the Titans (72.1) occurred back in 2017, and it ranked 17th in the NFL. Mariota is the definition of a mid-tier option and could be seen as a bridge for a team with a rookie. His next team needs to employ a play-action-heavy offense that utilizes his athleticism in the designed run game.
---
It's only a matter of time before Mostert follows Mike McDaniel to the Miami Dolphins. McDaniel is going to change Miami to an outside-zone dominant run scheme, which is where Mostert does his best work. The speedy back ranked sixth and 13th among running backs in PFF grade in 2019 and 2020 before suffering a season-ending injury in Week 1 of 2021. Age and injuries are a concern, but when healthy, he's an elusive, big-play threat.
---
This free-agent class is full of quality wide receivers, but there are only so many top guys to go around. Gage is in that next tier of wideouts and should be viewed as a good consolation prize for the teams that lose out on the top options. He became a more featured piece in Atlanta's offense over the last couple of years and has performed admirably, posting 76.4 and 74.7 PFF grades over the last two seasons. Gage owned an 84.1 receiving grade — ninth in the NFL — from Week 11 on this past season. He's generated separation against single coverage at an 88th percentile rate since 2020. Any team that needs a receiver that can consistently get open at the short and intermediate levels of the field should target Gage in free agency.
---
Schultz is arguably the best tight end available in free agency, as he's coming off a season in which he was the sixth-highest-graded and third-most valuable tight end in the NFL. Schultz is good at finding soft spots in zone, doesn't have an extensive injury history, adds value after the catch, wins at the catch point and holds his own in the run game. He ranked sixth or higher at the position last year in drop rate (3.4%), contested catch rate (63.2%, 12/19) and broken tackles after the catch (13). If Dallas is forced to let him walk, a team like Tennessee makes a lot of sense as a landing spot.
---
Related content for you:
2022 NFL Free Agency Preview: Players to target, plans of action, potential cuts and team needs for all 32 NFL teams via Anthony Treash
---
Noteboom should be on the radar for teams that desperately need a tackle but don't have the cap space to target one of the top options in free agency. He doesn't have a wealth of experience at tackle, but the flashes he has shown the last two seasons, in particular, make him someone teams should target considering the low price he will command. 
Noteboom hardly played in his 2018 rookie campaign before starting at left guard in 2019 for the Rams. It was a rocky experience for Noteboom, who posted poor grades before a torn ACL and MCL in Week 6 cut his season short. However, he was seemingly reborn when he returned from those injuries. Noteboom moved to tackle to serve as Whitworth's backup and has performed admirably in his stead the last two seasons, posting an 80.8 pass-block grade across 407 pass-block snaps at left tackle since 2020. Sean McVay's offense does a good job of taking stress off the offensive line with a lower rate of true pass sets than other offenses, and that's the kind of system Noteboom belongs in if he doesn't re-sign with the Super Bowl champions. Chicago and Miami stand out as two possible candidates.
---
Yes, I know — the penalties are an issue, as Williams committed an NFL-leading 17 penalties in 2021 that led to being benched for a short stretch during the season. Even with all of those plays baked into the PFF grading system, Williams still finished as a top-10 graded guard for the 2021 season (75.2) and has been one of the NFL's 15-most valuable guards in back-to-back seasons. The penalties should regress in 2022, as they weren't an issue before. He's not going to be one of the five highest-paid guards in free agency and likely will receive something akin to a three-year, $20 million deal. However, it doesn't matter the scheme, if a team needs a guard, it should pursue Williams over the much pricier options.
---
Jones has consistently been a solid interior offensive lineman in the NFL, as he has never earned a PFF grade above 80.0 in his 10-year NFL career but has also never posted a grade lower than 70.0 outside of his 2012 rookie campaign. He's fared particularly well in recent years, finishing as one of the top five most valuable centers in each of the last three seasons. Tennessee is going to want Jones back, but it could easily get outbid by a team like the Cincinnati Bengals, who are rich in cap space and desperate to improve upfront.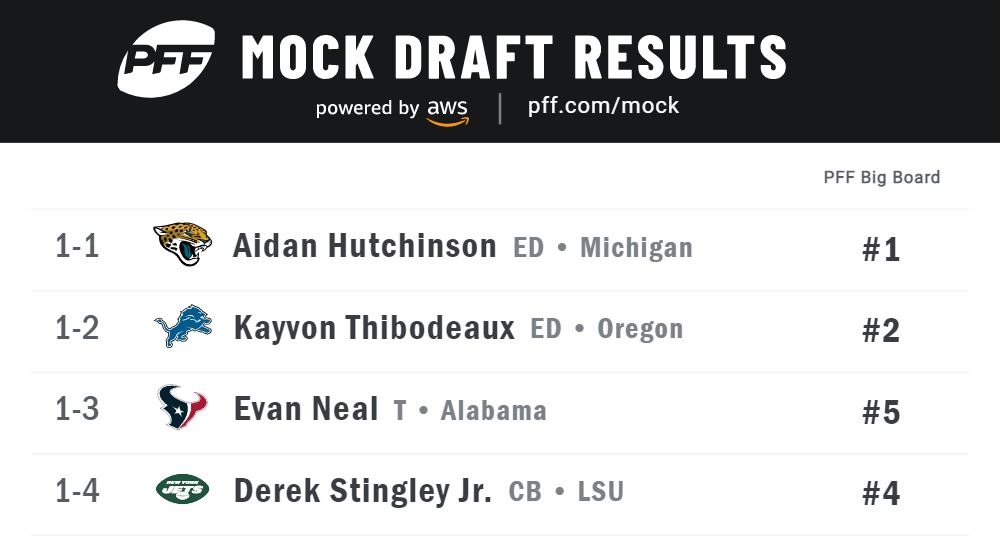 This is obviously a name a lot of people know, as Campbell has racked up numerous accolades throughout his NFL career, including an All-Pro appearance, a spot on the 2010s All-Decade Team, six Pro Bowls and the 2019 Walter Payton Man of the Year to name a few. That said, many are starting to put the "washed" tag on the 35-year-old interior defensive lineman. Campbell may not be performing as he did in his prime when he rattled off four straight elite seasons with 90.0-plus grades from 2016 through 2019, but he's still one of the best players at the position. 
He earned an 80.8 PFF grade last year with the Ravens, which cracked the top 10 among qualifying interior defensive linemen, and his positively graded run play rate trailed only Aaron Donald for the best at the position. The veteran has come close to obtaining a Super Bowl ring but still hasn't hoisted the Lombardi Trophy during his 14 years in the NFL. He is ring chasing at this point in his career, and contenders — such as Buffalo — should strongly consider bringing Campbell in.
---
Gregory has had a rocky NFL career with multiple suspensions, but he was a featured piece on the Cowboys' defense this past season. He ranked 12th among qualifying edge defenders in pass-rush grade (84.7) and tied for sixth in pressure rate (15.5%). Teams may be cautious to sign Gregory given his history, an offseason knee surgery and role, but there is no denying his special tools. Between his lateral quickness, explosiveness and improved plan, Gregory showed he can generate value as a rotational pass-rusher.
---
Johnson was having an incredible 2021 campaign before suffering a torn pec in Week 6, as he owned an 81.0 PFF grade and hadn't missed a tackle on 34 attempts. In 2019 and 2020, he was one of the five highest-graded off-ball linebackers in the league. The 30-year-old's pro career got off to a late start, but he has more than proven that he belongs as a starting linebacker. Regardless of the scheme, any team with a hole at linebacker should look to bring in Johnson.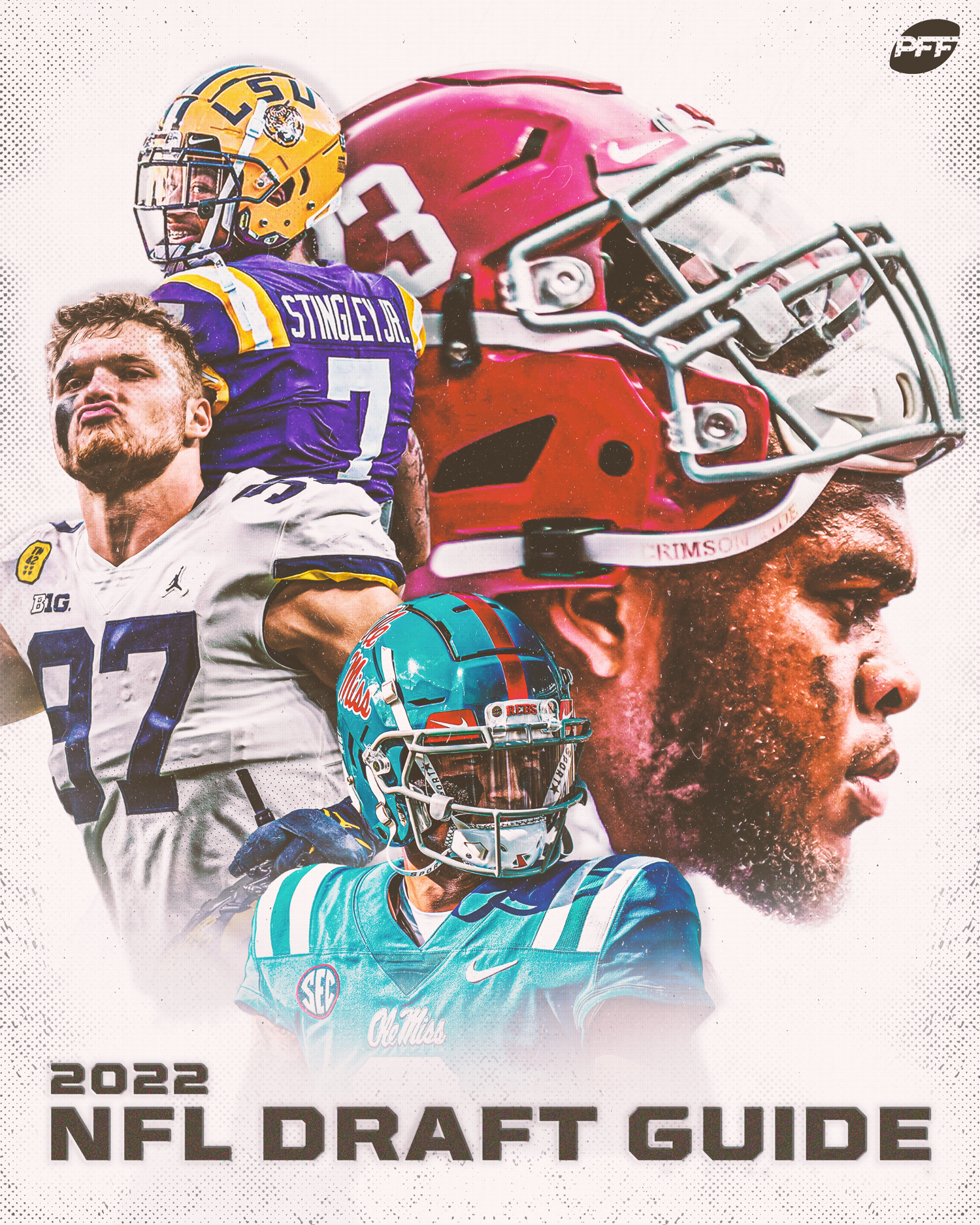 ---
The Vic Fangio tree of defenses is spreading like wildfire throughout the NFL, and any of those teams in need of a slot corner — hands down the most under-appreciated position in the game — should call Callahan. He is versatile and can play on the outside in dire situations, but his slot coverage is some of the best in the PFF database, as Callahan is a top-three-graded player in the slot since 2017. Durability has been an issue as of late, but given his projected contract and ceiling when healthy, it wouldn't be surprising if Callahan's performance exceeded his contract value. The Chargers and Vikings stand out as possible suitors.
---
Maye is going to sign a one-year, prove-it deal in free agency after rupturing his Achilles in the midst of his 2021 campaign. The Jets safety' role changed this past year (specifically, he played far more in the box), which played a part in a dip in PFF grade when on the field, but his multiple seasons of high grades at deep safety should draw interest from several teams. Since 2018, Maye owns the second-highest PFF grade at free safety — behind only Kevin Byard.