NFL free agency is a year-round process, as teams scout opposing players in an effort to defeat them during the year and perhaps sign them in the offseason.
Now that we're at the end of the 2021-22 NFL season, the free agency picture is coming into focus and teams are beginning to identify potential targets to improve their roster weaknesses.
Here are the top off-ball linebackers slated to hit free agency in 2022. Click here for PFF's full list of top 100 free agents.
Click here for more PFF tools:
Rankings & Projections | WR/CB Matchup Chart | NFL & NCAA Betting Dashboards | NFL Player Props Tool | NFL & NCAA Power Rankings
Best Bets Tool
---
PFF Free Agency Rank: 27
2021 Snaps: 987
2021 PFF grade: 84.3 (2nd of 89)
The Packers — long searching for a reliable off-ball linebacker — brought Campbell aboard on a one-year, $2 million contract, and his 86.7 overall grade was second among linebackers through Week 8 while his 90.7 run-defense grade ranked first, leading to a Pro Bowl nod. Campbell's 90.4 tackling grade is his fifth straight such mark above 75.0, and that sure tackling goes a long way in Green Bay. He's earned himself a nice raise. Now it's just a matter of how nice it'll be.
Projected contract: Two years, $18 million ($9M per year, $11.5 million total guaranteed)
---
PFF Free Agency Rank: 55
2021 Snaps: 323
2021 PFF grade: 80.1 (3rd of 89)
Johnson finds himself in one of the most unique contract situations in NFL history. The 30-year-old linebacker will be an unrestricted free agent for the first time in his career after a delayed start to his NFL career, and now he'll be working his way back from a torn pectoral muscle injury. When healthy, Johnson is among the best sideline-to-sideline run-defenders at off-ball linebacker in the league.
Projected contract: Two years, $14 million ($7M per year, $9 million total guaranteed)
---
PFF Free Agency Rank: 61
2021 Snaps: 1,148
2021 PFF grade: 43.7 (71st of 89)
Oluokun leads the way for a very underwhelming free-agent class at off-ball linebacker, though his timing of reaching unrestricted free agency could work out nicely in his favor. This past offseason, San Francisco 49ers linebacker Fred Warner and subsequently Indianapolis Colts linebacker Darius Leonard reset the market at the position just under $20 million per year after years of stagnation. With Oluokun one of the few young players available, a market could develop for him that exceeds expectations.
Projected contract: Four years, $40 million ($10M per year, $22.5 million total guaranteed)
---
PFF Free Agency Rank: 63
2021 Snaps: 717
2021 PFF grade: 60.4 (30th of 89)
Vander Esch has had an up and down first four years in the NFL, but the talent that made him a first-round pick in 2018 still flashes on occasion and will certainly draw attention. Vander Esch earned a 90.0-plus grade in three starts in 2021, including two such outings over the final five weeks. If he can play more consistently week to week, teams may view him as a low-risk, high-reward option in a weak linebacker class.
Projected contract: Three years, $25.5 million ($8.5M per year, $16.5 million total guaranteed)
---
PFF Free Agency Rank: 65
2021 Snaps: 82
2021 PFF grade: 83.5 (N/A)
Jewell is the other Denver off-ball linebacker who missed the majority of the 2021 season with a torn pectoral muscle, but he's three years younger than Johnson. From Week 9 of 2020 through Jewell's injury in Week 2 of this season, his 79.8 overall grade ranked fourth among off-ball linebackers and his 79.5 coverage grade ranked fifth. Jewell also provides value on the occasional pass-rush snap and very rarely misses tackles. He's the complete package for a modern off-ball linebacker. Nevertheless, he may have to play on a one-year prove-it deal as he recovers.
Projected contract: One year, $6 million, $4.5 million guaranteed
---
PFF Free Agency Rank: 75
2021 Snaps: 679
2021 PFF grade: 50.6 (51st of 89)
Hightower opted out of the 2020 season, and after a bit of a slow start getting reacclimated to the speed of the NFL game, he was back to his old self for stretches of the 2021 season. His 18 quarterback pressures ranked fourth among off-ball linebackers, as Patriots head coach Bill Belichick continued to deploy the 6-foot-3, 260-pounder all over the place in his constantly evolving defense. Hightower will be 32 years old in Week 1 of 2022, but there's an argument that taking the 2020 season off has his body refreshed and revitalized.
Projected contract: Two years, $15 million ($7.5M per year, $10M total guaranteed)
---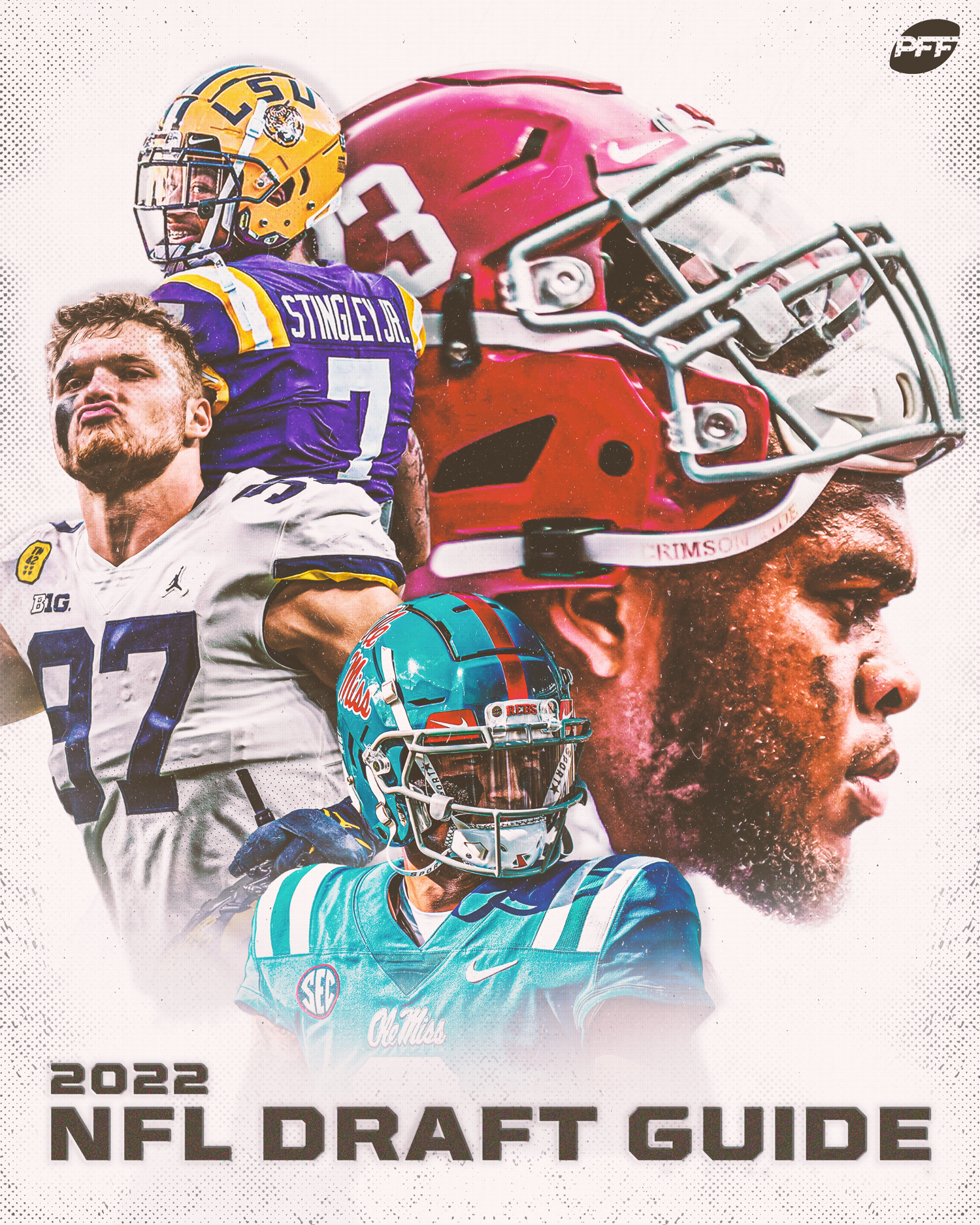 PFF Free Agency Rank: 86
2021 Snaps: 783
2021 PFF grade: 64.2 (24th of 89)
Barr agreed to a pay cut before the 2021 season that also voided the 2022 and 2023 seasons on his five-year extension signed in 2019. Better luck with his health led to a respectable 63.8 overall grade and 72.6 pass-rush grade in 2021. Barr is a bit of a unique player, generally deployed as a Sam linebacker in a 4-3 scheme who occasionally gets his hand in the dirt.
Nevertheless, there were several interested teams last time he was a free agent — he came very close to signing with the New York Jets before ultimately returning to Minnesota — so it seems defensive coaches think they can find a way to put him in positions to succeed and utilize his athletic ability.
Projected contract: Two years, $14.5 million ($7.25M per year), $8.5 million total guaranteed
---
PFF Free Agency Rank: 99
2021 Snaps: 979
2021 PFF grade: 65.1 (22nd of 89)
White was a reliable presence at linebacker following the loss of 2020 first-rounder Kenneth Murray during Weeks 4-9 and when Murray was battling injuries over Weeks 11-15. White has had four straight seasons with coverage grades above 60.0, which is not an easy feat for an off-ball linebacker in today's NFL against so many hi-lo concepts and the increase in run-pass options putting a ton of stress on the position.
Projected contract: Two years, $12.5 million ($6.25M per year), $8 million total guaranteed
---
PFF Free Agency Rank: 139
2021 Snaps: 712
2021 PFF grade: 65.1 (T-23rd of 89)
Bentley improved considerably in his second season as a full-time player, as his 68.1 overall grade was almost 15 points better than his 2020 overall grade. Still, in a league that continues to throw more and more, Bentley remains best-suited as an early-down run defender who can generate the occasional quarterback pressure.
Projected contract: Two years, $10 million ($5M per year), $5.5 million total guaranteed
---
PFF Free Agency Rank: 163
2021 Snaps: 444
2021 PFF grade: 53.0 (50th of 89)
Brown appeared to be on his way to a strong free agency in the 2021 offseason after three solid seasons as a starter, but he may have been an unfortunate victim of the salary cap drop, as he ultimately agreed to return to the Titans on a one-year, $4.5 million deal. Now, Brown hits free agency coming off a career-low 421 snaps, though he still maintained a 60.0-plus coverage grade, which is where he derives a lot of his value as an off-ball linebacker.
Projected contract: Two years, $9.5 million ($4.75M per year), $5.25 million total guaranteed