NFL free agency is a year-round process, as teams scout opposing players in an effort to defeat them during the year and perhaps sign them in the offseason.
Now we're at the end of the 2021-22 NFL season, the free agency picture is coming into focus and teams are beginning to identify potential targets to improve their roster weaknesses.
Here are the top interior offensive linemen slated to hit free agency in 2022. Click here for PFF's full list of top 100 free agents.
Click here for more PFF tools:
Rankings & Projections | WR/CB Matchup Chart | NFL & NCAA Betting Dashboards | NFL Player Props Tool | NFL & NCAA Power Rankings
Best Bets Tool
---
PFF Free Agency Rank: 12
2021 Snaps: 1,296
2021 PFF grade: 68.7 (14th of 39)
The 2021 offseason was a big one for centers, with the Los Angeles Chargers' Corey Linsley signing the biggest deal ever at the position. Linsley was quickly surpassed by Detroit Lions center Frank Ragnow's extension as the market continued its upward trajectory. Jensen, who earned a 70.3 overall grade in 2021, now has a decision to make after Buccaneers quarterback Tom Brady announced his retirement: stick around with Tampa Bay, or find a new home.
Projected contract: 3 yrs — $10m avg/yr
---
PFF Free Agency Rank: 18
2021 Snaps: 697
2021 PFF grade: 73.6 (13th of 82)
Scherff played the 2021 season on his second consecutive franchise tag at a value of $18.036 million, bringing his three-year earnings to $45,591,000. He already ranks in the top five among guards in career earnings, and he's never signed a multi-year veteran contract. Scherff missed Weeks 5 through 8 with a sprained MCL but had another strong season with 70.0-plus grades in both run- and pass blocking. Injuries have kept him sidelined from time to time, but he has unteachable talent, which led to his selection at No. 5 overall in 2015.
Projected contract: 3 yrs — $16.67m avg/yr
PFF Free Agency Rank: 26
2021 Snaps: 1,264
2021 PFF grade: 73.6 (13th of 82)
Tomlinson picked up where he left off in 2020 with a second consecutive overall grade above 75.0, and he also recorded a much-improved, career-best 75.2 pass-blocking grade. The former first-round pick of the Detroit Lions in 2015 may be in for a bigger deal this time around than his early extension signed in 2018 for $16.5 million across three years.
Projected contract: 3 yrs — $9m avg/yr
---
PFF Free Agency Rank: 38
2021 Snaps: 1,020
2021 PFF grade: 75.2 (11th of 82)
Williams was a top-50 pick in the 2018 NFL Draft and a full-time starter at left guard in Week 1 of his rookie season. Williams was briefly benched late in 2021, but he finished the season with an 84.1 pass-block grade over the final five weeks, which ranked fifth among guards. Williams understandably gets overlooked playing alongside an elite left tackle in Tyron Smith and with guard Zack Martin leading the way in PFF grade among guards since 2020 (94.6). Nevertheless, he's a solid young player with more room to grow.
Projected contract: 3 yrs — $6.67m avg/yr
---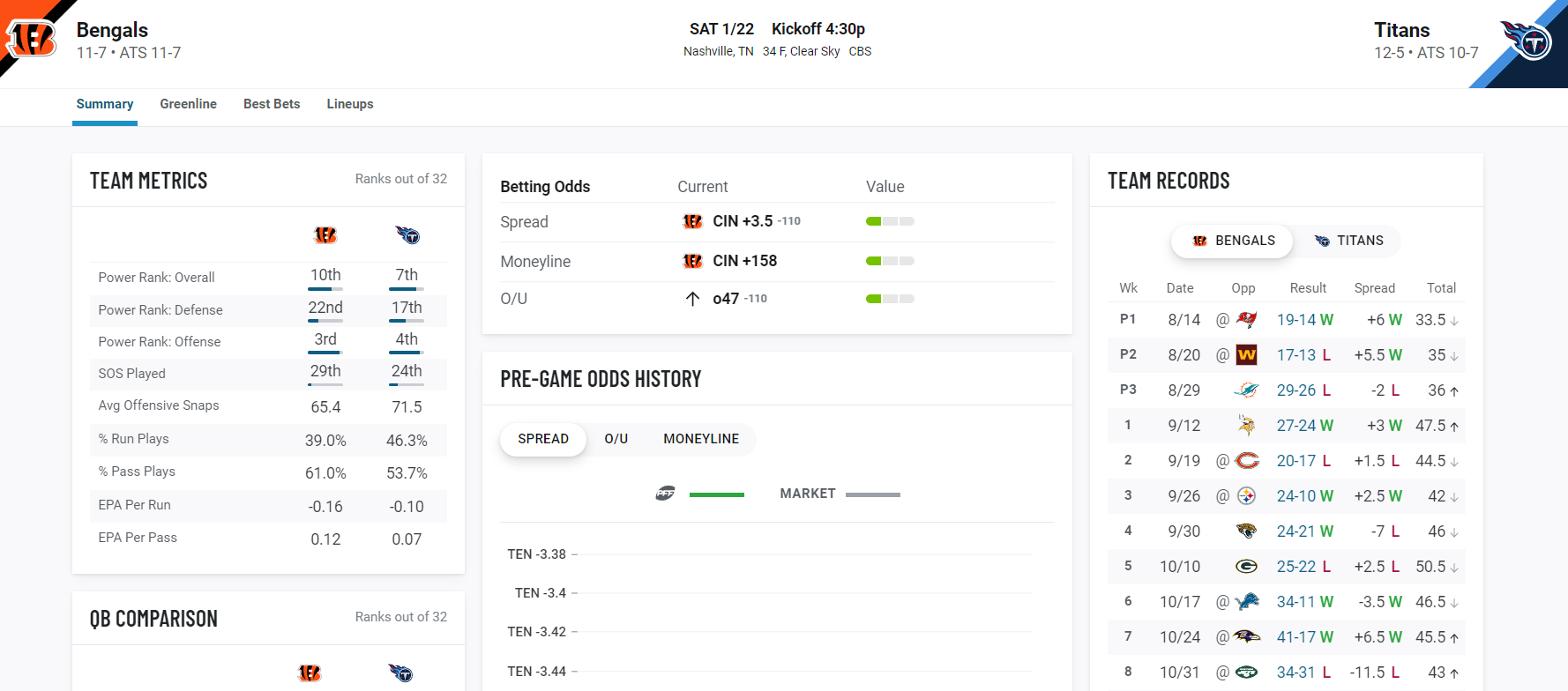 PFF Free Agency Rank: 40
2021 Snaps: 1,121
2021 PFF grade: 71.0 (19th of 82)
Daniels earned a career-high 71.0 grade in 2021, with the Chicago Bears finally putting him at one position – right guard – and leaving him there to improve over the year. Daniels was one of the youngest draft picks in 2018 and will be just 24 years old in Week 1 of 2022. The combination of youth and the fact Daniels kept getting moved around the interior of the offensive line suggests he could have even more untapped potential playing full-time at right guard.
From Week 4 through the end of the season, Daniels' 75.8 overall grade ranked 12th among guards. His 71.8 pass-blocking grade ranked 27th among players at the position, and his 76.3 run-blocking grade ranked 17th.
Projected contract: 5 yrs — $10m avg/yr
---
PFF Free Agency Rank: 46
2021 Snaps: 1,213
2021 PFF grade: 76.4 (8th of 39)
Jones has aged like a fine wine in the Tennessee Titans wide zone rushing attack, earning the three best grades of his career the last three seasons, all over the age of 30. A handful of other older centers have played well into their thirties in this offensive scheme, most notably 49ers center Alex Mack, who signed a three-year deal this past offseason at 36. Jones has shown no signs of slowing down and should take just a slight age-related drop in pay from his current contract.
Projected contract: 3 yrs — $6.67m avg/yr
---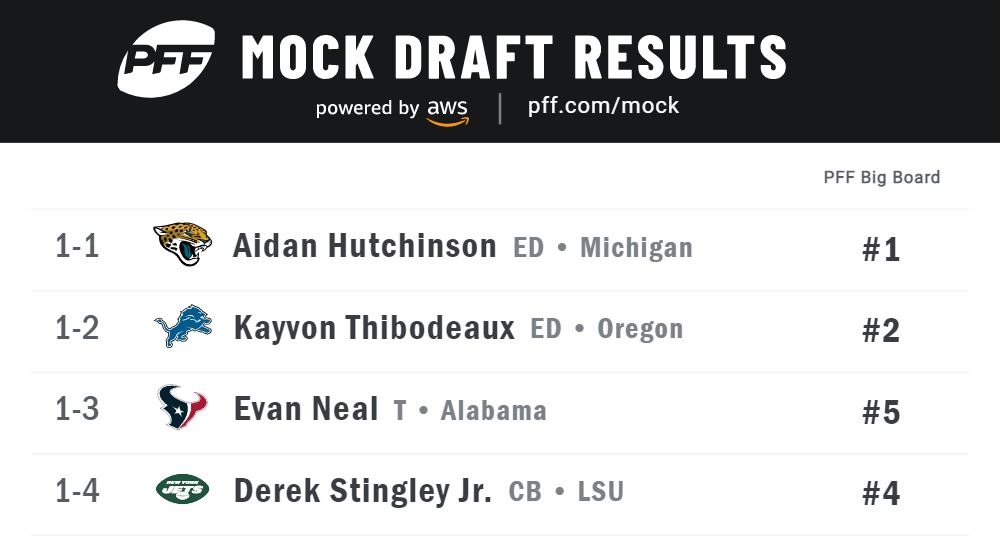 PFF Free Agency Rank: 53
2021 Snaps: 1,290
2021 PFF grade: 68.8 (27th of 82)
The Cleveland Browns drafted Austin Corbett with the first pick in the second round of the 2018 Draft, but things got off to a very shaky start with his first franchise. After playing just 15 snaps over a season and a half, the Browns sent him to the Los Angeles Rams for a fifth-round pick. Strangely enough, Corbett's career trajectory now somewhat resembles Browns star right guard Wyatt Teller's, with a trade and a change of scenery leading to a boost in his play.
Corbett didn't miss a single snap for the Rams in 2020 and logged a career-high 73.4 overall grade and 76.4 run-blocking grade despite switching from center to right guard. He has maintained that level of play through Week 12 of 2021, and his upward trajectory, positional flexibility along the interior of the offensive line and draft status could lead to a solid payday after a rocky start to his NFL career.
Projected contract: 4 yrs — $9.25m avg/yr
---
PFF Free Agency Rank: 56
2021 Snaps: 1,078
2021 PFF grade: 66.7 (43rd of 82)
Norwell had two years and $25 million remaining on his five-year extension signed in 2018 heading into the 2021 season, but the Jacksonville Jaguars negotiated a pay cut and contract reduction, making him a free agent after the season. Norwell responded with his eighth-straight season grading out above 65.0 overall and above 70.0 as a pass blocker, and there will almost certainly be a handful of teams looking for a veteran guard with his extremely high floor.
Projected contract: 3 yrs — $7.25m avg/yr
---
PFF Free Agency Rank: 64
2021 Snaps: 1,327
2021 PFF grade: 71.9 (18th of 82)
Cappa was drafted in the third round of the 2018 NFL Draft out of Division II Humboldt State. And he's gotten better each season as he made a huge adjustment to the speed of the NFL game, culminating in career highs as a pass-blocker (71.4) and run-blocker (71.2). The Buccaneers also have center Ryan Jensen hitting free agency and may not be able to retain both players, which could lead to a solid free agency for Cappa.
Projected contract: 4 yrs — $9.25m avg/yr
---
PFF Free Agency Rank: 67
2021 Snaps: 1,112
2021 PFF grade: 76.2 (9th of 39)
Allen's breakout 2021 campaign sheds additional light on why the Rams were so comfortable moving on from Austin Blythe last offseason. Allen earned an 80.2 overall grade this past season, the sixth-best mark among centers, while his 87.4 run-blocking grade in Sean McVay's wide-zone running scheme ranked fifth at the position.
However, 2021 marks Allen's first full season of starting after missing about half of the 2019 season and the entire 2020 campaign with a severe knee injury. How his market develops at a position that tends to pay only the very top guys will be interesting.
Projected contract: N/A
---