Aaron Rodgers had been nearly flawless entering Week 6, but an encouraging start against the Tampa Bay Buccaneers soon gave way to him throwing his first pick-six since the 2017 season.
Tampa Bay took advantage and never looked back. Despite the Green Bay Packers jumping out to a 10-0 lead, Tom Brady and the Buccaneers roared back to score 38 unanswered points in a 38-10 win.
Editor's note: All of PFF's grades and advanced stats from this game will be finalized and made available to ELITE subscribers within 24 hours of the final whistle.
Story of the Game
Rodgers didn't have any turnover-worthy plays in 2020 before this game, but he had at least three against the Bucs and was constantly under duress all game long. Left tackle David Bakhtiari going down injured only exacerbated the problem.
Rodgers wasn't under pressure overall as much as it might have felt like, though — 41.4% of his dropbacks — but it was the timing of those pressured plays and dialed up blitzes from the Bucs that caused problems. On third down, Tampa Bay pressured Rodgers on eight of 15 dropbacks, causing him to struggle to keep those drives alive. 
While Rodgers was far from the elite play he's had all season, Brady seemed intent on reminding people he's still capable of it, dropping in several dimes throughout the game and rekindling his connection with Rob Gronkowski, who was the beneficiary of a couple of perfect passes.
Ultimately, the Bucs ended this game with 38 unanswered points after Green Bay jumped out to an early lead. Rodgers started the rot with the pick-six and was completely unable to establish his rhythm and execute any kind of comeback from then on. Even on plays where Rodgers was able to make a play, his receivers let him down or couldn't find a way to complete the catch. Green Bay was just knocked off its game offensively.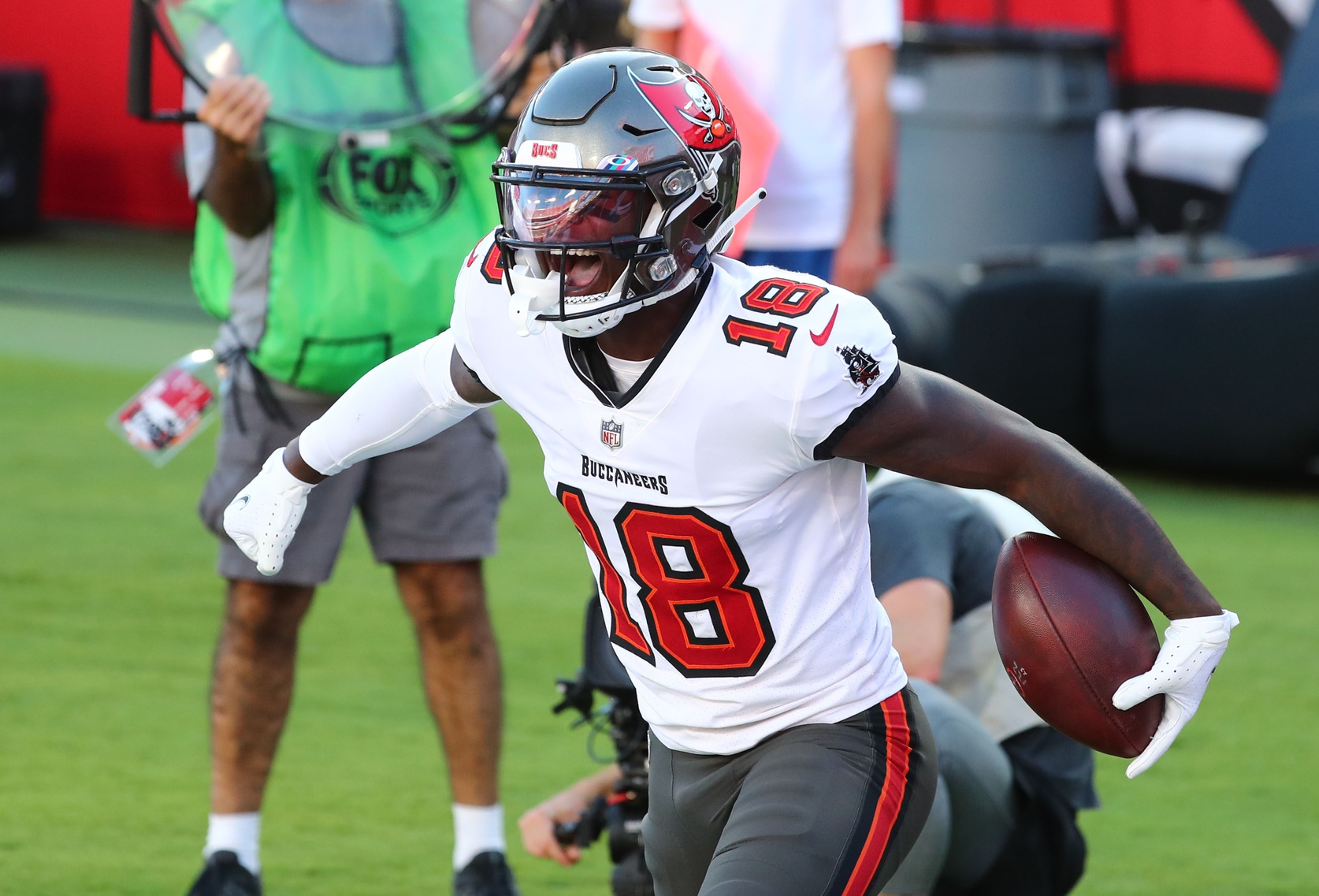 Rookie Watch
Tampa Bay's first-round tackle Tristan Wirfs had an excellent game this week. Wirfs' run blocking proved strong, and he also surrendered no pressure as a pass blocker — just one of his reps went down as a loss. Given the players he has had to face so far this season, Wirfs has been really impressive, and this was another example of that.
Tyler Johnson played just nine snaps on offense, but his one target generated his first NFL touchdown. He adjusted back toward the sideline to give Brady a place to go with the football before securing the catch and score. Ke'Shawn Vaughn played only two snaps at running back late in the game after the win was secured.
On defense, Antoine Winfield Jr. had another eventful day, making some plays in the run game as well as in coverage. He had a dropped interception after a nice break on the ball to cut off a pass intended for Robert Tonyan, but his grade will suffer for missing three tackles overall in the game.
For the Packers, we saw a late-game cameo from running back A.J. Dillon, who played nine snaps and had 31 yards on five carries — 13 of which came after contact. Dillon wasn't a factor until the game was long over.
On defense, linebacker Krys Barnes played 51 snaps but didn't have a great game — he missed three tackles but also had three defensive stops.
ELITE subscribers can view player grades, advanced statistics, positional snap counts and more in Premium Stats 2.0.