The pre-game narrative might have surrounded the Saints' new starting quarterback Taysom Hill, but after a dominating defensive performance to thwart to surging Falcons, the post-game narrative should be about how good the Saints defense is playing this season.
Editor's note: All of PFF's grades and advanced stats from this game will be finalized and made available to ELITE subscribers within 24 hours of the final whistle.
Story of the Game
Taysom Hill looked like a real quarterback, as Sean Payton surprisingly started the game by letting Hill hand the ball off from under center and take some straight dropbacks. Hill actually ran the Saints' offense — not just the Taysom Hill package — to perfection.
Hill ran the ball more as the game went on, racking up 28 yards on three called quarterback runs, including a touchdown, although he did fumble late. He also added 19 yards on four scrambles with another touchdown.
Hill was explosive as a passer with a whopping 10.1 yards per attempt. That number would be about a yard higher if a holding call didn't negate a huge touchdown pass to Emmanuel Sanders. Payton helped his quarterback with 11 play-action attempts, and Hill responded with a 118.8 passer rating on those throws. His favorite target was Michael Thomas, who accounted for 12 of the Saints' 26 targets. He had nine catches for 106 yards and a drop. 
The Saints defense hassled Matt Ryan from the jump, finishing with eight sacks and two interceptions. Of the 29 games in the Sean Payton Saints era, the Falcons had their seventh-worst performance from an efficiency standpoint at -.20 EPA per play. The Saints held the Falcons to -.49 EPA per play in the second half of the ball game. An outright mauling performance.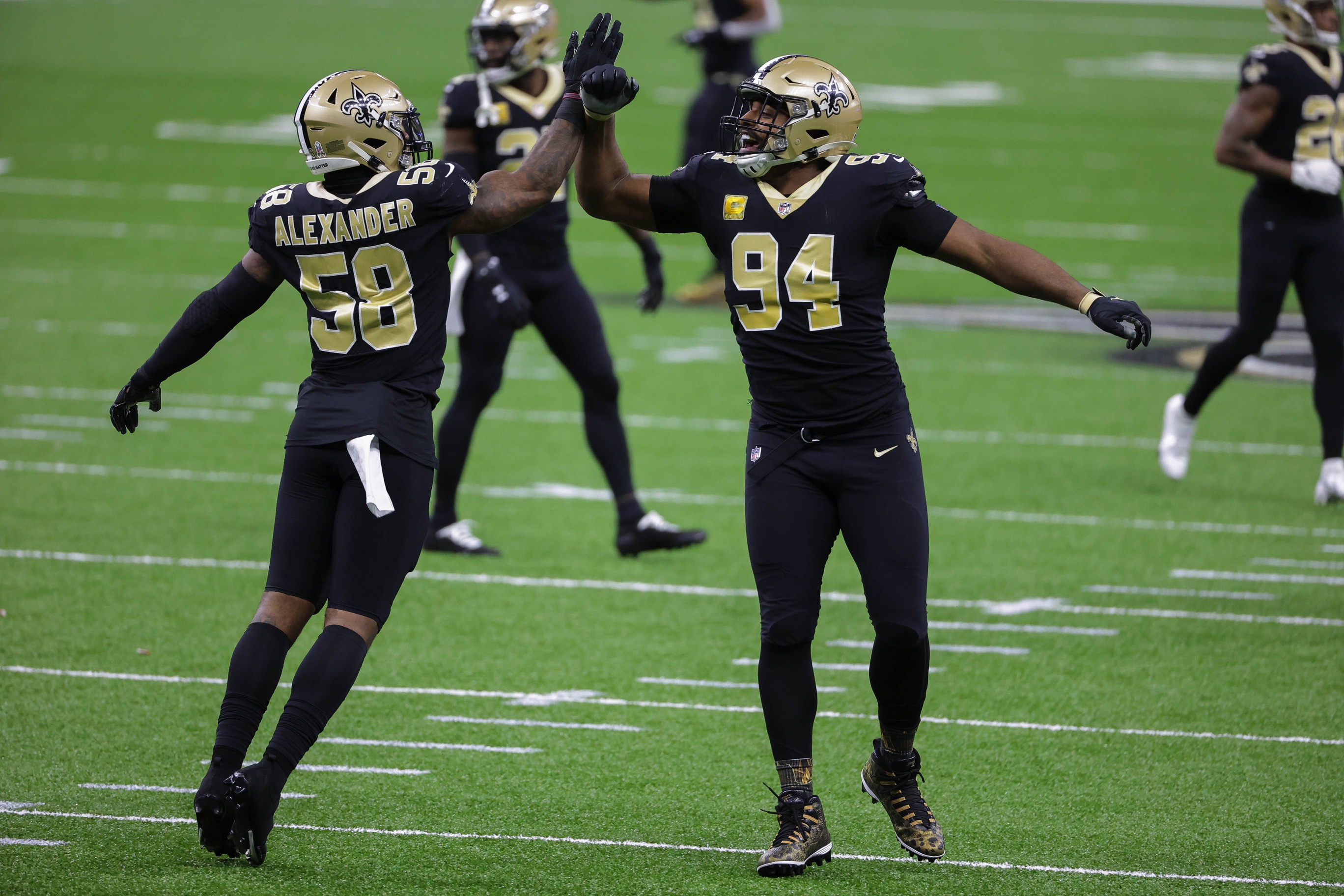 Ryan was under pressure 18 times and came away with only six completions for 55 yards to go along with the eight sacks. It certainly didn't help that Julio Jones only played 23 snaps after suffering a hamstring injury. Russell Gage and Calvin Ridley were forced into the forefront, but their connection with Ryan was lacking. Only 11 of the combined 19 targets to both receivers were catchable passes. In fact, only 17 of Ryan's 40 pass attempts were deemed catchable. 
Rookie Watch
Saints rookie guard Cesar Ruiz played 49 snaps and had a good day in pass protection, allowing only one pressure on 25 pass-blocking snaps. Adam Trautman was targeted twice and caught a nice whip route for a first down early in the contest.
The Saints picked on A.J. Terrell six times, but he only allowed two first downs and 54 yards in coverage on five catches. 
ELITE subscribers can view player grades, advanced statistics, positional snap counts and more in Premium Stats 2.0.