After last week's thrashing at the hands of the New Orleans Saints, the Tampa Bay Buccaneers needed a strong performance in Week 10. And that's just what they got on their way to a 46-23 victory over the Carolina Panthers.
Every game is crucial for the Buccaneers as they hold out hope for a division title, but it's just as important to stay close in a competitive NFC. The Panthers lost their fifth straight game, but they hung tough in this one and have remained competitive despite a rebuilding mentality.
Editor's note: All of PFF's grades and advanced stats from this game will be finalized and made available to ELITE subscribers within 24 hours of the final whistle.
Story of the Game
The Buccaneers scored 46 points, but they left even more big plays on the table. Quarterback Tom Brady finished 28-for-39 for 341 yards, three touchdowns and no interceptions, but he also missed multiple deep touchdowns along the way. He still completed eight passes for 156 yards and a score on 10-plus yard throws and went 14-for-22 for 214 yards on passes thrown beyond the sticks. 
This game showed off Tampa Bay's offensive firepower — Mike Evans, Chris Godwin, Antonio Brown and Rob Gronkowski all finished with at least 50 receiving yards. Evans used his height for a red-zone touchdown, but he easily could have had three scores if he'd hauled in a couple of other passes that hit his hands. Brown, Godwin and Gronkowski caught 15 of their 17 targets as the Buccaneers showed off just how dangerous their offense can be with a plethora of stars spreading the field.
Of course, the biggest turning point in the game came in the running game, where Ronald Jones broke through the line for a 98-yard touchdown to make it a two-score game in the third quarter. Jones finished with 192 yards on 23 carries, with 149 of those yards coming after contact. 
On the other side, the Panthers did all they could to stay in the game as the underdogs, including a key fourth-and-3 conversion that led to their first touchdown. The offense lacked explosiveness, as quarterback Teddy Bridgewater completed just one of his four attempts on 10-plus yard throws.
One of those passes was an interception thrown right to Tampa Bay edge defender Jason Pierre-Paul, who completed the play he couldn't make last week against the Saints. The Panthers' offense produced only -.17 expected points added per play through the first three quarters, and that got even worse in the fourth frame. 
Tampa Bay bounced back in a big way, showing that it can still put points on the board while swarming to the ball defensively in a strong all-around effort.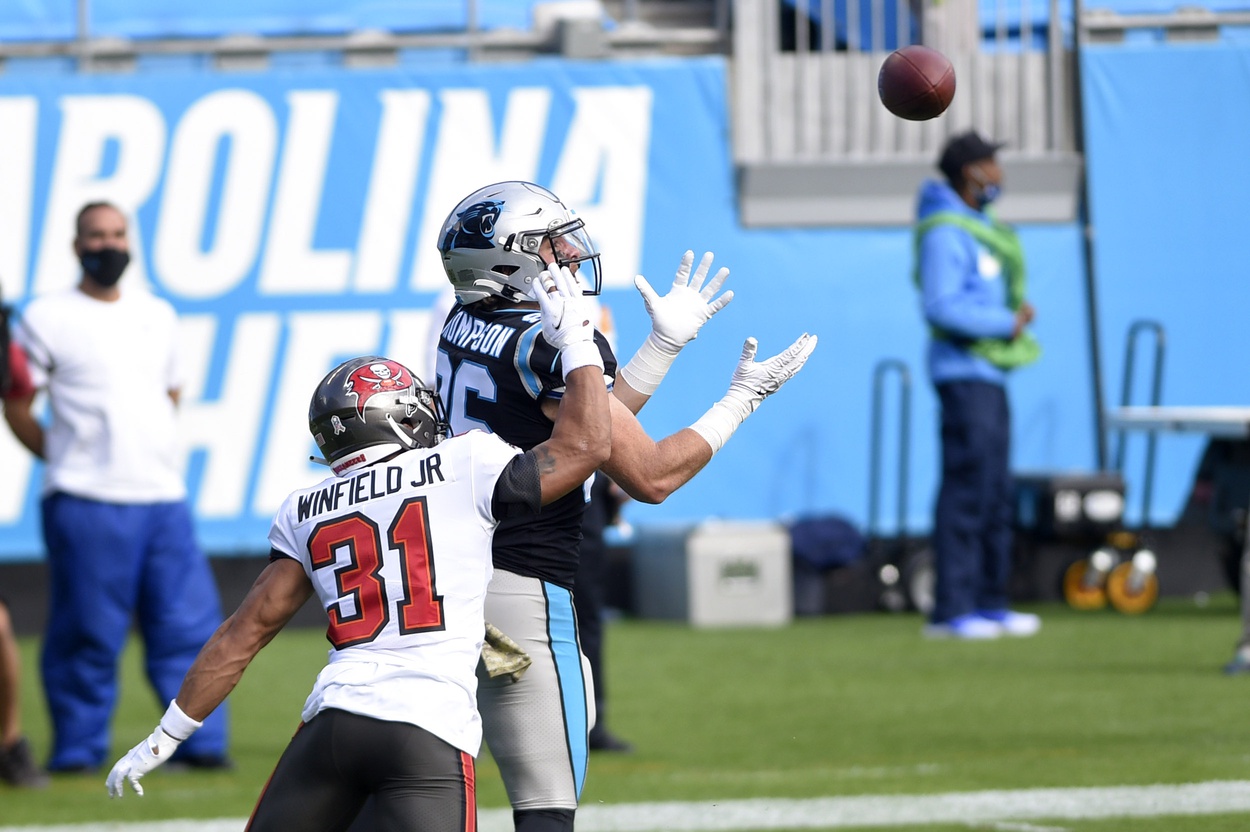 Rookie Watch
Panthers interior defensive lineman Bravvion Roy is a player to watch in the second half of the season, as he put together his second straight solid outing after a slow start to the year. He generated a run stop and multiple pressures on the day.
The rest of the Panthers' defensive rookies had their usual ups and downs. Interior defender Derrick Brown, cornerback Troy Pride Jr., safety Jeremy Chinn, and edge defender Yetur Gross-Matos all played at least 46 snaps apiece. Safety Sam Franklin had a defensive stop in coverage, but he had to leave the game due to injury.
For the Buccaneers, safety Antoine Winfield Jr. was out of position in coverage at times while playing all 48 defensive snaps. 
ELITE subscribers can view player grades, advanced statistics, positional snap counts and more in Premium Stats 2.0.