Given the current records over in Houston and Jacksonville, the AFC South is likely going to come down to the Tennessee Titans and the Indianapolis Colts. That made this Thursday Night Football matchup an important one when it comes to the playoff picture in the AFC.
The Colts came into the game trailing the Titans by one game in the standings, but they'll leave all square at 6-3 with the tiebreaker in their pocket heading into a Week 12 rematch in Indianapolis.
Editor's note: All of PFF's grades and advanced stats from this game will be finalized and made available to ELITE subscribers within 24 hours of the final whistle.
STORY OF THE GAME
Through the first three quarters, the Colts had four drives of 10 or more plays that ended in six total points — two field goals and two turnovers on downs. Indianapolis was able to move the ball downfield with ease all night, but they were struggling to finish their drives. 
The tide turned late in the third quarter courtesy of Trevor Daniel and the Titans' punt team. Following a Denico Autry sack of Ryan Tannehill, Daniel shanked a punt, setting up the Colts with tremendous field position.
Indianapolis was able to convert that into a Nyheim Hines touchdown run. On the very next possession, the Colts blocked Daniels' and returned it for a touchdown. Just like that, Indianapolis had turned a four-point deficit into a double-digit lead. Stephen Gostkowski missed a 44-yard field goal that would have cut it to a one-score game in the fourth quarter — the cherry on top of the special teams disaster for Tennessee.  
It was a big night for Hines as both a rusher and a receiver. His 45 receiving yards were fewer than only the 54 he put up in Week 8 against the Detroit Lions. Adding to that, Hines' 70 rushing yards were more than double his previous season high, turning half of his 12 carries into five first down runs and a touchdown. Known primarily for his contributions in the passing game, Hines showed tonight that he could deliver some damage on the ground, as well. He has shown the last several weeks that he is the best option in the Colts' running back rotation. 
The Colts showed their versatility and depth here. They got contributions from all three phases and came through with a big divisional win after a disappointing performance last week against the Baltimore Ravens. 
ROOKIE WATCH
Jonathan Taylor has failed to create any kind of separation in the Colts' backfield committee following the early injury to Marlon Mack. He played a clear secondary role to Hines tonight with 17 offensive snaps compared to Hines' 38. Taylor did pick up two fourth-down conversions, but he ran for just 12 yards on seven total carries on the night. His highlight for the night came on a reception where he ran through Amani Hooker after the catch.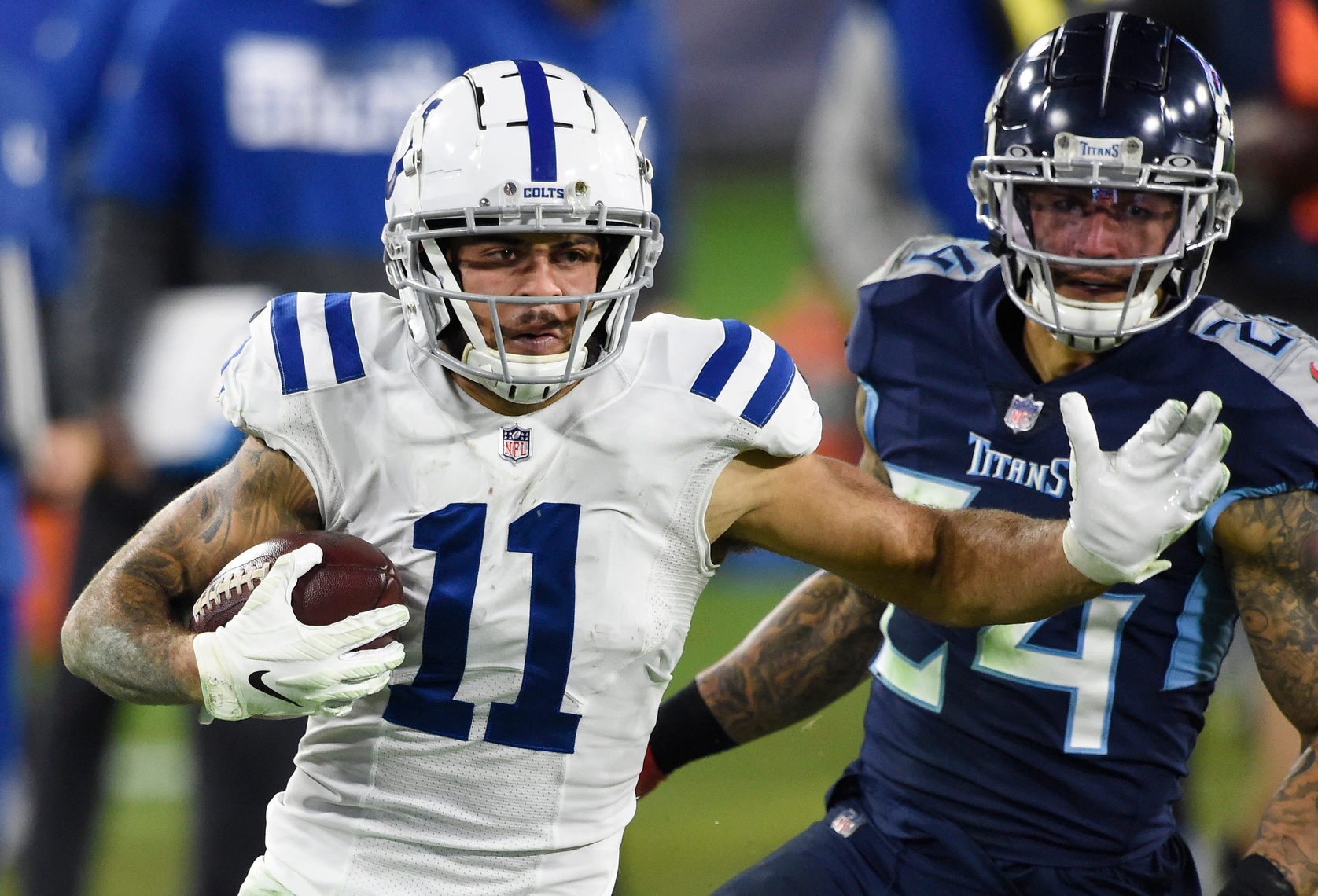 This was Michael Pittman Jr.'s third game back from injury, and he came through with the best game of his rookie season to this point. He led Indianapolis in receiving with seven receptions for 101 yards — a stat line that included a 40-yard catch and run to go along with an impressive grab over the middle through contact. Pittman was joined by undrafted free agent De'Michael Harris at wide receiver — he also brought in a nice reception toward the end of the first half. Harris has now caught all eight of his targets this season. 
At safety, Julian Blackmon made an impressive tackle for loss on Henry early in the game. It was a strong showing for the former Utah Ute who did a good job of limiting big plays over the top from Tannehill and this Titans passing game. 
For Tennessee, Teair Tart (16 defensive snaps) and Larrell Murchison (three defensive snaps) both saw some time along Tennessee's defensive line. Tart had a strong debut last week against Chicago and got home for a pressure here on just seven pass-rushing snaps. It would be big for the Titans if he continues to develop into a reliable piece next to Simmons along the defensive line. 
ELITE subscribers can view player grades, advanced statistics, positional snap counts and more in Premium Stats 2.0.