Another season of hope seems to have already evaporated for the Cleveland Browns in their blowout loss to the Baltimore Ravens, 38-6, in Week 1. The new-look Kevin Stefanski offense was incohesive in a woefully uninspired performance.
Editor's note: All of PFF's grades and advanced stats from this game will be finalized and made available to ELITE subscribers within 24 hours of the final whistle.
STORY OF THE GAME
The Stefanski offense uses the outside zone running scheme as a base to set up everything it does, and it simply looked out of sorts. A couple nice runs early on the outside zone from Kareem Hunt and Nick Chubb gave hope, but the Ravens defense pretty much shut the run game down. Baker Mayfield didn't seem to trust anything happening around him. When he did trust his first reads, he threw into tight coverage. Baker was 2-of-10 for 25 yards and was sacked twice when pressured.
Even when Mayfield was kept clean, he went only 19-of-34 for 164 yards with one big time throw and two turnover-worthy plays. Odell Beckham Jr. gave the proverbial side eye every time Baker missed a pass in his direction. Beckham caught five balls on seven targets, including a wide-open drop. It's hard to think of a worse Week 1 performance by an offense in recent years — the Browns stay winless in the PFF era in Week 1s.
On the other side of the field, Lamar Jackson had his way with the Browns defense. Whether he was pressured (9-of-11 for 114 yards), kept clean (12-of-15 for 168 yards), off play-action (7-of-7 for 110 yards) or just a straight dropback (14-of-19 for 172 yards), he continually made the right reads and threw the ball accurately. There was talk in the offseason that the world needed to see more of Lamar in close game situations to see what he is made of when defenses can key on the passing game. That didn't happen, as the Ravens took a 10-0 lead and didn't look back.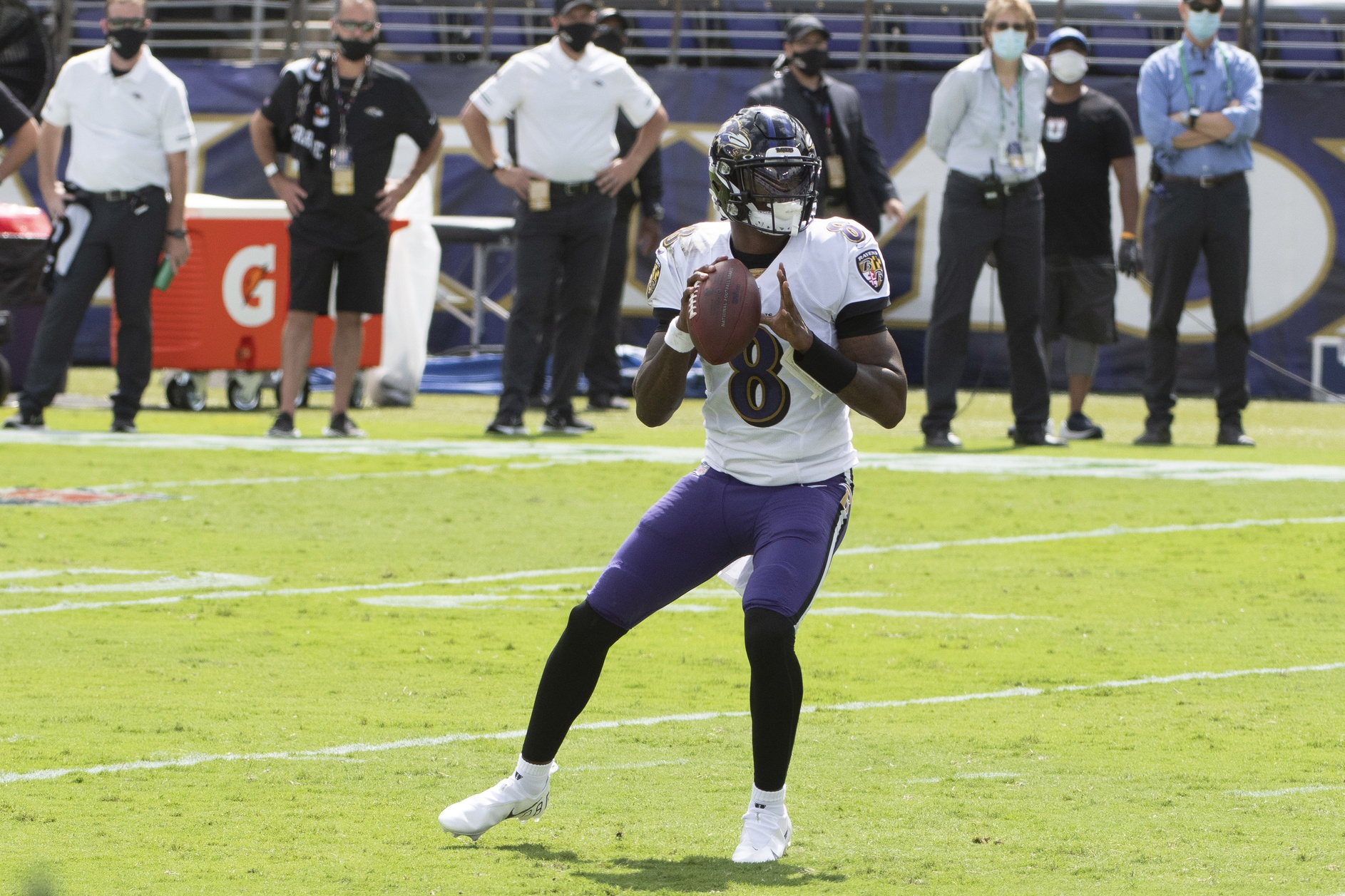 Mark Andrews was the quarterback's top target with five catches on seven targets, with two contested catches and a nifty one-handed catch for the first touchdown of the season for the Ravens. Marquise Brown flashed on some downfield throws and finished with a whopping 4.50 yards per route run as the 2020 Ravens offense picked up right where it left off from last year's regular season.
Without Hayden Hurst after an offseason trade to Atlanta, Baltimore played more from two-tight-end sets after leading the league in three-tight-end sets last season. They finished with the same number of snaps with two tight ends on the field as they did with three wide receivers. 
Rookie watch
Ravens rookie J.K. Dobbins had two goal line touchdowns, but the rock was spread around between the Ravens rushers as he finished with only six carries. Dobbins forced one missed tackle on those six runs and finished with 3.8 yards per carry and 2.2 yards after contact. Rookie linebacker Patrick Queen forced a fumble and had six tackles — with three defensive stops — and also his first NFL sack. Unfortunately, he allowed both targets that came his way in coverage to be caught for 20 yards total. 
Jedrick Wills was solid in his first game at tackle for the Browns. He was tasked with 40 pass-blocking snaps and allowed only a sack and two hurries. Defensive linemen Jordan Elliott played 26 snaps but didn't make an impact in his NFL opener. Tight end Harrison Bryant played 17 receiving snaps and caught one ball on two targets. 
ELITE subscribers can view player grades, advanced statistics, positional snap counts and more in Premium Stats 2.0. Use promo code KICKOFF30 here to save 30% off your new PFF subscription today.