Thanks to an exceptional defensive play and a plethora of missed field goals, the divisional-round bout between the Buffalo Bills and Baltimore Ravens ultimately ended in favor of the AFC East Champions, 17-3.
Lamar Jackson left the contest midway through the third quarter due to a concussion, plummetting the Ravens' victory hopes in turn. In the end, it was the Bills punching their ticket to the AFC Championship game for the first time since 1993. 
Editor's note: All of PFF's grades and advanced stats from this game will be finalized and made available to ELITE subscribers within 24 hours of the final whistle. 
STORY OF THE GAME
Though they held off their opponent, the Bills' offense struggled to put points on the board. Josh Allen thrived when throwing 20-plus yards downfield this season, but he was off his mark tonight. He completed just 1-of-6 deep attempts for 21 yards and was 7-of-14 for 96 yards on throws 10-plus yards downfield. It was just Allen's fourth game this season with one touchdown or fewer, and his 5.6 yards per pass attempt was his third-fewest.
The running game was not an emphasis for Buffalo's offense, as it came out of the gates with 19 straight pass attempts. Devin Singletary and T.J. Yeldon combined for just nine attempts and 29 yards on the night, though Singletary did add another 12 yards on three receptions. Stefon Diggs recorded his third playoff game with 100-plus receiving yards, as he hauled in eight receptions for 106 yards, seven first downs and a score. John Brown was also efficient, taking his eight receptions for 62 yards and three first downs. 
On the other side of the ball, cornerback Taron Johnson took an endzone interception back 101 yards for the only other touchdown of the contest. Jerry Hughes was also effective off the edge, notching six quarterback pressures — including two sacks — and two more snaps beating his man. Tre'Davious White saw four targets go his way on 46 snaps in coverage, allowing only two to be caught for 31 scoreless yards. 
Jackson was knocked out of the game on a high snap that he had to throw away just outside of Baltimore's endzone. He was unable to return and lead his team to a comeback victory, but even before he left, Jackson was having fits throwing the football. On pressured dropbacks, he completed just 1-of-9 throws for seven yards and took three sacks. He was widely inaccurate outside of the safety of play action, as well, connecting on 8-of-17 passes for 119 yards and an interception compared to going 6-of-7 for 43 yards on play fakes. 
In his relief came rookie Tyler Huntley due to Robert Griffin III and Trace McSorely both being on injured reserve. The undrafted rookie did his best, throwing for 60 yards and rushing for another 32.
J.K. Dobbins and Gus Edwards enjoyed the same stat line, as each carried the ball 10 times for 42 yards. Dobbins added another 51 yards on three receptions, to boot. Receiver Marquise Brown is the only other notable offensive player for the Ravens; he reeled in four targets for 87 yards and was overthrown by Huntley for a deep touchdown that would have made the game 17-10 in the fourth quarter. 
The Bills will need to maintain their defensive dominance while also unlocking their offense if they wish to make a Super Bowl appearance by taking down either the Kansas City Chiefs or Cleveland Browns.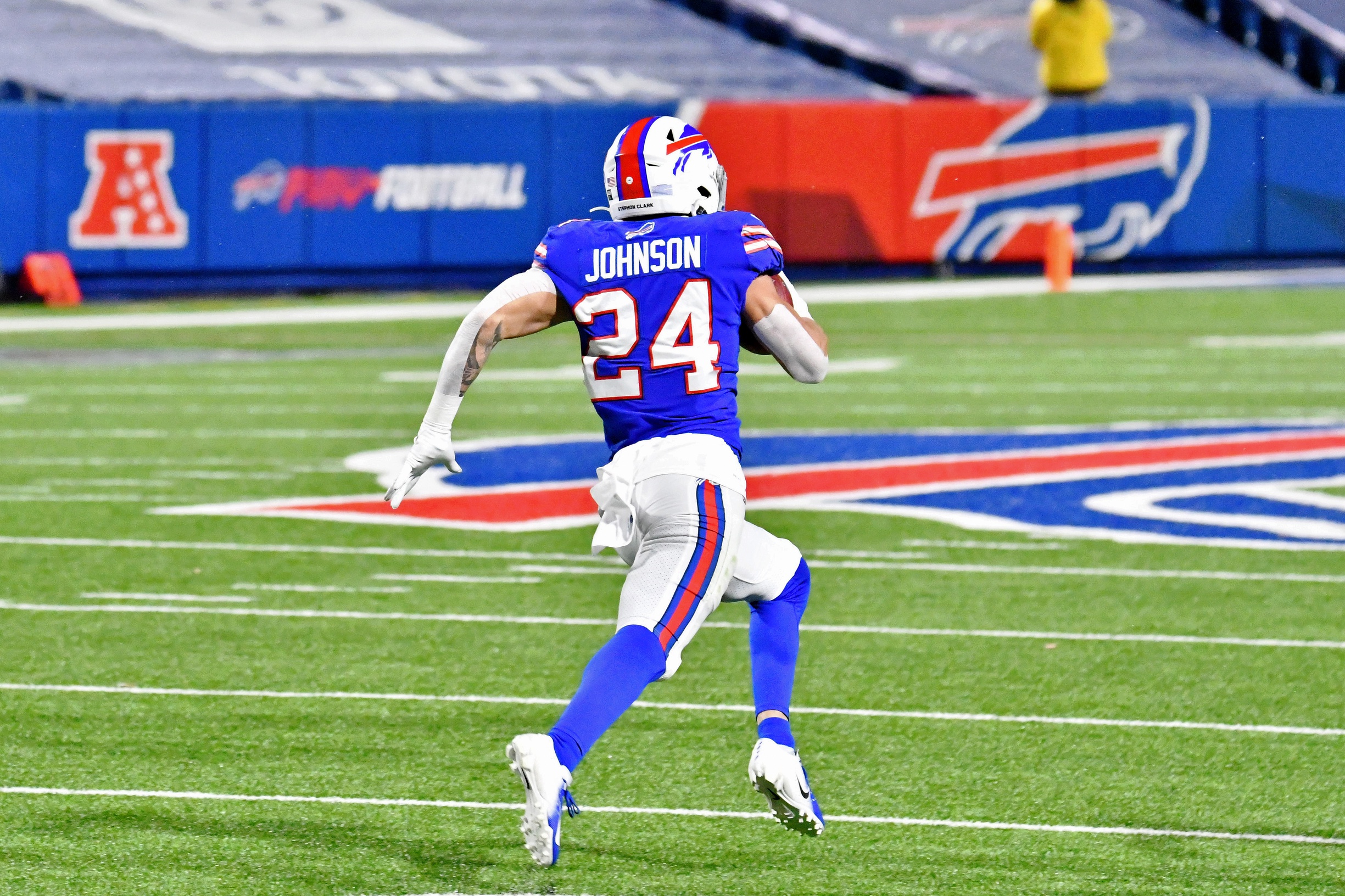 ROOKIE WATCH
Wide receiver Gabriel Davis and edge defender A.J. Epenesa were the only rookies to see significant playing time for the Bills. Davis could not haul in any of his four targets, dropping his lone catchable one of the night. Epenesa did not fare much better, generating zero quarterback pressures and just one tackle against the run. 
Outside of Dobbins and Huntley, guard Tyre Phillips, linebacker Patrick Queen and interior defender Justin Madubuike hit the gridiron for the Ravens. Phillips allowed two pressures, including a sack, while paving the way in the running game. Queen endured a rough night in coverage, as he allowed all three of his targets to be caught for 24 yards, two first downs and a touchdown. Madubuike was called for more penalties (1) than he had pressures and total tackles combined (0).  
ELITE subscribers can view player grades, advanced statistics, positional snap counts and more in Premium Stats 2.0.