In a league in which the passing game is the preferred method of offense, NFL teams have started to build their defenses with a greater emphasis on pass coverage. This season, six of the 10 highest-graded coverage defenses made it to the postseason, and three of those units helped their teams attain a first-round bye.
Here, with a special focus on each team's secondary, is a look at how we ranked all 32 NFL coverage units following the 2019 regular season.
[Editor's Note: All ELITE subscribers have access to PFF's advanced statistics and grades for every player and team in the NFL. Subscribe today to gain access.]
The Patriots earned a team coverage grade of 92.7 throughout the regular season — the highest grade among NFL outfits — despite playing the highest volume of Cover-0 (67 snaps) of any team in the league. They often left cornerbacks Stephon Gilmore, Jason McCourty and Jonathan Jones in single-man coverage without the help of a safety over the middle of the field. This high-risk, high-reward approach to pass coverage helped the Patriots haul in a league-leading 25 interceptions and allow the lowest passer rating in the NFL (67.3). Through 16 regular-season games, the Patriots also allowed the fewest pass completions (303), and they were the only team to collect more interceptions than touchdown passes allowed (13).
Armed with PFF's top-graded cornerback in Richard Sherman, the 49ers' secondary earned our second-highest team coverage grade (92.5) in 2019. The 'Niners played a zone-coverage shell on over 70% of their snaps during the regular season and allowed the second-fewest expected points added (EPA) per pass play of any defense in the league (-0.188). While primarily playing in a three-deep zone scheme, the 49ers' secondary excelled by limiting explosive pass plays — they tied with the Patriots by allowing the fewest first-down completions (149) during the 2019 season.
The Vikings earned PFF's third-best team coverage grade (91.3) through 17 weeks of the 2019 regular season, despite not having a cornerback who finished in our top-25 rankings for 2019. The team played a zone shell on roughly 70% of their snaps and relied heavily on the disciplined play of PFFs highest-graded safeties, Anthony Harris (91.6, first) and Harrison Smith (91.4, second), for support on the back end. Mike Zimmer's fingerprints are all over this group, whose 73 forced incompletions ranked first in the NFL through 17 weeks of action. Their favorite scheme was a Cover-2 zone, which they played on 21.3% of their snaps, and they allowed a passer rating of just 73.5 (fourth among teams) and forced an incompletion on 9% of their targets (sixth) while playing in this scheme.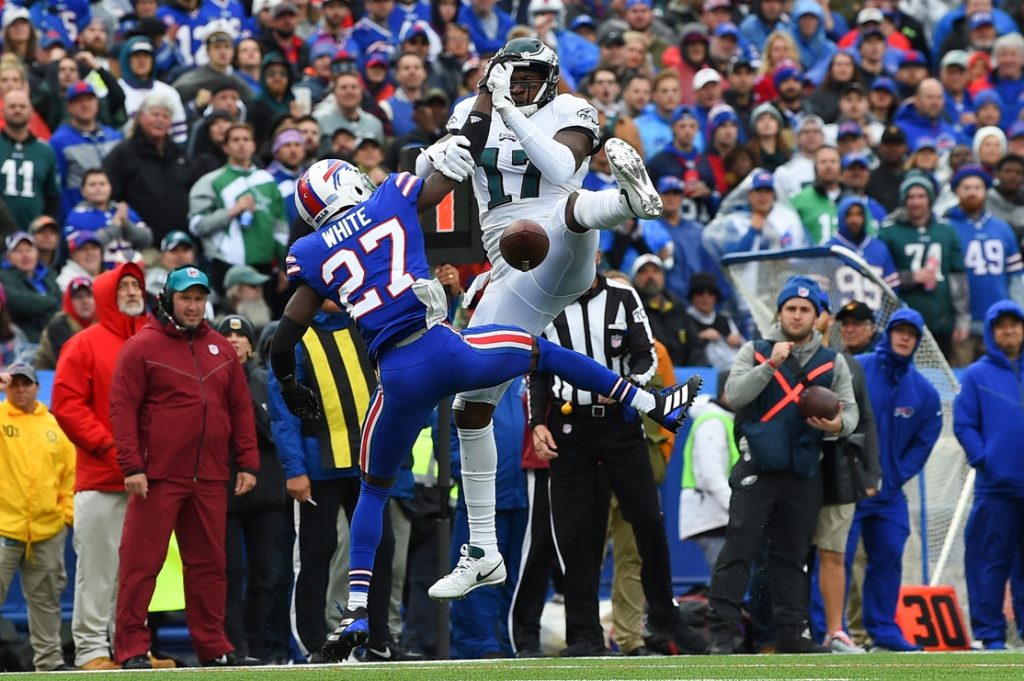 © Rich Barnes-USA TODAY Sports
Since taking over as head coach in 2017, Sean McDermott has led the Buffalo Bills to three consecutive elite team coverage grades, with their 2019 grade of 90.5 ringing in as the league's fourth-best mark. Cornerback Tre'Davious White (75.2 coverage grade) and safeties Micah Hyde (82.0) and Jordan Poyer (70.1) helped lead a group that allowed the fifth-fewest EPA per pass play and the league's second-fewest touchdown passes through 16 games. And White was the only NFL corner to play 500-plus coverage snaps and not allow a touchdown reception. The Bills played a good mix of both zone (60% of the time) and man coverage (34% of the time), and their low-risk philosophy yielded an average depth of target of just 7.3 yards, which tied for the second-lowest average among all 32 teams.
The addition of Minkah Fitzpatrick helped to solidify a revamped Pittsburgh defense that ended up earning PFF's fifth-best coverage grade (90.0) in 2019. Their cornerback trio of Steven Nelson, Mike Hilton and Joe Haden all rank among the top 25 highest-graded players at their position, and the defense as a whole went on to collect the second-most interceptions (20) and allow the second-lowest passer rating (85.4) among all 32 teams. After a shaky two-game start to the season, Fitzpatrick joined the team and helped the Steelers secondary to rapidly improve in critical areas. After allowing 0.482 EPA per pass play over the first two weeks, 30th among teams, the Steelers allowed -0.268 EPA per pass play from Week 3 to Week 17, which was unmatched around the league.
It was a disappointing year for the Dallas Cowboys in many ways, but their sixth-ranked team coverage grade of 88.9 is a reason for optimism. The Cowboys were one of three teams — tying both the Cardinals and Lions — with a league-low seven interceptions. However, they had the third-best forced incompletion rate (12.2%) while allowing only 10.5 yards per reception, the fifth-best in the NFL. As the last line of defense, the Cowboys had the second-fewest missed tackles (42) of any team in coverage, revealing more effort and energy than most fans may realize.
The Green Bay Packers improved their team coverage grade from 69.6 (26th) in 2018 to 88.0 (seventh) in 2019. Defensive coordinator Mike Pettine used zone schemes on 51% of their 613 coverage snaps, giving his pass defenders clear vision against opposing quarterbacks, and they responded with the league's third-most interceptions (16) and the fifth-most forced incompletions (60). Second-year player Jaire Alexander (11th) and 10-year veteran Tramon Williams (6th) both ranked inside PFFs list of top 25 cornerbacks for 2019, and their presence helped the defense allow a completion percentage of just 64.7% and a passer rating of 87.3, both of which were the fourth-lowest among teams. They also checked in with the 10th-fewest missed tackles (34), which shows an improved defense that goes well beyond their good pass-rush.
After trading starting corners Aqib Talib and Marcus Peters six weeks into the season, the Rams' secondary improved their then 12th-ranked coverage grade of 68.6 to a more respectable and eighth-ranked 84.7 by the close of the regular season. They utilized a zone-coverage shell on 61% of their 635 coverage snaps, and they allowed a successful play in terms of EPA on just 44.1% of those snaps, ninth among NFL teams. Cornerbacks Nickell Robey-Coleman (19th) and Troy Hill (20th) both made our list of the top-25 cornerbacks through Week 17.
The Baltimore defense got off to a disappointing start to the 2019 regular season. During their first six games — before the arrival of cornerback Marcus Peters — they earned a team coverage grade of 65.7 and allowed 0.119 EPA per pass play, 15th and 23rd, respectively, among the league's 32 defenses. However, after the acquisition of Peters before Week 7, everything changed. From Week 7 on, the Ravens earned a team coverage grade of 85.1 (fourth); they allowed -0.362 EPA per pass play (first), a passer rating of 79.3 (second), an average of just 6.2 yards per reception (first) and surrendered a first down or a touchdown on just 30.1% of their targets (first). The trade of Peters paid off immediately in his very first game when he raced 67 yards for a touchdown following his interception of a Russell Wilson pass in Seattle. As a whole, the Ravens' secondary finished the regular season having allowed a passer rating of just 80.0 to opposing quarterbacks, the fifth-lowest passer rating among the league's 32 secondaries, while their 47 forced incompletions ranked eighth among the same group. Defense is part of the Ravens' identity; once again, their reputation remains firmly intact.
New head coach Vic Fangio helped the 2019 Denver Broncos climb up from the 23rd-ranked coverage grade (72.4) they earned in 2018 to a 10th-ranked coverage grade (82.3) in 2019. Safety Justin Simmons played a huge part in that through 17 weeks, as he earned the third-highest coverage grade (91.1) among qualifying safeties on the year. The Broncos played a large proportion of their coverage snaps in either a Cover-3 (18.5% of snaps) or Cover-6 (19.0%) shell. As a whole, their cornerbacks and safeties forced an incompletion on 12.4% of their targets, 11th among the league's secondary groups.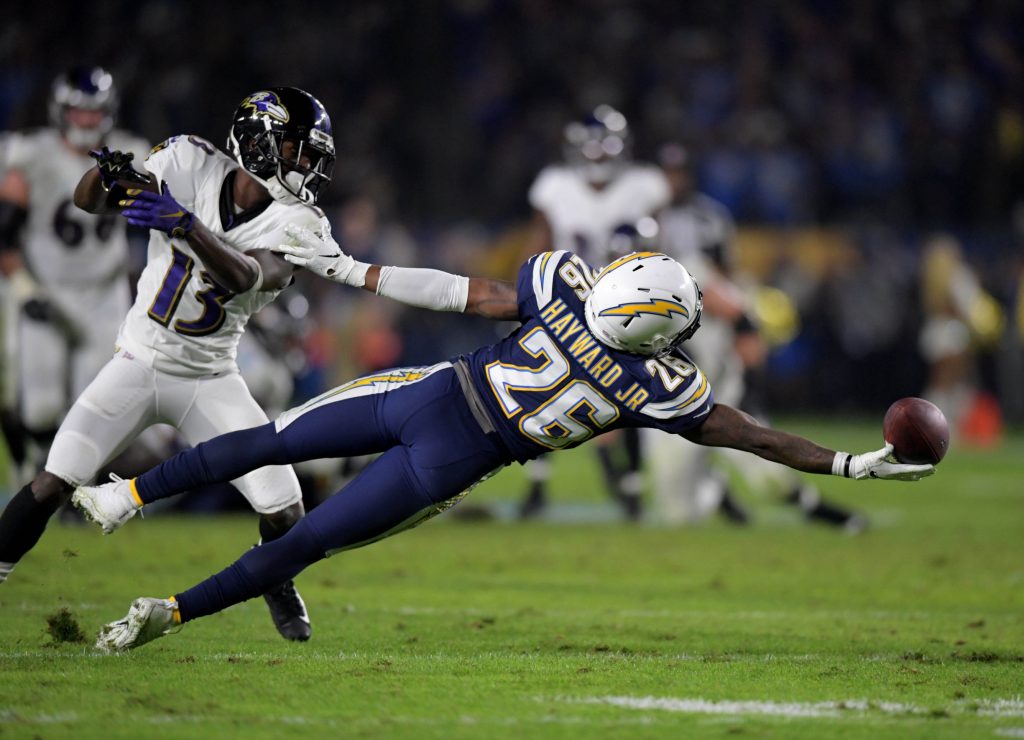 © Kirby Lee-USA TODAY Sports
Injuries and inconsistent play are the main reasons why the Los Angeles Chargers have slid down eight spots from last year's ranking. The Chargers played 316 snaps (just under 60% of their total snaps) in a Cover-3 shell, and the high volume of zone coverage was a major reason why they ended up allowing the NFL's third-highest completion percentage (75.3%) while ranking ninth in the league in the percentage of targets that resulted in a first down or touchdown (35.3%). The Chargers' cornerbacks and safeties allowed the NFL's third-fewest passing yards (2,226), lagging only behind the 49ers (1,884) and the Steelers (2,144), but after safety Derwin James was forced missed 11 games and slot cornerback Desmond King II saw his coverage grade decline drastically from 2018, not even the stellar play of cornerback Casey Hayward Jr. — who checks in at No. 5 on our top-25 list — could prevent this group from sliding outside our top 10.
The Chicago Bears are a prime example of how teams can experience fluctuations in pass coverage from year to year. This year's 12th-ranked 76.6 coverage grade is a significant decline from last year's first-place mark (95.7) that was accompanied by a league-leading 27 interceptions. With only 10 picks in 2019, Prince Amukamara, Kyle Fuller and Eddie Jackson were all returning starters from the 2018 group with only Ha Ha Clinton Dix serving in his first year with the team. Last season, the Bears' defense forced the second-most incompletions (69), but that total fell to just a 29th-ranked 38 in 2019. There is plenty of room for encouragement here, though, as the Bears continued to perform well enough to allow the fourth-fewest touchdown passes (17), which were five fewer than the 22 they allowed during their stellar 2018 season.
After finishing the 2018 season 16th on this list, the Indianapolis Colts move up to 13th place after their performance in 2019. This past season, the Colts ran Cover-1  more than any other coverage scheme (168 times) but elected to use a variety of zone concepts on 409 of their 665 total coverage snaps. Armed with safety Malik Hooker and third-year cornerback Kenny Moore II, who finished 25th on PFF's list of top cornerbacks for 2019, the Colts' defense came away with 15 interceptions, and they led the league in total coverage stops with 114. However, while they may have kept the ball in front of them in zone coverages, they would finish the season with the league's lowest forced incompletion rate (5.6%) while allowing the second-highest completion percentage (75.4%). In all, the defense allowed 393 receptions, the fourth-most in the NFL. It was a clear case of talent and scheme yielding mixed results.
The Carolina Panthers check-in with PFF's 14th-highest team coverage grade while ranking in the top 10 in two critical areas of our coverage data, as they tied for ninth in the NFL in total touchdowns allowed (21) and tied for seventh in total interceptions (14). Their back end was a mixed bag this past season. Tre Boston finished with PFF's fourth-highest grade (90.6) among qualifying safeties, and he allowed a sub-80.0 passer rating for the fifth consecutive year. On the other hand, Eric Reid finished with an unimpressive 34.4 coverage grade, which ranked last of all 101 qualifying players at his position. Boston allowed only six combined first downs and touchdowns across 16 targets in coverage while Reid gave up an alarming 30 first downs across his 58 targets. A drastic reversal by Reid would quickly elevate the entire group.
The Seahawks and their famed Cover-3 or 3-Seam coverage — which they used on 302 of their 692 regular-season coverage snaps (43.5%) — earned a coverage grade of 75.0 in 2019, 15th among the NFL's 32 teams. Of their four starting secondary defenders in Shaquill Griffin, Quandre Diggs, Bradley McDougald and Tre Flowers, only Griffin (75.9) and Diggs (89.9) earned coverage grades of 75.0 or higher, with Griffin finishing 13th on PFF's list of the top 25 cornerbacks for 2019. This group is not your father's Legion of Boom, but they still ranked top-10 in average depth of target (7.8, tied for fourth), interceptions (15, tied for fifth) and passer rating allowed (93.2, 10th). If this group were a stock, this would be a good time to buy.
The New York Jets' secondary was led by dynamic safety Jamal Adams, who earned the seventh-highest coverage grade (87.3) among safeties to go along with his position-leading 90.2 pass-rush grade. Backing up Adams, nickel cornerback Brian Poole earned the highest coverage grade (80.0) of any slot defender on PFF's list of the top 25 corners after allowing the lowest yards per reception average (7.4) among players at the position in 2019.
Just three short years ago, defensive coordinator Dennis Allen inherited a coverage defense that had just finished the 2015 season with a 32nd-ranked team coverage grade of 29.8. But even though this year's 17th-ranked 71.3 coverage grade is a vast improvement, there is still room to grow for New Orleans' talented coverage unit. The Saints' secondary consisted of seven players who were drafted in the first three rounds, but only two — Marcus Williams (89.5) and Janoris Jenkins (81.2) — earned a PFF coverage grade above 80.0. Former first-round picks Marshon Lattimore (68.7), Eli Apple (59.1) and Patrick Robinson (65.0) all performed below expectations, while Vonn Bell (51.9), P.J. Williams (47.8) and Chauncey Gardner-Johnson (68.7) are also expected to play a little better than their grades would suggest. They are a talented group, but they underachieved this past season.
Defensive coordinator Steve Spagnulo used a good mix of both man and zone coverage to leverage the talents of safeties Tyrann Mathieu (81.5 coverage grade) and rookie Juan Thornhill (78.0), but cornerbacks Charvarius Ward (65.6), Bashaud Breeland (43.9) and Kendall Fuller (55.3) all earned grades that beg for improvement. The Chiefs' cornerbacks and safeties scored the league's ninth-lowest forced incompletion rate at 10.3% while wasting opportunities with seven dropped interceptions, tied for the sixth-most in the NFL.
The Tampa Bay Buccaneers experienced some real growing pains on their way to this year's 20th-ranked team coverage grade (70.1). In November, they released former first-round cornerback Vernon Hargreaves III then inserted second-year cornerback Carlton Davis into a more prominent role, and they never looked back. Davis led all starters with a 72.1 coverage grade while cornerback Sean Murphy-Bunting (66.5) and safeties Andrew Adams (63.6) and Mike Edwards (52.5) all scored below 70.0. The secondary group finished with the third-most forced incompletions (57) in the league, but that was mostly because Davis led the league in this metric, with an impressive 22 forced incompletions all to himself. Both young and talented, the Buccaneers' secondary rest in the good hands of defensive coordinator Todd Bowles.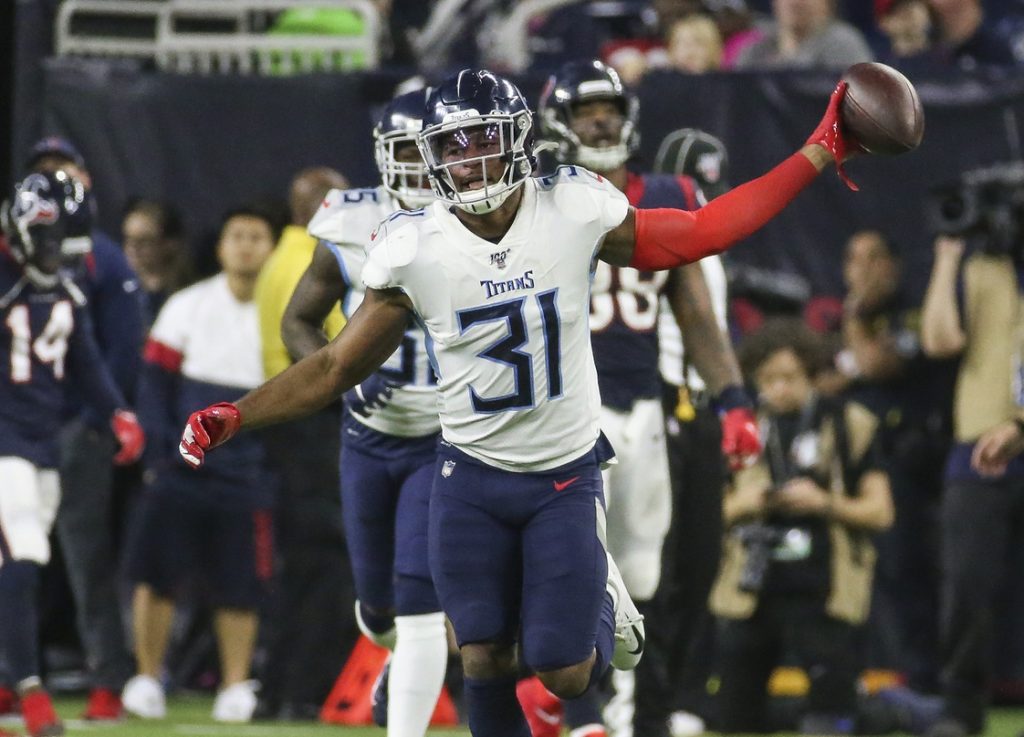 © Troy Taormina-USA TODAY Sports
In just one season, the Tennessee Titans' team coverage grade fell from a fourth-ranked 90.3 to a 20th-ranked 69.5. The inconsistent play of Malcolm Butler (64.2 overage grade) led to the late-season addition of 31-year-old veteran corner Tramaine Brock Sr., who ended the year with a coverage grade of 72.4 and landed at No. 22 on PFF's list of the top 25 cornerbacks of 2019. Adoree' Jackson earned the 14th-best grade (75.3) among qualifying corners and allowed the 10th-fewest first-down receptions among players on the same list. As a whole, the Tennessee defense recorded 13 interceptions on the year, but it could have easily been more, as the team dropped 11 total interception opportunities through 17 weeks, tied for the most around the league.
Due to the numerous injuries that were sustained throughout the year, eight different cornerbacks played meaningful snaps for the Eagles throughout the regular season, and all of them earned a grade below 70.0. Through 17 weeks, the Eagles played a zone coverage shell on 58% of their snaps to better protect their ever-changing lineup of players. The high volume of zone coverage enabled the Eagles' secondary to allow the fifth-lowest completion percentage (59.4%), and because zone coverages allow defenders greater vision and a faster break on the ball, the side also forced the most incompletions (58) in the NFL. Defensive coordinator Jim Schwartz would love to have a healthier rotation of players, but his use of multiple zone schemes served as the right band-aid to help capture the NFC East title.
Despite their collection of highly drafted players in the secondary, the Browns only managed a 22nd-ranked coverage grade in 2019. Only Denzel Ward (72.7) earned a coverage grade above 70.0, while Greedy Williams (53.6), Terrance Mitchell (61.1), Juston Burris (61.5) and Damarious Randall (69.9) all earned coverage grades below 70.0. Through 17 weeks, they allowed a passer rating of 98.1 and 0.037 EPA per pass play, 17th and 19th, respectively, among the league's teams.
The Washington Redskins struggled all year long against the pass, and nowhere is that better reflected than in their 23rd-ranked team coverage grade of 57.1. This group allowed the fifth-most EPA per pass play from Week 1 to Week 17, and they allowed the third-most touchdown passes of any team in the NFL (35). Fifth-year cornerback Quinton Dunbar was the lone bright spot on the team, as he earned the second-highest coverage grade (89.5) among PFF's top 25 cornerbacks. On the other hand, Landon Collins turned in a disappointing coverage grade of 60.6 while Josh Norman's play achieved an even lower mark of 43.4. The Redskins performed poorly in both man and zone coverage, so maybe the hiring of Ron Riveria was done with this group in mind.
The Houston Texans have both talent and stability on the sidelines, so their 24th-ranked team coverage grade is quite surprising. Bradley Roby (68.9), Johnathan Joseph (65.0), Gareon Conley (68.1), Jahleel Addae (62.4) and Justin Reid (79.2) all earned good, but not great, coverage grades, but individual talent does not make a highly effective secondary unit. Poor communication led to the Texans yielding 32 touchdown passes, which tied for the fifth-most league-wide. This group also allowed the eighth-most EPA per pass play and the league's 10th-highest passer rating (104.0).
After a 1-7 start, the Atlanta Falcons hit the reset button to win five of their last eight games, which included a four-game winning streak to close out the season. Raheem Morris did a masterful job coaching the defense during their final eight games, but he couldn't save the secondary from a woeful 25th-place finish on this list. Only nine teams allowed more than the 27 touchdown passes given up by a combination of Desmond Trufant (70.3 coverage grade), Isaiah Oliver (54.5), Ricardo Allen (57.1), Damontae Kazee (58.1) and Blidi Wreh-Wilson (64.0). After giving up the eighth-highest passer rating (105.0) and the sixth-highest completion percentage (70.9%) to opposing quarterbacks, this group is ready to turn the page and build on their late-season success.
Despite allowing the second-fewest receptions (305) through 17 weeks of the regular season, the Cincinnati coverage defense still finds itself with a 26th-ranked grade of 51.8. New coaches ended up yielding the same results, as the core group of Dre Kirkpatrick (61.2), Darqueze Dennard (76.0), Shawn Williams (50.9) and Jessie Bates III (62.3) ended up allowing 9.3 yards per reception through 17 weeks, the worst mark in the NFL. Second-year cornerback Darius Phillips was a rare bright spot, however,  as he earned the secondary's highest coverage grade (83.8) and led the team with four interceptions, leading many to believe that he could be moving into the starting rotation for 2020.
Early-season controversy cost the Jacksonville Jaguars their prized cornerback in Jalen Ramsey, who shut it down after playing in just three games for the Jags in 2019. D.J. Hayden stepped up in Ramsey's absence to earn the 12th-highest coverage grade (77.9) among qualifying cornerbacks in 2019, while Jarrod Wilson's 78.1 coverage grade finished 21st among qualifying safeties. It was disappointing outside of those two, however, as Tre Herndon (54.1), A.J. Bouye (55.4) and Ronnie Harrison (68.6) all failed to record a 70.0-plus coverage grade. Let's see if the Jaguars' new approach in 2020 leads to new results.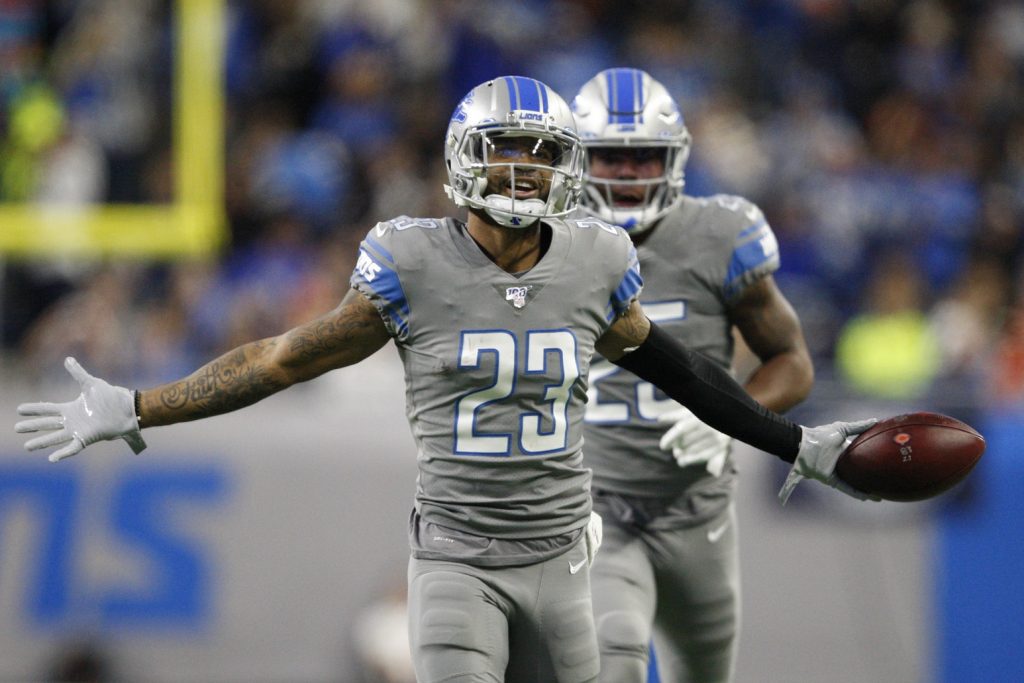 © Raj Mehta-USA TODAY Sports
Head coach Matt Patricia asked his defensive backs to play 347 total snaps of man coverage in 2019, the most of any defense in the NFL, but that did not go as well as he would have likely hoped. Darius Slay (56.9 coverage grade), Rashaan Melvin (47.3) Justin Coleman (59.1), Tavon Wilson (73.7) and Tracy Walker (76.0) combined to allow 149 first downs from 365 combined targets in coverage, and they gave up a passer rating of 105.5 in the process. The Detroit defense as a whole made very few plays, tying Dallas and Arizona for the fewest interceptions (seven) while allowing the fourth-most touchdown passes (33) in the NFL.
The 29th-ranked Oakland Raiders defense gave up 0.220 EPA per pass play and allowed a successful play on 50.8% of their coverage snaps, both of which ranked 31st among teams by season's end. Among others, Daryl Worley (64.5 coverage grade), Erik Harris (66.7), Lamarcus Joyner (42.8), Trayvon Mullen (61.5) and Karl Joseph (64.7) helped give up a quarterback passer rating of 111.3, the second-highest mark allowed in 2019. As the Raiders head to Las Vegas, they will need more substance than style if they want to turnaround this wayward group.
By season's end, the New York Giants had said goodbye to veteran Janoris Jenkins and hello to a woeful 30th-ranked team coverage grade. To put it kindly, rookie cornerbacks DeAndre Baker (45.6 coverage grade) and Corey Ballentine (29.8) suffered growing pains, combining to allow 1,226 yards and 12 touchdowns on a combined 123 targets, while the defense as a whole gave up the sixth-highest completion percentage (70.9%), the fifth-most passing yards (4,376) and the eighth-most combined first downs and touchdowns (207). Safety Jabrill Peppers earned the team's highest coverage grade (70.2), but it wasn't enough to save his hometown team the embarrassment of another disappointing season.
While playing in a man coverage shell on 32% of their coverage snaps, the Cardinals' secondary collapsed under the weight of many of the NFL's top-tier passing attacks. They allowed the league's highest completion percentage (75.5%), the most receptions (417), the most touchdown passes (37), the most combined first downs and touchdowns (239) and the highest passer rating to opposing quarterbacks (117.9).
Only Detroit, New England and Houston played more man-coverage snaps than the Miami Dolphins, who ultimately earned PFF's lowest coverage grade in 2019. Their 242 zone-coverage snaps were the third-fewest of any team in the NFL, leaving cornerbacks Nik Needham (61.0 coverage grade), Nate Brooks (54.1) and Xavien Howard (57.0) stranded on an island with no hope in sight, and it didn't get much better from safeties Steven Parker (70.5) and Eric Rowe (60.2). Altogether, the Miami defense allowed a 29th-ranked 0.163 EPA per pass play while allowing the league's eighth-highest yards per reception average (8.3). This battered group also gave up the second-most touchdown passes (36) and the eighth-most combined first downs and touchdowns (207). The Dolphins did show plenty of fight down the stretch of what was a dreadful season, but if he could, head coach Brian Flores would burn the tape.