With 20 of the 32 teams in the NFL are already into the offseason, team-building season has begun, and it's time to kick off seven months of optimism heading into training camp. One way to put a positive spin on a playoff-free 2019 season is looking back at the breakout players who could be a part of getting your favorite team back on track in 2020. Here's a look at the players who added more value than expected in 2019 and will be right there to aid in 2020 rebuilding projects.
AFC
Despite a small sample size of only 108 snaps, Phillips showed that he may have what it takes to lock down a starting cornerback spot in the Bengals' rebuild. He picked off four passes and broke up three more on only 15 targets, and he put up three solid years of grading at Western Michigan prior to being selected in the fifth round in 2018 by the Bengals.
It wasn't perfect for Redwine, but he showed that he can be a contributor at safety and that's a big win for the fourth-round pick. Redwine finished with a 66.4 overall grade on his 374 snaps and he broke up two passes in coverage, but the key will be to cut down on his eight missed tackles on just 41 attempts. Finding a potential starter in the fourth round is extremely valuable, and Redwine will be in the mix at safety heading into camp.
Johnson is a 27-year-old rookie who came out of nowhere to grade at 88.7 this year, fourth-best among the league's linebackers. Johnson was a fantastic player at the University of Tennessee before off-field issues kept him out of the league for a few years. The Broncos got incredible production out of him for 12 games as he was one of the league's best run defenders and solid in coverage and he provides a strong piece on the field for Denver's defense moving forward.
The Colts have shown a penchant for long, athletic linebackers and they may have hit on another one in Okereke. The third rounder posted the third-best grade on the Colts' defense at 77.3 overall, and he did a fine job of limiting yards in coverage on his way to a 79.2 grade in that department. Okereke only has 472 snaps under his belt, but if he can keep it up, he pairs with Darius Leonard forms one of the best young linebacking duos in the NFL.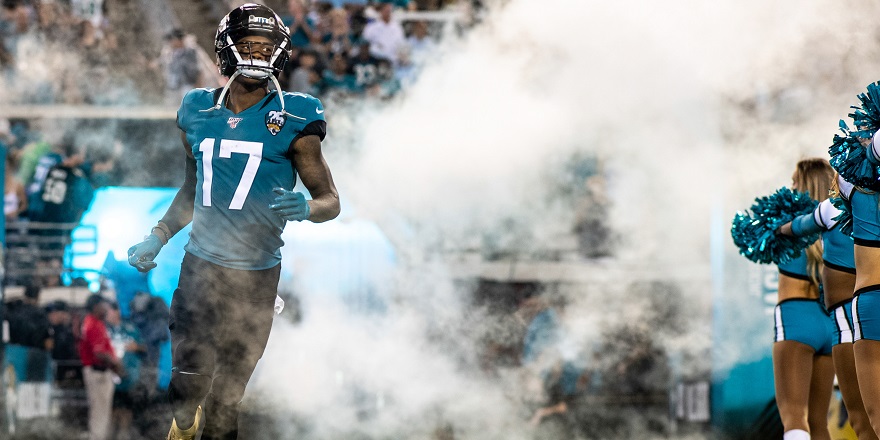 © Douglas DeFelice-USA TODAY Sports
Coming into the season, it looked like the Jaguars had thrown a bunch of names at their wide receiver with no clear answers, but Chark developed nicely in his second season to become their clear No. 1 target. He posted a 75.8 receiving grade to go with his 1,008 receiving yards and only two drops while showing off much better downfield ball skills than he showed at LSU. Chark's speed and ball skills give the Jaguars a much-needed weapon to build around offensively.
White came into the league as a hybrid safety/linebacker, and he's taken to his linebacker role in the Chargers' defensive scheme. He adds athleticism to their front-7, capable of matching up with tight ends in one-on-one and flying to the ball in underneath zone coverage just as he did at West Virginia. The Chargers still have plenty of defensive pieces to build around and White's versatility is a good fit in their front-seven.
Parker is the easy reason for optimism in Miami as he finally started to live up to his first-round potential here in his fifth season. The Dolphins locked him up for the future. where he'll look to build his career highs in receiving grade (79.8), yards (1,202), and touchdowns (nine). No matter who is playing quarterback for the Dolphins, Parker has shown that he can be a viable downfield threat on the outside.
Even in a passing league, there's still room for early-down run stuffers if they're dominant, and Fatukasi showed flashes of dominance with at 87.5 grade on 205 snaps against the run. Fatukasi was a blue-chip run defender in college at UConn, and that skillset has carried to the NFL for the former sixth-round selection.
Hurst came out of college with first-round credentials and while he hasn't exactly dominated, he finishes the 2019 season as the highest-graded Raiders defensive player at 72.2 overall. Don't be fooled by sack totals, Hurst was the team's most efficient pass-rusher, grading at 76.5 and pressuring the quarterback 38 times on only 355 rushes.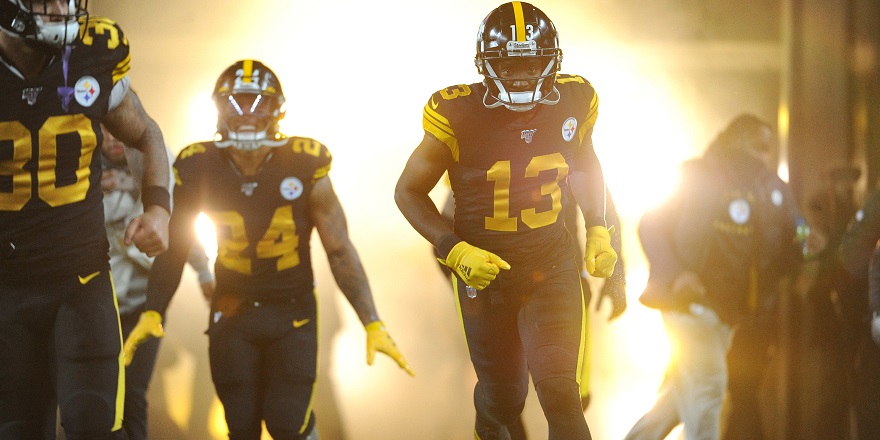 © Philip G Pavely-USA TODAY Sports
Despite playing with inexperienced quarterbacks, Washington took a huge step forward in his second year. He showed off the downfield ability that made him such a weapon in the Big 12 as he finished with 735 receiving yards at 16.7 yards per reception. Washington's 68.5 receiving grade may not jump off the page, but it's a major improvement from his 50.5 mark in a disappointing rookie season.
NFC
A midseason trade from the Miami Dolphins did Drake well as he immediately looked like a perfect fit for head coach Kliff Kingsbury's offense. Drake is a pending free agent, but he's coming off the best stretch of play in his career that saw him average 5.3 yards per carry to go with a 76.3 receiving grade in a Cardinals' uniform. If the price is right, Drake should be right back in Arizona, and his playmaking ability will be even more valuable if the Cardinals can upgrade other pieces of the offense.
The Falcons have one of the best groups of playmakers on paper, so a 49-catch season from Gage was an unexpected development this season. The 2018 sixth-rounder wasn't a big-play threat, averaging just 9.1 yards per reception, but he picked up 25 first downs and forced six missed tackles after the catch on his way to a solid 66.4 receiving grade. With TE Austin Hooper hitting free agency, Gage may pick up some of the slack on underneath possession routes next season to complement the explosive playmakers on the outside.
Boston is a free agent once again, and he's bounced around over the last few years, but he had an excellent season for the Panthers, and they should consider bringing him back depending on the new defensive system. Boston is a true free safety, and he excelled on the back end with seven pass breakups and three interceptions, it's just a matter of cutting down on the 13 missed tackles, far too many on only 78 attempts. Regardless, Boston finished the 2019 regular season as one of the most valuable safeties in the league due to his 90.6 coverage grade.
While Kwiatkoski is a free agent, he was a bright spot for the Bears defense, filling in admirably on his 512 snaps this season. He came out of college as a solid run defender who overcame a lack of great physical tools by usually being in the right place in coverage, and that's exactly what he did this season for the Bears. Kwiatkoski finished with a solid 72.6 overall grade while making 26 defensive stops and breaking up three passes, and that performance makes him a valuable piece to re-sign in free agency.
While the Cowboys' offense has been far more efficient since the addition of WR Amari Cooper in 2018, Gallup's emergence was just as important in 2019. He finished with 1,107 yards at 16.8 yards/reception, providing a downfield threat due to his route running and body control His 13 drops were the only blip on Gallup's season, but that should regress and improve next season, giving the Cowboys a viable outside threat regardless of what happens with Cooper's contract situation.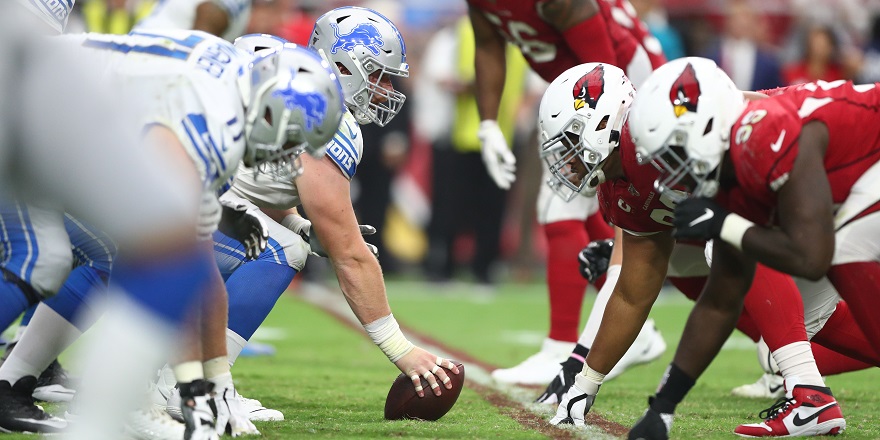 © Mark J Rebilas-USA TODAY Sports
Ragnow's move to center was one of the best stories in a disappointing season in Detroit as he finishes the regular season with the No. 6 grade among the league's centers. Ragnow struggled to a 61.9 grade as a rookie in 2018 while trying to play left guard, but he returned to his more natural position where he dominated in the SEC for multiple years on his way to first round draft status.
Another free agent, Hill had an excellent finish to his rookie contract by posting a career-high 76.4 overall grade. He was solid all around in the run game (76.5 grade) while allowing career lows in completion percentage (45.1%) and passer rating (54.7). Hill complements the big-bodied Jalen Ramsey on the other side, and his 2019 performance may be enough to make him a part of the Rams' plans in the secondary moving forward.
Love only played three snaps prior to Week 12, but he played 405 snaps down the stretch and performed well in the run game and in coverage. Love finished with a 70.5 overall grade, good for sixth on the defense, while lining up in the box, over the slot, and at free safety. The former cornerback showed that he can be a versatile piece in the secondary.
The Bucs have thrown resources at the defensive backfield over the last few years, and Dean and Davis had an incredible stretch to make it look like it's paying off. Both players have size and physicality to play on the outside, with Dean breaking up 10 passes on just 47 targets and Davis breaking up 18, five more than the next-closest defender. It was clean across the board as both players also gave up their fair share of yards and touchdowns in spurts but given the Bucs' woes on the back end in recent years, the two former Auburn products should instill plenty of hope heading into 2020.
Health has been the major question mark for Hamilton since coming out of Alabama, but he showed well on his 387 snaps with a 74.9 overall grade. He showed off his excellent instincts in coverage, often blowing up screens and making one of the best plays of any linebacker this season with his interception against the Dolphins. Entering his third season, he looks like a useful piece for Washington's new defensive system.