Assuming there is some form of training camp and preseason this year, the opportunity for players to prove they deserve a bigger role in the 2020 NFL season is smaller than it's ever been.  Each year, teams head into the season with plans on paper but are reassured or forced to adjust based on the training camp and preseason performances of certain individuals.
Here are 10 players who need a strong camp and preseason to secure the bigger role they will be hoping for.
Third-round rookie Chase Winovich impressed in his first season in the NFL. He was a better college player than first-round teammate Rashan Gary and has been a better NFL player through their first seasons. Winovich had 23 total pressures and 10 combined sacks and hits on 234 pass-rushing snaps including the playoffs.
The Patriots allowed Kyle Van Noy — by far their primary source of pass-rush pressure — to depart in the offseason, opening the door for somebody to step up and own that role. Winovich is the most logical candidate, but he needs to have a strong camp to avoid losing the opportunity to somebody like Deatrich Wise Jr., whose pass-rushing grade and pressure rate last season was far superior.
The Patriots have scaled down Wise's role during his time in the NFL, while Winovich will be looking to take his in the other direction — but he hasn't yet shown enough to have that role locked up. Second-round rookie Josh Uche and players like Shilique Calhoun and John Simon are in the mix as well, so as much as everybody expects an expanded role from Winovich, he needs to back that up before the regular season starts to fight off competition from the rest of the depth chart.
When the Dallas Cowboys drafted Trysten Hill in the second round of last year's draft, it was a significant head-scratcher, and few people were as high on Hill as a prospect as I was. He was an extremely raw talent who flashed big-time potential rather than consistently displayed it in college, where he had back-to-back seasons with a 78.7 PFF grade but never really threatened an elite mark.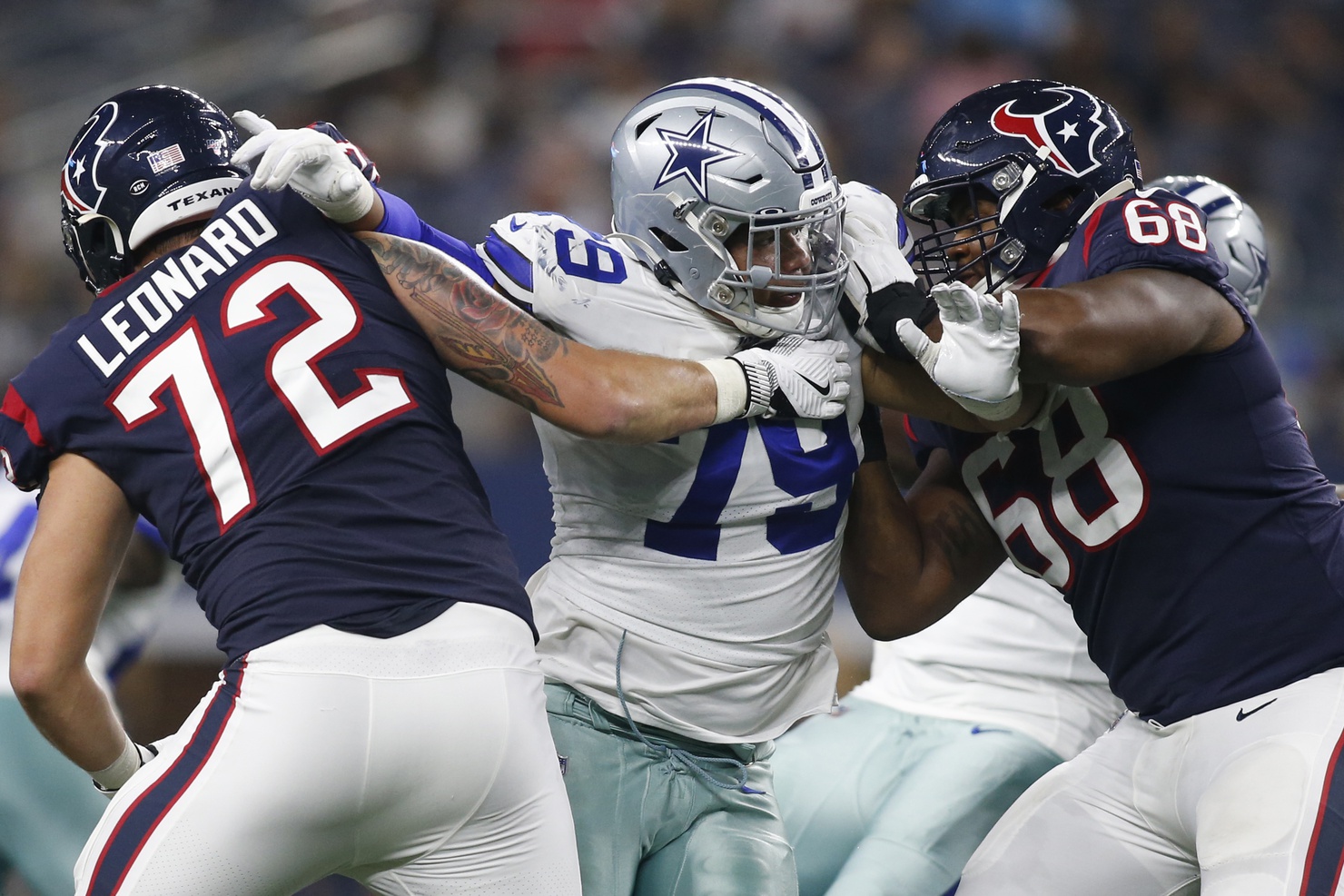 Hill was drafted for the future but, as they say, the future is now. In his rookie season, he played just 121 snaps and had a grade in the 50.0s, notching just three pressures on 66 rushes, but he was never expected to be a force right away. His problem is that the Cowboys didn't sit around and just assume he would be great in Year 2, and he now needs to prove he is worth an expanded role against some pretty significant competition.
Gerald McCoy was added in free agency, but he should nearly replace Maliek Collins in role and snaps, while Dontari Poe and Antwaun Woods are more recognized nose tackles. But the team also got a steal in Neville Gallimore in the third round of this year's draft. Hill needs to show he can earn playing time over a player like Gallimore, who PFF would have more confidence in as a prospect coming out of college.
For a second-round pick, Andy Isabella was something of a bust in his rookie season, but he still flashed the ability to turn a routine play into something explosive on limited snaps. The expectation is he will play significantly more and have a much larger role in Year 2, and the arrival of DeAndre Hopkins probably helps that as much as hurts it because of how good he can be.
Larry Fitzgerald gets to go back to being a plus possession receiver, leaving Isabella to battle with Christian Kirk, Trent Sherfield and KeeSean Johnson for the WR3 spot or even carve himself a specific niche as a designated deep threat. His issue may forever be that he has the look of a shifty, underneath slot receiver, but his skill set is that of a downfield, big-play threat. Last season, his average depth of target was just 8.4 yards from the line of scrimmage, compared to almost double that (16.1) for players like Ted Ginn Jr. who have a settled role within an offense.
Isabella not only needs to battle for an expanded role, but he needs to battle for the right role to actually look good on those snaps. Isabella has speed to burn and excellent downfield ball skills, but he isn't the sharpest and cleanest underneath route-runner, so trying to turn him into the next Julian Edelman or Wes Welker is forcing a square peg into a round hole.
There is no doubt that Mike Hughes will have a significant role within the Minnesota secondary this season barring injury — the Vikings lost their top three corners from 2019 in one offseason — but he may have a fight on his hands to determine exactly how significant that role is.
The Vikings' entire cornerback depth chart is essentially up in the air right now, with Hughes and Holton Hill needing to fend off competition from first- and third-round draft picks Jeff Gladney and Cameron Dantzler. Hughes has a lot working in his favor. He was a former first-round pick, which usually results in the team feeling it has a bigger investment in that player. He has missed a lot of time in his first two seasons and has played just 744 NFL snaps. He has also not been able to settle in to just one position. Starting outside, he played 138 snaps in the slot last season. And he was primarily a slot corner in more than one game.
The entire Vikings cornerback depth chart is a free-for-all, but Hughes likely has the inside track to being their No. 1 guy if he can have a strong camp and show he is indeed a first-round talent. If he can't improve on back-to-back PFF coverage grades of around 60.0, though, he could find himself slipping to a nickel corner role or even further if the rookies hit the ground running.
The Colts allowed Pierre Desir to walk this offseason, opening up a starting spot. Marvell Tell is the most likely to do claim it, but he needs a strong training camp and preseason to seal the deal. Tell was a safety in college at USC, and a fifth-round draft pick, so his transition to the NFL was always going to be a work in progress.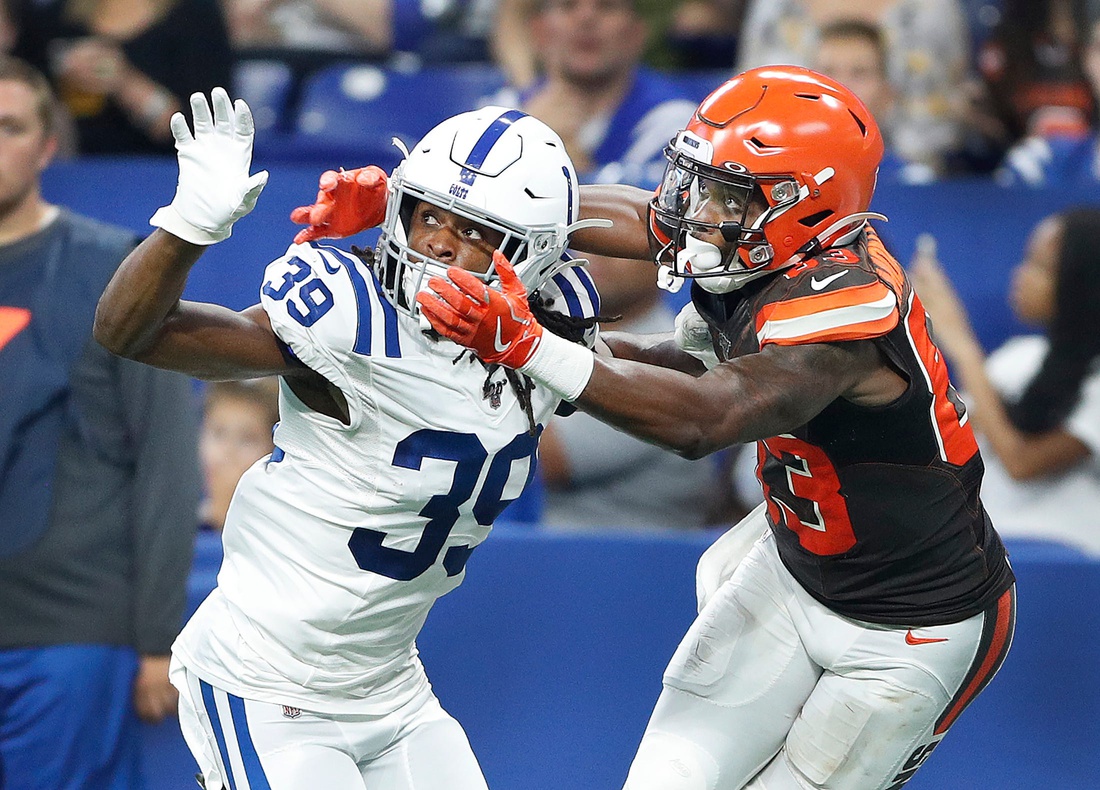 As a rookie, he played 254 snaps and graded well (67.6 overall). He didn't have an interception, but he did have five pass breakups in that time and flashed the kind of talent that suggests he could take a big step in Year 2. Tell's most likely competition for that starting spot comes from veterans T.J. Carrie and Xavier Rhodes.
Rhodes is a former Pro-Bowl caliber player, but his PFF grade has declined in each of the last three seasons. In 2019, he surrendered a 131.1 passer rating when targeted and gave up a scarcely believable 83.5% completion rate. Rhodes has been dealing with injuries for a long time, but he has a very steep hill to climb to get back to his best.
T.J. Edwards has a real shot to earn a starting spot for the Philadelphia Eagles in what is one of the more unlikely stories in recent years. Edwards, an undrafted free agent in 2019, has graded well at every level of football that PFF has seen but is battling against poor measurables in terms of size, speed and athleticism.
He doesn't rank above the 59th percentile among linebackers in any measurable PFF tracks. He ranked lower than the 25th percentile in seven categories and is a second-percentile athlete in the 10-yard split. Edwards fits firmly in the athletic category of "should not be good" at the NFL level, and yet, he has posted impressive PFF grades throughout college, in the NFL preseason and across the 122 snaps he had as a rookie.
He's even graded well (83.5) on special teams, where he played 353 snaps in Year 1. Edwards has legitimately earned a chance to start, but another strong training camp and preseason would assuage any doubts the Eagles may have in his ability to take that next step.
Solomon Thomas has been miscast for the majority of his NFL career, and it's led to him having been a pretty significant disappointment thus far. However, DeForest Buckner's departure opens the window a little for him to earn some snaps inside on the defensive line, where he was always at his best in college.
If he doesn't back that up in camp and the preseason, though, first-round rookie Javon Kinlaw is likely to claim those snaps. Thomas has just 73 total pressures across his three-year NFL career, and his number of pressures has declined every season. His pressure and win rates are better when he is at an interior alignment, but he has been lined up on the edge more in his career than he has inside.
Thomas has a lot to do to earn playing time given the investment the 49ers made in Kinlaw, but his NFL career likely lies in tatters if he doesn't have a strong camp and preseason. If he is able to stand up and show he can thrive in an interior role, he could steal snaps from Kinlaw in his rookie season.
Levi Wallace is the type of player who is going to have to fight off competition for his job every season of his career. A former walk-on at Alabama who is only a few years removed from playing flag football, Wallace was undrafted in 2018 before winning not just a roster spot, but a starting job opposite Tre'Davious White.
He excelled as a rookie before taking a bit of a step backward last season. Over his career, though, he has a 77.6 overall PFF grade and a 78.0 coverage grade. Wallace has been a solid starter — an impressive achievement given where he came from as a prospect. The Bills added Josh Norman this offseason, who obviously has significantly more experience and some far better play on his resume. Norman also has a connection with Sean McDermott from his time in Carolina, but the best seasons of his career are far in the past.
Norman posted a 43.4 PFF grade last season and was beaten for a 133.3 passer rating when targeted. In a fair fight, it seems unlikely that Wallace would not win that job, but given their respective reputations, it may take a strong camp and preseason performance for him to secure the job.
James Washington had an ugly rookie season, catching just 16 of the 36 passes thrown his way and earning a 49.2 PFF grade. However, the former second-round draft pick showed significant signs of life in Year 2 — and did so with a combination of Mason Rudolph and Duck Hodges throwing him the ball, each of whom earned PFF grades in the 40.0s.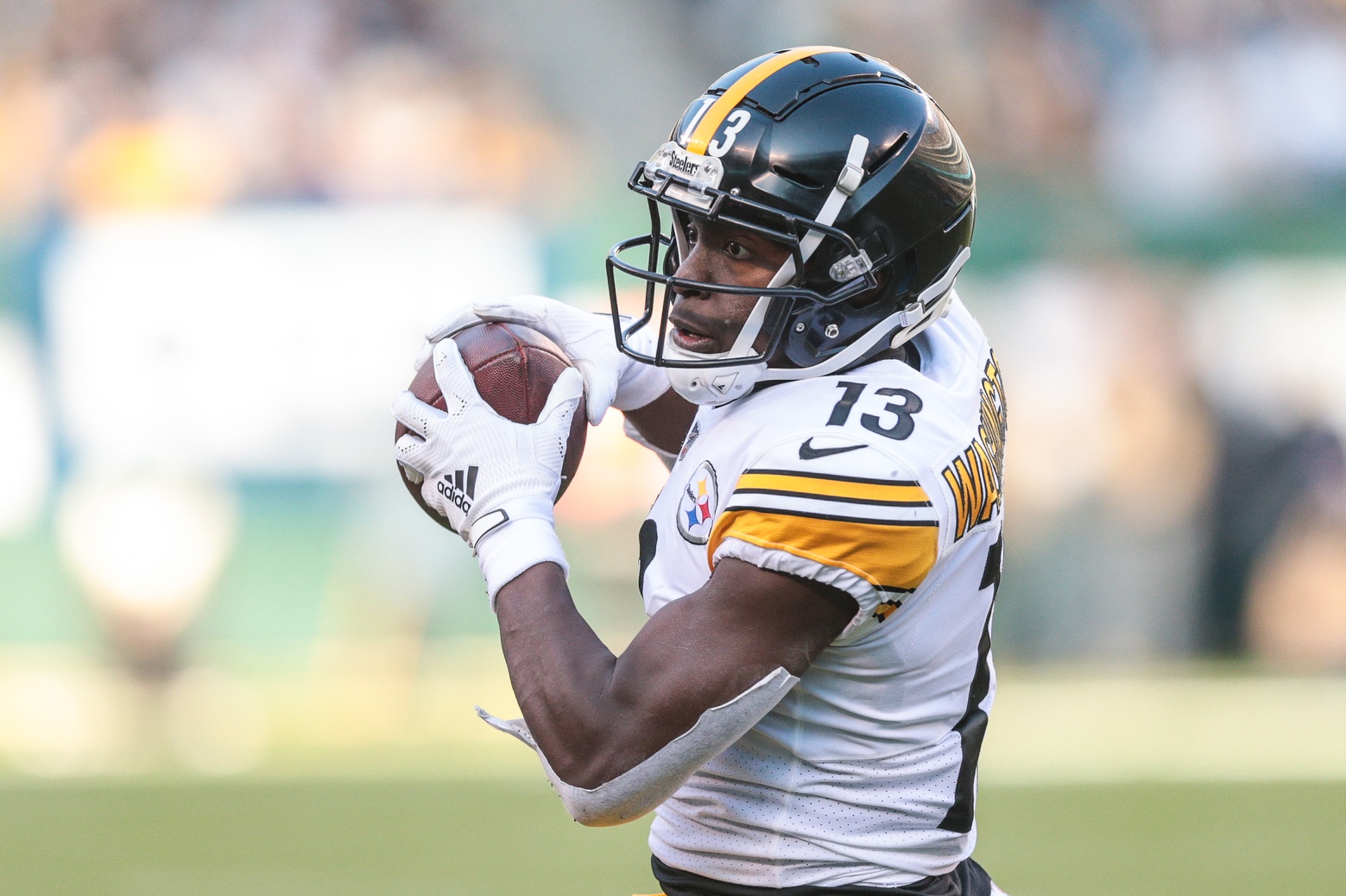 Washington had the highest average depth of target among the Steelers' receiver last season and had a 90.2 PFF grade on deep passes (20+ air yards), significantly better than anybody else on the roster. The arrow for Washington's career is pointing up, particularly with the return of Ben Roethlisberger under center, but he now has to contend with second-round pick Chase Claypool.
If Washington doesn't reinforce his improvement and show that he can bring something to the offense that JuJu Smith-Schuster and Diontae Johnson do not, he could find himself under fast pressure from Claypool for playing time in that offense.
Not much went right for the Cleveland Browns last season, but fourth-round rookie Sheldrick Redwine flashed when he got on the field. He played only 374 snaps but had a 68.4 PFF coverage grade, a pair of pass breakups and two excellent games within the division against the Bengals and Steelers.
Unfortunately for him, though, the Browns added several other options over the offseason, bringing in former first-round draft pick Karl Joseph and Andrew Sendejo as veteran options and then snagging Grant Delpit in the draft. That suddenly makes playing time a tricky proposition, but none of those options are guaranteed stars. Joseph was available because he hadn't lived up to his draft billing, and his grades in three of his four seasons in the league have been in the same area as Redwine's rookie mark was.
Sendejo's connection with incoming head coach Kevin Stefanski likely played some part in his arrival, and Delpit is a rookie — where the transition is never easy. Redwine has his work cut out for him, but a strong training camp and preseason could see the Browns reassess the order of the depth chart in the secondary and give him the playing time his rookie cameo earned.