• Running back Dameon Pierce needed just a handful of touches to lock down the Texans' starting running back job, and he now looks ready to be a bell cow.
• Rookie Martin Emerson finished the preseason with a 90.2 coverage grade, standing out in a crowded Browns cornerback room.
• New York Jets wide receiver Denzel Mims, looking for a bigger role, shined this preseason with 12 catches on 17 targets for 170 yards.
Estimated reading time: 5 mins
---
Player evaluation is an ever-changing process — even for teams themselves. The players we saw on college and NFL fields last fall are not the same ones who took snaps this preseason. Here are five rookies and five rookie contract players who showed out so much this preseason that they deserve a bigger role than previously anticipated.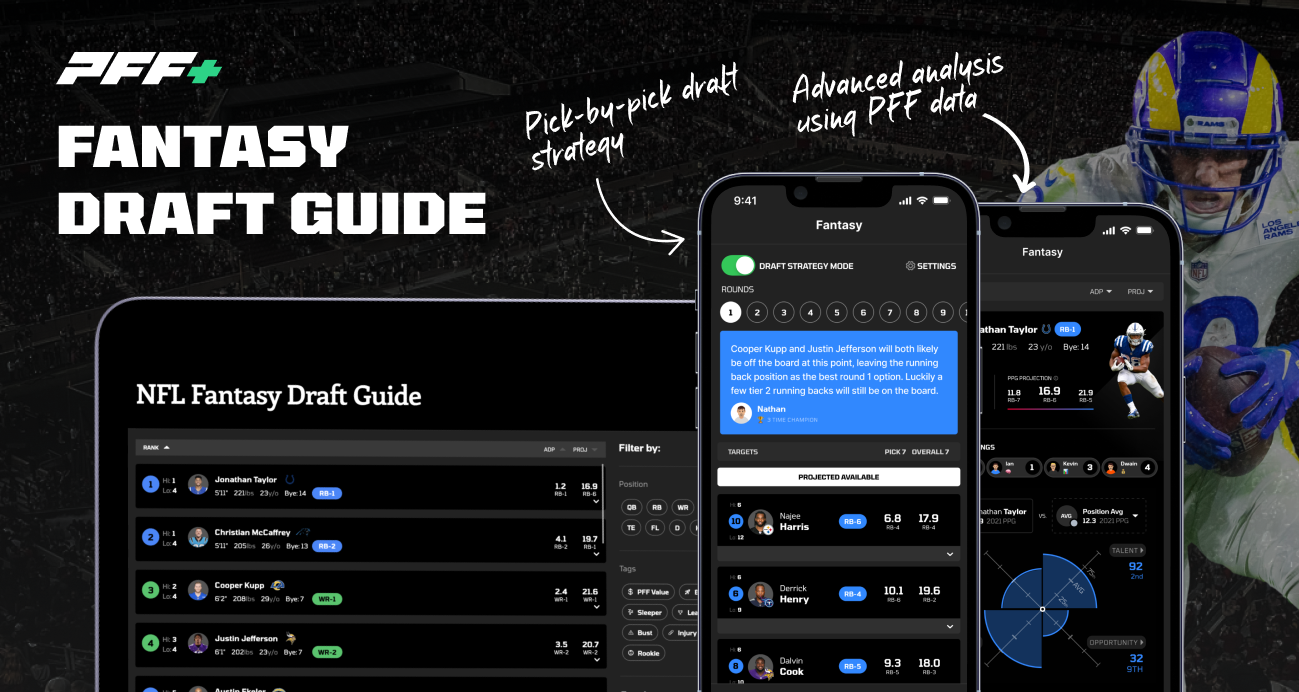 ---
Rookies
Tight ends are notoriously slow developers in the NFL. Kyle Pitts and Evan Engram are the only tight ends in the last 13 seasons to go for over 600 yards as rookies. Likely could change that, and he's not even TE1 for the Ravens. He was a revelation this preseason, catching all 12 targets for 144 yards with seven broken tackles. His ability to work the middle of the field pairs perfectly with Lamar Jackson and will help build rapport quickly. The Ravens are a two-tight end offense by nature, meaning Likely isn't going to come off the field much.
Every reception by Isaiah Likely last night. He has incredible feel and his dynamism with the ball in his hands is special pic.twitter.com/CEJ98fVDd1

— Billy M (@BillyM_91) August 22, 2022
---
This one is hardly a secret. It took Pierce all of 11 carries for the Texans to part ways with Marlon Mack (signed back to practice squad) and make the rookie the top dog in the running back room. On those 11 carries, he gained 86 yards — 67 of which came after contact — and broke four tackles. He looks ready for bell-cow status.
Dameon Pierce spent the preseason making his case for the RB1 job. ????@IRep229| @houstontexans pic.twitter.com/WIGXn67kdX

— NFL (@NFL) August 26, 2022
---
How the Packers' starting offensive line shakes out in Week 1 depends on the health of both David Bakhtiari and Elgton Jenkins. One thing is quite clear, however: Tom needs to be one of them. Whether that was at tackle or guard this preseason, Tom didn't allow a single pressure on 75 pass-blocking snaps. That's unheard of — not only for a rookie, but especially one drafted in the fourth round. Protecting Aaron Rodgers comes first, and Tom proved he can do so.
Not often you find a tackle in the 4th round ready to start as a rookie, but Zach Tom has looked the part at RT pic.twitter.com/6BB0VKlEFj

— Mike Renner (@PFF_Mike) August 22, 2022
---
You won't find a player who had a better preseason than Womack. He picked off two passes, both in exceedingly impressive fashion, and broke up another that led to an interception.
Samuel Womack didn't allow any catches last night. Here's his numbers in coverage this preseason:

• 35 coverage snaps
• 5 targets
• 0 catches allowed
• 3 pass breakups
• 2 interceptions pic.twitter.com/coAqCYxRAk

— Coach Yac ???? (@Coach_Yac) August 26, 2022
He didn't allow a single catch on his five targets. The slot job in San Francisco may have been a debate before camp, but it's Womack's now.
---
With a three deep of Denzel Ward, Greg Newsome II and Greedy Williams, Emerson looked like a distant fourth option heading into the season. This preseason, however, he showed he provides a skill set that none of the others quite possess. At 6-foot-2 and 201 pounds, Emerson is a physical presence and got after wide receivers at the line this preseason, finishing with a 90.2 coverage grade. He can be a matchup weapon on bigger wide receivers for defensive coordinator Joe Woods.
Martin Emerson with a pick 6. Good ball skills in college and he shows it here pic.twitter.com/bSf2o4hros

— Billy M (@BillyM_91) August 13, 2022
---
Veterans
After two seasons of splitting time at right guard and right tackle for the Cardinals, Jones got a chance to prove himself this preseason at the left tackle position he played in college. The results were a player the likes of which we'd never seen prior. Jones was locking down rushers off the edge and allowed only two pressures on 127 pass-blocking snaps. He was simply too good to not see the football field in some capacity for Arizona or someone else via trade.
Arizona has to be very encouraged by what Josh Jones did this preseason at LT. Quietly has been one of the most impressive OL I've seen. pic.twitter.com/wqEEjiOuPU

— Brandon Thorn (@BrandonThornNFL) August 30, 2022
We put "DL" here instead of DT or EDGE because Graham is capable of bridging that gap. He earned his 90.7 overall grade this preseason while playing four snaps aligned in the A-gap, nine snaps in the B-gap, six snaps over the tackle and four snaps out on the edge. His versatility at 6-foot-4, 294 pounds will be huge for a Falcons defensive line that has been searching for any sort of playmaking ability. Graham did just that this preseason and figures to not be coming off the field much.
Drive might have ended poorly, but #95 Ta'Quon Graham stood out every rep he had during Detroit's first team offense imo. pic.twitter.com/ESxHpbkqKm

— Stephen H (@HarrahAtl) August 16, 2022
There's obviously a log jam in front of Koonce to serious playing time, with Chandler Jones and Maxx Crosby unlikely to be coming off the field much. That being said, there shouldn't be a third down or obvious passing situation where Koonce isn't on the field. He was that good off the edge this preseason, tallying seven pressures on 45 pass-rushing snaps. His violent hands and bend are good starting points for a pass-rusher.
Malcolm Koonce had multiple QB Hits, Pressures, etc. Chandler Jones better watch out ???? pic.twitter.com/l2E0RjtjlB

— Sanjit T. (@Sanjit__T) August 5, 2022
---
Hill has been much maligned over the course of his career with the Cowboys, but he may have turned a corner in a contract year. Dan Quinn still can't put him on the field in any running situations, but Hill has some real juice as a sub-package rusher. He finished this preseason with a 79.9 overall grade.
Trysten Hill showing some outstanding flexibility here.

"Don't forget about me, guys!" pic.twitter.com/wV0S4ODrc6

— Dalton Miller (@DaltonBMiller) August 21, 2022
---
Mims' inability to see the field hasn't really been a talent issue. The confidence he played with this preseason was the first time in an NFL uniform that he looked like the player we saw at Baylor. He hauled in 12-of-17 targets for 170 yards and a score on 50 routes run. While the Jets are backed up with receivers at the moment, Mims' explosiveness at 215 pounds is a skill set that no one else on the roster can match.
Oh my Mims ‼️@Zel5Zelly | @cstrevy | @nyjets

????: #NYGvsNYJ on @NFLNetwork (check local listings)
????: Stream on NFL+ https://t.co/B3kgWXfOOG pic.twitter.com/hce6j7C3bF

— NFL (@NFL) August 28, 2022