• Veterans Saquon Barkley and Julio Jones returned to stardom for their respective teams in Week 1.
• Rookies George Karlaftis and Dominique Robinson each shined off the edge, tallying six and three quarterback pressures, respectively.
• After much preseason fanfare regarding his role for the 2022 season, Antonio Gibson made the most of his Week 1 touches as the Washington Commanders' top running back.
Estimated Reading Time: 5 mins
---
Week 1 of the 2022 NFL season featured several outstanding performances from some unexpected players. Here are the 10 most surprising showings.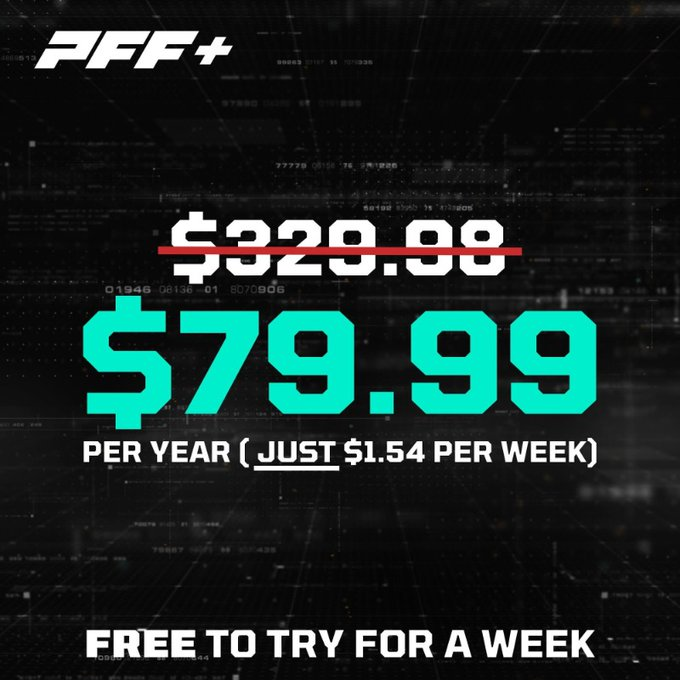 Remember when Julio Jones was a lock to record 1,400 receiving yards in a season? Unfortunately, it's been a while since we've seen that player, as he has played just 19 games since the 2020 season. But Jones looked healthy in Week 1, totaling 86 yards on five receptions. 
The Buccaneers used him as a deep threat in Week 1 and targeted him down the field. His average depth of target finished at 19.8 yards, which was higher than in any game last season with the Titans. If Jones stays healthy, he will play a significant role in the offense this season. Even at 33 years old, he doesn't appear to be completely done. Not yet, at least.
---
After being benched and playing special teams in the preseason, Antonio Gibson was one of the biggest winners in Week 1. Not only did he lead Washington in rushing yards (58), but he also caught seven passes for 72 yards on eight targets.
Gibson totaled 140 yards on 21 touches and performed well as a pass-blocker (78.3 pass-block grade). Time will tell if he can continue to be the lead back in Washington, but this was a fantastic start for him after a rough offseason.
---
Over the past two seasons, Jarvis Landry has averaged just 52.2 yards per game. During his 2021 campaign with the Browns, he saw his average depth of target drop to just 8.8 yards, one of the lowest marks in the league. But Landry looked revived in New Orleans in Week 1, catching seven passes for 114 yards to lead the Saints in receiving yards. 
Better yet, his average depth of target rose to 15.0 yards and he averaged an incredible 3.35 yards per route run. So while it looked like his career might be coming to an end in Cleveland, Landry could be in for a huge season playing with Jameis Winston in New Orleans.
---
Arguably, the day's best performance came from Saquon Barkley in Week 1. He finally looked like the player we saw back in 2018, totaling 194 yards and from scrimmage on 24 touches in addition to four forced missed tackles on the ground. His biggest play of the day was a 68-yard run that showcased his speed and explosiveness. 
His long-term outlook in New York is still unclear. But this was vintage Barkley. And it was fantastic to see.
---
How about the Dolphins' offensive line? Terron Armstead and Connor Williams played exceptionally well in their team debuts, propelling Miami to a win over the New England Patriots. 
Williams moved from left guard in Dallas to center in Miami and played extremely well in Week 1. He finished the game with an 82.3 overall grade, the highest of any player on offense for the Dolphins. In addition, Williams allowed just one pressure on 60 offensive snaps and finished with an 86.8 run-blocking grade. That happens to be the second-highest-graded run-blocking game of his career. 
If Williams can continue to play this well at center for the Dolphins, they'll have a really good chance of being one of the better offenses in the NFL this season.
---
One of the most impressive performances by any player in Week 1 was that of Justin Madubuike. On 43 defensive snaps, he was able to total five pressures and three stops. He was the highest-graded player of the day for the Ravens and earned the fourth-best overall grade among interior defensive linemen in Week 1. After two so-so years in the NFL, it appears things are clicking for the former Texas A&M star.
---
Phillips was utterly dominant on Thursday Night Football, leading the Bills in pressures with six. That included two sacks, one quarterback hit and three hurries. He also added three stops to his resume, as the Rams couldn't block him inside. 
Phillips has had a very lackluster NFL career, bouncing around the league. But this was easily the best single performance of his tenure, as he shined on the primetime stage.
---
Rookie pass-rushers usually don't make many plays early in their careers. But that certainly wasn't the case for George Karlaftis. The first-round pick from Purdue had a monster game against the Cardinals, totaling six pressures on 33 pass-rush snaps. Five were hurries, and another was a quarterback hit. 
Karlaftis wasn't perfect in Week 1, but he was very disruptive. If he can start to convert more of his pressures into sacks, the Chiefs could suddenly have one of the best front fours in the NFL.
---
The highest-graded cornerback (90.3) in Week 1 (minimum 20 snaps) was none other than D.J. Reed Jr. He was targeted six times Sunday by the Ravens and he did not allow a single reception. Plus, he forced a fumble and earned excellent grades as a run defender. 
Reed played really well at the end of the 2021 season, but this performance might have been the best of his career. After bouncing around the NFC West for a few years, it appears he has finally found a home with the New York Jets.
---
During Robinson's first two years in college, he was a big-player receiver at Miami (OH) who averaged 16.7 yards per catch. He switched to defense in 2020, totaling just 6.5 sacks during the 2020 and 2021 seasons. 
In his first NFL game, he was completely dominant for the Bears. Robinson finished the game with an 89.8 grade, ahead of players such as Khalil Mack, T.J. Watt and Joey Bosa. In addition, he totaled three pressures — including two sacks — on 15 pass-rush snaps. While it's clear Robinson is still incredibly raw given how new he is to the position, his Week 1 performance has to be very encouraging for the Bears.