(As we head into the 2019 fantasy football season, we're taking a trip around the league to identify the offseason moves we'd most like to see each team make for fantasy purposes. Today: the Oakland Raiders)
For the Raiders, 2018 was a transition year. With Jon Gruden at the helm, the Raiders sent three of their best players (Khalil Mack, Amari Cooper, Bruce Irvin) packing, getting picks back for the first two. They lost 12 of 16 games, but then they were never setting out to compete in 2018 anyway. All three running backs on the roster who got significant playing time (Marshawn Lynch, Doug Martin, and Jalen Richard) are hitting free agency, as is breakout tight end Jared Cook.
The upshot is that yes, this is a team that has plenty of needs, but it was always expected to be. The Raiders have the fifth-most cap space in the league and three first-round picks in this year's draft, so while Oakland might not be likely to compete in 2019, the building blocks can start to come together quickly.
(Keep up with the whole offseason wish list series here.)
Three offseason moves we want to see for Oakland
Draft a first-round receiver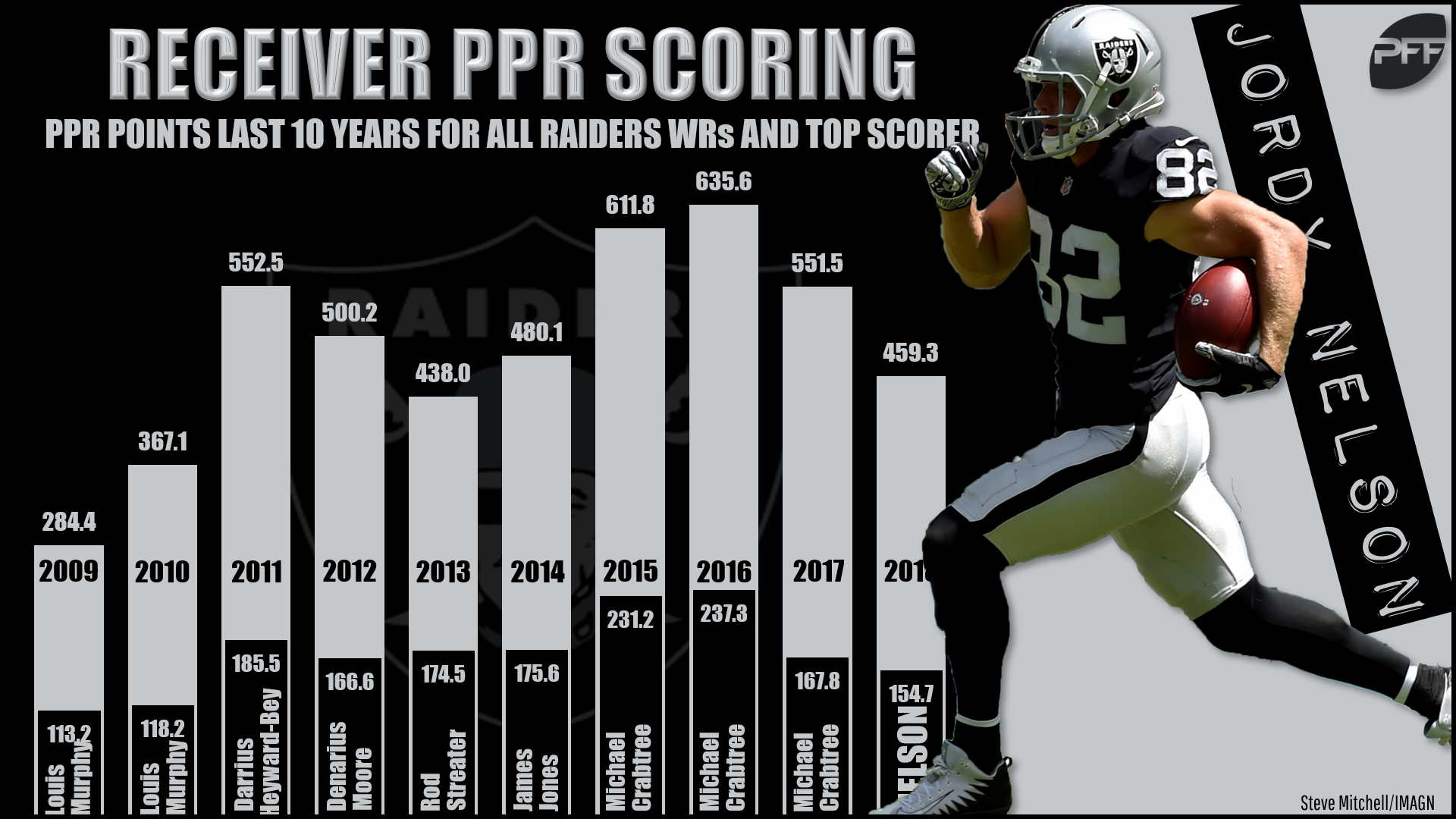 With Cooper now in Dallas, the Raiders' leading returning receivers will be a 34-year-old Jordy Nelson (assuming he returns, which isn't confirmed), and Seth Roberts, who is somehow only about to turn 28 despite having been on the Raiders since the Millard Fillmore administration. In short, the Raiders need a receiver, and they need one they can feel comfortable will be around a while. With three first-round picks this year, using one of those on a JJ Arcega-Whiteside or a N'Keal Harry or some high-end rookie receiver makes all the sense in the world.
Day 2 running back
Running backs on the Raiders roster who are not entering free agency totaled a combined 62 yards and 0 touchdowns in 2018. The Raiders will have at least one, probably two, and maybe three new running backs on the roster when the 2019 season begins. Free agents are all well and good, and they'd be fine to be in on some of the bargain options with experience, but drafting a mid-round guy with upside would be a smart choice as well. Draft a running back who can be an RB1 or 2 in 2020 and that's another thing to mark off the to-do list.
Draft a quarterback
The narrative of "Derek Carr, MVP candidate" had a shelf life about as long as "Dexy's Midnight Runners, hitmaker." It's not at all that Carr is a bad quarterback, because he's not, but he is aggressively mediocre. He had a 73.2 overall PFF grade in 2018 — 21st among qualified quarterbacks — and the 18th-most QB fantasy points. He had three fantasy games of 24-plus fantasy points, but also seven of under 10.
If Carr were the quarterback of, say, the Bears, with plenty of weapons around him and a stout defense, that's a team that could make a run. Instead, he's the quarterback of a Raiders team where he more or less has to be the best player, and that's not a winning recipe. There might not be a better option for the team to lean on in 2019 (would you want to put that team around Ryan Fitzpatrick or Case Keenum?), but with plenty of draft capital, it's a good time for the Raiders to look at drafting a quarterback who could maybe take over in 2019 but could be a much more realistic option for 2020.