The times are changing: High-end fantasy quarterbacks have taken their per-game production to another level over the last five years compared to earlier in the 2010s.
Elite: The disparity in production between fantasy's QB1 to QB6 group against the QB7 to QB12 set a 10-year high in 2022.
Wicked smart: The fantasy industry has been better than ever at identifying the season's eventual top-tier quarterbacks in terms of preseason ADP.
Estimated reading time: 8 minutes
---
Things got wild at the quarterback position this season in fantasy football land. Seriously, points were flying on the board at historical levels from multiple parties. Overall, Patrick Mahomes, Josh Allen and Jalen Hurts each earned a top-12 season in terms of fantasy points per game ever, as this modern crop of aliens that are capable of providing big-time numbers through the air and on the ground are emerging as genuine cheat codes in fantasy land.
The dominance of the position's top-tier signal-callers got me thinking about five questions:
Is fantasy scoring going up in general at quarterback?

Is the discrepancy between fantasy's top-tier QB1s growing against the lower-end QB1s?

Have the top-tier fantasy quarterbacks gotten more expensive in terms of ADP?

How has the fantasy industry done at identifying the season's top quarterbacks in terms of preseason ADP?

Is there still hope for finding an upside fantasy quarterback in the later rounds?
These answers will single-handily change the way humans understand life in addition to helping us better understand if 2022's monster quarterback performances are a sign that fantasy managers should splurge on the position in 2023 and beyond, or if the year was essentially an outlier.

Is fantasy scoring going up in general at quarterback?
Yes, and it's not up for debate. The below graph shows the fantasy points per game from the top-six and top-12 quarterbacks (min. eight starts) over the last 10 years: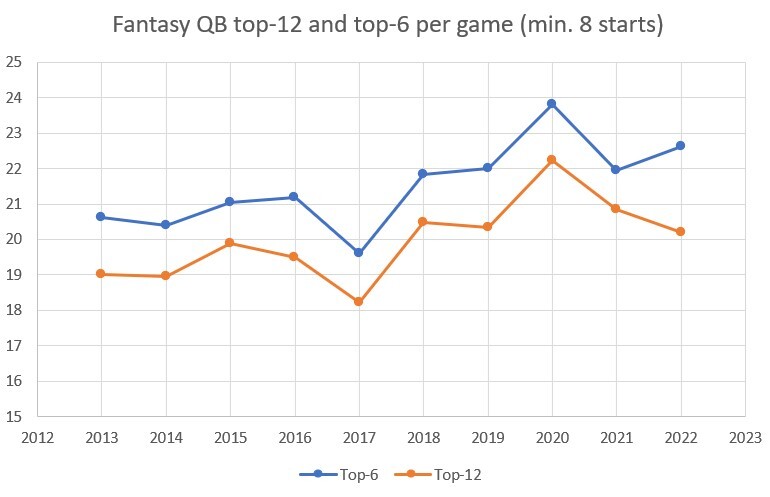 Overall, the top-six quarterbacks have scored more fantasy points per game in each of the last five seasons compared to the production during the 2013-17 seasons. The same trend holds when looking at the top-12 quarterback. In general, the position is scoring more fantasy points than ever.
Rushing is one reason why, as the position's most run-heavy outliers have regularly dominated on the stat sheet even after controlling for per-game production:

There will be duds like Malik Willis and Sam Ehlinger, who are too incompetent throwing the ball even to keep the job long enough to tap into their theoretical fantasy-friendly rushing upside, but the dual-threat quarterback, while still relatively rare, remains one of fantasy's closest things to a living, breathing cheat code.
---
Is the discrepancy between fantasy's top-tier QB1s growing vs. the lower-end QB1s?
Free for 7-days. Subscribe to continue reading and unlock
All premium content with the best insights + analysis in the game
NFL Draft Guide, Big Board + Mock Draft Sim
Fantasy Draft Kit and Nathan Jahnke's award winning rankings
Bet smarter with PFF player mismatches and expert betting insights
NFL and CFB player grades and premium stats
Unlock all PFF data trusted by all 32 NFL teams
Already have a subscription? Log In