The wide receiver well in this year's free agent class dried up pretty quickly with Sammy Watkins now also off the board (along with Allen Robinson) after he reportedly agreed to a 3-year deal with the Kansas City Chiefs. Watkins is yet another explosive weapon in an offense that already includes Tyreek Hill, Travis Kelce, and Kareem Hunt.
Injuries have marred much of Watkins' early career, with a troublesome foot costing him 11 games over the 2015 and 2016 seasons. Still, he was quite productive over his first two years in the league with nearly 1,000 yards in his rookie year and 1,047 yards in just 13 games in his sophomore campaign. Watkins also racked up nine scores that season. He finished a respectable 15th among wide receivers in fantasy scoring in 2015, but was one of the hottest receivers down the stretch with the third-most fantasy points scored at the position from Week 12 on.
Following his impressive finish in 2015, the hype surrounding Watkins pushed his ADP into the middle of the third round even with news that his foot was far from 100 percent. Of course, those reports proved to be true and Watkins played in just two games over the first 11 weeks of the season.
The Bills wiped their hands clean of the former fourth overall selection, trading Watkins to the Rams this past offseason. In Los Angeles, Watkins wasn't able to regain his earlier form. However, it should be noted that he frequently drew tough coverage assignments, which certainly put a damper on his target volume. Still, he managed to finish strong down the stretch, yet again, with scores in 4-of-5 games from Week 12 to Week 16. While he wasn't wildly productive, Watkins did manage to rank 22nd among wide receivers in fantasy scoring during that stretch.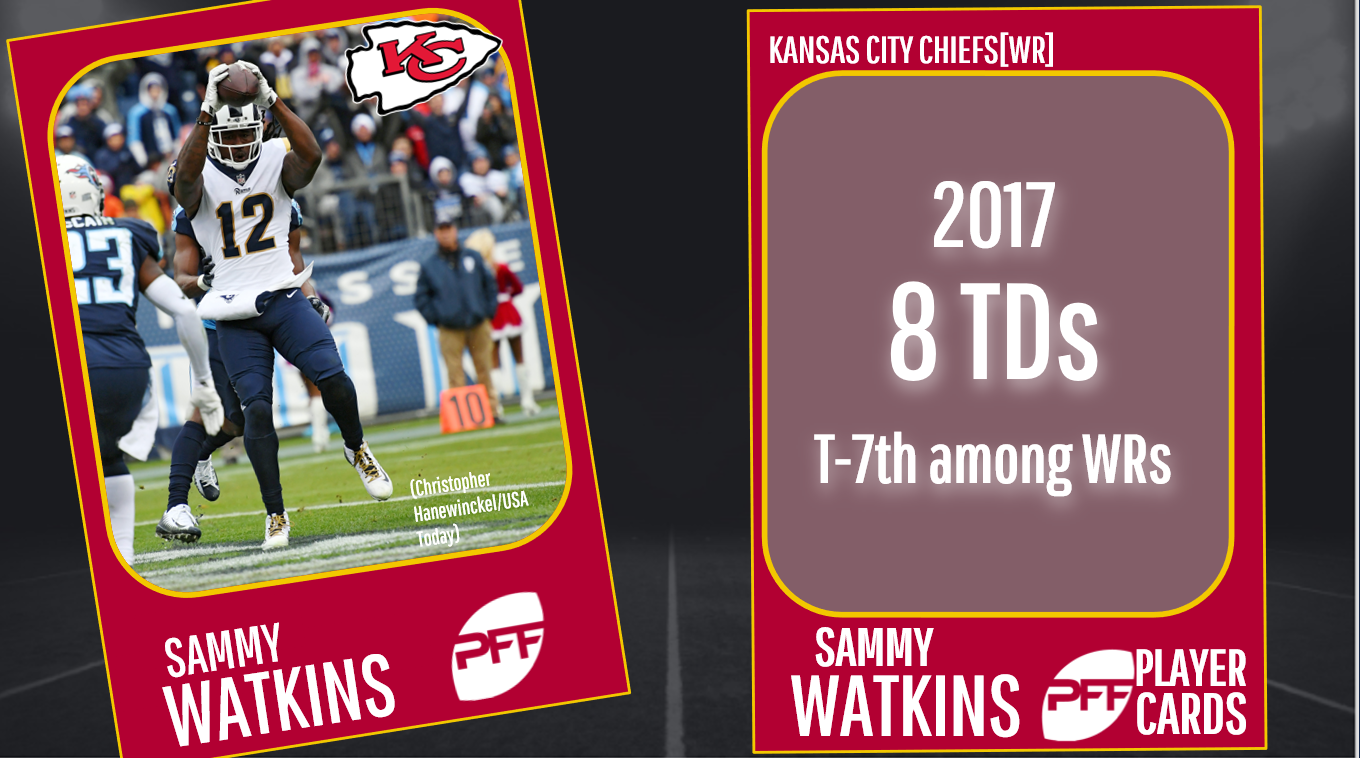 Unlike his time in Buffalo and Los Angeles, Watkins isn't the best bet to be the primary focus of opposing defenses in Kansas City. With Hill's dynamic ability demanding attention, Watkins will potentially have more freedom to do what he does best as a downfield threat. There are a lot of question marks surrounding how Patrick Mahomes will fare as the starter, but there's no deny his ability to sling the rock. His cannon of an arm bodes positively for Watkins' skill set.
Perhaps the bigger question is how much meat will be on the bone for Watkins in terms of target volume. Last season, Kelce posted a team-high 117 and Hill saw 102 targets. Both players are likely to continue to get theirs in the passing game. The remaining wide receivers totaled 129 targets. Albert Wilson led that group with 56, and he's expected to sign with the Dolphins. It's a solid landing spot, but Wilson is a big step down from Jarvis Landry for Miami. He may end up have some PPR appeal, but only in deeper leagues
Watkins certainly isn't going to get all of those looks. If he sees 60-70 percent of them, he'll end up with somewhere between 75 and 90 targets. That's going to make it difficult for Watkins to be a consistent redraft option considering just one wide receiver finished in the top 30 in fantasy scoring at the position with fewer than 90 targets last season (JuJu Smith-Schuster saw 77 targets and finished 16th). However, Watkins will still be worth consideration as a boom-or-bust WR4/5. Giving his weekly upside, Watkins figures to be more desirable in best ball and as a DFS option.