The biggest wagering day of the year is almost upon us, but it isn't just about the spread or over/under when it comes to Super Bowl bets. Sunday's game gives us ample opportunity for Super Bowl player prop bets as well. But the fun doesn't stop there. We can also get some action on other parts of the game. While many of these markets are simply money wasters, the national anthem is always a fun way to kick off the festivities. Additionally, there are a number of fun NFL/NBA crossover bets for this year's Super Bowl.
National Anthem props
How long will it take Demi Lovato to sing the U.S. National Anthem? Over 2 minutes (-230), Under 2 minutes (+160)
This isn't a wager we're going to break the bank on, but it's fun to have a little action on the line to kick off the Big Game. Believe it or not, we can actually do a little #research on this one. Here's a look at the past National Anthem times going back to Super Bowl 40.
| | | |
| --- | --- | --- |
| Super Bowl | Performer | Time |
| 40 | Aaron Neville & Aretha Franklin | 2:08 |
| 41 | Billy Joel | 1:30 |
| 42 | Jordin Sparks | 1:54 |
| 43 | Jennifer Hudson | 2:10 |
| 44 | Carrie Underwood | 1:47 |
| 45 | Christina Aguilera | 1:54 |
| 46 | Kelly Clarkson | 1:34 |
| 47 | Alicia Keys | 2:35 |
| 48 | Renee Fleming | 1:54 |
| 49 | Idina Menzel | 2:04 |
| 50 | Lady Gaga | 2:09 |
| 51 | Luke Bryan | 2:04 |
| 52 | Pink | 1:53 |
| 53 | Gladys Knight | 1:49 |
Lovato has five high-profile National Anthems under her belt. The first came in 2008 at the Dallas Cowboys' Thanksgiving game. A very young Lovato went 1:53 in this performance. Her next spot was at the 2011 World Series between the Texas Rangers and St. Louis Cardinals. Lovato posted a 1:49 in this performance. She performed at the World Series again the following year, adding one second to her time at 1:50.
Her next anthem was at the 2015 World Series between the New York Mets and Kansas City Royals. That performance clocked in at 1:58. She also performed the anthem at the 2017 Conor McGregor-Floyd Mayweather fight. This performance included a few more pauses and went a healthy 2:12.
| | |
| --- | --- |
| Performance | Time |
| McGregor-Mayweather 2017 | 2:12 |
| World Series 2016 | 1:58 |
| World Series 2012 | 1:50 |
| World Series 2011 | 1:49 |
| Thanksgiving 2008 | 1:53 |
While all of these performances were certainly on a big stage, none of them were as immense as the platform she'll be on this Sunday. That could put nerves in play, but her most recent performances suggest a trend on Lovato milking the clock. That plus the odds suggests this is a gimme putt on the over. If you envision a similar performance to her 2016 rendition then the over on 2:04 is also in play at -125.
Bet: Over
Length of the final word "brave" during the U.S. National Anthem? Over 5.5 seconds (-155), Under 5.5 seconds (+115)
As we noted above, Lovato has trended toward elongating here performance of the anthem and that's especially true for the word "brave." In 2017, she held out for over seven seconds, and came in just under seven seconds in 2015. Look for her to milk the clock again in this rendition.
Bet: Over
Will Demi Lovato be wearing a skirt, dress or gown to sing the National Anthem? Yes (-220), No (+155)
Here's another gimme putt for us. Lovato wore a dress/gown in each of her last two performances.
Bet: Yes
Will any scoring drive take less time than it takes Demi Lovato to sing the National Anthem? Yes (-240), No (+165)
If the Chiefs weren't playing in this year's Super Bowl, we might take longer to consider this one. However, Kansas City showed us multiple times this year just how fast they can put points on the board. Their first scoring drive of the season took just 96 seconds off the clock. The Chiefs also scored three touchdowns in three minutes against the Texans in the Divisional Round.
Bet: Yes
First coach shown during the National Anthem: Andy Reid (+110), Kyle Shanahan (+120), No Coach Shown (+350), Robert Saleh (+550)
Of course, the cameras won't stay on Lovato for the entire performance. But that doesn't necessarily guarantee that we'll see a coach on screen. Last year no coach was shown, and the year before we saw Bill Belichick but didn't get a glimpse of Doug Pederson. Both coaches got some screen time the year before with Dan Quinn showing up first and Belichick immediately after. The year before that we first saw Gary Kubiak with a quick cut to Ron Rivera.
There's really no way to accurately know what FOX is going to do on this broadcast, but they did show both coaches in their last broadcast of the Super Bowl three years ago. A repeat of last year's no coach is a bit of a long shot given the recent track record. Given the fact that FOX showed Quinn before Belichick, we're going to try and get a slightly better price with Shanahan.
Bet: Kyle Shanahan
First quarterback shown during the National Anthem: Patrick Mahomes (-150), Jimmy Garoppolo (+110)
Mahomes would seem to be a slam dunk here, but not so fast. The last four Super Bowl have featured two of the greatest of all time at the position in Tom Brady and Peyton Manning. Yet, the last four broadcasts only showed them first once, which came in Super Bowl 52. Last year Jared Goff appeared first, and Nick Foles got top billing two years ago. In Peyton's swan song, we actually saw Cam Newton first during the anthem. Given the trend, we're going to roll with the underdog here.
Bet: Jimmy Garoppolo
First tight end shown during the National Anthem: George Kittle (-120), Travis Kelce (120)
The past three Super Bowls have featured one of the league's most recognizable tight ends in Rob Gronkowski, not only was he shown first in each of those games – including in Super Bowl 52 when he wasn't even playing in the game – but he also was the lone tight end shown during the National Anthem in all three years. To be clear, this year is unique in that we have arguably the league's top two options at the position, but Zach Ertz was one of the league's best and he wasn't even shown. Kittle's career arrow is pointing straight up, but we're going to give the edge to the guy who was in the conversation along with Gronkowski as the best tight end over the last half decade.
Bet: Travis Kelce
NFL/NBA crossover props
The Super Bowl offers more betting markets than any other NFL game, and it gives us the opportunity for some fun crossover wagers. Here are some of our favorites
Which will be higher: Raheem Mostert rushing attempts (-125) or Andre Drummond rebounds (-115) on 2/2?
Our current projections have Mostert at just over 15 rushing attempts, and his line is at 16.5. Of course, his workload certainly hinges on whether Tevin Coleman is able to suit up. However, we should still figure to see Mostert in the lead if Coleman plays, so this projection is a fair estimate.
Drummond is the NBA leader in rebounds per game with a healthy average of 15.6. However, he's only topped that average in three of his last eight games. Drummond also faces a Denver Nuggets team that allows the eighth-fewest opponent rebounds per game.
Bet: Raheem Mostert
Which will be higher: Patrick Mahomes rushing yards (-130) or Devin Booker points (-110) on 2/2?
We've noticed Mahomes' rushing yards line is a bit high across the industry and have already recommended the under on 30.5 rushing yards. Our current projection of 18.5 rushing yards may seem a bit low given his rushing performance so far in the playoffs, but keep in mind that Mahomes topped 30.5 rushing yards just twice in the regular season.
Booker enters the weekend averaging 27.1 points per game, which is currently eighth-most in the league. Like Drummond, he has a stingy opponent in the Bucks, who currently allow the ninth-fewest points per game in the NBA. That said, Booker is on a bit of a roll, scoring at least 29 points in seven of his last eight games.
Bet: Devin Booker
Which will be higher: Sammy Watkins receiving yards (-115) or Giannis Antetokounmpo points, rebounds, and assists (-125) on 2/2?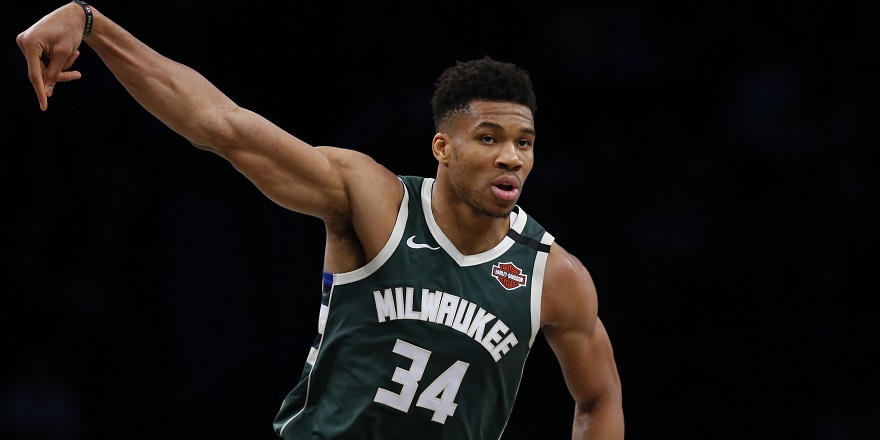 Don't base this one on the Conference Championship performance. Watkins faces much stiffer competition this week, and projects out at just 40.9 receiving yards. Bookmakers are a bit more optimistic, but not by much. FanDuel currently has Watkins' receiving yards like at 48.5.
Of course, the trick here is the bet combines three stats for Giannis. On the season, he not-so-coincidentally averages a combined 48.5 combined points, rebounds, and assists per game. He faces a Phoenix defense that allows the 10th-most points per game, but also the 10th-fewest rebounds per game to opponents. Giannis has topped 50 combined in five of his last six games and is a good bet to do so again. If you have the under on Watkins' receiving yards, here's a good opportunity to double-dip.
Bet: Giannis Antetokounmpo
Which will be higher: Total punts in the Super Bowl (-115) or Kyle Lowry assists (-125) on 2/2?
It should come as no surprise that the Chiefs and 49ers were among the lowest in the league in punts per game during the regular season. San Francisco average 3.2 per game, with the Chiefs punting just 3.1 times per game. They've stuck to these averages in the playoffs with both teams punting six times in two games.
Lowry is far from a league leader in assists, but he does average 7.4 on the season. That number is slightly lower over his last 10 games at 7.1, but that number is slightly misleading. Lowry's 11 assists on Tuesday jacked the average up following a five-game stretch where he reached seven assists just once. The good news here is that Chicago allows the eighth-most assists per game. This is a close one, but Lowry gets the slight edge.
Bet: Kyle Lowry
Which will be higher: Jimmy Garoppolo completions (-120) or Nikola Jokic rebounds and assists (-120) on 2/2?
Here's another spot where we shouldn't read too much into the Conference Championship. Garoppolo completed just six passes in that contest, but the 49ers really didn't need to throw the ball. In the regular season, he averaged just over 20.5 completions per game and our projections have him at a healthy 24.2 completions this weekend.
As for Jokic, the Nuggets center isn't just your run-of-the-mill big man. He's more than capable of dishing out his share of assists, with an average of 6.5 on the season. He's also averaging 10.1 rebounds per game. He's been even better over his last 10 with 11.9 boards and 6.9 dimes per game and two games where he topped 20 combined over that span. He's topped 20 combined in 12 of his 47 games and has a season-high of 26. While it certainly possible Jokic tops Garoppolo's projection, that would likely take the extreme high end of his range.
Bet: Jimmy Garoppolo
Which will be higher: 49ers total points (-110) or Zion Williamson points, rebounds, and assists (-130) on 2/2?
Given the current betting lines in PFF Greenline, the 49ers project to score roughly 27 points on Sunday. Projecting Williamson is a bit tougher since the rookie made his debut just four games ago on the 22nd. Since then, he's averaging a combined 27.8 points, rebounds, and assists per game.
Of course, we can't really take much from that small sample size, but we should also note that his minutes have increased each game. Williamson played a season-high 30 minutes on Tuesday night. We also need to figure that a bulk of this total is going to come from points, and Houston allows the seventh-most points per game to opponents. This one is a close one, but we're going with the former Dukie.
Bet: Zion Williamson