Each week in this space, we'll be taking a look back at Sunday's games to find five of the most interesting and most important stats for fantasy owners. With 13 of 14 games from NFL Week 9 in the books, here are the five stats you need to know:
1. Tyler Lockett led all wide receivers in fantasy points on Sunday (40.2), catching 13 of 18 targets for 152 yards and two touchdowns. For the season, he now ranks third among all wide receivers in fantasy points. This was easily a near career-high in targets for Lockett, but, absurdly, this was also just the third time in Lockett's 72-game career he saw 10 or more targets in a single game. For perspective, 115 different players have more games with double-digit targets over this span.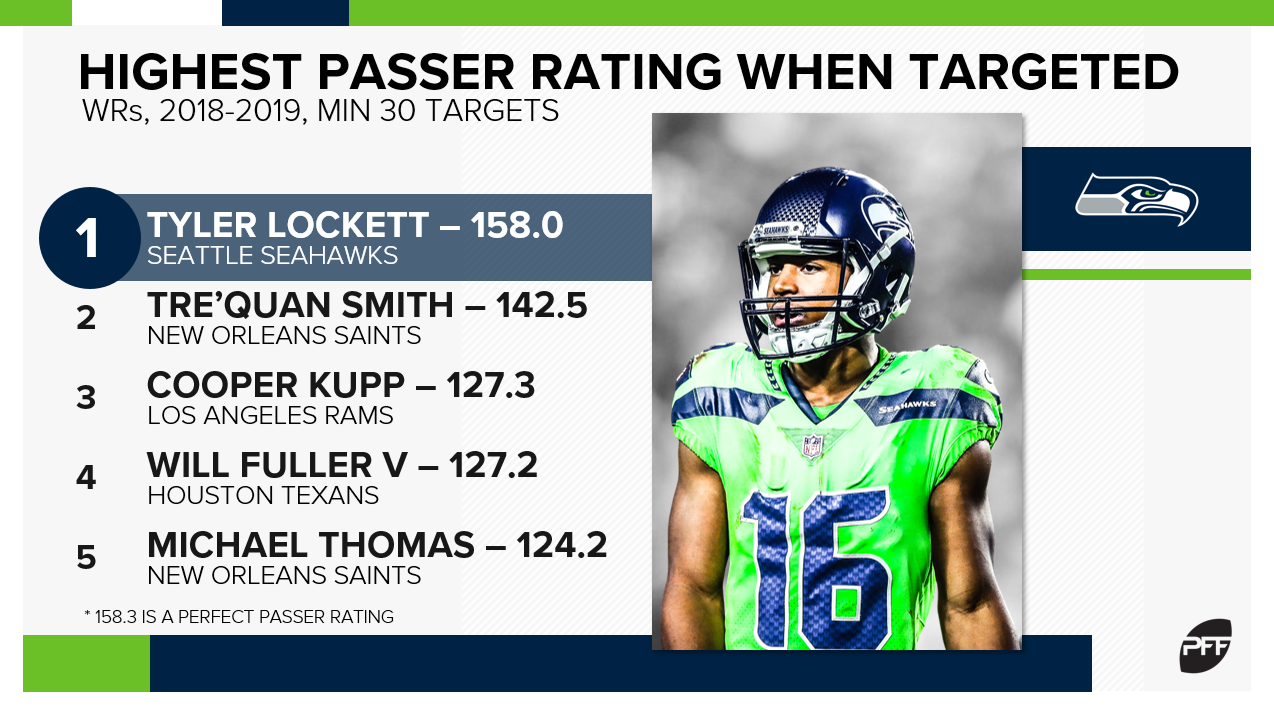 Over the past two seasons, Lockett ranks 10th among wide receivers in fantasy points, but just 30th in targets (136). Over this span he's averaging 2.75 fantasy points per target, which leads the league and would rank as one of the top-three marks in any season since targets became a stat. If he scored just one more receiving touchdown Sunday, Wilson would have a perfect passer rating when targeting Lockett over the past two years.
Although Lockett is producing like an elite WR1, true WR1 volume has been harder to come by. But, as the numbers show, it's nearly impossible for Lockett to be any more efficient on a per-target basis than he already is. So, just an idea — maybe Wilson should start targeting him even more. If that happens, Lockett's fantasy potential would be sky-high.
2. Christian McCaffrey has now scored 494.6 fantasy points over his last 16 full games. For reference, LaDanian Tomlinson holds the record for most fantasy points in a single season, scoring 481.1 fantasy points across 16 games in 2006. This season, McCaffrey is on pace to score 492.8 fantasy points, which would also best Tomlinson's record.
Over his last 16 full games, McCaffrey has scored at least 26.0 fantasy points in 13 of 16 games (81%). He's finished top-four among running backs in 11 of those 16 weeks (69%), or top-eight in 14 of 16 weeks (88%).
This year, he's outscoring the next-closest running back by 7.7 fantasy points per game. He's outscoring the second-closest running back by 10.3 fantasy points per game. For perspective, that'd be the same difference between the highest-scoring fantasy wide receiver (Michael Thomas) and the wide receiver ranking 37th in fantasy points per game (D.K. Metcalf).
As I've argued since Week 1 in this space, McCaffrey is the single most valuable asset in fantasy football. But he may also be a bit more valuable than that — he might be the most valuable fantasy asset in any season ever. As the numbers imply, we may be witnessing the greatest fantasy season in NFL history.
3. After a big Week 9, Bills rookie Devin Singletary now ranks 42nd among running backs in total fantasy points (67.0), just one spot behind Frank Gore (67.5). Yes, Singletary is just a half of a fantasy point behind Gore, despite touching the ball less than half as many times (113 to 52). And he now ranks first of 69 qualifying running backs in yards per carry (6.7).
Singletary has been hyper-efficient in every game of his short career, but his issue for fantasy was a lack of volume. Singletary was being used as the team's primary pass-catching back, only seeing the field on obvious passing downs or to spell Gore. Singletary was held to single-digit touches in every game up until Week 9, when Singletary turned 20 carries and four targets into 140 yards and a score. In gamescript that would typically work against a team's scatback (Buffalo won by 15 and led by a touchdown or more throughout), Singletary played on 66% of the team's snaps, while drawing 65% of the carries and 100% of the targets out of the backfield.
In other words, it's likely we're witnessing a changing of the guard in Buffalo. Gore is a legend, and probably immortal, but Singletary is the more dynamic playmaker, superior as both a runner and a receiver. If this sort of bell cow usage continues, and it should, Singletary could be an every-week starter moving forward.
4. Since LeSean McCoy's third-quarter fumble in Week 8, Damien Williams has seen 76% of the team's snaps and 79% of the team's touches out of the backfield. Over this span, he totals 21 touches, 158 yards, two touchdowns, and 29.8 fantasy points in just five quarters of work.
Williams played on 73% of the team's snaps in Week 9, which was just the sixth time over the past two seasons Williams saw a snap share above 60%. But in those six games, Williams totals 32.6, 30.3, 26.4, 25.0, 20.8, and 18.5 fantasy points, averaging 25.6 fantasy points per game. For perspective, 25.6 fantasy points per game would rank behind only Christian McCaffrey this year.
Like Singletary, Williams could be a second-half league-winner, just like he was last year. After all, that's why he was being drafted in the third round for much of the offseason. Of course, maybe it's more likely Andy Reid returns to the frustrating committee backfield that's tormented us all season, but, at the very least, this is an encouraging sign.
5. Since Jay Gruden's firing four weeks ago, Adrian Peterson ranks third in rushing yards (383), hitting at least 75 rushing yards in four consecutive games. Over this span he ranks top-three in yards per carry (5.1) and yards after contact per attempt (3.7). Perhaps most impressively, he's averaging 95.8 rushing yards per game, while Washington's quarterbacks are averaging a league-low 137.5 passing yards per game.
The old man still has it! It seems the Bill Callahan offense runs through Peterson, who has rushed the ball only five times fewer than Washington has passed it, and even though Washington has lost each of their last three games by two scores or more. On this offense, touchdown-upside remains low, but Peterson should still be viewed as a potential flex-play moving forward, and maybe as a high as a mid-range RB2 in his next game against the incompetent and impotent Jets.