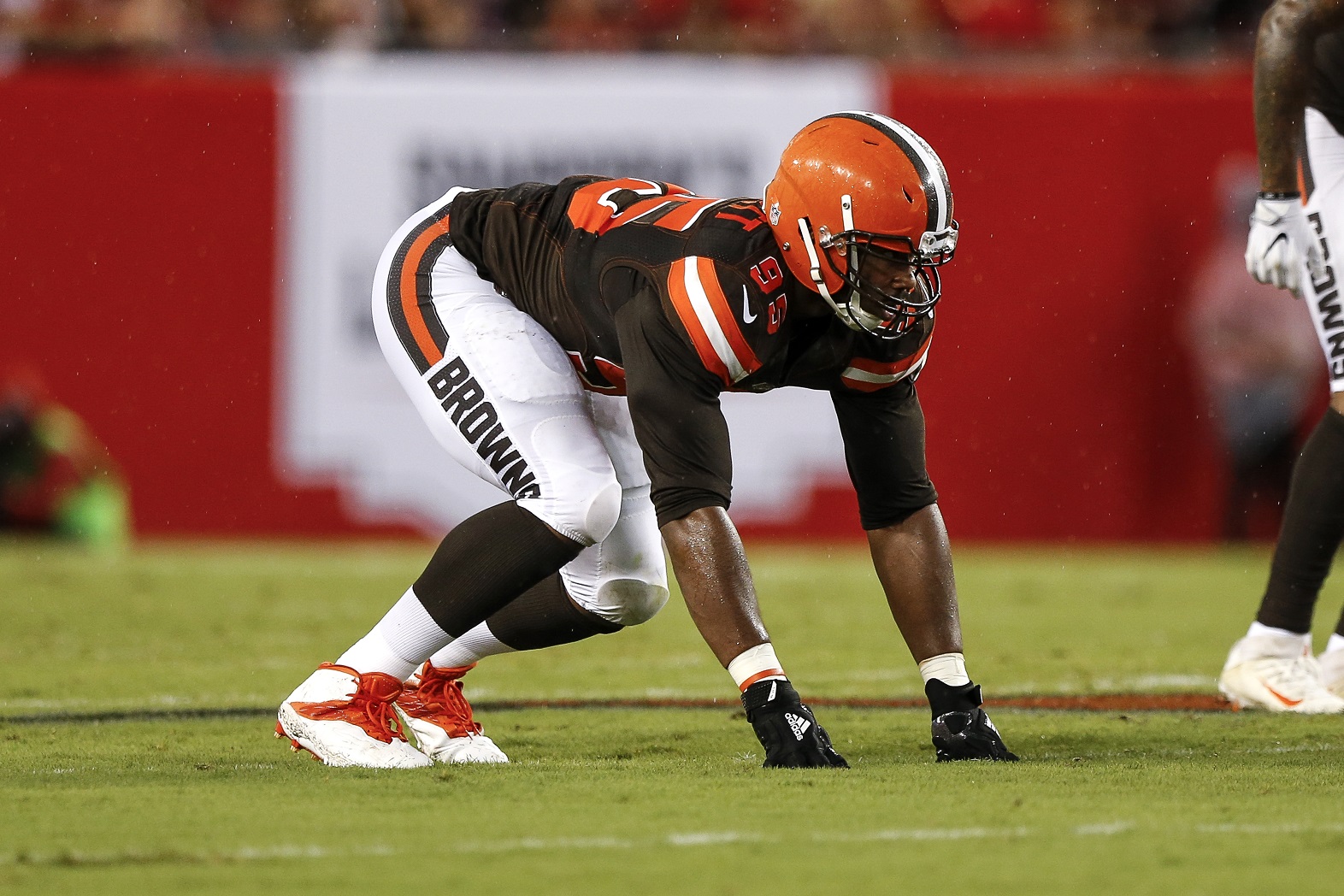 TAMPA, FL - AUGUST 26: Defensive End Myles Garrett #95 of the Cleveland Browns during the game against the Tampa Bay Buccaneers at Raymond James Stadium on August 26, 2017 in Tampa, Florida. The Browns defeated the Buccaneers 13 to 9. (Photo by Don Juan Moore/Getty Images)
What's that old saying? "Sometimes you are the windshield and sometimes you are the bug."
After watching the two linebacker sit suggestions from last week's IDP start/sit column post top-five totals, I definitely feel like I'm in the "bug" category.
It happens. After hours of research, trend study, and game-film viewing I felt strongly about the recommendations. Then the actual players hit the field and all bets are off. That's why we love this crazy thing called fantasy football isn't it?
Anything is possible and just as in the actual NFL teams and players can outperform or underperform their projections. Hey, even Tom Brady has an off day (or Monday night).
Never fear. Just as Brady will surely bounce back yours truly will too .It is with undeterred determination and many hours of research that I reveal this week's start/sit options.
Defensive linemen
Start
Brandon Graham, Philadelphia Eagles (at NY Giants)
There aren't many defensive ends playing at a higher level than Graham over the last three games. He's putting up top-five fantasy totals and racking up points in every facet of the game. Last week Graham was held without a sack after posting at least one in the last three weeks and he still managed to be relevant, with a fumble recovery return for a touchdown. In his last three outings Graham has 10 total tackles and 2.5 sacks, with a forced fumble and recovery. Over that time, he has been credited with eight quarterback hurries and a hit.
Ezekiel Ansah, Detroit Lions (vs. Chicago)
The Lions defensive end has come on over the last few weeks, looking healthier than he has all season. While he is still not playing a full complement of snaps (roughly 48 percent), Ansah has taken full advantage of his time on the field. He's put up a sack in two of the last three games and added solid tackle numbers with 11 solos and three tackles for a loss. The surge in sack production as well as the solid tackle numbers makes Ansah a viable play this week. In the last three games the Bears are allowing just over 10 tackles per game to defensive linemen and just gave up a pair of sacks to Cincinnati's Michael Johnson last week.
Sit
Myles Garrett, Cleveland Browns (vs. Baltimore)
The rookie continues to play at a high level despite failing to register a sack in the past two weeks. In those two games he has been credited with three quarterback hurries as well as three hits. Normally that would tend to have one lean in the direction that the pressures would translate into sacks. Not this week. Not in a matchup against a Ravens offense that is very stingy against defensive linemen. On the season Baltimore has allowed just 13 sacks to defensive linemen and none in the past three games.
Danielle Hunter, Minnesota Vikings (vs. Cincinnati)
It's likely that IDP owners spent a relatively high draft pick on Hunter as his average draft position had him as the fourth defensive lineman off the board. To say he has not performed up that level is an understatement. Hunter has just six sacks on the season and none in the past two weeks. Through 13 games Hunter has lacked big-play production outside of sacks as well with just a single fumble recovery to his credit. The Bengals do not present a positive matchup as over the last four games they are allowing under nine total tackles per game to defensive linemen and just four sacks over that time.
Linebackers
Start
Nigel Bradham, Philadelphia Eagles (NY Giants)
As things stand now Bradham is the only three-down linebacker for the Eagles and is coming off a strong showing last week against the Rams. Bradham finished with six solo tackles along with a forced fumble and two passes defended. That bodes very well heading into a matchup with the very linebacker-friendly New York Giants. Last week the Cowboys' Sean Lee and Anthony Hitchens had huge games in their win over the Giants. Both Lee as well as Hitchens put up double-digit solo tackles while combing for 32 stops overall along with a forced fumble. Bradham is in store for a very productive Week 15.
Brandon Marshall, Denver Broncos (at Indianapolis)
The Colts are a top matchup in allowing points to linebackers on the season and have consistently been giving up nice tackle numbers as well as sacks to the position. Over the last three games the Colts have allowed 73 total stops to linebackers as well as eight sacks. More importantly three of those sacks are by off-ball linebackers such as Marshall as opposed to edge rushing 3-4 backers. Marshall is coming off one of his most productive outings as he posted six solo tackles last week along with a sack and forced fumble. Similar numbers can be expected this week in a positive matchup for Marshall this Thursday night.
Sit
Paul Posluszny, Jacksonville Jaguars (vs. Houston)
Raise your hand if you rode the "Poz" train last week straight off the playoffs track and into a ditch. Yes. My hand is in the air. After a big Week 13 performance with Telvin Smith (concussion) out of the lineup Posluszny drew another start last week as Smith was once again inactive. The veteran linebacker would finish the game with merely four solo tackles while playing all 62 defensive snaps. If Smith is able to return this week, then Posluszny loses all value but even if Smith sits again he is too risky to roll out during the fantasy playoffs.
Ramon Humber, Buffalo Bills (vs. Miami)
Over the first four weeks of the season Humber was quite the feel-good story for IDP purposes after spending most of his career as a special teams player. Humber was putting up No. 2 linebacker numbers before a broken hand sidelined him until Week 9. He appeared to pick up where he left off upon returning, posting 17 tackles in his first two games back. However, things have changed drastically over the last few weeks for Humber. His snap count had been dipping in recent games and last week he was finally replaced by Matt Milano as the starting weakside linebacker. Humber played just 20 snaps and can safely be avoided moving forward.
Defensive backs
Start
Sean Davis, Pittsburgh Steelers (vs. New England)
Davis is coming off his strongest game of the season having put up eight solo (12 total) tackles and an interception in the win over Baltimore. Davis now has 17 solo tackles in the past three weeks and the perfect matchup to put up big numbers again. In their last four games the Patriots have seen four defensive backs reach double digit tackle totals with three of those players playing strong safety. Big plays are possible as well as New England has given up four interceptions, three forced fumbles and a pair of fumble recoveries in those games.
Micah Hyde, Buffalo Bills (vs. Miami)
In his first season with the Bills Hyde is having a breakout season, currently posting top-10 fantasy numbers through 13 games. Hyde has been particularly effective in coverage for a safety, allowing just 61.1 percent of the passes into his coverage to be completed. He has a career-high five interceptions and has been credited with 11 passes defended. This week Hyde faces a Dolphins offense that is fantasy friendly to defensive backs. In the last three weeks Miami has given up eight turnovers and a pair of sacks to the position.
Sit
Xavien Howard, Miami Dolphins (at Buffalo)
Don't do it. Do not chase the interception streak that Howard is riding with a pair of picks in each of the last two games along with a defensive score. The young cornerback is completely big-play dependent as he averages just 2.92 tackles per game. Also keep in mind that the two interceptions Howard put up in Week 13 were his first big plays of the season. Lightning is not going to strike three weeks in a row and hoping it does is not a viable strategy.
Jamal Adams, New York Jets (at New Orleans)
The rookie safety was a preseason darling of mine, having been named the starting strong safety for the Jets. Unfortunately, despite playing all but 15 defensive snaps and lining up within eight yards of the line of scrimmage on run snaps over 80 percent of the time Adams hasn't produced. He's failed to reach double digit tackles in any game and has just 10 total tackles in the past three weeks. That does not bode well in a matchup against the Saints as they are among the stingiest offenses when it comes to giving up points to defensive backs.