This might not have been the sentiment on draft day, but the 2019 class of wide receivers has a chance to be historically great, and that includes for fantasy football. Together, rookie wide receivers gained 11,653 receiving yards in 2019, or the second-most by any rookie class all-time.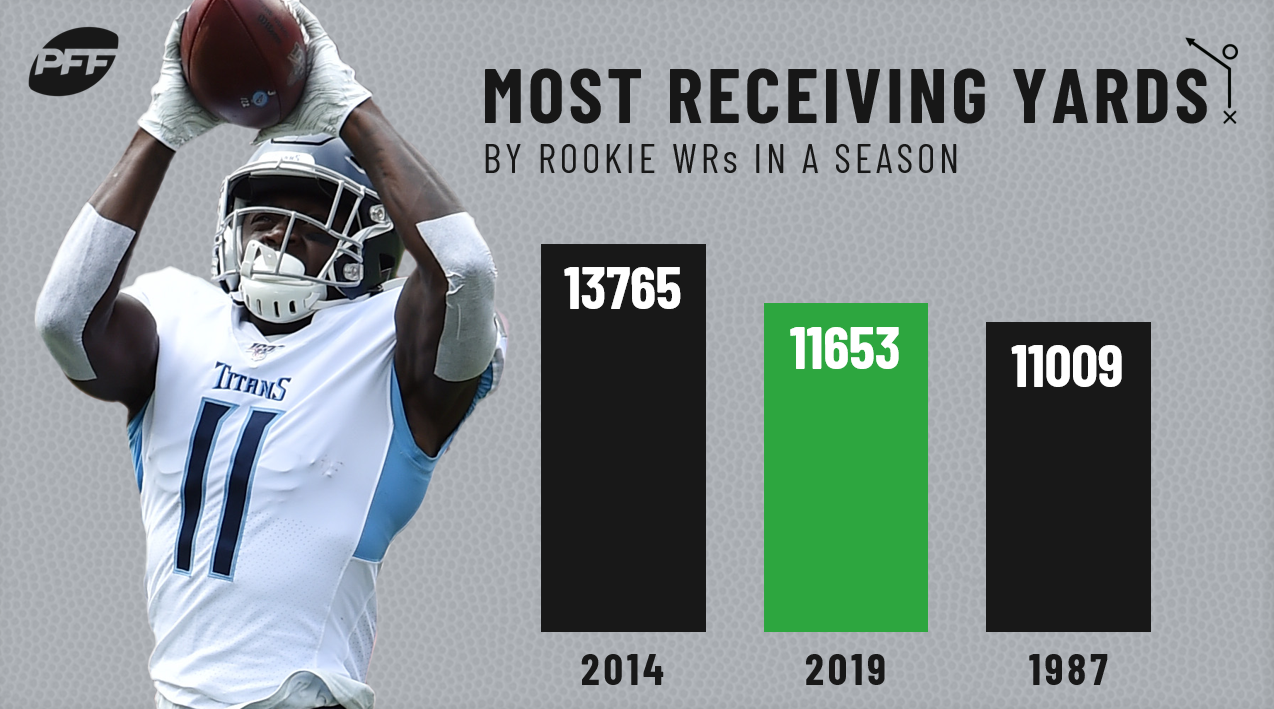 Today, I wanted to take a look back at that draft class after a full season of play, and see where they should rank now for dynasty leagues.
Key stat: Samuel forced 18 missed tackles on 57 receptions. On a per-reception basis (0.32), this ranked fifth-best by any 50-catch receiver this past decade. He also averaged 8.49 yards after the catch per reception, which also ranked fifth-best this past decade.
What we saw from Samuel in his rookie season was exactly what we saw from him in college – a dynamic playmaker who was truly elite at making defenders miss and creating yards with the ball in his hands. And, perhaps, he was elite enough to officially supplant Emmanuel Sanders as the team's WR1.
From Week 10 until the end of the regular season, Samuel ranked 14th among all wide receivers in fantasy points per game (16.1), 40 spots ahead of Sanders (9.1). Including the postseason (with the Super Bowl still to come), Samuel out-targeted Sanders in each of their final four games, and 58 to 42 since Week 10.
However, working against Samuel is his relatively advanced age (24 years old), San Francisco's run-heavy offense, and that George Kittle should probably be called the team's true WR1.
Key stat: In the Wild Card Round of the playoffs, against the Eagles, Metcalf totaled 160 receiving yards – the most ever by a rookie wide receiver in a postseason game.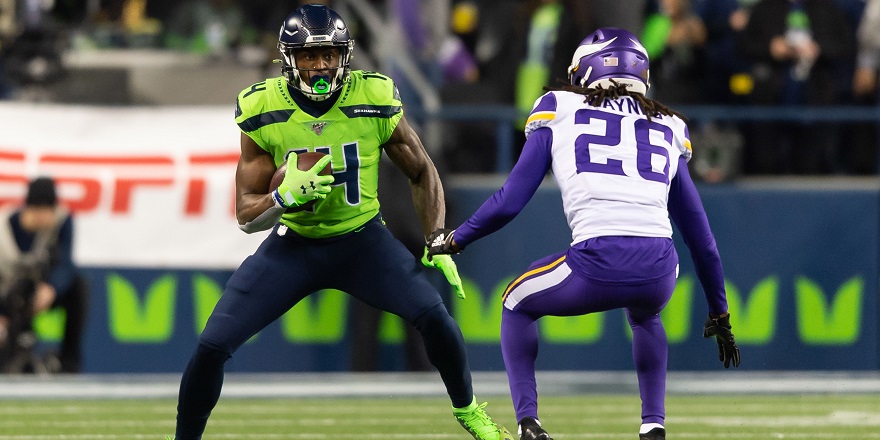 Metcalf is arguably one of the most physically gifted wide receivers to ever participate in the NFL Combine. His upside was never in question. What was a question — a fairly common one — was if he could ever be a complete wide receiver, something more than a straight-line deep threat.
Across his final two seasons at Ole Miss, Metcalf totaled 71% of his yards on just two routes – the go route and the hitch. In 2019, those two routes comprised only 38% of his 900 yards. Proving he can succeed at the NFL level, and while running a more diverse route tree, it's possible we're still only scratching the surface of Metcalf's true potential.
However, there might be one thing getting in his way: From Week 10 until the end of the regular season, Metcalf out-targeted Tyler Lockett 46 to 38. So, like Samuel, Metcalf could be pushing for WR1 duties in 2020. That's historically been a hyper-efficient role in the Seattle offense, but not one that's carried good volume. Over the past nine seasons, Seattle's WR1 has averaged 6.32 targets per game, eclipsing 7.25 targets per game only once. For perspective, in 2019, those numbers would have ranked just 44th and 29th, respectively.
Key stat: Of 75 qualifying wide receivers, Brown ranked first in passer rating when targeted (134.4) and 11th in fantasy points per route run (0.45).
Brown was the first wide receiver drafted in 2019, and he probably had the best landing spot, but he finished the season just eighth in receiving yards (584). Sure, looking at the raw numbers, Brown's rookie season might appear underwhelming, but on a per-route or per-target basis, his numbers were among the best in the league. And, I think that's the larger story in a season marred by injury.
Brown spent much of the offseason rehabbing from Lisfranc surgery (typically a massive disadvantage for any rookie), and then spent nine of 16 games on the injury report listed as questionable. During the regular season, Brown played on just 58% of Baltimore's snaps when active. During the postseason, Brown appeared to be unleashed, playing on 85% of the snaps and turning 11 targets into 126 yards.
Like his most common pre-draft player comparison (DeSean Jackson), Brown may always struggle with injuries (perhaps due to his slight frame). But, he was hyper-efficient in college (by yards per route run and depth-adjusted yards per target), he was hyper-efficient in rookie season, and he's tethered to the league's reigning MVP for the foreseeable future. As I see it, so long as he can stay healthy, the sky's the limit.
Highest Graded Rookie WRs (2010-19)

1 Odell Beckham (91.2)

2 Terry McLaurin (86.5)

3 Michael Thomas (86.3)
4 Mike Evans (84.0)
5 Antonio Brown (83.9)
6 Keenan Allen (83.4)
7 Demaryius Thomas (82.7)

8 AJ Brown (82.4)

9 Tyreek Hill (80.6)
10 Doug Baldwin / Chris Godwin (80.4)

— Scott Barrett (@ScottBarrettDFB) December 30, 2019
Key stat: McLaurin was not only our highest-graded rookie wide receiver this season, but – joining an illustrious cast of names – he was our second-highest-graded rookie wide receiver this past decade.
McLaurin's numbers don't necessarily jump off the page, but then again, Washington's 2,812 passing yards ranked 10th-fewest this past decade. Adjusting for that, however, it's clear McLaurin was every bit the part of a true WR1 – he accounted for 32.7% of Washington's total passing yards in games active, which ranked fifth-most in the NFL and the most by any rookie since Odell Beckham Jr.
Washington's offense remains uninspiring heading into 2020, but that's also less important than the broader point – that McLaurin looks like a truly special talent. Few metrics are better at predicting future fantasy success than PFF grades, and that's especially true for rookie wide receivers (as evident by the names listed above).
Washington's offense will improve sooner or later. In the meantime, bet on talent.
Best Yards per Route Run Seasons
+ All Rookie WRs (2010-2019)

1. Odell Beckham Jr., 2014 (2.76)
2. A.J. Brown, 2019 (2.67)
3. Tyreek Hill, 2016 (2.30)
4. Doug Baldwin, 2011 (2.24)
5. JuJu Smith-Schuster, 2017 (2.16)
6. A.J. Green, 2011 (2.13)
7. Julio Jones, 2011 (2.10)

— Scott Barrett (@ScottBarrettDFB) January 2, 2020
Key stat: Among all 79 wide receivers to see 50 or more targets, Brown ranked third in yards per route run (2.67), second in passer rating when targeted (127.6), second in missed tackles forced per reception (0.31), first in yards per target (12.5), first in yards after the catch per reception (8.88), and first in yards after contact per reception (5.02).
McLaurin stood out in our grading process, but so too did Brown, who is two years younger. In addition to PFF grade, Brown also stood out in (quite literally) almost every other metric I find statistically significant for fantasy wide receivers. And, in fact, he didn't just "stand out," he either recorded a historically great number, led the league, or almost led the league. Further, he dominated the metric I find most significant – yards per route run.
Brown was my No. 1 rookie during the pre-draft process. Following a tumble into the second round, to what I initially viewed as an unideal landing spot, he dropped to fourth in my rankings. However, Brown clearly blew past even my wildest expectations, and that landing spot no longer looks so unappealing – Ryan Tannehill led the league in passer rating, passing yards per dropback, and PFF grade in 2019.
Brown should not only rank as the top wide receiver from this class, but he should be considered as a top-25 dynasty asset (or top-12 among wide receivers).