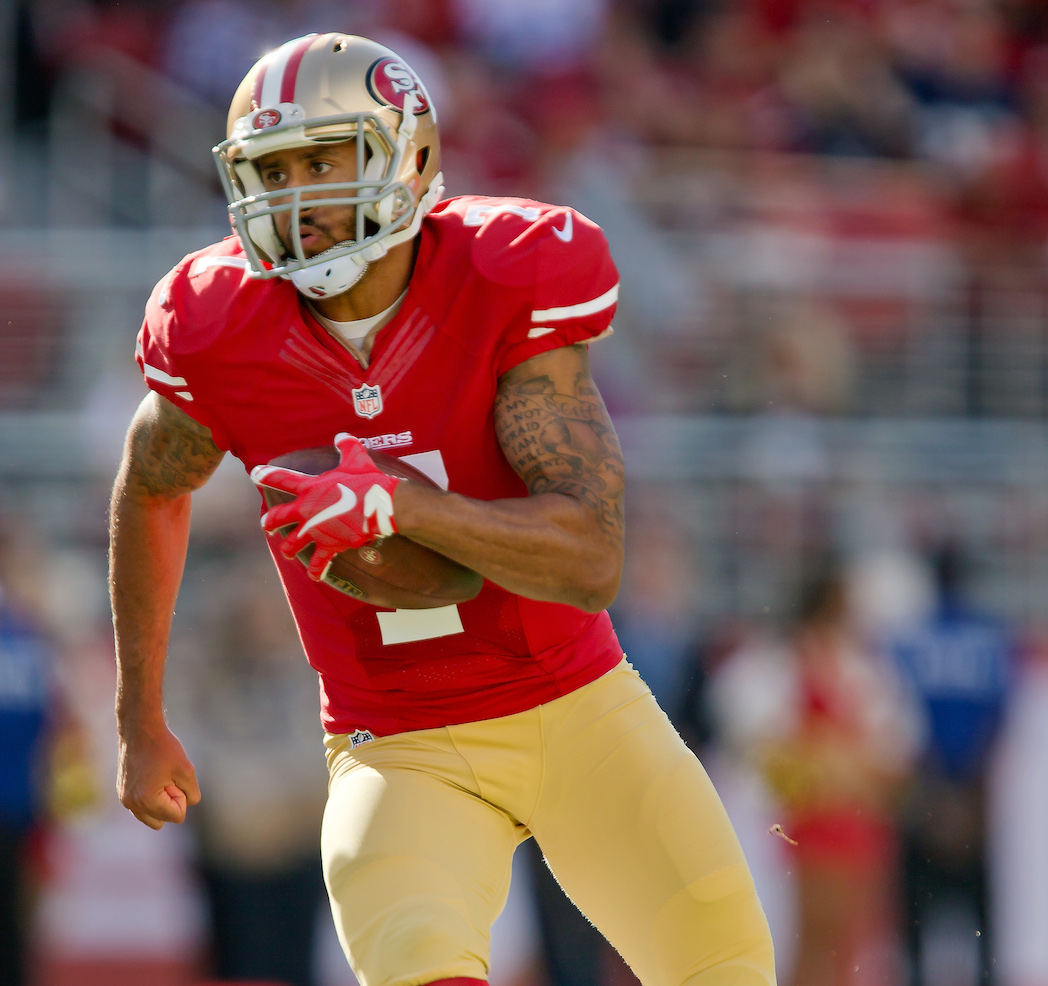 SANTA CLARA, CA - AUGUST 23: Quarterback Colin Kaepernick #7 of the San Francisco 49ers runs just shy of a first down against the Dallas Cowboys in the first quarter during a preseason game on August 23, 2015 at Levi's Stadium in Santa Clara, California. The 49ers won 23-6. (Photo by Brian Bahr/Getty Images)
A year ago, WR Anquan Boldin was a free agent until July 26, when he signed with the Detroit Lions. He didn't have a monster year in 2016, but he did finish as the No. 47 fantasy football WR, ahead of, to name a name, Brandon Marshall.
The point is, even with the draft and majority of free agency behind us, there are still veteran players out there who could land in just the right spot to be fantasy-relevant. Maybe it's an injury, or maybe it's a team that fills a remaining need, or maybe someone comes in and wows their new team. But from a fantasy perspective, even before we get to injuries and cuts and all the intrigue that comes with training camp, things aren't set.
Below, we're looking at the remaining free agents who could still matter in fantasy if they land in the right spot. Identifying a quarterback, two running backs, and a tight end was easy. Wide receivers … well, not so much, but I took a crack at it. Keep an eye on these players to see if they land, and what franchise lands them.
Colin Kaepernick, QB
Kaepernick was the No. 19 fantasy quarterback in 2016, but by fantasy points per game he was No. 7, and if you take out his two points in a blizzardy Week 13 game against Chicago, it would be even better. He might not be an outstanding NFL quarterback at this point (he was PFF's 26th-graded quarterback in 2016), but from a fantasy perspective, a starting Colin Kaepernick is a borderline QB1.
At this point, just like it was with Jay Cutler, it's unlikely some team suddenly decides it's interested in Kaepernick and brings him in. But if the right team suffers an injury in training camp and dives in on the ex-49er quarterback instead of relying on untrustworthy backups, Kaepernick becomes draftable in most fantasy leagues.
(Others who could find work: Ryan Fitzpatrick, Robert Griffin III)
LeGarrette Blount, RB
Bemoaning Blount's unemployment by citing his 1,161 rushing yards and 18 touchdowns from 2016 is fairly disingenuous; he was only the No. 39-graded PFF running back, with a career-second-worst 68.0. Being a Patriots running back has its advantages, though, giving Blount seven more carries inside the 5-yard line than any other back in 2016. That said, he's still capable of fantasy relevance no matter where he winds up.
The Patriots attached a May 9 tender to Blount this week, a little-used option that keeps Blount in the compensatory pick formulation and potentially limits his market. He has, however, been linked to several teams, including the Ravens, Giants and Lions. The tender means there is a chance Blount is limited to "Patriots or nobody" in 2017, but if he lands somewhere, worst-case scenario is that he's a goal-line option with high-TD upside. Best-case scenario is probably south of his 2016 numbers, but he could be a solid flex option.
Christine Michael, RB
Through Week 8 last year, Michael had 538 yards from scrimmage and six total touchdowns, ranking as fantasy's RB14, ahead of (among many others) Jay Ajayi, Jordan Howard, and Mark Ingram. He had 107 carries and 19 receptions. The rest of the season, split between Seattle and Green Bay, he had 41 carries, three receptions, 153 total yards, and two touchdowns. He was tied for RB62 in that stretch. Still that early-season production happened. He was in the top-10 in PFF grading on the ground in that early stretch.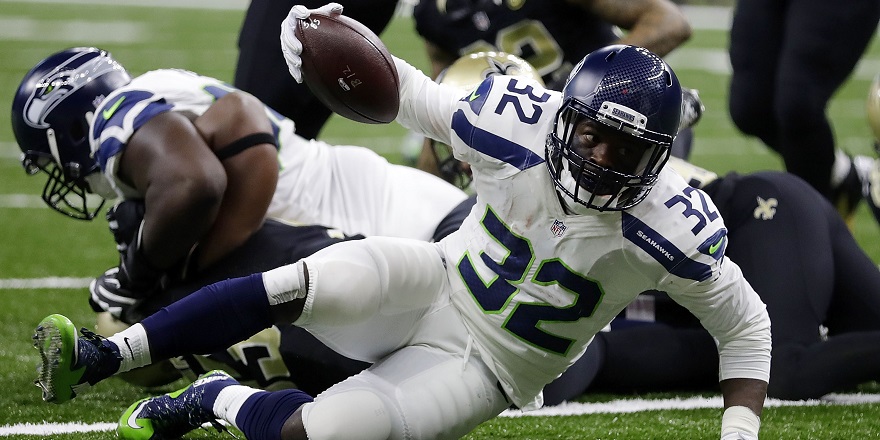 Given the number of teams that have taken a shot on Michael and moved on, he doesn't have the brightest of NFL futures, but he has been linked to the Patriots this offseason (as has seemingly every running back), and if Michael does land a job somewhere, he could be a low-ceiling flex play.
(Others who could find work: Matt Asiata, Rashad Jennings, Denard Robinson, James Starks, DeAngelo Williams)
Anquan Boldin, WR
Yep, him again. At 70.3, 2016 was Boldin's lowest-graded season of the PFF era (since 2006), and the lowest yardage of his career, at 584. He maintained fantasy value with his eight receiving touchdowns, a number he surpassed only in 2007 and 2008. Turning 37 in December, Boldin isn't likely to regain the performances of his prime.
Still, he has said he wants to play again, and has been linked to two of his former teams, the Lions and Ravens. If he can land on a team that uses three-WR sets with regularity, he could fill much the same role he did in 2016, which would make him a TD-dependent flex option.
Vincent Jackson, WR
(Told you wide receiver was rough.) Jackson is two years removed from his fourth straight 1,000-yard season, one year removed from a PFF grade over 80.0 in 2015. His 2016 was an unmitigated disaster, with only five games played and 15 catches on 31 targets for 173 yards. Still, before 2016, Jackson had PFF grades of 78.6 or higher nine years in a row, six thousand-yard seasons, and five years with seven-plus touchdowns.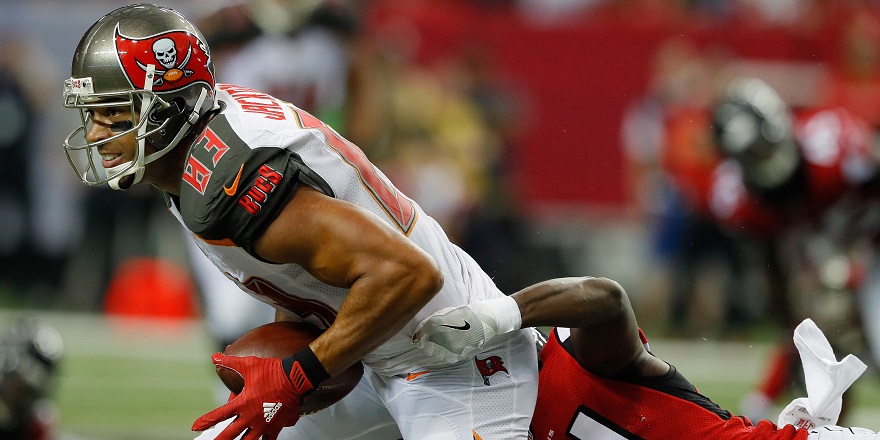 There have been almost no rumors about Jackson this offseason. He might not even find a job. If he does, he's not draftable in fantasy. But a player with his pedigree is at least worth monitoring. If he does land somewhere, it's because the team believed he's healthy enough to carry some relevance — Jackson seems unlikely to sign somewhere to be buried on a depth chart. A Vincent Jackson in the NFL is one I'm watching through the preseason.
(Others who could find work: Victor Cruz, Andrew Hawkins, Eddie Royal, Rod Streater)
Gary Barnidge, TE
We're one year removed from Barnidge finishing as fantasy's TE3, with 1,043 yards and nine touchdowns. That was pretty obviously his career year (in his other eight seasons combined, he has 1,215 yards and five scores), but the player that put up those numbers does exist nonetheless. Give him a competent quarterback and, while he isn't going to be his 2015 self again, he could be a low-end TE1.
Since the Browns drafted David Njoku and released Barnidge, he has been linked to the Bills, Panthers, and Jaguars so far. In Carolina, he'd struggle to see many targets behind Greg Olsen and the team's running back and receivers. In Buffalo, he'd back up Charles Clay. But if Barnidge were to land in Jacksonville, where the team's top tight ends are Mychal Rivera and Marcedes Lewis, he'd likely jump to the top of the team's depth chart, and make for a strong fantasy option in the process.
(Others who could find work: Jacob Tamme)