The quarterback position in fantasy football has undergone a renaissance the past three seasons. As fantasy analysis entered the mainstream, most participants started to notice that quarterbacks had a similar range of outcomes from a fantasy perspective.
Average fantasy point differential for various quarterbacks made the opportunity cost of drafting one early not worth it. We can examine this further by defining some thresholds of fantasy performances and observing how the position has changed over the past decade.
The top fantasy performance is easy to define — it's simply the player who finished No. 1 overall at the position. Twelve quarterbacks start in a typical fantasy football league, which we'll use as the starting point for a "starter-level" signal-caller. The replacement level has a bit more nuance, but we can simply assume that each fantasy roster has one starter and one backup and use QB24 as the replacement level value. Below are the fantasy points per game for each threshold compared to the others for every season back to 2010.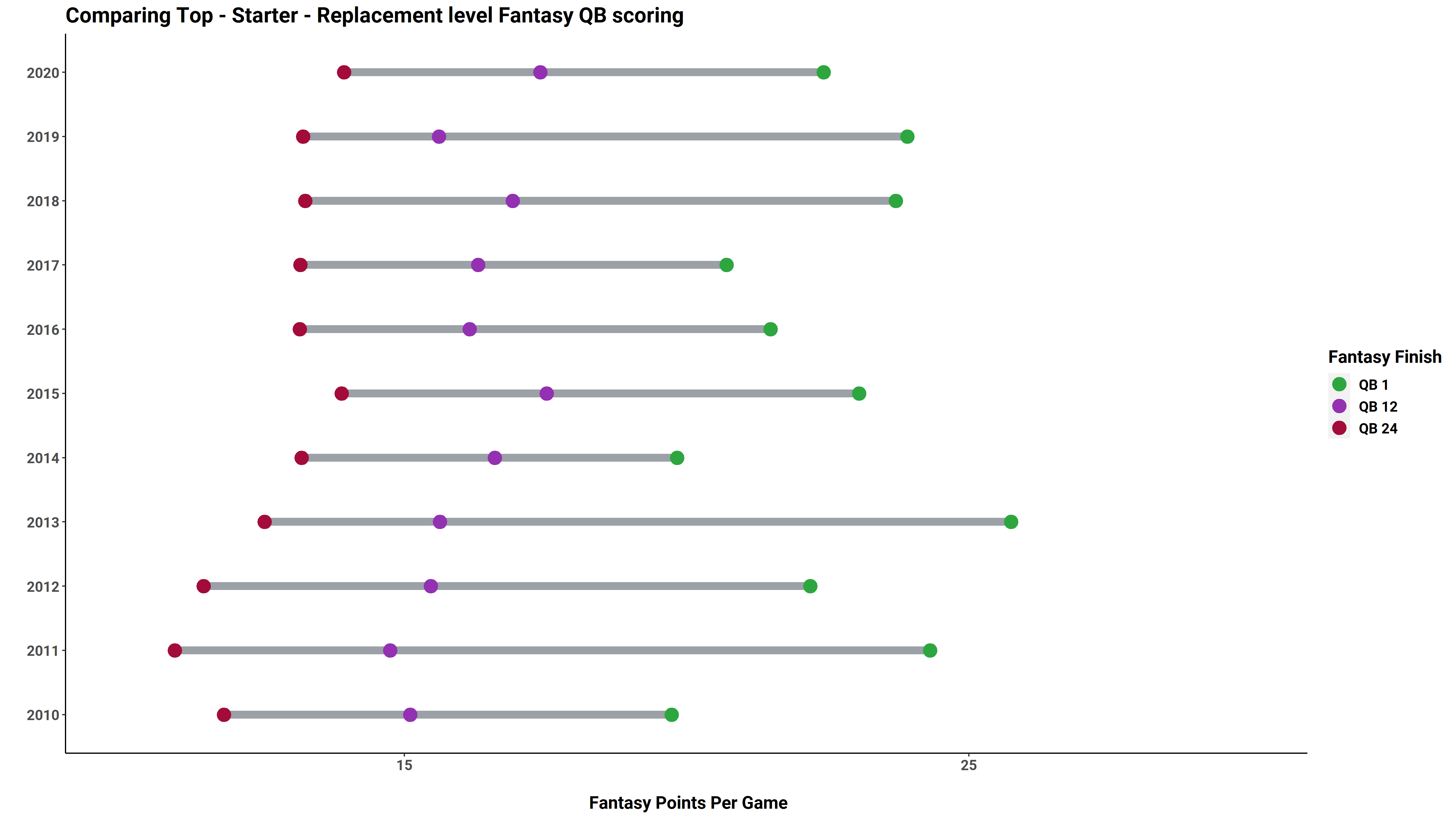 The 2020 season didn't provide as wide of a range between the top quarterback and others at the position. The two years prior do fit the narrative that top quarterback performances were becoming more worthwhile to target as opposed to focusing on quarterbacks in the later rounds.
Things are always evolving in fantasy football. It is important to constantly be trying to update priors with new context and information. The quarterback position no longer comes down to simply selecting a late-round option and grinding out the weekly waiver wires. There are decisions to be made based on cost and expectation when selecting your first quarterback.
We are still trying to identify quarterbacks with the ability to finish at the top of the position, and that doesn't mean just drafting Patrick Mahomes in the first round. League winners can come from all different rounds, and sometimes all it takes is a player outperforming his ADP — especially at quarterback.
To make things easier, I have grouped quarterbacks into tier rankings and provided "my guys" and fades in each tier. The end product is a way to see which players to avoid and those who I expect to outperform their current ADPs in each tier. This should provide a way to find value at some point in a fantasy football draft without needing to reach at the position.
Editor's Note: PFF's 2021 Fantasy Football Draft Guide and 2021 Fantasy Football Cheat Sheets are LIVE!
TIER 1
| | | | | |
| --- | --- | --- | --- | --- |
| Rank | Player | ADP | 2020 Top 12 Weeks | 2020 Top 3 Weeks |
| 1 | Patrick Mahomes | 36.6 | 10 | 4 |
| 2 | Josh Allen | 51 | 10 | 5 |
| 3 | Lamar Jackson | 53 | 8 | 1 |
| 4 | Kyler Murray | 56.9 | 9 | 5 |
| 5 | Dak Prescott | 60.7 | 3 | 2 |
MY GUYS
Prescott looked like a fantasy league winner before his ankle injury in Week 5 of the 2020 season. Heading into that contest, he had the most fantasy points at the position and ranked third in expected fantasy points. 
He doesn't offer the same rushing floor as other players in this tier, which is causing him to drop out of the fifth round. Outside of the top two quarterbacks, Prescott appears to be the only option who could finish atop the position based solely on his passing stats. Dallas has the ninth-easiest schedule overall and one of the easiest paths to a division crown. My preference isn't to go quarterback early, but if I do, it's to target Dak Prescott. 
FADES
This isn't an outright fade of Patrick Mahomes but an acknowledgment that his price is not something I am willing to pay. The Chiefs should have the most efficient offense in the NFL after finishing second in expected points added (EPA) per pass attempt last season. The problem is that you are drafting every Chiefs player at their ceiling and would need to select them with two of your first three fantasy picks to wrap up the top-end stack. Mahomes is too cost-prohibitive for me, as I am more inclined to go with a running back-heavy approach early in my drafts.
TIER 2