The Super Bowl is many things. Championship game of the football season. Conduit for ever-disappointing commercials. Excuse to eat ridiculous amounts of food. Big concert that people will inevitably complain about. Impetus for thousands of call-in-sicks on Monday.
But also on that list is that Sunday is the biggest gambling day of the year. Whereas most football games feature a betting line and some late-breaking prop bets for the diehards, the Super Bowl prop bets offer two weeks to percolate, consider, and finally decide where to throw money, just to add a little extra rooting interest to the food, the commercials, the dancing.
To that end, I reached out to as many PFF people as would answer my incessant emails to gather up everybody's favorite prop bets for the Super Bowl. Here are the favorite bets — both serious bets for the game, and more lighthearted ones for the surrounding atmosphere — for Sunday's game.
(Most of the bets below come from Bovada; exceptions are indicated.)
Serious bets
First offensive play of the game (PASS, -105)
You'll be fine if you spend two seconds thinking about this question or two hours, but you'll get into trouble if you spend two minutes. That's because about the only trend in football that hasn't followed the overall pass percentage increase from an already-high rate of 53.9 percent in 2009 to 56.1 percent this season is pass percentage on the first play of the game. Teams still like to ease into games with a first-play run, and, in fact, teams passed less on the first play this year (42.9 percent) than they had in any of the most recent eight seasons.
The trick is neither the Patriots nor the Eagles followed that trend this season. The Patriots passed on their first plays 63.6 percent of the time and the Eagles did the same 57.1 percent of the time, including two of their three games with Foles under center when they received the ball first. Meanwhile, both teams are better defenders of the run than the pass, and opponents have seemed to try to take what they've been given. When the Patriots and Eagles were on defense first, their opponents passed on 55 percent of their first plays. Bet heavy on the first-play pass. — Scott Spratt
Will the Patriots score in all 4 quarters? (Yes, +200) from Westgate Las Vegas Superbook
After initially leaning toward the liking the under in the Super Bowl, I've gone to the side of over 48 as kickoff nears the more I've dug into the matchup. I'm projecting the Patriots to get to at least 30 points in the contest and that coupled with the +200 return the YES brings back if it makes this bet worthwhile. — Dan Clasgens
Total rushing yards: LeGarrette Blount (UNDER 29.5, -105)
While it will be tempting to take the over in the ultimate revenge game for Blount, he simply doesn't see the touches he did before the Eagles traded for Jay Ajayi. He hasn't seen double-digit carries in seven weeks and rushed for more than 29.5 yards just twice in that span. – Michael Moore
Total rushing yards: LeGarrette Blount (UNDER 29.5, -105)
Blount has reached at least 30 rushing yards just once over his past seven games. That lone performance came in a meaningless Week 17 game when Jay Ajayi was inactive, and even then, Blount only totaled 37 yards. – Scott Barrett
Total passing attempts in the game: Tom Brady (OVER 38.5, -140)
Total completions in the game: Tom Brady (OVER 26.5, -115)
The over on both Brady's completions and pass attempts is enticing. New England threw at the fifth-highest situation-neutral rate this season. Brady averages nearly 10 more pass attempts in the postseason, and the Patriots will utilize tempo and highly completable short passes to combat the Eagles' pass rush. — Pat Thorman
Who will record the most receiving yards in the game? (NELSON AGHOLOR, +700)
The Patriots haven't shaken the label as a big-play-friendly pass defense that they earned in the first month and a half of the season, but the truth is they aren't that team anymore. For the first six weeks, the leading receiver against them put up 45.1 percent of their total yards on passes thrown 20 or more yards down the field. Since that time, leading receivers have produced just 18.6 percent of their yards on deep throws. If you want to bet on a dark horse with a big potential payout, I'd suggest Nelson Agholor as the leading receiver. His 10.2-yard average depth of target and 17.3 percent deep target rate are much lower than field-stretching teammates Alshon Jeffery (14.7 and 20.5 percent) and Torrey Smith (13.7 and 24.7 percent, respectively). — Scott Spratt
Who will record the most receiving yards in the game. (ALSHON JEFFERY, +500)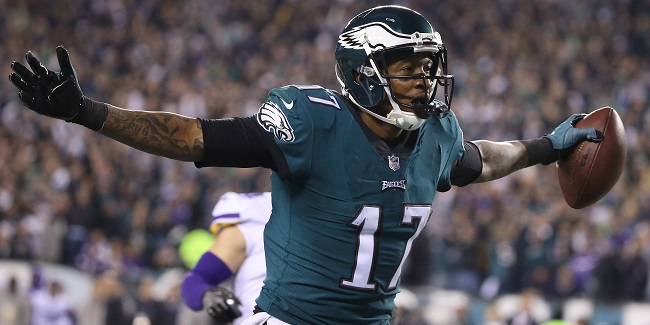 While it has been an up-and-down season for Jeffery in Philadelphia, he has made a huge impact in the playoffs so far, catching all nine of the catchable targets thrown his way for 146 yards and two touchdowns, good for a perfect NFL passer rating of 158.3 on passes his way, the highest of any wide receiver in the playoffs. Jeffery has shown a safe pair of hands, dropping just three of the 69 catchable passes thrown his way in the regular season and playoffs. With 10 targets over the past two games, Jeffery seems like a safe bet to see enough looks to make an impact, and could easily wind up as the game's leading receiver. — Gordon McGuinness
Who will have more passing yards in the game? (NICK FOLES +25.5, +130)
Tom Brady has thrown for 29 more yards than Foles through two postseason games, so already the average suggests Foles has a realistic shot to be within 25.5 yards of Brady by the end of the game. When you consider that the Patriots needed a game-winning drive from Brady to seal the deal in the AFC Championship game, and given that they are favorites in this one, it is likely the Eagles who will have to rely more on the passing game late. The Eagles' ferocious pass rush can get after Brady, and while he has been tremendously efficient against pressure (his 96.6 NFL passer rating under pressure leads the league), this is the type of game where I expect the Patriots to lean on the run in the second half. If that happens, and the Eagles are chasing the game, Foles should have ample opportunity to throw for more yards than Brady, especially with a 25.5-yard head start. — Gordon McGuinness
More receiving yards: Zach Ertz or Rob Gronkowski (ERTZ +16.5, -110) from Westgate Las Vegas Superbook
I usually get drawn to prop bets with better payouts, but this one appeals to me just because of how elite both players have been in terms of production. Ertz was dinged up late in the year, but recorded 93 yards in the NFC Championship. He's now reached 80 yards or more in 10 of his last 20 contests dating back to last season (counting playoffs). Gronk has reached that mark in 11 of his last 20. The 16.5 yards Ertz gets spotted here is the reason I'm riding the Eagles tight end in this one. — Dan Clasgens
Total interceptions thrown: Tom Brady (UNDER 0.5, -140)
Total interceptions thrown: Nick Foles (UNDER 0.5 ,+110)
Leaguewide, the interception rate in the regular season 2.43 percent. In the playoffs so far, that number is down to 1.20 percent. Of 12 starting quarterbacks, only five have been picked off even once, and only two (Case Keenum and Drew Brees) have been intercepted more than once. Teams are really emphasizing ball security on their passes in the playoffs. I'd be comfortable betting both quarterbacks to go without an interception, but there are also arguments for picking one or the other:
Pick Foles, because the +110 offers better odds, and because the Patriots were only 18th in the league in the regular season with 12 interceptions, and because they've had a grand total of zero picks in the postseason.
Pick Brady, because only Tyrod Taylor and Alex Smith had a lower interception rate than Brady's 1.38 percent in the regular season, and because, with the Patriots favored to win, it's worth noting that only two winning quarterbacks have thrown even one interception so far this postseason.
Like I said, I'm comfortable betting both sides and letting the chips fall where they may. But if you want to pick one, well, there are your arguments. — Daniel Kelley
Total receiving yards: Nelson Agholor (OVER 37.5, -125)
Total receptions: Nelson Agholor (OVER 3.5, -125)
Over the past decade, on average, teams have thrown the ball 37.8 times per game in the Super Bowl. Per every 37.8 throws attempted by Foles this season, Agholor is averaging 5.1 receptions and 54.6 yards. Agholor runs 86.0 percent of his routes from the slot. New England's primary slot cornerback Eric Rowe grades out 106th of 121 qualifying cornerbacks. This season, New England has surrendered the second-most receptions (90) and the most receiving yards (1,393) of any defense to wide receivers when lined up in the slot. — Scott Barrett
Total receptions: Danny Amendola (OVER 4.5, -130)
The over on Amendola's reception total looks promising. It accounts for the Patriots throwing more often in playoff games, favoring quick passes to mute the pass rush, Amendola being Brady's highly trusted release valve, and his 8.7-reception average over his last three playoff games. — Pat Thorman
Fun bets
The hater's bet
Will any members of NSYNC perform with Justin Timberlake? (YES, +200)
Although Joey Fatone has been saying this is less likely to happen than the odds imply, that's not why I'm making this bet. The way I see it is this – either I make some money, or I don't have to listen to NSYNC. Easy win/win. — Scott Barrett
The "when 50/50 isn't 50/50" bet
Which team will win the coin toss? (EAGLES, -115) bet from BetUS
After hours and hours of scouring the many, many prop bets that can be placed on the Super Bowl there is one that jumps off the page as a surefire lock. In the seven Super Bowls during the Brady/Belichick era there has been one overwhelming trend of particular note.
The Patriots have lost the coin toss in six of those seven games. Yes. You read that right. While New England may win a lot of Super Bowls, they are obviously inept at winning the coin toss. At odds of -115 it's a near lock that Philadelphia wins the coin toss, which is obviously not a 50/50 option in this case. Trust me. — Walton Spurlin
The "you can't just pluck a nickname out of thin air" bet
Will Al Michaels or Cris Collinsworth say "Danny Playoff" (NO, -300) bet from BetDSI
No, this is not a real nickname. I refuse. You can't make me accept it. Even if I lose, I won't accept it. — Daniel Kelley
The "somehow we have two people with opinions on Pink's hair" bet
Pink's hair color (GREEN, +400)
Time to sing National Anthem (OVER 2 minutes, -175)
There's a not-shocking-but-still-surprising amount of research into over/unders on Super Bowl anthem times. Pink is going to do it up, and will hit the over. She also happens to be an Eagles fan, and I'm guessing will rock team colors, including for her hair. — Alejandro Chavez
Pink's hair color (WHITE/BLONDE, -300)
An avid fan of the Super Bowl-bound Philadelphia Eagles, Pink will surely consider wearing her heart on her sleeve (head) and dye her hair green to flaunt her Philly fandom as she performs the National Anthem. There's also a strong chance she sticks to her guns and dyes her hair pink for her name. However, recent scouting reports hint she will keep things simple yet elegant up top and opt for a white dye.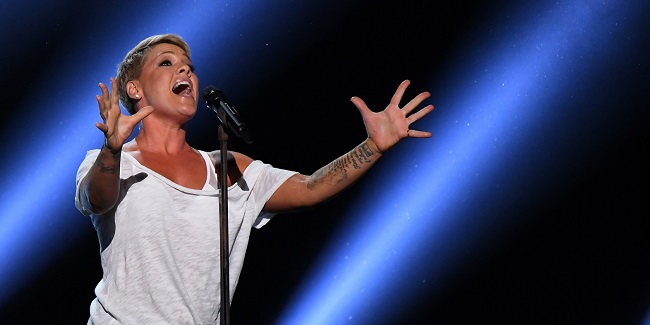 Most recently, Pink showed up at the Grammys with her performance of "Wild Hearts Can't Be Broken" while sporting a clean, white hairstyle. She rocks a similar hairdo in the music video of the same song and followed her performance up at the Grammys with an inspirational selfie video to Twitter with, you guessed it, white hair.
Running with white hair across multiple events and milestones, Pink's obviously loving her pivot from an influx of color to a simpler, refined look. And, as they say, if it ain't broke, don't fix it. — Austin Gayle
The "Come on, Al is better than that" bet
Will Al Michaels refer to the spread of the game? (NO, -150)
The bet instructions specify that Michaels "must clearly say what the spread was." And no, that ain't Al's style. Will he obliquely refer to a result that makes certain fans happy, even when it doesn't have anything to do with who won? Absolutely. Will he call the game "over" if points hit the over/under, even if the outcome was long determined? Of course. Will he say "The betting line was XX"? No chance. Our friend Al is cagier than that. — Daniel Kelley
The "Commander in tweet" bet
Donald Trump tweets (OVER 5, -120)
President Trump already turned down a pregame interview and now he'll have to turn to Twitter to share his takes on Super Bowl Sunday. He's been an outspoken critic of the NFL throughout the season during the protest of the National Anthem and surely will have plenty to say on Sunday. I'll take the over. — Dan Clasgens
The "win your own bet" bet
Will Tom Brady's jersey be stolen again? (YES, +1000)
This bet is a total lock… But only if you're a master cat burglar who will be attending the game and cares little for any potential legal ramifications. Semantics. — Scott Barrett