Indianapolis Colts running back Marlon Mack suffered what is suspected to be an Achilles injury that could end his season in the team's Week 1 matchup against the Jacksonville Jaguars. If that's the case, it means big-time potential for rookie Jonathan Taylor and third-year NC State back Nyheim Hines.
Usage in Week 1
Hines and Mack saw seven snaps each in the first quarter while Taylor waited to see the field. While it was surprising that Taylor hadn't gotten an opportunity at that point, it was also surprising that the two backs were both splitting carries as well as pass routes rather than each having a clear role.
Mack suffered his injury in the second quarter. In the second half, it was Taylor and Hines splitting time. They had 20 snaps each with third-year Ole Miss running back Jordan Wilkins also coming in for one play. Between Taylor and Hines, the two did have clear roles. Taylor had 10 total carries but two were taken back due to penalty, and Hines had two of his own. Hines saw more pass routes, but Taylor was targeted more, which led to more receiving yards.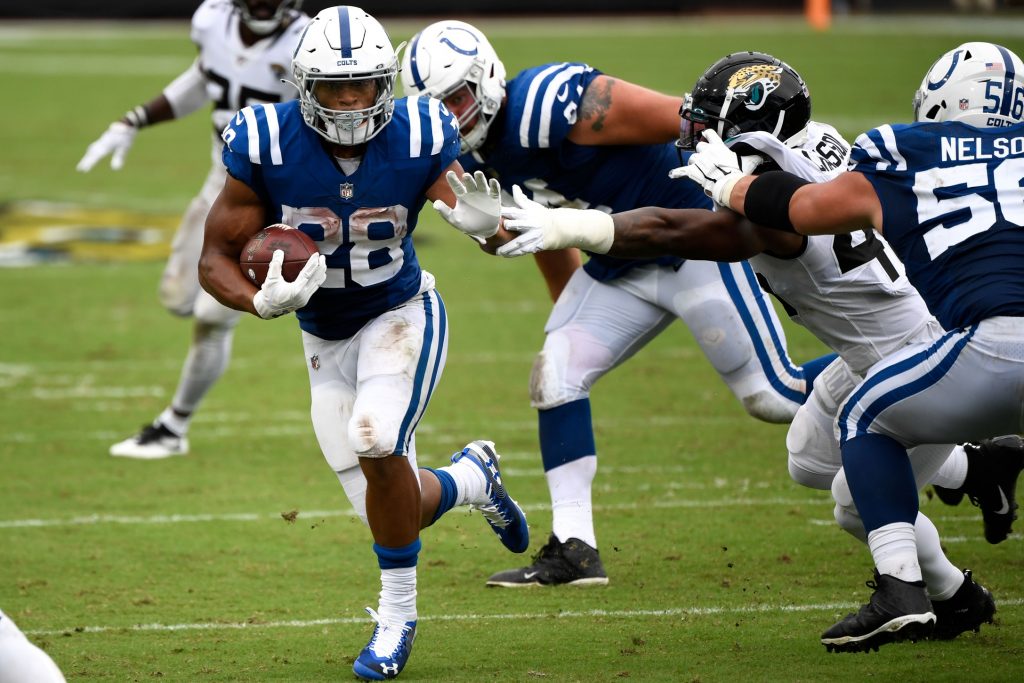 How Valuable Are They Going Forward
Of the two, Taylor has the most potential. He will get the vast majority of the carries for Indianapolis going forward and will see his fair share of targets too. This puts him in the midrange RB2 conversation.
This also opens up two paths for him to get in the RB1 category. If he starts playing up to his draft status, he can get there. Other running backs have been RB1's by leading their team in carries while also seeing part of the targets from the backfield. Even if he plays at replacement level but can start eating into Hines' playing time, Taylor would get there. Any running back who can see upwards of 70% of snaps can be a RB1 with how many running backs by committee exist in the league.
Hines enters the flex conversation in PPR after today's games. He was already an interesting prospect being the receiving back on a Philip Rivers-led team coming into the season. Regardless of the Mack injury, his prospects became more interesting after he was used as a rusher as well in the first quarter. This was the first game of his career where Hines had five or more carries and a touchdown. As long as he can keep seeing significant targets each week and five or more carries, he should be a consistent scorer even if he never has a week where he's a RB1.
While it might take another week of sample size to see if Hines can repeat the number of targets he had, he definitely needs to be a waiver wire pick up in the leagues where no one drafted Hines.
The one thing to be concerned about for both of their value is Wilkins. He saw 163 snaps last year as the Colts' third running back. He was a clear third in pass routes, and he had similar carries to Hines. Because Wilkins only played one snap in the season opener, I wouldn't be worried about him carving out a big role. Wilkins should see roughly 5-10 snaps per game to give both Taylor and Hines a rest.