(PFF Fantasy is reacting to all the offseason moves from a fantasy football perspective. Follow along here.)
It's official. The Blake Bortles era in Jacksonville is over, and the Jaguars are going to sign Nick Foles when the NFL league year begins on Wednesday. Jacksonville is also expected to cut ties with Bortles.
Foles reached cult hero status in the Philadelphia fan base after stepping into the starting job following Carson Wentz's season-ending ACL injury in 2017 and leading the Eagles to a Super Bowl win. Foles did very little over the final three games of the regular season, ranking a lowly 25th among quarterbacks in fantasy scoring over that span, but he caught fire in the playoffs. He topped 300 passing yards and threw for three scores in the NFC Championship and the Super Bowl.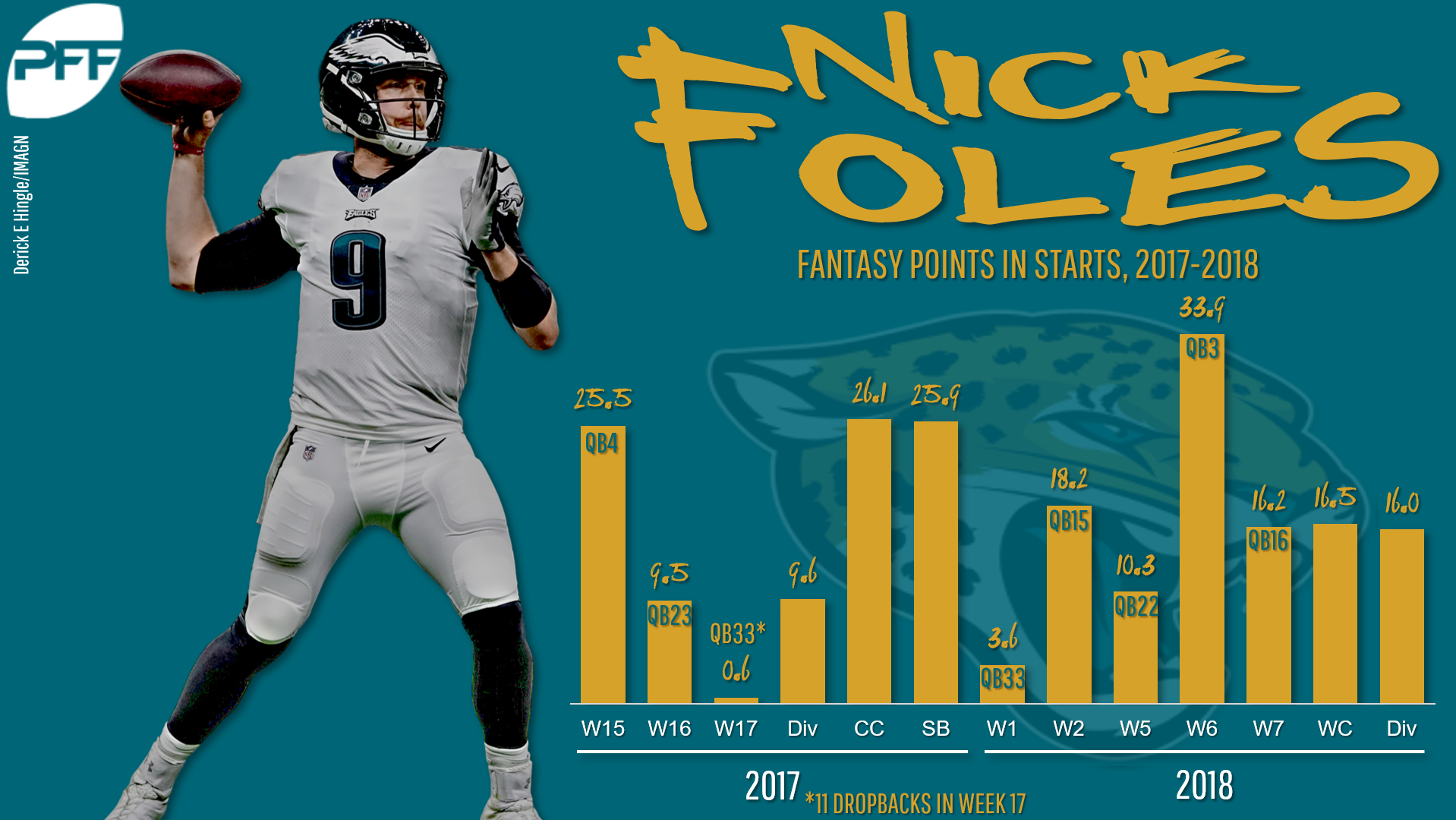 Foles again got the opportunity to start five games this past season. The final three came over the last three weeks of the season thanks to another Wentz injury, but the results were much better than in 2017. Foles ranked seventh among quarterbacks in this stretch, thanks in part to his 471 passing yards and four scores against the Texans in Week 16.
The problem with evaluating Foles for fantasy purposes is akin to trying to scout college players by only watching their highlights on YouTube. We've seen the highlights from Foles over the last two seasons and in his magical 2013 season under Chip Kelly with the Eagles. But that only tells part of the story for Foles. In 2015 with the Rams, Foles started 11 games and managed just 2,052 passing yards and threw more interceptions (10) than touchdowns (7).
To be fair, players can mature from a skill standpoint in the NFL, so we can't necessarily assume that Foles is going to again regress outside of Philly. But the situation he's stepping into is far from optimal. He's going from a Philly team that threw the ball on 61.6% of plays last year to a slightly more run heavy Jaguars offense (58.6% passing plays).
More importantly, it's an offense that lacks top-level pass-catching talent. The Jags currently boast Marqise Lee, Dede Westbrook, and D.J. Chark as their top three receivers. While there's certainly some upside in this trio, Foles no longer has the stability he had in Philly with Zach Ertz as his top pass-catching option.
For the Jaguars, Foles is an upgrade on Bortles, and should give the team more stability at the position. But for fantasy purposes, it's tough to endorse Foles. In our best ball fantasy football rankings, Foles is currently on the outside looking in at the QB2s. At this point, the only fantasy value he's likely to have is in 2QB formats.