• Davante Adams: 7 receptions, 153 yards, 2 touchdowns
• Christian McCaffrey: 19 carries, 121 yards, 1 touchdown; 6 receptions, 72 receiving yards
---

Jump to another recap:
[email protected] | [email protected] | [email protected] | [email protected] | [email protected]
[email protected] | [email protected] | [email protected] | [email protected]
[email protected] | [email protected] | [email protected] | [email protected] | [email protected]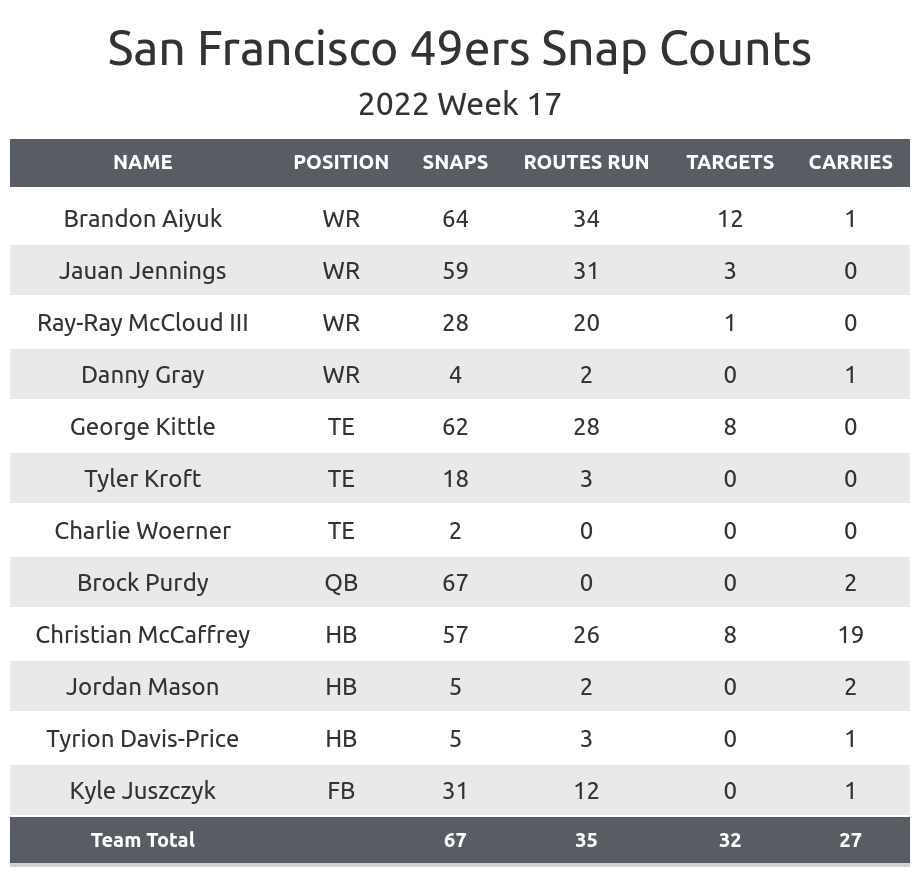 Christian McCaffrey dominates snaps: McCaffrey's role has been a constant topic of discussion, given how much his backups have played at times.
McCaffrey played the clear majority of snaps tonight, which is something he has usually done when the game has remained close.

The 49ers didn't have a clear backup, with both

Jordan Mason

and

Tyrion Davis-Price

getting used interchangeably to spell CMC.

San Francisco continued to call a few designed wide receiver runs, which won't be stopping anytime soon.

He didn't play very much in goal-line situations tonight, but that was likely because his 37-yard run got the 49ers to the goal line in the first place. The 49ers likely took him out to give him a break after the big play.

McCaffrey has played the clear majority of goal-line snaps in past weeks.

This game won't stop fantasy managers from being concerned about next season, when

Elijah Mitchell

is healthy again, but it at least helped some fantasy managers to the trophy this year.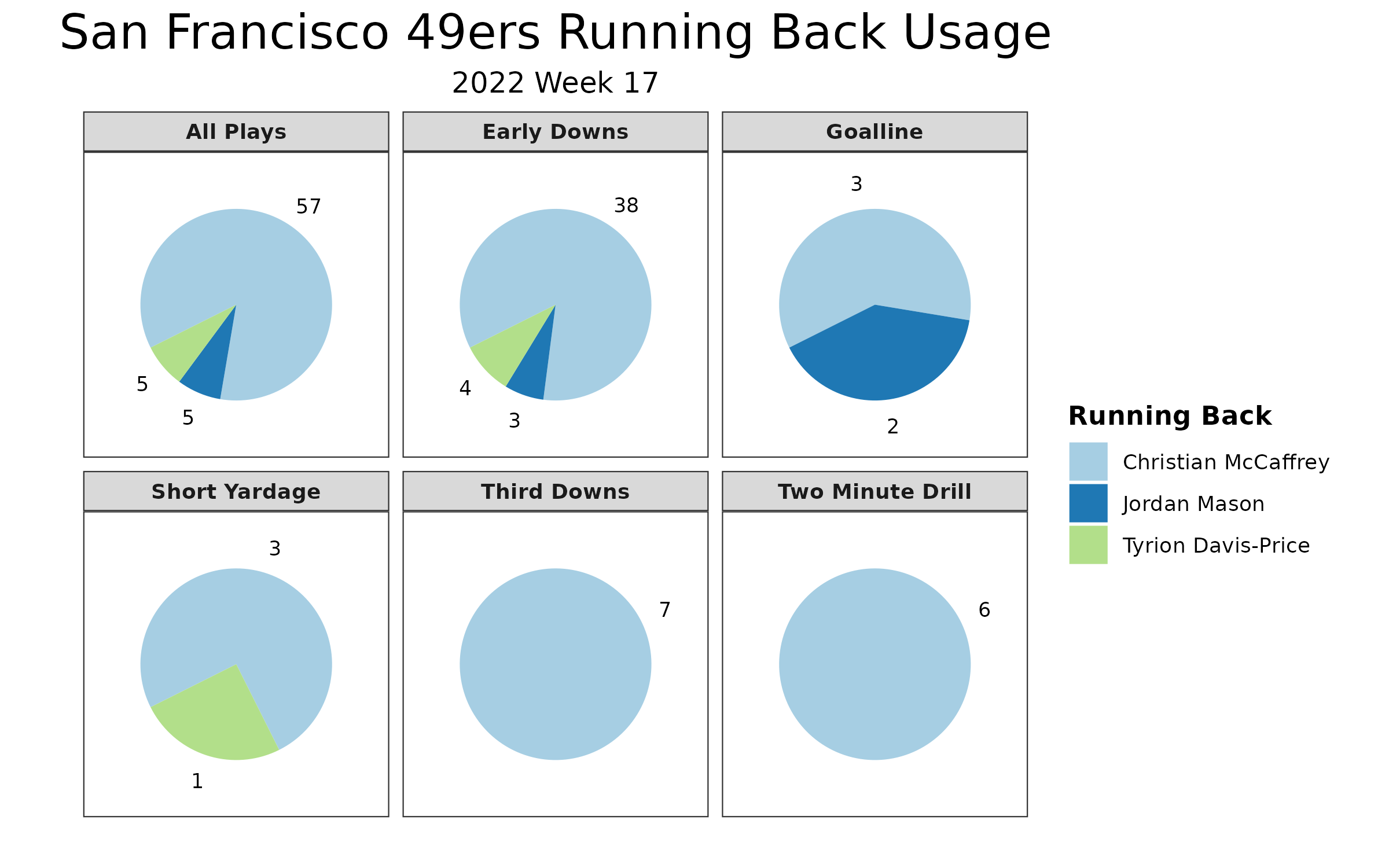 Darren Waller still hasn't regained his full-time role: Waller has played three games since returning from injured reserve but has only seen slight gains in his playing time.
Waller started the season playing 88% of snaps on third downs in 11 personnel. That has fallen to 65% over the last three weeks.

His biggest decline in snaps has come from 11 personnel on early downs. He was playing 78% of those snaps in Weeks 1-4, and that's been at 38% over the last three weeks.

His percentage of snaps in different personnel groupings hasn't changed much over the three weeks. 

The biggest reason he surpassed 50% of offensive snaps this week is the Raiders ran more plays in two-tight end sets than usual.

Fantasy managers were still happy after he caught three passes for 72 yards and a touchdown. It could have been more, too, as fellow TE

Foster Moreau

gained 55 yards on three catches.

Waller was a source of trade discussions earlier in the season. There is a chance the Raiders might be fine trading him if they keep using Moreau this much.
---
Table Notes
• Snaps include plays called back due to penalties, including offensive holding or defensive pass interference. The other three stats have these plays removed.
• Targets may differ from official NFL sources. The most likely discrepancy would be from a clear thrown-away pass, where the NFL may give the target to the nearest receiver, while this data will not.
• Carries are only on designed plays. Quarterback scrambles won't count for the total number of carries in the game.