Whether this is your first year as a PFF EDGE or PFF ELITE subscriber or you're a seasoned PFF veteran, there are so many things that come with this subscription that it can be a little overwhelming at first. There are numerous tools, tables and charts that can help you build the best fantasy lineups each and every week.
My goal here is to help point you in the right direction on how to use these particular tools to help build the best daily fantasy sports lineups that you possibly can. Much of this information can be easily used for setting your lineups in redraft and dynasty as well, but our main focus here will be on DFS lineups.
Let's take a look at a few of the key statistics to analyze when selecting each position for your DFS lineups.
Quarterback
Sorting through our Premium Stats 2.0, we can quickly find which quarterbacks excel in numerous categories. Two of my favorite statistics to target when selecting a quarterback is their adjusted completion percentage and deep passing. I want quarterbacks that can accurately move the ball and keep the chains moving yet have the option to launch one deep (20-plus yards) when the timing's right — with accuracy. Quarterbacks are among the most easily projectable positions, but we want to roster quarterbacks that are actually capable of moving the ball and completing their attempts.
We also want to target quarterbacks in plus matchups. Our Points Allowed Matchup Chart shows how many fantasy points per game opposing teams give up to each position, seasonal rank and whether or not it's considered a quality or difficulty matchup. Cheaply priced quarterbacks generally don't have both skill and matchup in their favor, but when they do, it's a time to push the chips in.
Speaking of Vegas references, I'm extremely excited to begin working with our brand-new PFF Greenline tool this season. We should be targeting quarterbacks that are either heavy home favorites or projected to be in shootouts. These two factors have historically brought out the best in quarterbacks and make for a sound play in DFS lineups.
Running Back
Our Premium Stats 2.0 page highlights several key statistics that can help identify running backs to target on a particular week. Yards after contact is a statistic that we reference quite often here, as it separates the relationship between a running back and his offensive line. It indicates a running back's ability in open space to shed tackles, avoid traffic and generate yardage on his own. The page also shows elusive rating, breakaway percentage, yards per route run (YPRR), drop rate and pass-blocking efficiency — all at your fingertips for you to use.
I also like to check out our DFS Lineup Optimizer to see if there are any glaring values for the upcoming week. This tool allows you to build lineups in a plethora of ways — by site, slate, stacking options, correlations and diversity. The top "value" plays can sometimes surprise with a name or two each week that you may have overlooked.
Wide Receiver
Our WR/CB Matchup Chart is my favorite tool to utilize every week. This chart is worth the cost of admission for a PFF subscription alone. Learning how often a player lines up at different positions along the formation and how well they perform on a per-snap basis is invaluable information when it comes to building lineups. The Shadow Matrix supplements this chart by showing when teams use a corner to "shadow" a team's receiver as well as the stat lines that are accrued in shadow coverage. Here's how the Los Angeles Chargers fared when asking their corners to shadow some of the league's top competition: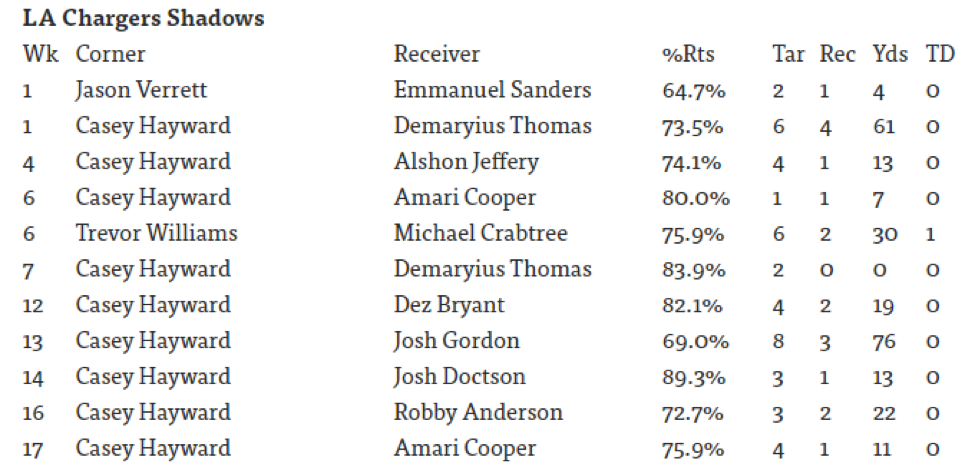 I've found the two charts mentioned above to be particularly useful when targeting slot receivers. Savvy, veteran slot receivers (Larry Fitzgerald, Doug Baldwin) can find themselves routinely peppered with targets when facing a subpar slot corner or a replacement that has been reshuffled to the slot due to injury. While boundary corners have the sideline to help them as a second defender, slot corners are in the wild, wild west. Anything can happen, and they have to be prepared to defend every single route while avoiding others in traffic.
The ability to play up to four wideouts (3WR, 1 Flex) in DFS lineups makes it important to also know what type of role a receiver has in his offense. Those that sport a high average depth of target (aDOT) are great for sprinkling in tournaments due to their high upside. Targeting receivers with a high catch rate make strong cash considerations. Those that do both well (Ted Ginn, Tyreek Hill) warrant consideration for both.
Tight End
Our TE Matchup Chart indicates which defender will be in primary coverage against each tight end and how difficult the matchup may be. This particular chart is very helpful as it shows how many routes a tight end has run, how often they stay inline to block, and it shows their YPRR. Combining this information with plus matchups and targeting tight ends high-scoring teams (via PFF Greenline), we can uncover tight ends generally more likely to score touchdowns and provide quality DFS value. More often than not, the thing that separates an okay tight end play against a great one is touchdown potential.
Defense / Special Teams
The OL/DL Matchup Chart is another useful tool to keep in your arsenal when trying to determine which D/ST's to target. Knowing which teams routinely apply the most pressure to opposing offensive lines (and vise-versa) can be a prudent exercise. Translating that to DFS purposes, I generally like to select D/ST's that are more than three-point favorites and are facing weak offensive lines that allow pressures, sacks and quarterback hits. Defenses that are more than a field goal favorite are projected to have a substantial lead and likely force the other team to pass to catch up. These two generally go hand-in-hand and make finding which D/ST to roster a breeze.
There are tons of tools and data at your disposal when you sign up for PFF EDGE or PFF ELITE. Use them to your advantage and start building winning DFS lineups today.