With the NFL scouting combine here, it's time to roll up our sleeves and dive into the first batch of dynasty fantasy football rookie rankings for 2019.Of course, a lot will change between now and the NFL Draft, but it's important to evaluate the players now in order to accurately assess their fantasy football value following the draft.
An initial look at the top fantasy prospects in this class reveals a group chock full of talent at wide receiver. There are also some potential future fantasy standouts at running back and tight end. Unlike last year's crop of rookies, there really isn't a clear standout at the top. The Saquon Barkleys of the world don't come around often, but there are some intriguing running back options in this year's class.
Below you'll find my early rookie rankings. This list will be updated multiple times over the next two months and we'll also be providing more detailed fantasy profiles for all of this year's fantasy prospects.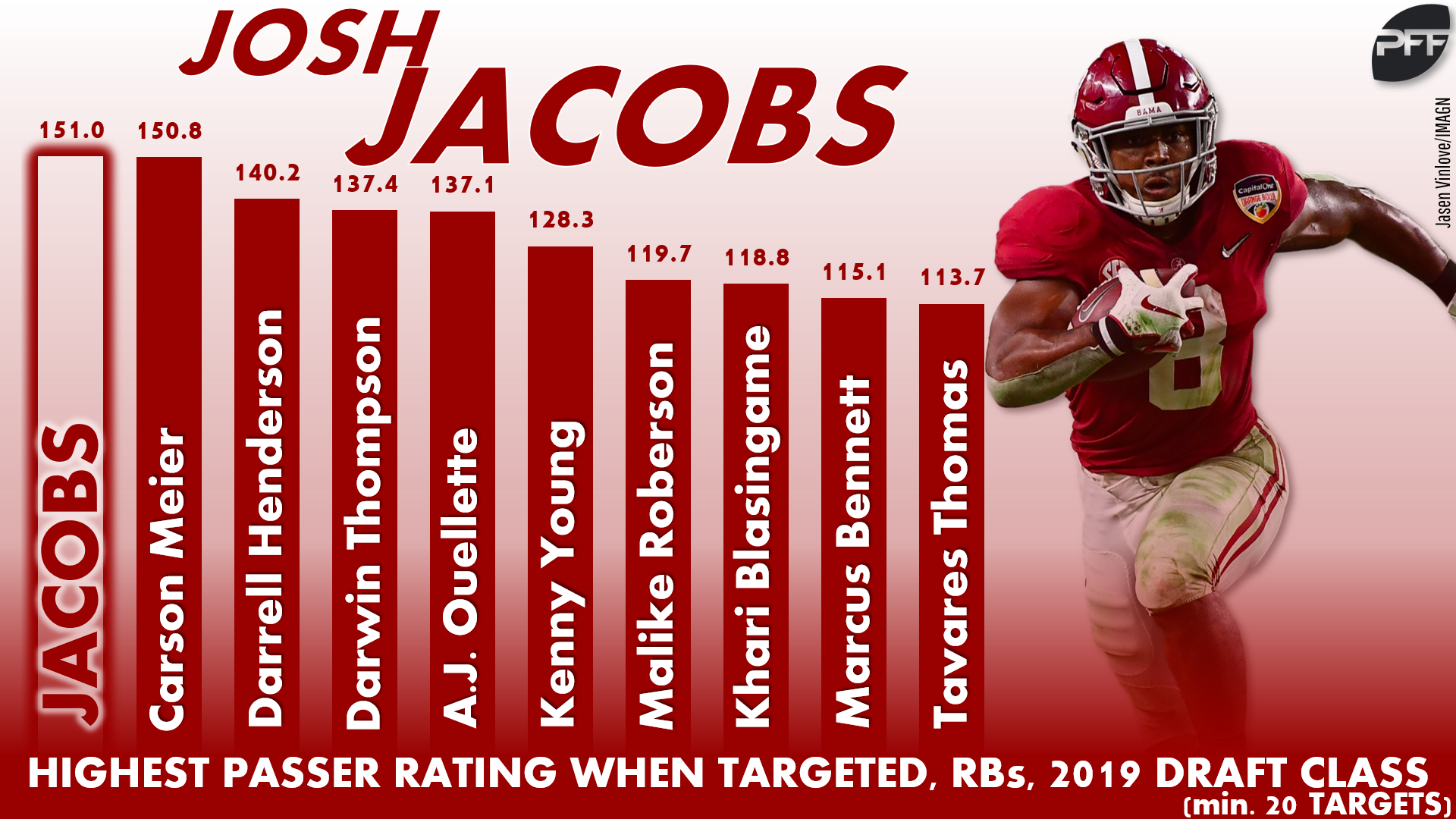 1. Josh Jacobs, RB, Alabama — Given how thin running back has become, Jacobs tops this initial list. He's strong after contact with 4.07 yards after first contact per attempt. But his versatility as a receiver out of the backfield is what will make him a strong fantasy asset.
2. D.K. Metcalf, WR, Mississippi — Had a season-ending neck injury in 2018. Comes from a football family with his father (Terrence), uncle (Eric), and grandfather (Terry) all playing in the NFL. Has size you can't teach and massive big-play upside.
3. N'Keal Harry, WR, Arizona State — Another big-play receiver with the ability to make contested catches thanks to his big catch radius. He's also strong after the catch with 15 forced missed tackles.
4. David Montgomery, RB, Iowa State — Only 4.8 yards per carry, but was extremely elusive with a nation-leading 99 forced missed tackles. And he had to do a lot on his own because Iowa State graded out as the No. 97 run-blocking unit in the FBS (130 teams).
5. Kelvin Harmon, WR, NC State — Yet another receiver in this class who showed the ability to make contested plays, going 17-of-30 in contested catch opportunities last year. His 55 first-down receptions ranked eighth in the nation.
6. Hakeem Butler, WR, Iowa State — Butler is massive and very athletic for his size. He did commit 12 drops on 105 targets, but his targets came heavily downfield with 37 traveling at least 20 yards in the air.
7. A.J. Brown, WR, Mississippi — An efficient receiver with 3.01 yards per route run. Brown lined up in the slot 58% of the time on the season but was used almost exclusively on the outside from Week 10 on, which corresponded largely to when D.K. Metcalf got hurt.
8. Darrell Henderson, RB, Memphis — Henderson is an extremely elusive back with a nation-leading 6.17 yards after contact per attempt. He's slightly undersized, but his home-run ability is ideal for fantasy upside.
9. J.J. Arcega-Whiteside, WR, Stanford — This is the year of the big-bodied wideout, and add Arcega-Whiteside to that list. He had 18 contested catches in 2018, which ranked fourth in the nation, and was one of just 14 qualifying wideouts to top 3.0 yards per route run (3.03).
10. Marquise Brown, WR, Oklahoma — Brown isn't one of the bigger-body receivers in this class, but he is one of the highest upside options. He posted a big-time YAC with an average of 8.5 yards after catch per reception. Racked up 52 receptions for a first down. The one knock for fantasy purposes is that he lacks prototype size for an outside receiver.
11. Noah Fant, TE, Iowa — Athletic as all get-up with size and speed. Fant tallied 18 touchdowns over the last two seasons. Given his overall profile, Fant has the makings of a future fantasy standout.
12. Damien Harris, RB, Alabama — Harris topped 1,000 rushing yards in sophomore and junior years despite being in a loaded Alabama backfield. His yards per carry dipped somewhat last year, but still a respectable 5.8. Was effective as a runner in the red zone, which contributed to his 20 rushing scores over the last two seasons.
13. Elijah Holyfield, RB, Georgia — Former heavyweight champ Evander's son, Holifield averaged 6.4 yards per carry and an impressive 4.1 yards after contact per attempt in 2018. Not a home-run hitter, but has the size to be a volume fantasy option.
14. T.J. Hockenson, TE, Iowa — While Noah Fant has garnered a lot of fantasy attention out of Iowa, we shouldn't overlook his teammate. Hockenson is uber-athletic with an all-around game. He graded out as the No. 2 tight end in the nation last season. Hockenson's fantasy future is bright.
15. Trayveon Williams, RB, Texas A&M — Williams is coming off a massive 2018 campaign where he put up 2,038 scrimmage yards (1,760 rushing) and 19 combined touchdowns. Slightly undersized, but his three-down ability is appealing.
16. Devin Singletary, RB, Florida Atlantic — "Motor" Singletary posted off-the-charts productivity in Conference USA with an eye-popping 66 touchdowns and 4,287 rushing yards over the last three years. He also ranked second in the nation last year in forced missed tackles as a runner with 96. Undersized, but too dynamic to ignore for fantasy purposes.
17. Deebo Samuel, WR, South Carolina — Samuel is built more like a running back, but he proved to be very productive in 2018 with 11 receiving scores. While only 19.6% of his routes came out of the slot last year, he has the makings of a PPR slot option at the pro level.
18. Miles Sanders, RB, Penn State — Saquon Barkley's understudy emerged in 2018 with nine scores and an average of 5.8 yards per carry on 220 rushing attempts. Isn't as explosive as Barkley but has NFL size and future fantasy potential.
19. Justice Hill, RB, Oklahoma State — Hill is an undersized, but explosive back who scored 30 rushing touchdowns over the last three years. His numbers dipped somewhat in 2018, but he was still efficient on a per-carry basis with 5.9 yards per carry.
20. Benny Snell, RB, Kentucky — A 1,000-yard rusher in all three seasons at Kentucky, Snell has the size (5-10, 224 pounds) to be an early-down option at the pro level. In the right landing spot, he could have sneaky fantasy value.
21. Andy Isabella, WR, Massachusetts — Blazing fast but undersized (5-9, 190 pounds), Isabella posted a massive 4.16 yards per route run. He also led the nation with 68 receptions for a first down. Despite his lack of prototype size, Isabella has the potential to become a high-volume PPR option.
22. Kyler Murray, QB, Oklahoma — Many question how his size will translate to the NFL, but Murray's dual-threat ability is custom made for fantasy production. He graded out as the top passing quarterback and No. 2 running quarterback in this year's draft class. While a lot of folks want to find reasons to not like Murray for fantasy, those are two big reasons to really like him in the long term.
23. Rodney Anderson, RB, Oklahoma — Anderson was injury-plagued at Oklahoma, but did manage 6.4 yards per attempt on his 200 college carries. Despite the limited work, he scored a combined 21 times on 217 touches.
24. Jace Sternberger, TE, Texas A&M — After two years at Kansas and a year at the junior college level, Sternberger exploded for 832 yards and 10 touchdowns on 48 catches at Texas A&M last season. His abilities as a pass catcher place Sternberger squarely on the dynasty radar.
25. Irv Smith Jr., TE, Alabama — The son of a former NFL tight end, Smith is coming off an impressive 2018 statistical campaign where he posted 44 catches for 710 yards and seven scores for the Crimson Tide. His athleticism and pedigree bode well for success at the next level.
26. Emanuel Hall, WR, Missouri — A downfield threat who saw a deep-ball on 26-of-58 targets, with a massive 44.8% of his yards coming on these targets. That was one of the highest rates in the nation. For fantasy purposes, Hall profiles as a boom-or-bust big-play option.
27. Riley Ridley, WR, Georgia — Calvin's little brother doesn't quite have the fantasy appeal of his older brother, but Riley's physicality and ability to find the end zone (nine receiving touchdowns on 43 catches last season) makes him an intriguing name to know.
28. Dwayne Haskins, QB, Ohio State — Much more of a traditional quarterback option than Kyler Murray, Haskins broke out in a big way in 2018 with 4,831 yards and a whopping 50 touchdowns through the air. However, he offers very little with his legs, averaging just 1.9 yards per carry at the college level. That limited mobility puts a cap on his fantasy ceiling.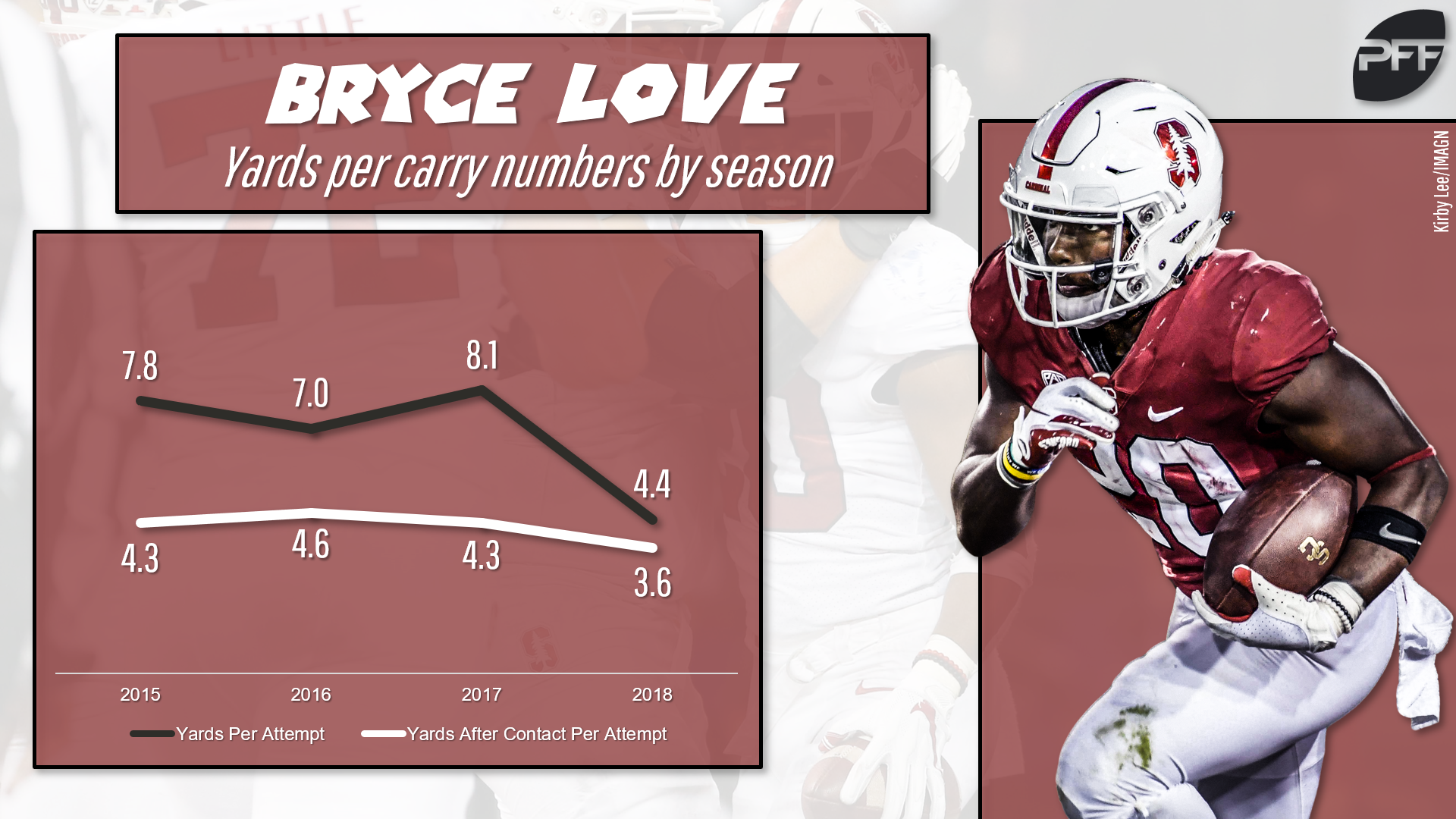 29. Bryce Love, RB, Stanford — A year ago, Love would have been one of the top fantasy prospects on the board. But a massive dip in efficiency from 8.1 yards per carry in 2017 to 4.5 in 2018 has caused his fantasy stock to dip.
30. Parris Campbell, WR, Ohio State — Campbell really emerged in his senior year as Dwayne Haskins' top target with a team-high 111 targets, catching an impressive 82% of them. That efficiency makes him a dynasty name to keep an eye on.
31. Lil' Jordan Humphrey, WR, Texas — A massive receiver who checks in at 6-4, 220. Humphrey broke out last season with 86 catches for 1,176 yards and nine touchdowns. While he enters the NFL level with a somewhat thin college resume, Humphrey's prototype size is appealing.
32. Myles Gaskin, RB, Washington — A productive back who topped 1,000 rushing yards in all four seasons at Washington with 57 rushing touchdowns. He's a bit undersized at (5-9, 205), but he has the potential to add fantasy value with his ability to catch the ball out of the backfield (65 catches in college).
33. James Williams, RB, Washington State — Williams lacks prototype NFL size (5-9, 197), but he's a strong pass-catcher with a massive 202 receptions over the last three seasons. This skillset should help him surface on the PPR radar at some point in the future.
34. Antoine Wesley, WR, Texas Tech — Tall and lean (6-5, 185), Wesley had almost no production entering last season. But that changed quickly, as he racked up 88 catches for 1,410 yards and nine scores. He caught 17-of-33 contested targets, which bodes well for red zone success.
35. Drew Lock, QB, Missouri — A prolific producer who finished his college career with over 12,000 passing yards and 99 passing touchdowns. Despite the production, Lock's biggest knock is accuracy, as he completed just 56.9% of his throws at Missouri. Still, his overall profile and productivity makes him a likely candidate to surface on the fantasy radar at the pro level.
36. Caleb Wilson, TE, UCLA — A former quarterback whose father is a former NFL draft pick and current NFL coach, Wilson notched 965 receiving yards on 60 catches at UCLA last season. He also graded out as the No. 12 tight end in the nation.
37. Darwin Thompson, RB, Utah State — Undersized, but explosive runner who racked up 14 touchdowns on 153 rushing attempts at a clip of 6.8 per last season. Averaged a massive 5.1 yards after contact per attempt with 48 forced missed tackles.
38. Damarkus Lodge, WR, Mississippi — Lodge has NFL size (6-2, 194), but his overall lack of productivity in four years at Ole Miss puts a damper on his future fantasy outlook. That being said, he did manage to post 65 catches for 877 yards and four touchdowns last season.
39. Karan Higdon, RB, Michigan — Higdon has shown the ability to find the end zone with a combined 21 rushing scores over the last two seasons. His lack of involvement in the passing game (just 16 catches in four years at Michigan) hurts his overall fantasy outlook.
40. Travis Homer, RB, Miami (Florida) — Another undersized back (5-11, 195), but Homer is capable of generating yards after contact with an average of 4.1 in 2018.
41. Dillon Mitchell, WR, Oregon — Mitchell is coming off a breakout season at Oregon where he racked up 1,184 yards and 10 scores on 75 catches. Like some of his cohort, Williams' one-year-wonder status isn't optimal for his dynasty outlook.
42. Anthony Ratliff-Williams, WR, North Carolina — An athletic receiver who is capable in the return game. While Ratliff-Williams did show a flare for the spectacular, he only caught 8-of-28 contested targets in 2018.His fantasy ceiling is intriguing, but Ratliff-Williams enters the pro level much closer to his floor.
43. Will Grier, QB, West Virginia — Grier managed to put up big numbers as a passer in his two seasons at West Virginia, and also tied for the most big-time throws in the nation with 33 last year. That moxie helps his overall fantasy level, as fantasy football tends to favor the bold. But landing spot and opportunity are going to have a big impact on how we view Grier for fantasy purposes after the draft.
44. Kaden Smith, TE, Stanford — Another in a long line of Stanford tight ends making the leap to the NFL, Smith posted 47 catches for 635 yards in 2018.While the numbers are somewhat intriguing, Smith profiles as more of a possession fantasy option and lacks overall dynamic upside.
45. KeeSean Johnson, WR, Fresno State — Johnson put up big numbers in 2018 with 95 catches for 1,340 yards, but this was due in part to the overall lack of receiving options at Fresno State. While he possesses NFL size, Johnson's fantasy stock will be impacted by his testing numbers in the 40-yard dash.
46. Mike Weber, RB, Ohio State — A heavily recruited back out of high school, Weber topped 1,000 yards in his redshirt freshman season, but failed to reach that mark in each of the last two years. While his career yards per carry of 5.9 is solid, Weber's inefficient 3.2 yards after contact per attempt don't bode well for future fantasy success.
47. Preston Williams, WR, Colorado State — A one-year wonder, Williams put up massive numbers at CSU last year with 96 catches for 1,345 yards and 14 scores. Started his college career at Tennessee but transferred after the 2016 season. He has NFL size (6-4, 210), but his limited college resume makes him far from a lock for future fantasy success.
48. David Sills V, WR, West Virginia — A former quarterback, Sills is a tall and lean wideout who scored 15 touchdowns in 2018. Despite his size, he only managed 11 catches on 32 contested targets. He'll need to improve in that area in order to become a long-term fantasy option.
49. Daniel Jones, QB, Duke — A quick look at the Jones' stats really fails to impress, but don't read too much into the numbers. Jones wasn't exactly surrounded by a fleet of receivers at Duke. In fact, his receivers committed 38 drops in 2018, which was tied for the third-most in the nation. Jones enters the pro level with athleticism and dual-threat ability. He'll be an appealing dart throw in dynasty rookie drafts.
50. Greg Dortch, WR, Wake Forest — An undersized receiver who checks in at a just 5-9, 165, but Dortch was extremely productive last season with 89 catches on 126 targets. Dortch profiles as a deep PPR option.