(Playing AAF DFS this week? Win a one-year subscription to PFF Elite by playing this DFS contest on Fanball!)
Are you an absolute fantasy football fanatic, a DFS junkie, or just someone intrigued by the new Alliance of American Football League? Well, if so, I've got good news for you. FanBall has a DFS platform for the AAF and we've got content for it.
See below for how I'll be attacking the Week 7 AAF slate over on FanBall.
Make sure you're also checking out our rankings and projections and Jeff Ratcliffe's WR/CB matchup chart for Week 7 of the AAF inaugural season.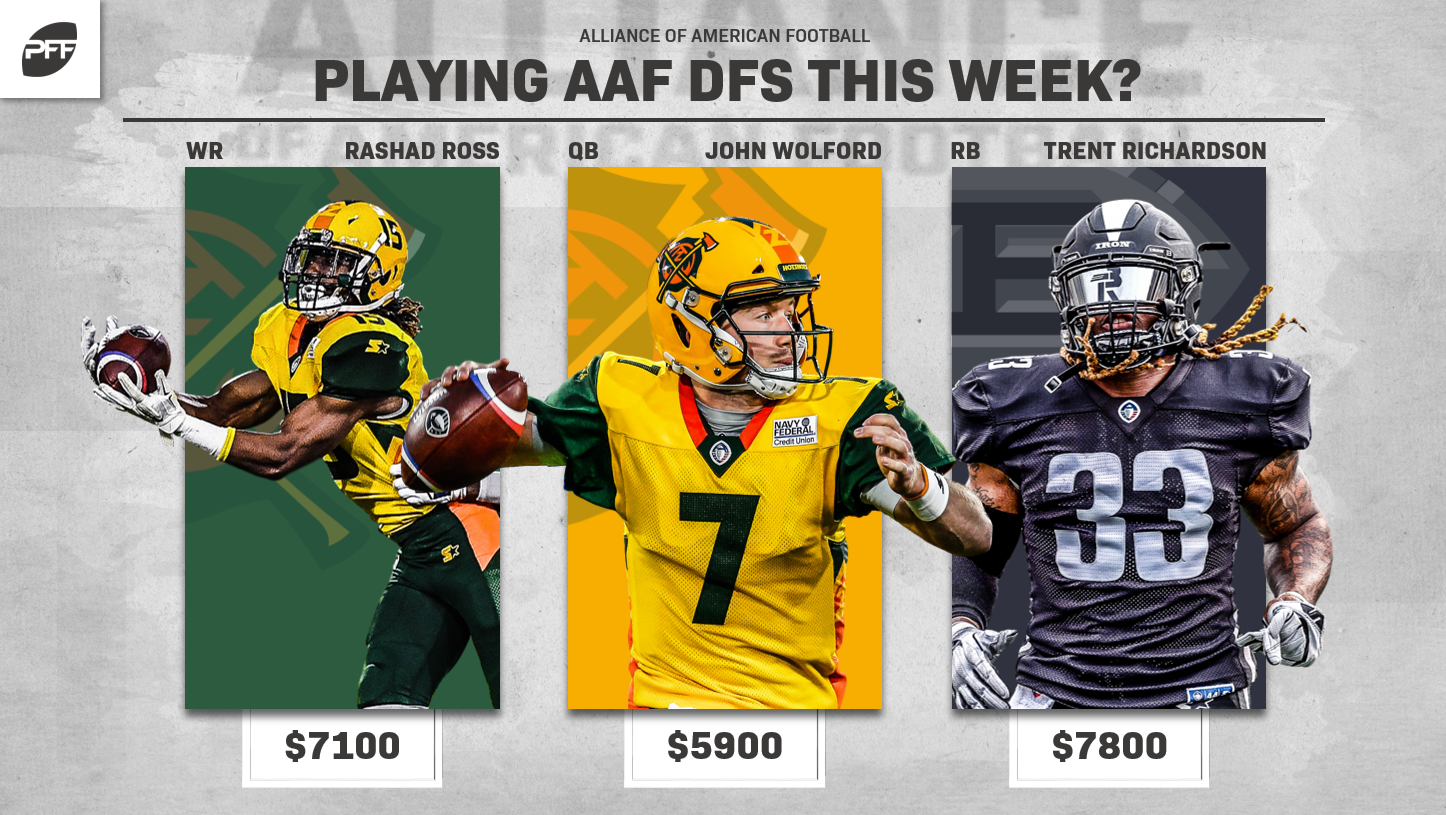 Quarterbacks
As has been the case for a number of weeks now, Garrett Gilbert ($6,800) is still the recommended play when you can afford paying up. He leads all active quarterbacks in PFF grade (80.0), passer rating (100.8), and fantasy points per game (23.4). He's also easily the most dependable option, having reached at least 22.0 fantasy points in five of six games this year. He's on the road this week, and in a tougher-than-average matchup, but is still my top value at the position.
John Wolford ($5,900) has been underwhelming in recent weeks but is not far off from Gilbert across the full season, averaging 20.8 fantasy points per game. He's my second-favorite play at the position this week, at home against San Diego, who are giving up the second-most fantasy points per game to opposing quarterbacks (20.1).
Josh Woodrum ($5,600) feels sneaky, totaling 623 yards, three touchdowns, and 49 fantasy points over the past two games. Of course, he's also thrown four interceptions over this span, but, in spite of that, has also been our highest-graded passer over this stretch. He has a soft matchup against San Antonio who are giving up the third-most fantasy points per game to opposing quarterbacks (18.2).
Memphis placed Zach Mettenberger on injured reserve earlier this week, which means they'll either be starting Johnny Manziel ($5,300) or Christian Hackenberg ($5,000) this week. Manziel is likely unfamiliar with the offense, just joining the team a few days ago, but if he's starting, I'll definitely have some ownership, despite a worst-possible matchup. He's a fun play but maybe still not a good on-paper one.
Running backs
Trent Richardson ($7,800) played on a whopping 74 of 90 snaps last week, totaling 90 yards and two touchdowns on 16 carries and seven receptions. Richardson could be $1,000 more expensive and still be a must-play if Brandon Ross is out again. If not, he's "only" a borderline must-play.
Zac Stacy ($6,600) feels like the clear RB2 after Richardson, easily ranking second in fantasy points, weighted opportunity, and weighted opportunity percentage since Week 2. Both he and Richardson have top-three matchups this week.
Both of D'Ernest Johnson ($5,300) and De'Veon Smith ($4,800) are in play this week. Last week, in a game Orlando trailed throughout, Johnson saw nine of 20 carries and all four of the team's targets out of the backfield. Smith also saw nine of 20 carries, but with zero targets. Johnson was the (slightly) more efficient runner in Week 6, though Smith totaled 119 yards on 14 carries in Week 5. Johnson is still the better play overall, though Orlando will be heavy favorites this week and that projected (heavy) positive gamescript works more toward Smith's favor. Their opponent this week, Atlanta, is giving up 28.9 fantasy points per game to opposing running backs (most) with the far majority of that coming on the ground.
Ja'Quan Gardner ($4,700) is finally cheap enough to where he's back in play as a bet on efficiency, though the efficiency hasn't been there in recent weeks, and neither has the red zone usage. I won't be playing him, but he's one of our top values based on projections.
Receivers
Higher-priced options
Rashad Ross ($7,100) saw 10 targets last week but also posted his first game with fewer than 16.5 fantasy points scored (10.1). At $600 less than Charles Johnson ($7,700), he's still the best wide receiver play on the slate. Johnson averages just 1.2 fantasy points per game less than Ross (18.2 to 19.4) but 4.8 more than the next closest receiver. Ross and Johnson are both well-worth paying up for where you can afford it.
Quinton Patton ($5,600) averages 11.0 targets per game over the past three weeks, behind only Johnson (11.7), and just ahead of Ross (10.3) and L'Damian Washington (7.7). For the full season, he ranks top-three in targets and air yards. Despite poor efficiency, he's still a strong value. Washington ($5,700) is coming off a monster 30-point day but averaged just 6.1 fantasy points per game across the prior four weeks of the season. He feels like points-chasing but I'm not so sure, given recent target totals of 10, six, seven, and six.
Jalin Marshall ($6,100) feels similar to Washington after dropping 21.8 fantasy points last week, but with more production and volume over the long-term. Though, I think I prefer to pay the extra $300 for Mekale McKay ($6,400), who ranks top-four in fantasy points, targets, yards, touchdowns, and air yards this season.
Nick Truesdell ($5,100) has totaled 38.7 fantasy points (most) over the past two weeks, drawing 12 targets and totaling 147 yards over this span. As a tight end, he won't be running the same number of routes as a wide receiver, which limits his upside, but this is encouraging, and he is fairly cheap.
Value plays
Unlike most weeks there are a surprisingly high number of terrific value plays at the receiver position this week.
We've been anxiously awaiting Richard Mullaney's minimum-priced return, and he delivered big-time in his return last week, catching seven of eight targets for 80 yards. He's still egregiously priced this week, at only $4,400.
Justin Thomas is only $3,700 coming off a nine-target Week 6, where he also ranked seventh-best in air yards (146). After playing as Atlanta's WR4 or worse (by snaps) prior to last week, he ranked second in snaps in Week 6. The production wasn't really there last week (four catches for 23 yards), but he's still a top value.
Adonis Jennings is a glaring value at $4,200, after drawing eight targets and ranking fourth in air yards (172) in Week 6. His usage has really picked up over the last two weeks, totaling 13 targets and 98 yards receiving over this span.
Daniel Williams saw his first targets of the season last week, with a whopping 11, catching seven for 70 yards. He's a strong value at $4,900.
Rannell Hall ($4,800) is still not quite a full-time player, but he's seen eight, five, five, six, and five targets over the last five weeks. He's only been somewhat productive, however, with yardage totals of 24, 23, 57, 68, and 21 over this span.