We're in the thick of the NFL offseason and it's officially time to start fantasy football prep. I'll be answering the biggest questions heading into the 2021 season. Click here to read the series of questions answered so far.
The first two years of the Josh Allen experience were fun to watch — not necessarily because of on-field excellence. The Buffalo Bills went 15-12 with Allen starting and failed to finish inside the league's top-20 scoring offenses. Rather, Allen routinely threw caution to the wind in an effort to create whatever big play his mind happened to think was possible in the moment.
For better and for (often) worse, defenses were forced to account for every square inch of the field during Allen's rather reckless first two seasons in the league.
Full DGAF-YOLO version of Josh Allen was fun to watch, manpic.twitter.com/QD1J8Vt44O

— Ian Hartitz (@Ihartitz) June 29, 2021
Of course, Allen's penchant for throwing deep as well as taking off on his own near the goal line made him a great fantasy football quarterback even before he became an excellent real life signal-caller in 2020. Now nobody can doubt his ability to lead an offense after racking up 45 total scores for the league's second-ranked scoring offense.
What follows is a breakdown on just how good Allen has been during his short career as well as what we should expect from him as a fantasy asset in 2021.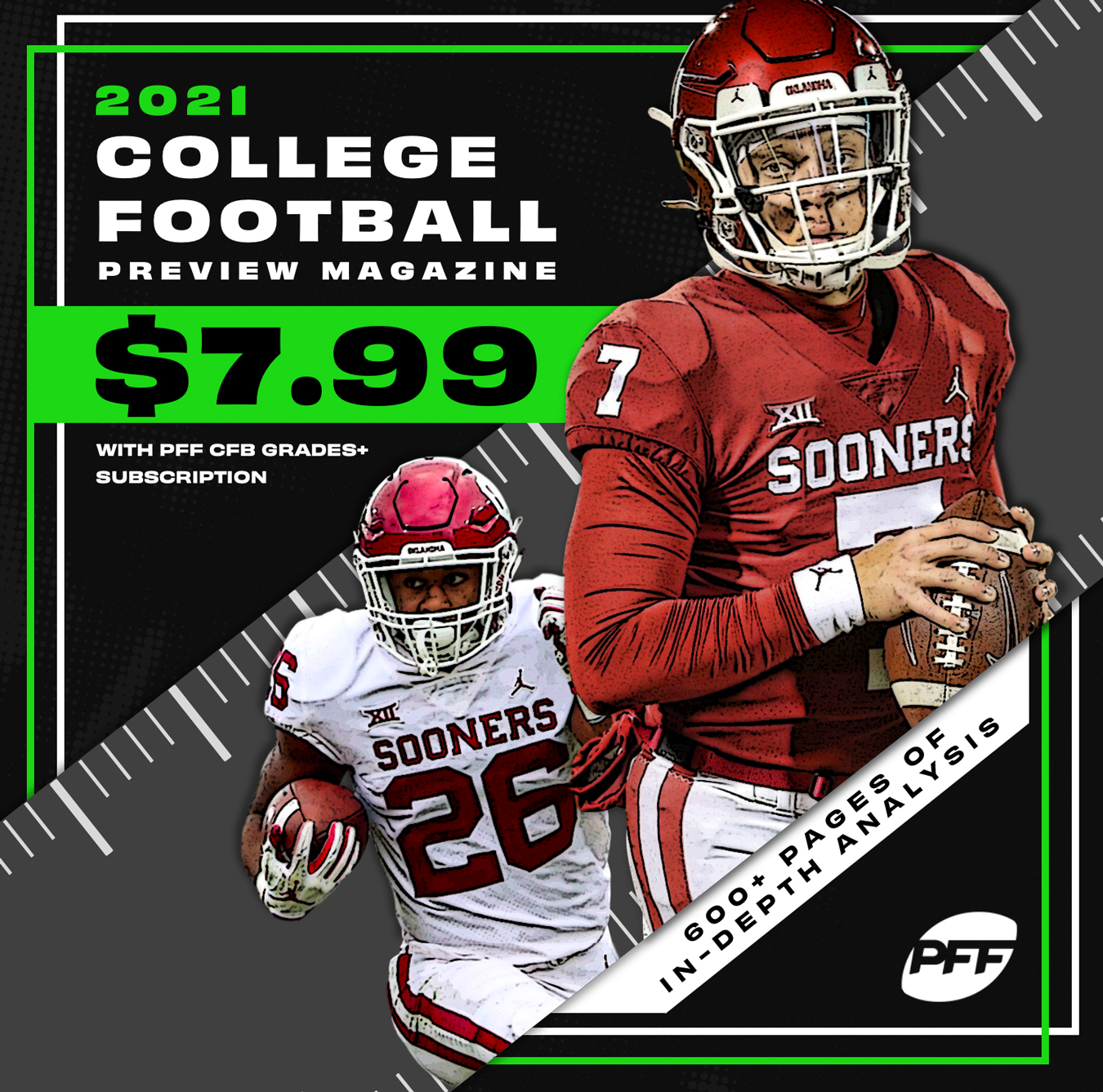 Allen's improvement since 2018 has been nothing short of remarkable
I've been lucky enough to be PFF's resident Allen super fan ever since I became employed by this lovely company, but this was always rooted more so in his 1) fantasy excellence, and 2) entertaining style of play.
Even Allen's staunchest supporters couldn't have predicted the level to which he rose in 2020. We were truly looking at a different quarterback compared to what we saw in pre-pandemic times:
2018: 58.6 PFF passing grade, 5% big-time throw rate, 5.1% turnover-worthy play rate, 6.5 yards per attempt, 64.7% adjusted completion rate

2019: 66.0 grade, 2.8% BTT%, 3.9% TWP%, 6.7 YPA, 71.7% adjusted completion rate

2020: 90.4 grade, 5.8% BTT%, 3.5% TWP%, 7.9 YPA, 79.1% adjusted completion rate
Allen's excellence in the box score didn't go anywhere: He finished the season as fantasy's overall QB1. Volume in both the run and pass game certainly helped, although his status as the fourth-best quarterback in fantasy points per dropback demonstrates the reality that the third-year signal-caller was racking up high-end production alongside similarly elite efficiency.
I mean, seriously, how in the actual f*ck did Allen complete some of these throws.
Borderline erotic Josh Allen highlights pic.twitter.com/ygWVsjWrCW

— Ian Hartitz (@Ihartitz) June 29, 2021
Allen is still a bit careless with the ball; only Carson Wentz amassed more turnover-worthy plays last season. Otherwise it's tough to find a real weakness: Allen is PFF's second-highest-graded quarterback when throwing past his first read since 2019; he ranked third in touchdown passes under pressure in 2020; and he trailed only Aaron Rodgers and Deshaun Watson in PFF passing grade when kept clean last season.
Of course, Allen, like any professional quarterback, got by with a little help from his friends.