It feels like a yearly tradition for analysts on Twitter to retweet training camp news on players who had a rough previous year with some depressing comment like: "I'm not falling for THAT again."
While it's true drafting players after seasons with poor performance or injuries can feel bad, that's just some offshoot of the gambler's fallacy — there is a lot of wiggle room when using past performance as an indicator.
Editor's Note: PFF's 2021 Fantasy Football Draft Guide and 2021 Fantasy Football Cheat Sheets are LIVE!
If you dial in on the correct stats and storylines, it is still possible to find diamonds in the rough. So, here is one player at each position capable of rebounding for your 2021 fantasy football teams.

There isn't much worse of a transition from college to the NFL than what Tagovailoa went through in the 2020 offseason. The former Alabama quarterback endured an intense set of surgeries and physical therapy after suffering a gruesome hip injury while playing for the Tide during the 2019 season. Based on the timeline explained by Phinsider's James McKinney, everything after the injury went about as perfectly as it possibly could — a massive sigh of relief, considering this type of physical trauma was the same thing that sidelined Bo Jackson indefinitely.
This injury ultimately cost Tagovailoa a few draft spots and millions of dollars, as he was in the running for first overall at the time of his injury. It's important to remember this: There was nothing normal about his first year in the NFL.
Despite all this, Tagovailoa still took the starting job from Ryan Fitzpatrick in Week 8 and never let go. Even though his box scores ranged from wildly unimpressive to slightly above average, there were still some positive signs. The southpaw posted a near-league average clean pocket passing grade of 74.5 for the year — which is known to be a stable and predictive stat. Tagovailoa also recorded an adjusted completion percentage of 66% or better each of his last five games — three of which were north of 71%.
Miami made it a point to supply him with new receiving weapons for the 2021 season. The Dolphins brought in free agent Will Fuller V on a one-year, $10.6-million contract and traded up to draft Tua's former Alabama teammate Jaylen Waddle with their sixth overall pick.
Oddly enough, it also seems a deep ball connection with veteran receiver Albert Wilson has formed in training camp.
Things we love to see: This@Tua x @IThinkISee12 pic.twitter.com/1rwUjQr9g8

— Miami Dolphins (@MiamiDolphins) July 31, 2021
Tua may have had a just one top-12 weekly finish in 2020, but 2021 is a whole new story for the young quarterback. He is extremely cheap as the QB23, as well, making him an ideal QB2 in superflex leagues or a punt-QB target for 1QB leagues.
Technically, this could be a double bounce-back season for Barkley. He tore his ACL in Week 2 of last season and massively underproduced compared to his early first-round draft cost in 2020. Even his start to 2020 was looking rough — he had just one more rush with positive yards than he did with negative yards.
On the other hand, we did see flashes of that receiving prowess we've come to know and love. In Week 1, Barkley caught six of nine targets for 60 yards, four of which were on routes past the line of scrimmage. Looking back at 2019, he finished stronger on the receiving front by cruising to 30 or more receiving yards in six of his last nine games.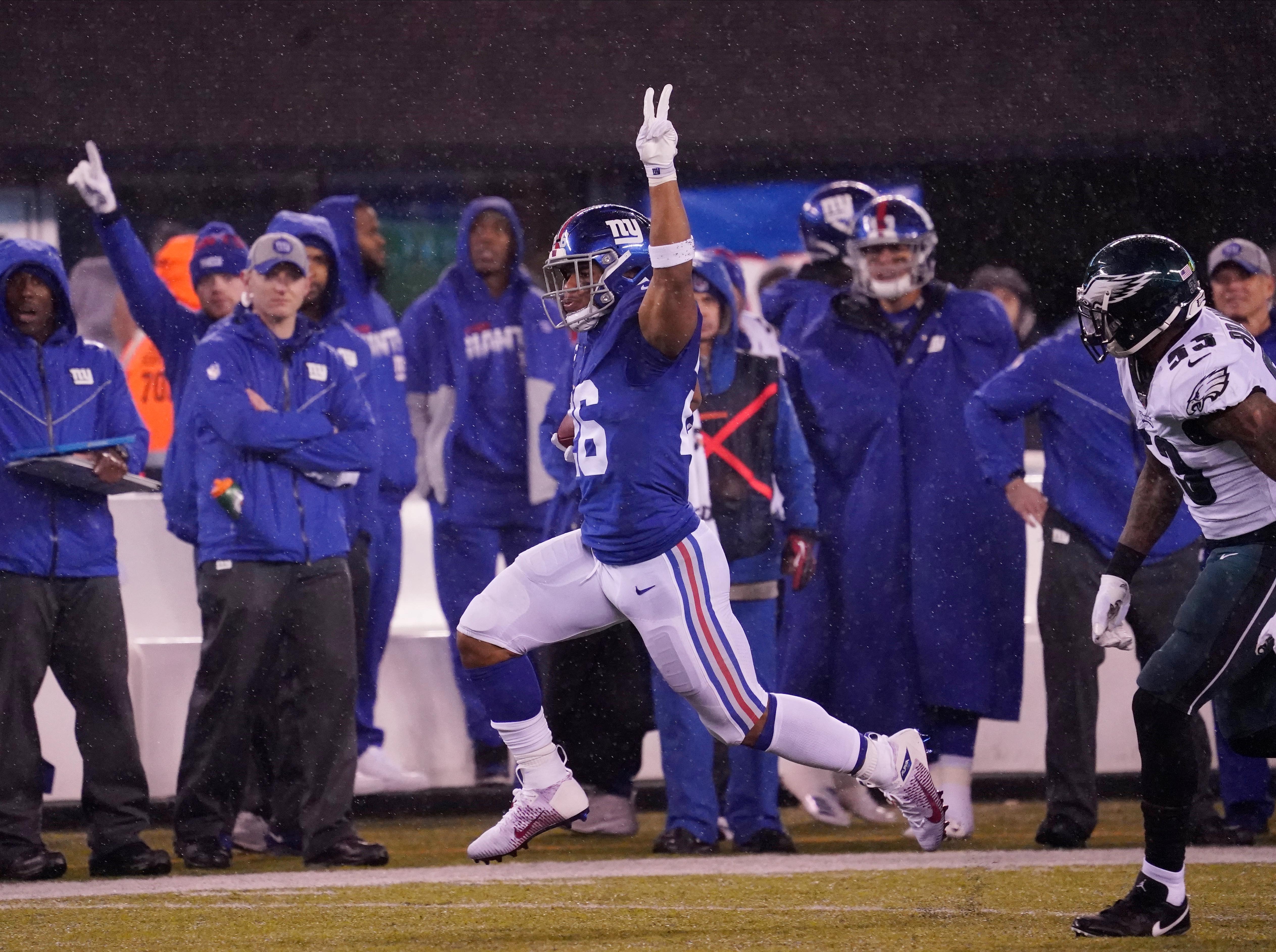 Possibly the biggest question mark right now is the offensive line. Barkley's -0.4 yards before contact per attempt was the second-worst mark among running backs with 10 or more rushing attempts. The Giants' offensive line ended the season as the worst pass-blocking unit and the seventh-worst run-blocking unit. Steve Palazzolo's offensive line ranking has them as the worst unit heading into 2021 — not exactly a ringing endorsement. With that being said, they will have Andrew Thomas and Matt Peart looking to progress in their second seasons, in addition to Nate Solder returning from an opt-out last year.
Barkley is a home-run hitter and a receiver with game-breaking potential if this offense figures things out. Between 2018 and 2019, he leads the league in rushes for 20-plus yards. That weapon is surely still in his arsenal.
This may not technically be considered a bounce-back because Hardman never really provided consistent fantasy scoring to this point. However, many had him pegged for a breakout season last year, but that fell flat in a hurry. The Chiefs' wide receiver corps, outside of Tyreek Hill, felt like a slapped-together amalgamation of sub-par play. Hardman didn't elevate his game enough to earn a notable target share. That being said, there are still some glimmers of hope left.
First, over the past two seasons, Hardman actually grades out pretty well in what PFF considers stable metrics year over year.
Even if Hardman never establishes himself as a high-floor receiver, he still has that burner 4.33-second 40-yard dash speed. He uses his speed very effectively — Hardman ranks eighth in yards after the catch per reception on deep passing attempts (20-plus yards) across the past two seasons. 
Most REC TDs of 30+ yards since 2019:

????Tyreek Hill – 10
????A.J. Brown – 8
????Mecole Hardman – 7 pic.twitter.com/T59BEIJ71y

— PFF (@PFF) April 4, 2021
Despite the awesome stat above, Hardman's touchdown-scoring ability is not reliant on only deep passes.
| | |
| --- | --- |
| Targeted Depth | Touchdowns |
| Behind LOS | 4 |
| Short (0-9) | 2 |
| Medium (10-19) | 1 |
| Deep (20+) | 3 |
Hardman is extremely fun to watch when he gets the ball, especially on kick and punt returns. While I expect his special teams role to fade this year with an increased receiving role, he still has a shot to add a return touchdown to any performance.
With the departure of Sammy Watkins, Hardman has one last opportunity to break out. The Chiefs used significant capital to rebuild their patchy offensive line from last season, which should give Mahomes extra time to find Hardman this season.
It feels weird to have two Giants on this list, but the team features plenty of bounce-back candidates considering its weak 2020 showing and notable fantasy weapons on offense. Engram ended last season as the TE23 in points per game but surprisingly has the ninth-highest xFPPG, per PFF's Expected Fantasy Points tool. Prior to the 2020 season, Engram touted 86th-percentile yards per route run (YPRR) mark and a 78th-percentile yards after the catch per reception figure. Last year, those numbers slid down to the 58th percentile and 48th percentile, respectively. That may not be terrible, but Engram still has the chance to bounce back into elite territory.
This decline could in part be due to the litany of injuries sustained during his NFL career thus far. Engram missed 13 games between 2018 and 2019. They haven't been extremely serious, though, with the most notable being a foot injury that started in 2018 and seemed to affect him through the 2019 season. Still, it was good to see Engram managed his first full 16-game season last season.
Another significant cog in the Giants' passing attack is obviously Daniel Jones. The third-year quarterback had a horrific season without his star running back and a porous offensive line. He did excel at one thing: deep passing.
Highest passer rating on throws 20+ yards downfield in 2020

???? Daniel Jones – 132.5 pic.twitter.com/NEGYjO21GJ

— PFF (@PFF) March 20, 2021
Jones just needs a little more time to make these passes. As said in the Barkley section, I think there is some hope for the offensive line yet. The bigger story is that Jones now has wide receiver Kenny Golladay in the fold. This should help stretch defenses and provide easier coverage for Engram underneath. Not to mention, it will provide Engram with some deep targets himself.
Engram ended 2020 with four top-10 weeks in his last nine starts. The upside is still there, and a refocused Giants passing attack will help him re-establish himself in the top five tight end conversation.