By definition, a fantasy football sleeper does not always mean a player going super late in drafts. "Deep sleepers" are fun to seek out, for sure, but they're such long shots that we can't rely on too many of them to win our leagues. We need to focus on players up and down the draft board who are going unnoticed, which makes them undervalued.
Subscribe to PFF's EDGE or ELITE subscriptions to get access to the following tools, charts, etc. 
– All Premium Article Content
– Fantasy Football Rankings & Projections
– Fantasy Football Draft Guide, Cheat Sheets & Advanced Stats
– Fantasy Football Mock Draft Tool (DraftMaster)
– Fantasy Football Strength of Schedule Matrix
– NFL Player Grades
– NFL Premium Stats
Second-year players are a good place to start. When it comes to second-year players in this list, you'll find most of them bombed their rookie season and now everybody is ready to move on. But, I say, not so fast — after all, Jacksonville Jaguars wide receiver D.J. Chark broke out all over the place after a forgettable rookie season. 
Several second-year players are worth keeping an eye on, if not outright investing in, for 2020 fantasy football. Hopefully, we see some more Chark-esque players emerge and nobody becomes Dante Pettis. 
Quarterback
Avoiding take-lock is vital as a fantasy football analyst. When new information is presented or discovered about a specific player or situation, stances on players have to change. That's the case here with Drew Lock, who I was high on after the 2019 season — then I jumped off the bandwagon because of his small sample size — and now I am back full circle touting as a late-round quarterback darling. So, what changed?
For PFF's fantasy football draft guide, we included a team preview of each NFL offense, and upon writing up the section for the Denver Broncos, it made me much more optimistic about Lock's potential in the offense in 2020.
The change in offensive coordinator from Rich Scangarello to Pat Shurmur is a big difference. The former New York Giants head coach is going to help generate more big passing plays for Denver — Shurmur's 2019 Giants under rookie quarterback Daniel Jones ranked top-10 in deep ball passing attempts (20-plus yards).
Last season, the Broncos ranked 28th in the league in explosive passing play percentage and 30th in deep pass attempts (46). We know that Lock can create big plays for his receivers from both his days in college and the NFL.
In his final season at Missouri, Lock ranked top-10 in adjusted deep ball completion percentage and deep ball touchdowns. During his peak performance as an NFL starter against the Houston Texans in Week 14, Lock helped generate eight passing plays over 15 yards and had a season-high 11.4 yards per attempt.
With his supporting case severely upgraded with Melvin Gordon III, Jerry Jeudy and K.J. Hamler, it's hard not to see the upside with Lock. More receivers with speed should also open more opportunities underneath for returning players Courtland Sutton and Noah Fant.
Lock is not going to be the second-year version of Patrick Mahomes or Lamar Jackson in 2020, but he might be the best option. Both those quarterbacks played on teams that made the playoffs as rookies, and the Broncos went 7-9 during Lock's rookie season (4-1 with him starting). That suggests he might be the best bet.
He also might have some sneaky rushing upside — he had six rushing touchdowns his final season in college and 11 scrambles in five games last season. Over a 16-game pace, that translates to 35 scrambles, which would have ranked seventh-most among quarterbacks in 2019.
Wide Receivers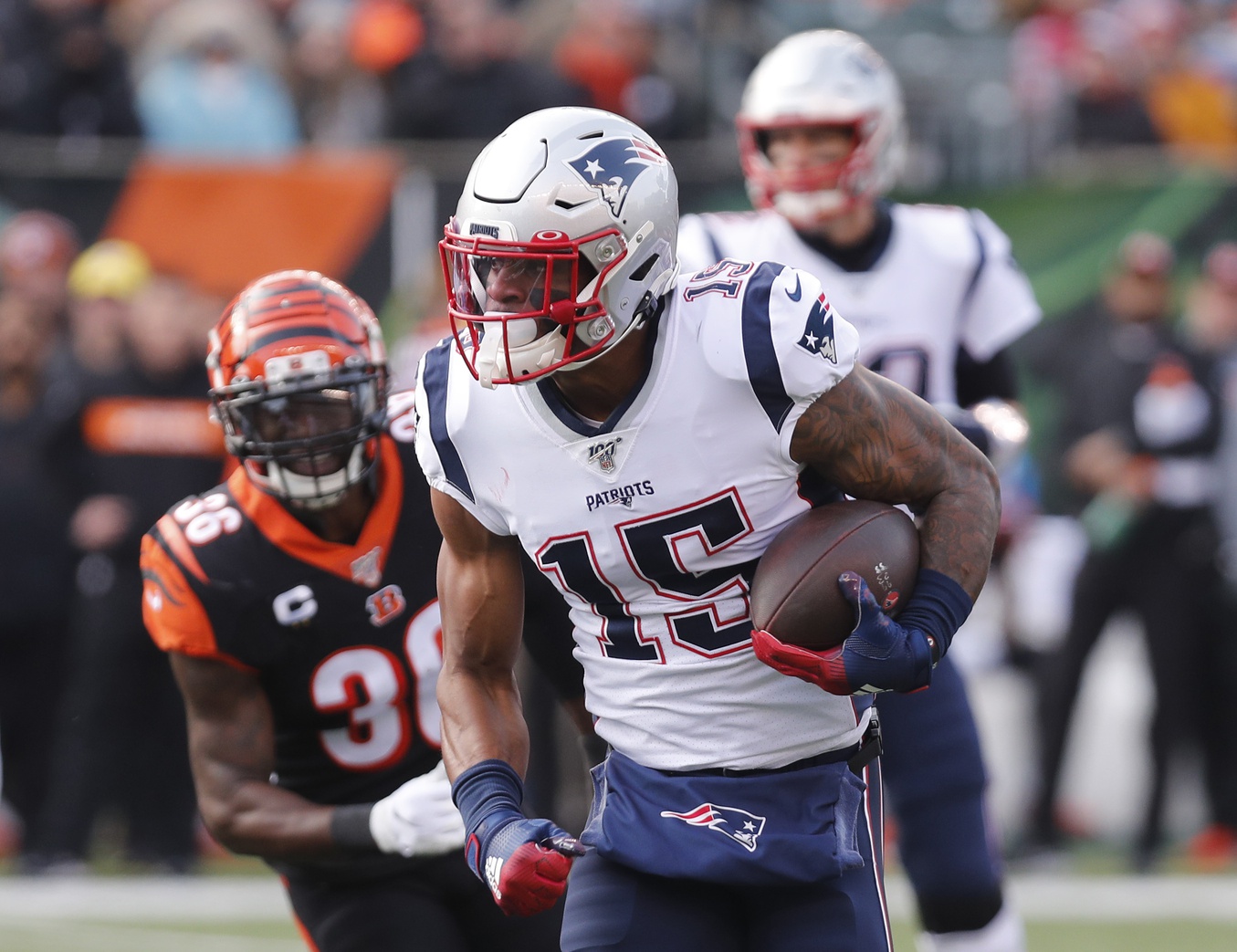 Nothing went right for N'Keal Harry his rookie season — he was hurt early on in training camp, failed to create separation and never seemed to be on the same page with quarterback Tom Brady. Lucky for him, he no longer has to take orders from No. 12, with Cam Newton taking over as the primary signal-caller for the Patriots.
With Newton at the helm, the Patriots are going to throw less, but that might not hurt Harry considering he was not going to be a fantasy asset based on volume. His real upside will be with touchdowns, winning contested balls and making plays after the catch.
New England recognizes his strengths, as he was heavily featured when the Patriots neared the opponent's goal line. He saw six targets in the red zone, earning PFF's seventh-highest grade (84.1) in that area of the field. He had five rushing attempts, which showed the coaches' willingness to get him the ball in space.
Newton might also be more willing to toss more jump balls for Harry — he has had success connecting with receivers who did not win with separation in the past (Devin Funchess and Kelvin Benjamin). Over the past three seasons, Newton's percentage of tight throws (22%) just edges out Brady (19%)
Harry was a first-round pick for a reason. Given his ADP, it's just way too early to forget how excited we were about his potential entering the league.
When the Philadelphia Eagles' second-round receiver from 2019 failed to live up to expectations when the team was stricken for wide receiver depth the most. It feels like a double whammy against J. J. Arcega-Whiteside.
The team addressed the issue by upgrading the position in the offseason, throwing a ton of draft capital at wide receivers with speed and the ability to separate. But they did not add anyone to fill the big-bodied receiver role that Arcega-Whiteside — despite his poor play in 2019 — is going to have with Alshon Jeffery on the shelf to start the season.
And say what you want about Arcega-Whiteside's inability to separate, but when he did get the ball, it was in high-value situations. He translated his touches into fantasy points — his 3.29 fantasy points per touch ranked 15th among wide receivers who saw at least 25% of their team's snaps.
It was the money targets that helped him produce. His end-zone target percentage was 16% (third among wide receivers), and he saw a substantial deep target percentage of 42.1%, which was fifth-highest among any wide receiver with at least eight deep targets.
In a season where the rookie Eagles receivers may have a more difficult time adjusting to the NFL game, taking a flier on a second-year receiver like Arcega-Whiteside (with a path to opportunities) could be a sound approach.
Similar to Arcega-Whiteside, Baltimore Ravens wide receiver Miles Boykin saw a high share of deep targets as a rookie (36.4%). That mark ranked seventh, but that was not even the most impressive money target Boykin saw in 2019. His end-zone target percentage (18%) tied D.K. Metcalf for the highest rate.
Boykin's rate covers a smaller sample size — he saw just 22 targets in 2019 — but it also shows how the Ravens view him and, more importantly, that quarterback Lamar Jackson is at least looking his way in the end zone.
With Boykins' targets in the end zone and downfield (17.9 aDOT) continuing in 2020 and the Ravens projecting to drop back to throw more, fantasy owners should be chomping at the bit to acquire Boykin late in drafts as a cheap piece of a great offense. If he can convert his freakish athleticism (a 4.42 40-yard dash and a 6.77 three-cone) to the football field in Year 2, the Ravens' passing game could be scarier than last season.
Do you remember that Parris Campbell was selected in the second round ahead of his Ohio State teammate Terry McLaurin? The Colts may have picked the wrong Buckeye, but that does not mean you should give up on Campbell.
He was hurt throughout his rookie season, but with a clean slate in 2020, Campbell looks like the most probable candidate to take over the slot. In his final collegiate season, he ranked first in the 2019 draft class in yards per route run (3.44) from the slot. New Colts quarterback Philip Rivers ranks seventh in wide receiver targets to the slot since 2018.
With Campbell working from the inside, he is more likely to see manufactured touches so he can display his playmaking upside. In 2019 on limited touches, Campbell's yards after the catch per reception mark (6.1) ranked fifth among 2019 rookie wide receivers with at least 20 targets. He also forced five missed tackles on just 18 receptions.
With T.Y. Hilton, Zach Pascal and rookie Michael Pittman Jr. his main threat for targets, look for Campbell to make some noise in 2020.
The Miami Dolphins' wide receiver room lacks a genuine vertical threat. With depth in question after the opt-outs of both Albert Wilson and Allen Hurns, Gary Jennings Jr. could see the field in that role in 2020.
Jennings was initially a fourth-round pick by the Seattle Seahawks in 2019 but fell out of favor — he didn't see the field for the team and was released last November. The Dolphins claimed him and placed him on injured reserve for the remainder of the 2019 season.
Now healthy, Jennings should get his fair shot to contribute. The Dolphins are going to run plenty of massive wide receiver sets if offensive coordinator Chan Gailey stays true to the spread 10 personnel concepts (four wide receivers) he ran with the New York Jets from 2015-2016.
Those teams were extremely aggressive targeting downfield, ranking third in percentage (14.5%) of deep pass attempts. In Jennings' final season at West Virginia, he ranked 12th in deep pass receptions (14), 11th in deep pass yards (519) and 10th in deep pass catch rate (60.9%) among his draft class.
Running Backs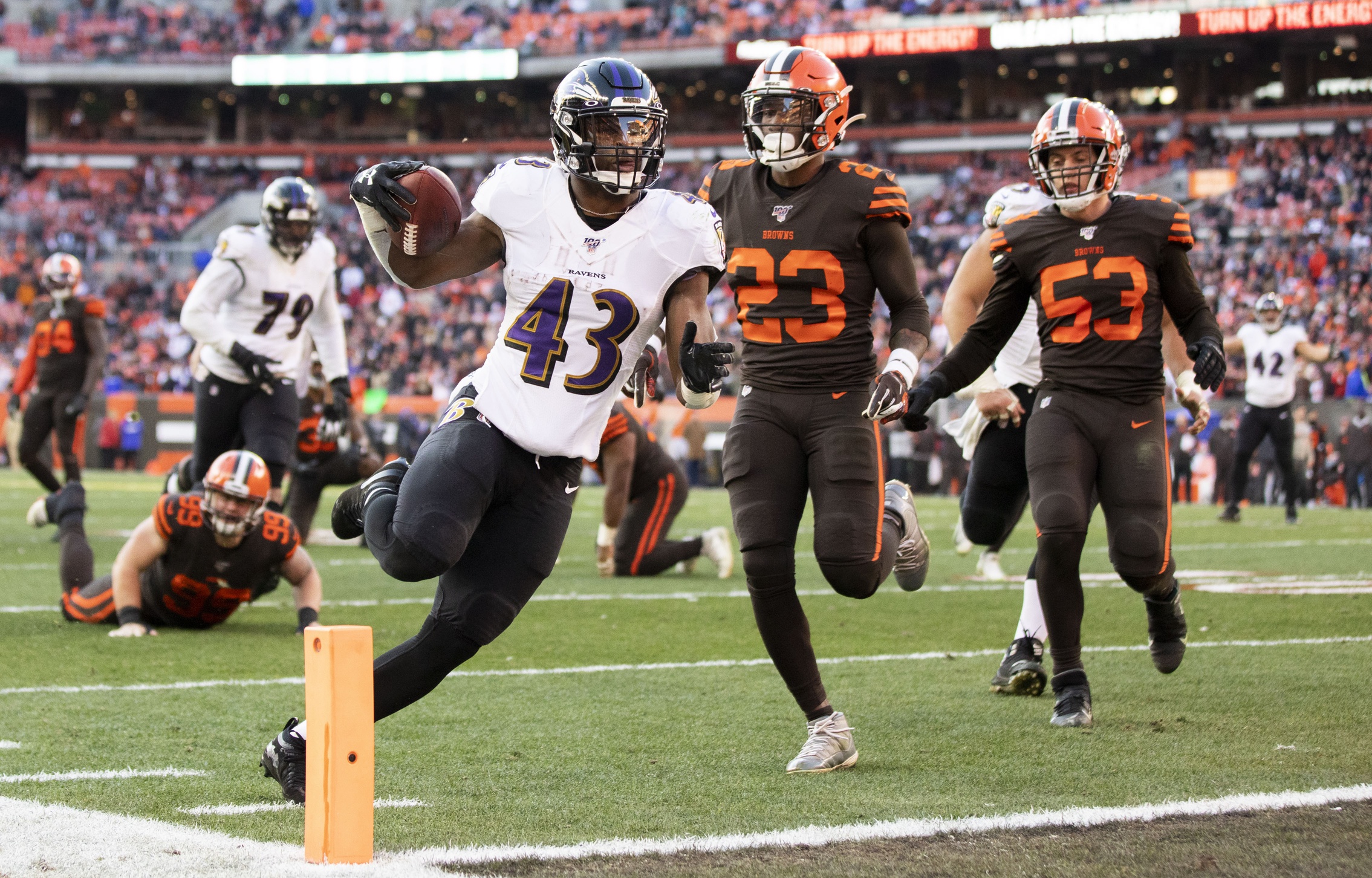 Circumstances surrounding Sony Michel's availability for Week 1 are entirely up in the air, which is why targeting Damien Harris in the double-digit rounds is a no-brainer in fantasy football drafts.
Harris did nothing his rookie season, as he was inactive most weeks due to his lack of contributions on special teams. But the Patriots need to see what they have in Harris — considering they used a third-round pick on him — so you should expect him to play a more significant role in 2020.
With more touches, we could see Harris thrive in a run-heavy New England offense and produce based on his college pedigree. He flashed a three-down skill set at Alabama, where he compiled 52 receptions for 408 yards on top of rushing for over 3,000 yards at 6.4 yards per carry. In his 2017 campaign, Harris ranked second in the nation in yards after contact per attempt (4.84).
The signing of Lamar Miller is more indicative of Michel's injury being of real concern, so if that drives down Harris' ADP. You should be all about taking the discount.
Benny Snell Jr. ranked 10th in both yards after contact per attempt (3.2) and missed tackles forced per attempt (0.19) among running backs with at least 100 carries in 2019. He would surely see the majority of early-down work for the Steelers should anything happen to James Conner.
With the addition of tight ends Eric Ebron and Dax Raymond, Pittsburgh could be planning to run more 12 personnel, which would greatly benefit Snell as a rusher. Snell ranked top-five in missed forced tackles per attempt (0.25) and yards after contact per attempt (3.7) from that personnel grouping.
The former fourth-round pick looked poised for a more significant role in 2020, but after the Ravens added running back J.K. Dobbins in the draft, Justice Hill's path to opportunity looks bleak. Hill does have a tremendous athletic profile and would likely thrive with an opening in the Ravens offense.
The only saving grace for Hill's fantasy stock in 2020 is that the team used two running backs a lot in 2019. They were the only team with two running backs to both rush for over 700 yards. 
There is also a chance that Hill could be split out more as a receiver when the Ravens are trailing in games. He played his most snaps in the Ravens' playoff loss, seeing equal time in the backfield and as a receiver. 
Using Hill as a receiver would fit his strengths, as reflected by his 10.3 yards after the catch per reception. That mark ranked eighth in 2019 among running backs with at least 10 targets.
Honorable Mention
Only two rookie wide receivers made the Pro Bowl last season: Mecole Hardman and  Deonte Harris. Both were voted to the exhibition contest due to their prolific performances as return specialists. Last season, Harris had a punt return touchdown and led the league in punt return yards (338).
As a receiver, Harris caught all seven of his targets for 74 yards while also forcing two missed tackles, topped off by a 50-yard bomb from Drew Brees in the playoffs. He is an elusive receiver, and with the Saints releasing Tommylee Lewis and Maurice Harris, who were competing for the No.4 receiver job, that should give you confidence he will be on the roster in 2020.
Chasing receivers who have shined as return specialists can be a winning proposition. In Tyreek Hill's rookie season, he led the league in punt return yards.
Tight End
Josh Oliver didn't quite show enough his rookie season to earn a write-up as part of my tight end breakout series for 2020, but entering last season he was someone I thought could make some noise as a rookie.
In his final 2018 college campaign at San Jose State, he led all tight ends in contested catches (16) while also contributing as both a slot receiver and a deep threat. He ranked first in deep receiving yards (195), fourth in deep receptions (six), first in slot yards (357) and second in slot receptions (26) among the 2019 tight end class.
In 2019, Gardner Minshew had the highest quarterback rating on deep targets (129.0). He would benefit from having a big athletic tight end working out of the slot. Minshew's PFF passing grade (66.2) when targeting the slot was third-worst in 2019 among quarterbacks with at least 100 attempts, though he did also have eight touchdowns passes to the slot, which made up 38% of his total touchdown passes (21).
The former third-round pick dealt with injuries during most of the 2019 season. With a clean bill of health in 2020, it wouldn't be surprising to see him vault the other Jaguars' tight ends — Tyler Eifert and James O'Shaughnessy — in the target pecking order.