Listed at 6-foot-5, 285 pounds, Boston College's Zach Allen is stereotyped as just another big, lumbering defensive end with a run-first mentality and lackluster pass-rush versatility on looks alone. Fortunately for the future NFL edge defender, his looks won't be what gets him picked in the 2019 NFL Draft; it'll be his resume.
"You just got to put on the tape and press play," Allen said in a February interview with Pro Football Focus. "There's a saying in the football world: Your tape is your resume. And if you press play, I think a lot of people are going to be impressed and see I can do a lot of different things and do them at a high level.
"It wasn't like I was playing against any Joe Shmoe. I was playing in the ACC against some of the best competition. I proved that I can do it against the best of the best."
Here at PFF, we pressed play on every FBS edge defender that has taken a snap since 2014, and Allen stands tall among the best we've ever seen. Among the 343 FBS edge defenders with at least 1,000 defensive snaps in the PFF College era (2014-Present), Allen ranks tied for eighth in overall grade (91.3) and tied for third in run-defense grade (90.5).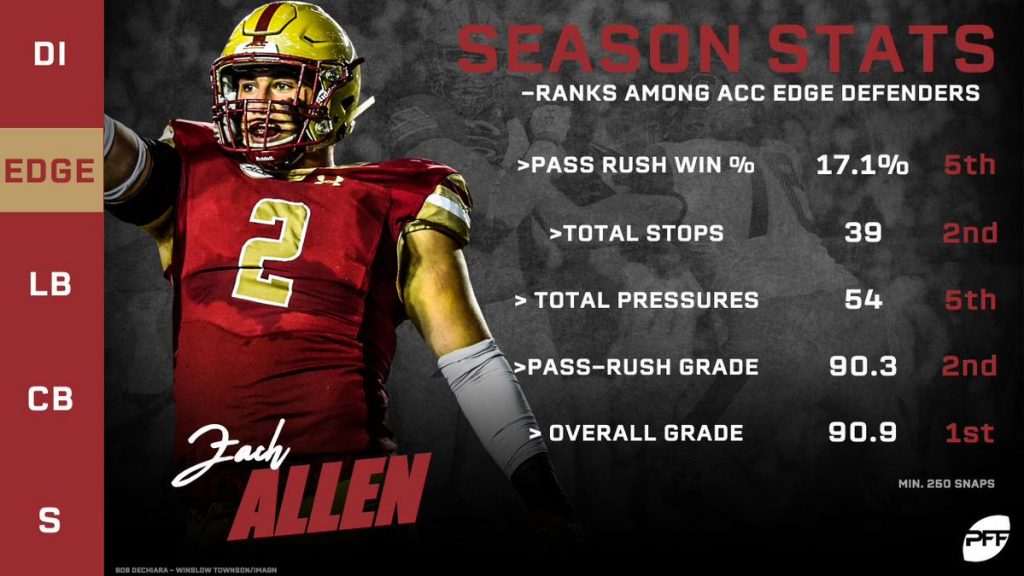 Allen's pass-rushing prowess didn't emerge until his 2018 campaign, but oh was it worth the wait. He recorded 54 total pressures (31 hurries, 18 hits and five sacks) across his 440 pass-rush snaps this past season, ranking tied for sixth in pass-rush grade (90.3) as a result. He also ranked inside the top-15 in pass-rush win percentage at 17.1% on the year.
Taking his pass-rush grade from 71.6 in 2017 to 90.3 in 2018, Allen spoke to his significant improvement as a pass-rusher year over year, saying that Harold Landry's departure to the NFL forced him to step up his game and become a more complete player.
"You just got to put on the tape," Allen said of his 2018 season. "I think you see me win a lot of different ways, whether it's coming inside, beating them on the outside with power… I think my senior year tape really showed some versatility with my pass-rushing moves."
Landry's praise for Allen goes well beyond his ability on the field, however.
"I wasn't really a vocal leader, more so lead by example, and out of everyone in [Allen's] class he was the most dedicated to the game and trying to be the best player he could be," Landry said. "So, I appreciated even from a young age how important football was to him, and how maturely he went about preparing for games and becoming better in the offseason.
"I expect him to make an impact for whatever team he gets drafted to as a rookie, and become someone in that locker room that guys can depend on no matter the situation."
Allen had to fill Landry's shoes as BC's top pass-rusher in 2018, forcing him to add to his pass-rush repertoire and play from a different alignment. He played a higher percentage of his snaps outside the tackles rather than head up and had more pass-rush opportunities outside of the opposing team's right tackle — Landry's primary position in 2016 and 2017.
Allen beat his opposition on the outside edge with his great get-off, violent hands and technique all throughout his senior season, which also set up his inside counter nicely, as well. Here, Allen beats his man outside and crushes the quarterback as the pass is released.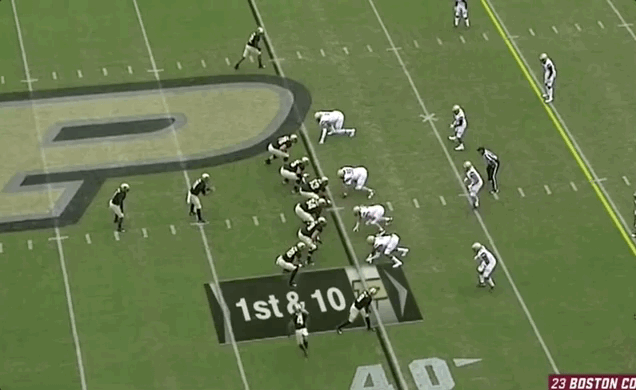 That destructive finish is a staple to Allen's tape. He doesn't think the game should really be played any other way.
"I think that's the only way you can play football," Allen said. "It's a violent game. It's meant to be played by violent people. If you don't like it, you're either going to be on the field and get hurt, or you're going to be on the bench… It's the only time you can hit people and not get arrested, so why not do it as much as you can."
The next step in Allen's path to the draft is the 2019 NFL Scouting Combine, where he'll likely have to compete without his mean streak and instead let his athleticism take center stage. He looks forward to turning some heads and eating away at the lazy narratives currently tagged to his name.
"I think a lot of people are going to be surprised with my athleticism," Allen said. "A lot of people say, 'he's this big defensive end, can't really move.' But, luckily for me, my weight can fluctuate. I can lose weight very easily. I can gain weight very easily. But I think the most important thing they're going to see is a big guy now be able to move with the best of 'pure-rushers' as they say and be able to go toe-to-toe with some of the strongest."
A strong Combine performance from Allen will drive him further up draft boards and likely push his critics back to his resume.