During the chaos of the first week of NFL free agency, the San Francisco 49ers and Indianapolis Colts made and unexpected trade: Interior defensive lineman DeForest Buckner headed to Indy in return for the 13th overall pick in the 2020 NFL Draft.
Indianapolis then extended Buckner with a four-year, $84 million deal, making him the second-highest-paid interior defensive lineman behind only Aaron Donald. Buckner is earning $21 million APY while Donald sits at $22.5 million APY, with Fletcher Cox in third at $17.1 million APY.
Before the trade, the Colts were assumed to be targeting with the No. 13 pick one of the top wide receivers in this loaded draft class — CeeDee Lamb, Jerry Jeudy and Henry Ruggs III — or one of the top interior defensive line prospects like Javon Kinlaw. A top talent on a rookie deal would have made a ton of sense. Instead, they appear to believe Buckner is one of the final pieces to their Super Bowl puzzle.
While we at PFF love the Colts signing Philip Rivers, we have to respectfully disagree with this move. The compensation of the trade, in our opinion, was a bit out of Indy's favor, and the fact that Buckner was immediately extended to nearly the same price as Donald is pretty astonishing.
Indianapolis has a glaring need at wide receiver, and the aforementioned trio is far above the rest of the group based on projections by the PFF Research and Development team and traditional scouting as shown in the PFF Draft Guide. In the latest analytics mock by PFF's George Chahrouri and Eric Eager, which takes into account positional value and PFF's college-to-pro projections, Ruggs, Jeudy and Lamb were all off the board by pick 11. The three are ranked among the 10 best prospects in the entire draft per the PFF Big Board. The fourth-best WR, Laviska Shenault Jr., and fifth-best, Tee Higgens, rank 17th and 24th, respectively.
Essentially, Indy is missing out on generational prospects at a valuable position to pay a (quality) defensive lineman at full freight.
As noted by PFF's Eager this week, interior defensive linemen don't provide the value edge defenders do, and coverage players are still far more valuable than any defensive lineman.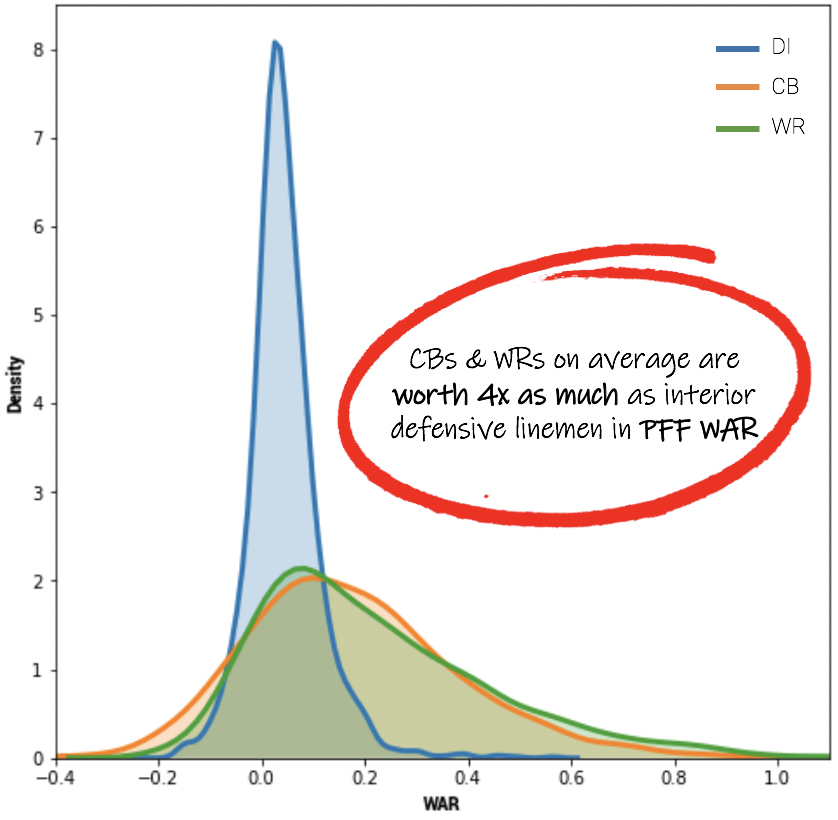 The difference in value between a cornerback and an interior defensive lineman is pretty massive. I included wide receiver here to show how much more important it is to have a good wide receiver compared to a good, not elite, interior player like Buckner. This is partly why Indianapolis will be regretting the move for Buckner down the road.
Buckner has been a good player over the course of his four-year career with the 'Niners. He owns PFF grade ranks of 31st, 17th, 25th and ninth and has been an above-average player against the run and getting after the quarterback in the pass-rush. Key words being "above average."
Buckner isn't the elite pass-rusher many have made him out to be. In his four seasons in the NFL, Buckner has generated pressure on 10.6% of his pass-rush reps, which is a solid rate that ranks 12th among interior defensive linemen. But more than 27% of those pressures were from a cleanup or unblocked, which isn't nearly as bad as some interior pass-rushers but isn't nearly as good as the elite guys. Donald owns the lowest rate at 12.5%, with Chris Jones the second-lowest at 15.6%.
It's true that Buckner has accumulated the third-most sacks since he came into the league. But sacks are one of the last things you should look at when evaluating a pass-rusher. Second, not all sacks are created equal. Consider the following:
Most sacks that were a cleanup/unblocked since 2016 among interior pass-rushers
(Note: PFF does not award half sacks like the basic box score.)
There have been 71 interior defensive linemen to log at least 1,500 snaps since 2016. Buckner ranks 16th among that group in PFF WAR.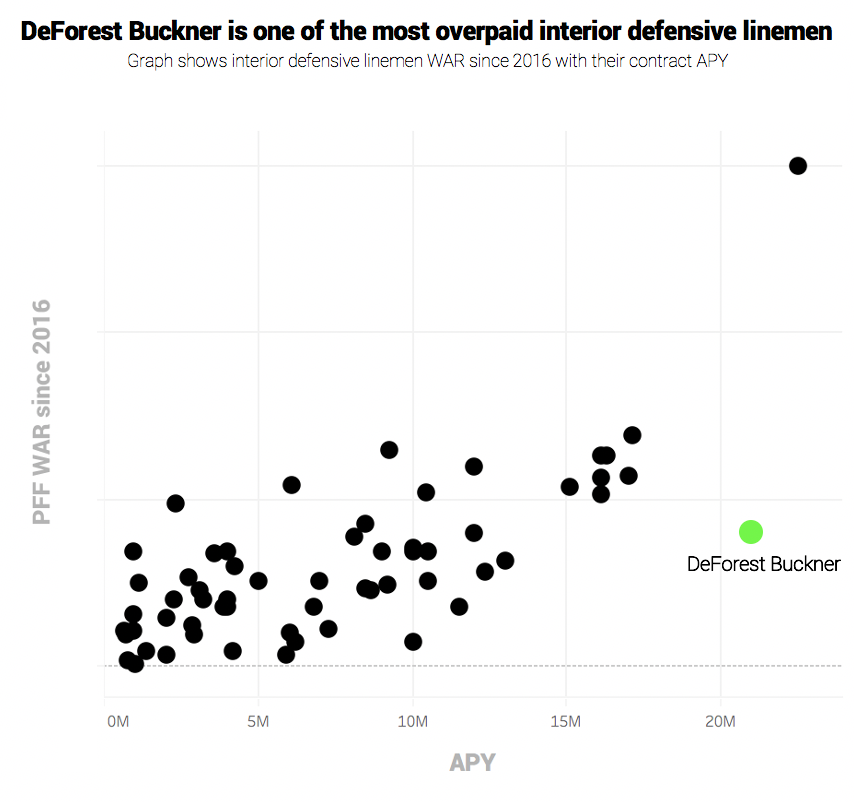 Moral of the story: Unless it's for Aaron Donald, you shouldn't be breaking the bank for an interior defensive lineman.
Let's take a look at the other side, as the San Francisco 49ers step right into the enviable 13th overall slot, likely with an eye on a wide receiver themselves. The 49ers already got to the Super Bowl with one of the best offensive schemes in the NFL. They're returning almost all of their key players and are now primed to add an impactful rookie.
Let's consider San Francisco's options at 13: