This is a draft class that is getting a lot of hype along the defensive line, with studs on the interior and on the edge, but the general consensus is down on the cornerback class. If you listen to the PFF Forecast, you'll know that coverage is more important to pass defense than pass-rush, and while this isn't as strong a class at the top as previous years, there are still three cornerbacks amongst the top 32 players in the class.
Georgia's Deandre Baker comes in at No. 16, and despite a fairly average showing at the Combine in February, his production over the past two seasons is proof enough that he deserves to hear his name called on the opening night of the 2019 NFL Draft.
Baker has been phenomenal at the college level over the past two seasons, producing PFF coverage grades of 89.0 or higher in each of the past two seasons and a PFF coverage grade of 93.5 over the past three seasons. That trails only Washington's Byron Murphy in this draft class.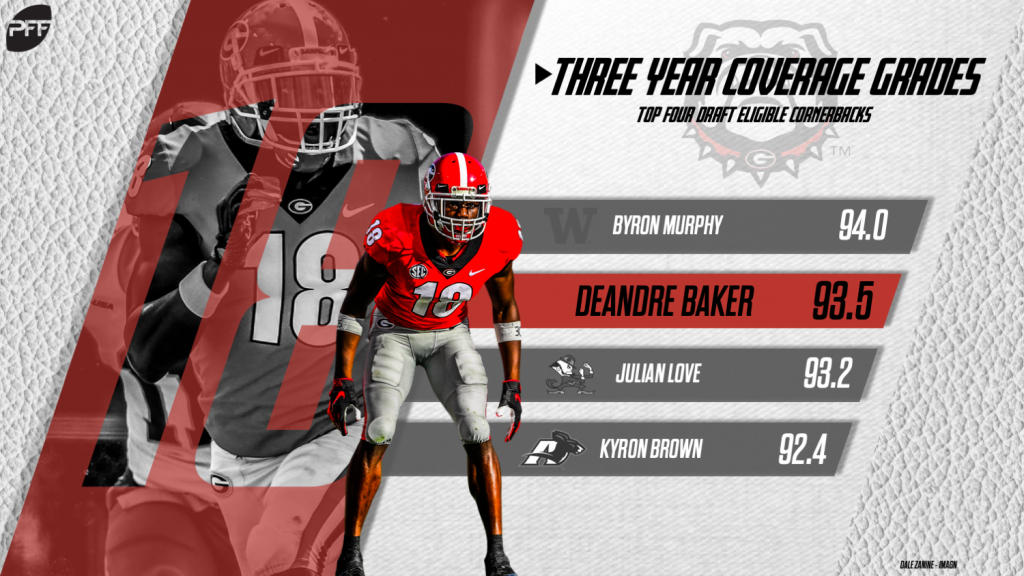 Almost exclusively an outside corner at Georgia, Baker saw 657 of his 711 defensive snaps in 2018 come at either left or right cornerback, with just 18 snaps in the slot and 36 in the box. At 5-foot-11 and 193 pounds, and running a 4.52-second 40-yard dash in Indianapolis, Baker is almost the very definition of the average athletic profile of what a cornerback looks like. While he ran a little bit slower than most would have liked, his wingspan of 77 1/8th inches backed up the playmaking ability we saw from a player who had 20 pass breakups over the past two seasons.
Baker was incredibly stingy when it came to shutting down opposing wide receivers, ranking in the top-five in terms of fewest yards allowed (175), fewest touchdowns allowed (0) and lowest NFL passer rating allowed (40.2) among cornerbacks who saw at least 300 coverage snaps in this draft class in 2018. He wasn't a one-year wonder in that regard either, with Baker allowing just 23 receptions for 295 yards, no touchdowns and an NFL passer rating allowed of 32.7 in 2017. If you're keeping score at home that means that Baker didn't allow a single touchdown on 870 coverage snaps over the past two seasons. In fact, in his four-year career at Georgia, Baker allowed just one touchdown on 1,019 coverage snaps.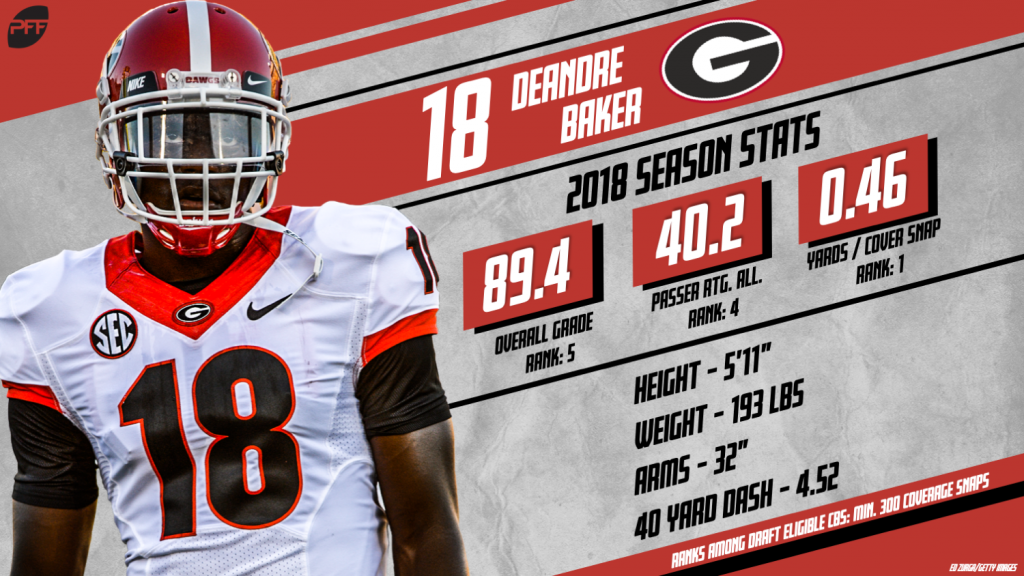 Baker performed well against the best opponents he faced too, producing a 92.1 PFF coverage grade against Power 5 opponents over the past three seasons. He stepped up in the College Football Playoff in 2017, coming away with an interception and three pass breakups, to go along with just three receptions allowed in the games against the Baker Mayfield led Oklahoma Sooners and eventual National Champions Alabama. Despite the loss to the Crimson Tide, Baker allowed an NFL passer rating of just 3.1 on 41 snaps in coverage against Alabama.
He might not be an elite athlete, but Baker has proven himself as one of the best cornerbacks in the nation over the past two seasons and his coverage numbers speak for themselves. The fact that he didn't blow anyone away at the Combine might be the reason why he doesn't wind up being an early first-round draft pick, but given his collegiate success and the importance of the position in today's NFL, he is absolutely deserving of being selected on the opening night of the 2019 NFL Draft.