2018 isn't quite the banner year for secondary players that 2017 was, but there are still a number of excellent prospects, particularly at cornerback. With nickel essentially being the base defensive alignment of every team in the league, drafting quality players able to fill a variety of roles on the back end continues to be an essential part of roster construction.
This year's secondary class, while again not as deep as last year's, is a diverse group, and we suspect team draft boards at the position groups will vary greatly based on scheme and need. Here are some of the best player-to-team fits from this year's crop of cornerbacks and safeties.
S Derwin James, Florida State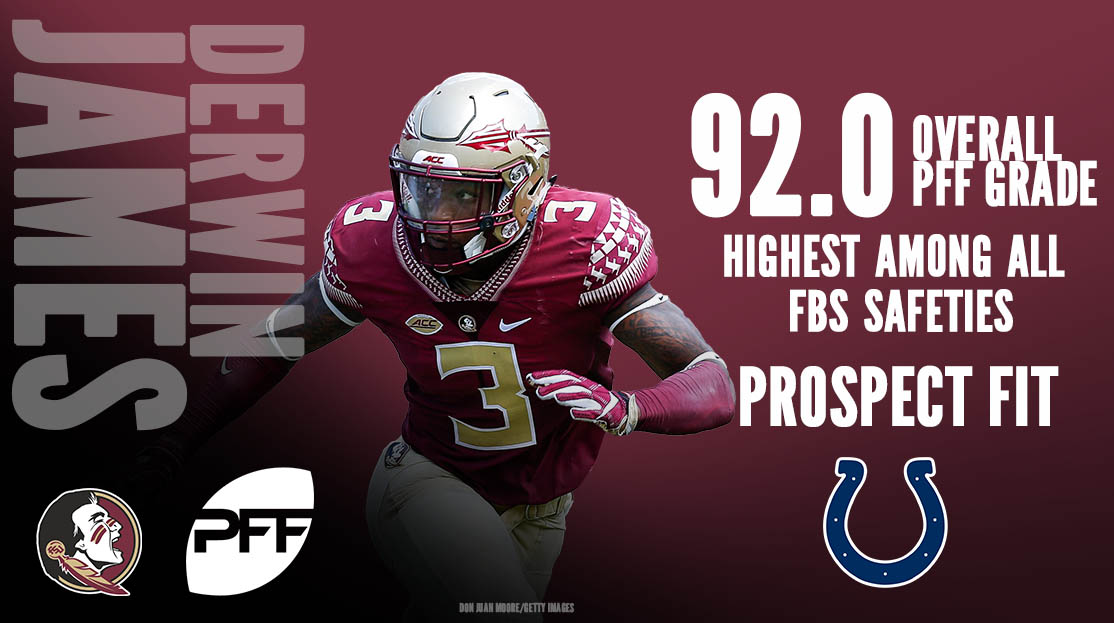 James is an outstanding talent, with the ability to be a top performer in all three defensive facets. This is evidenced by his overall grades from 2015 (91.2) and 2017 (92.0), both of which ranked him No. 1 among all safeties in FBS.
2016 second-round pick T.J. Green improved his play against the run last year, but still posted a coverage grade of just 43.7, and through two seasons (and 51 throws into his coverage) has a passer rating against of 131.0. The opportunity to select an elite prospect capable of dominating in the box, allowing last year's first-round pick, Malik Hooker, to stay deep where he is most comfortable, should supersede the desire to force a prior high pick into a full-time role he's not cut out for.
CB Josh Jackson, Iowa
The Cardinals defense struggled last season in large part due to having no viable second cornerback, as teams shied away from Patrick Peterson as much as possible while exploiting a number of other weak links. What makes Jackson a great fit for Arizona is two-fold: his athleticism, size and instincts mean he should not be scheme-dependent at the next level. Secondly, the No. 2 cornerback for the Cardinals must be able to play the ball effectively considering the high volume of targets he will face, and no one in college football was better at making huge plays with the ball in the air last year than Jackson. His eight interceptions and 26 total pass breakups led all of FBS in 2017, and opposing quarterbacks had a pitiful passer rating of just 36.5 when testing him in coverage.
CB Minkah Fitzpatrick, Alabama
While 2017 was certainly a down year by Dominique Rodgers-Cromartie's standards, he was still third in the league in yards per coverage snap (0.76) and first in coverage snaps per target. Replacing his level of production will be difficult (he successfully defended double-digit passes in five straight seasons prior to last year) and may necessitate an early-round pick.
If the Giants were to allow a quarterback-needy team to trade into the No. 2 overall spot they currently own, they could look to Fitzpatrick to fill the all-important slot corner role a bit later on in Round 1. Fitzpatrick could fill the safety role Rodgers-Cromartie was scheduled to take over before being released on March 11th, but he also has ample experience from the slot, with 242 snaps inside in 2017. His best season for the Crimson Tide was 2016, when he notched six picks and opponents had a passer rating of 37.8 when throwing into his coverage.
CB Denzel Ward, Ohio State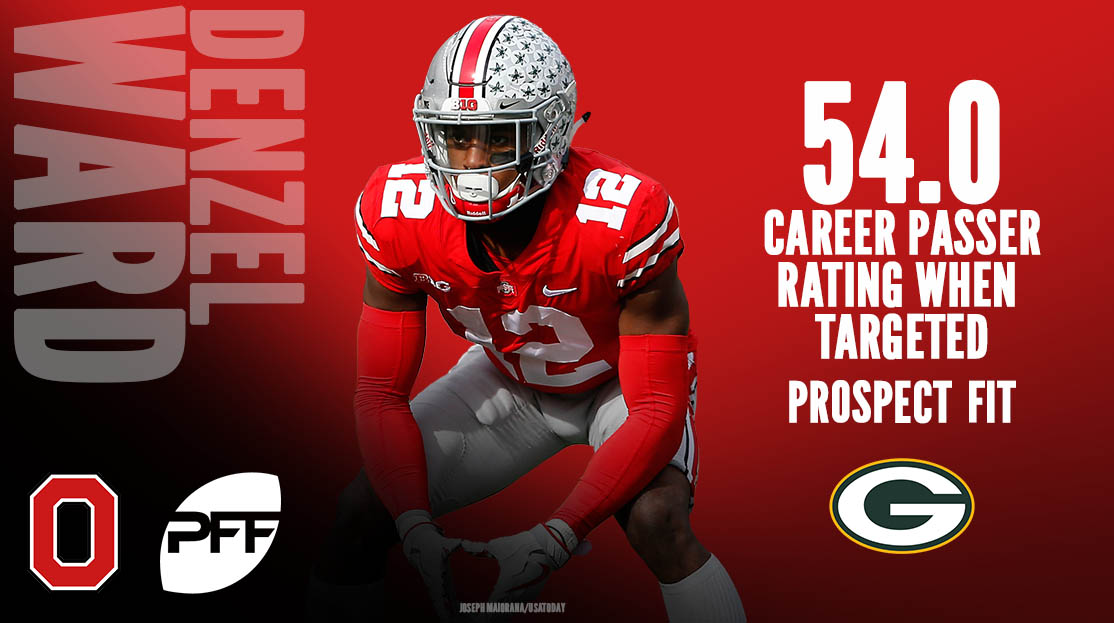 The only thing missing from Ward's game is elite size, but with Kevin King already in the fold, the Packers can afford to favor athleticism over height this year. Ward is one of the elite athletes of this year's draft class and broke up or intercepted a total of 21 combined passes in 2016 and 2017 while surrendering a passer rating against of just 54.0.
CB Donte Jackson, LSU
The cornerbacks group in Atlanta is razor-thin behind Desmond Trufant and Robert Alford, and Jackson's elite speed and change of direction should put him right in their wheelhouse toward the end of Round 1. Jackson played 270 snaps from the slot last season at LSU, which is exactly where he'd play in Atlanta. Over the past two years of college play, he recorded three picks and 16 pass breakups.
CB Mike Hughes, UCF
Gregg Williams wants physical, strong corners, and Hughes is just that despite lacking ideal measurables. He was a huge part of UCF's success in 2017, as he surrendered just 273 receiving yards into his coverage and gave up a passer rating of just 35.5 on throws into his coverage.
S Ronnie Harrison, Alabama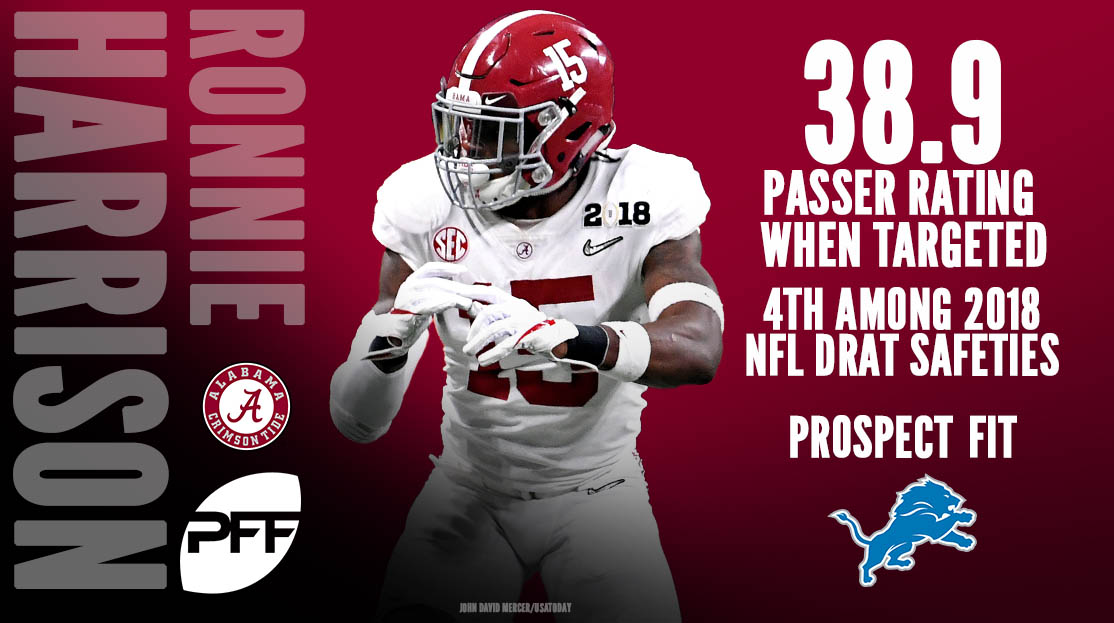 Covering the middle of the field continued to be a significant issue for Detroit linebackers and safeties last year, as the groups combined to surrender 11 touchdowns on throws into their coverage. Without a clear answer among the backers, turning to a versatile, physical safety like Harrison would be a smart move. Harrison made huge strides in his coverage play last year, as he did not surrender a single score on targeted throws his way while picking off three passes and breaking up another two. His 38.9 passer rating against in 2017 ranked fourth among draft-eligible safeties.
CB Carlton Davis, Auburn
Cornerback is sure to be a priority for the Chiefs after trading away Marcus Peters in the offseason, and Davis has the size and instincts they love at the position. Davis is one of just four defensive backs with arms over 33 inches in this class (a threshold normally only expected out of offensive linemen), and in three seasons at Auburn he gave up a catch rate of just 45.5 percent.
CB Greg Stroman, Virginia Tech
The Raiders lost slot cornerback T.J. Carrie in free agency and need to find a long-term replacement capable of eventually reaching the 12 forced incompletions and 84.1 coverage grade he posted in 2017. Stroman lacks ideal size to play outside but has college experience in both the slot and at safety. He was one of the best in the country at playing the ball in the air last year, as he posted four picks and nine pass breakups. He gave up just 12 grabs on 47 throws into his coverage for the Hokies last year, and his 26.8 pass rating against was second-best among FBS corners with at least 30 targets against.
S Quin Blanding, Virginia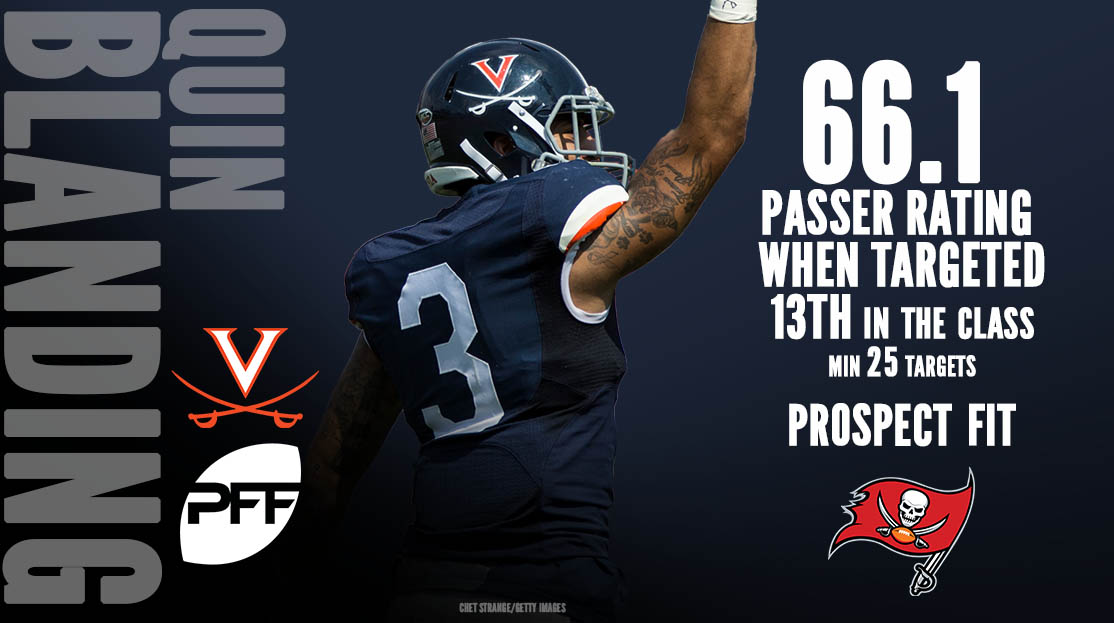 Tackling and general play in the box is an important area to address this offseason in Tampa, as current starter Chris Conte has missed 36 tackles in 215 attempts the past four seasons combined, and teammate Justin Evans is much better suited to staying on the back end after missing 10 himself last year (and 23 as a senior at Texas A&M in 2016). Blanding has experience playing two-high and in the box, and over the course of his career at Virginia missed just 43 tackles on an amazing 502 attempts. He is also a viable player in coverage, as last season he allowed just 21 catches into his coverage while picking off four and breaking up another four.